Cut your Christmas Tree in Washington's Forests!
Posted On November 17, 2016
Last Updated on November 7, 2018
Forget those crowded malls and roads…Black Friday is a great day to get outside and celebrate the arrival of winter and the holiday season! We go every year to cut a Christmas Tree in the national forest on Black Friday, with lots of family members of all ages! Of course, you can do this any day in late November (by December it can start to get frustrating as the snow gets deeper). Here are some tips and advice for planning your own family outing to cut your Christmas Tree in Washington's Forests!
Washington Trails Association has a great page that goes into some important logistical and safety details. Late November in Washington is definitely winter, and driving on forest service roads you are likely to encounter snow and potentially terrible weather. Get an early start as the days are SHORT this time of year and pay attention to weather forecasts!
Make sure to have an appropriate vehicle with chains and a shovel (a chainsaw if you have one is not a bad idea either).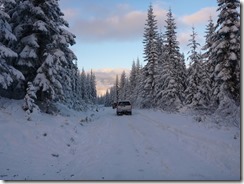 You will also be away from regular roads and likely from a cell phone signal, so make sure to have a map, let someone know where you're going, and have lots of food and water and flashlights and warm clothes.
As far as where to go, there are several options close to Seattle, Tacoma and Everett. When you buy your permit, then rangers can give you the best advice about which roads are plowed, where to find good trees and they even have maps of tree cutting areas! There are several national forests, but in the Puget Sound region, most likely the Mt Baker Snoqualmie Christmas tree page will be your best resource. A permit costs $10 and you place it on your dashboard while tree hunting and then tie it to your tree once you select it.
Once you have your permit and location ready and drive to where the snow gets deep, you will be out on foot looking for your tree. Make sure to bring a handsaw for cutting and also measure your house to make sure your tree isn't too big (we know from experience how small trees look in the forest compared to your living room!). Snowshoes can also be helpful for getting around off the road.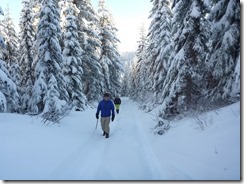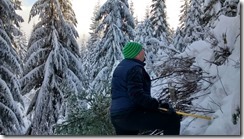 Once you find and cut that perfect tree, the next challenge is getting it back to the car…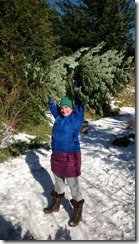 And, of course, attaching it to your car! We suggest the burrito method (wrap in a tarp and tie to the top), shown below: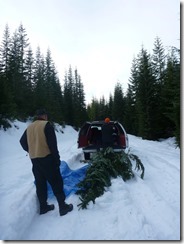 Once that's done, if you're lucky enough to have a day without terrible weather, make sure to bring along (or cut while you're there) some firewood so you can roast hot dogs and marshmellows and have general merriment. Regardless of weather snacks and hot drinks are a must! Lots of snacks and a fire if the weather permits add to the fun and adventure for kids! We have done this adventure with and without kids (our nieces and cousins). My advice for bringing kids is it helps if they are at least three years old, and five is probably even better. Having enough adults to entertain the kids and watch them if they get bored wandering around looking for a tree is also a great plan. If kids get tired of the tree search they will still have fun playing in the snow. Make sure to bring dry clothes for them to change into after playing in the wet snow for a few hours! (this is a good idea for adults too).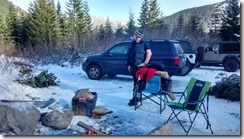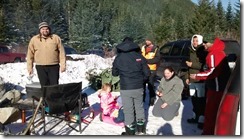 We are excited for the holiday season and ready for snow!