Best Waterfall hikes near Seattle
Posted On June 30, 2017
With all the rain that Western Washington receives along with the hilly and mountain terrain, we have some amazing waterfalls! The best waterfall hikes near Seattle on this list are chosen because they can be reached all year and have water flowing in them all year. They make excellent winter hikes too! These hikes are all within 50 miles of downtown Seattle. If you're willing to drive a bit further, check out these amazing waterfalls in Olympic National Park.
Related: What to bring day hiking in the Pacific Northwest, What to wear day hiking in the Pacific Northwest
Teneriffe Falls is the longest and most challenging, while the others are fives miles or less with 500 feet of elevation gain or less. These are all great hike options for kids and visitors and for those who are getting started with hiking. The one exception is the last one, Silver Falls in Mt Rainier National Park. Silver Falls is my favorite waterfall in Mt Rainier, so I had to keep it on the list even though it's 100 miles away and the road is open only May-November.
Teneriffe Falls (I-90 near North Bend, 6 miles round trip, 1500 feet of elevation gain)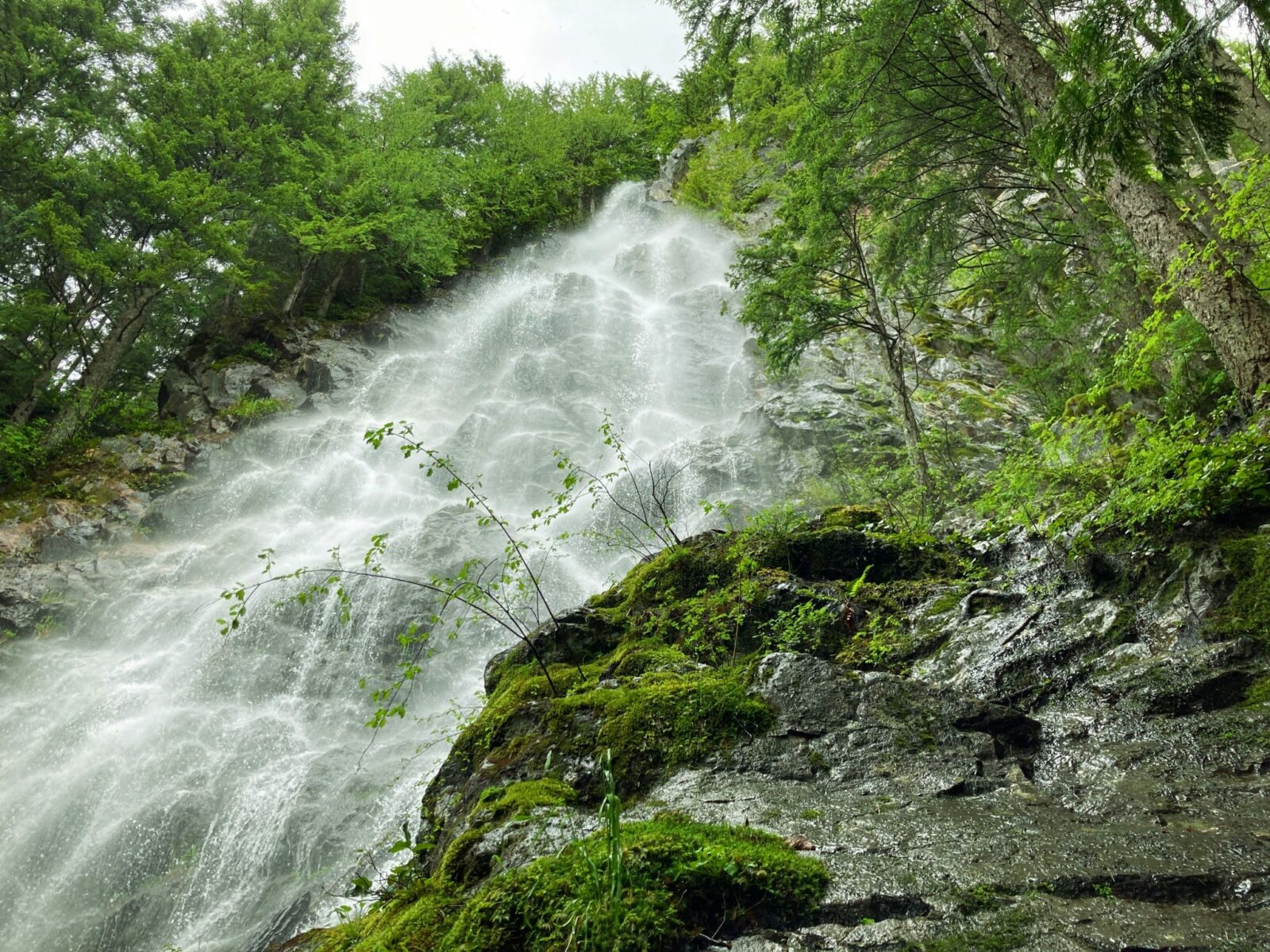 Teneriffe Falls is a gorgeous waterfall at the end of a moderate day hike in North Bend just a couple of miles from the insanely busy Mt Si trailhead. The first couple miles are on a gentle grade and a wide trail through the second growth forest and the final mile climbs steeply over a trail that is rocky and muddy at times. Watch out for steep drop offs at the top of this trail and keep children and pets close. It's busy but much less busy than other trails in the area.
Fees: Washington State Discover Pass
Twin Falls (I-90 near North Bend – 3 miles round trip, 500 feet of elevation gain)
In addition to a glorious waterfall, Twin Falls has are lots of opportunities to play along the river or on logs along the way, which makes it a particularly good choice for kids, who can enjoy playing around the river and on the logs to keep up their enthusiasm! There is also a viewpoint to the falls at the halfway point. This is a busy trail all year, so get there early if it's summer!
Fees: Washington State Discover Pass
Franklin Falls (Snoqualmie Pass – 2 miles, 500 feet of elevation gain)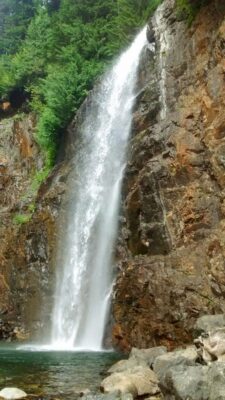 The Insta-famous Franklin Falls is famous on the internet for good reason. It's definitely one of the best waterfall hikes near Seattle and it's a short hike. It tends to be really crowded and the waterfall is directly between two sides of I-90 and therefore there is lots of freeway noise that doesn't show up in photos! Still, it is beautiful! In the winter, sometimes the road isn't plowed all the way to the trailhead, so I recommend checking on current conditions as you may need to prepare for a longer walk in the snow.
Fees: Northwest forest pass (or national public lands annual pass)
Snoqualmie Falls (Snoqualmie on I-90 – 1.5 miles, 250 feet of elevation gain)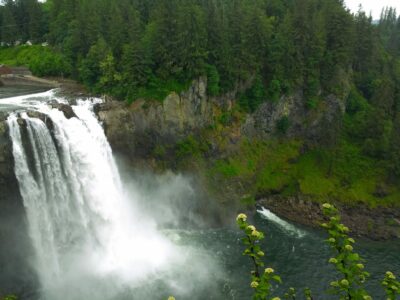 Snoqualmie Falls is a VERY popular destination so be prepared for big crowds on weekends! Despite the crowds, it's close to Seattle and a seriously impressive waterfall, especially after a big fall storm or during warm and wet spring weather! Try to get in on some Snoqualmie Falls lodge pancakes (famous!) while you're there.
Fees: The main lot is a pay lot but the upper lots are free.
Cherry Creek Falls (Duvall, 5 miles, 500 feet of elevation gain)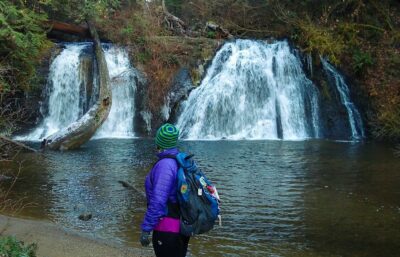 Cherry Creek Falls may be my favorite best waterfall hike near Seattle. Even though it's REALLY hard to choose a favorite, this location near the charming town of Duvall (bakery alert! brewery alert!) and the quite forest walk with eagles and other birds to this really gorgeous year round waterfall is hard to beat. Check out my post (link above) about the parking and trailhead situation since it's a bit different from most of our trailheads.
Fee: Free! (but pay attention to where you can park-see link above)
Bonus! Silver Falls, Mt Rainier National Park (up to 3 miles, up to 300 feet of elevation gain)
Silver Falls has several trails with more than one distance option and starting point. All the trails go through the forest along the Ohanepecosh River. Even if you're driving through and only have a few minutes, you can hop down to the falls from Hwy 123 (just south of the Stevens Canyon entrance to the park). There's a pullout on the west side of the highway. For a 2-3 mile hike, start at the Ohanepecosh campground and do a one way or loop hike. This hike is not as close to Seattle, but it's worth the 2.5 hour drive, especially in the spring! This is part of the spectacular and far less visited east side of Mt Rainier National Park which you can read more about here and here.