5 Tips for Last Minute Backpacking near Seattle
Posted On August 25, 2017
Last Updated on May 25, 2020
Last minute backpacking can be done! If you're the sort of person who has your camping planned and reserved months ahead of time, or picks out long, difficult backpacking trips requiring permits, car shuttles and multiple shopping trips, this post is probably not for you.
If you sometimes find yourself overwhelmed and discouraged by the need for reservations, racing for a campsite, or planning long backpacking trips, you may feel like this is you wake up randomly on a Saturday morning and want to get out of town overnight
Looking for last minute backpacking will require a little more work in advance on your part, but my advice is to spend a rainy winter or spring day doing the research outlined in these tips and then you'll be ready to be spontaneous when summer comes!
If you didn't research all winter, that's cool. You can still do last minute backpacking. You'll still need to do a bit of research but once you practice a bit you'll get better and faster at it. Trust me!
Whenever heading into the backcountry, even a short distance, it's critical to carry the 10 essentials, especially plenty of water (and a way to treat water), plenty of food and warm clothes (it will get cold at night even in August).
I keep most of these things packed all the time with a list nearby of what needs to go in the backpack when I'm ready to go. Don't skip this if you like to do things at the last minute. It's important and could save you life or be the difference between a fun and a miserable trip. I even have some dehydrated chili that I keep on hand at all times and I also keep some commercial backpacking meals that I add my own dehydrated vegetables to.
One more general piece of advice for last minute backpacking, you'll need to be flexible and willing to go to a less well known place, but discovering something new is a big part of the fun with last minute backpacking. 🙂
Let's get to the tips! Here are 5 tips for doing a last minute backpacking trip:
#1 – Convert a day hike you've done before into a Backpacking trip
This is an easy way to come up with a last minute backpacking trip if you're a regular day hiker. Do you have a favorite day hike that you thought "wow, I'd love to camp here!", or a day hike that wasn't crowded and you saw a tent there?
This is a good way to think of ideas. Make sure to check and see if camping is allowed in that location. It's usually easy to find out by checking with the land management agency in charge of that trail (National Forest Service, State parks, National Park Service). In general, Forest Service land is most flexible and most likely to allow camping in any particular area (but be sure to check!)
This has the added benefit of knowing what to expect which makes planning a bit faster and easier.
Make sure to understand the permits required from the land management agency who's land you intend to camp on.
#2 – Use the Forest Service Online Use Ratings
Each National Forest has it's own website. You can navigate to specific information about trails with RECREATION>HIKING> and then you'll see a list of the hikes in that National Forest. Each entry provides a description that includes how heavily used that trail is. This can be time consuming to read through but it's a gold mine of data to find less crowded hikes in a particular area and less crowded hikes make it more likely that you'll be able to find a campsite that is available. You can also find out if camping is allowed in that location.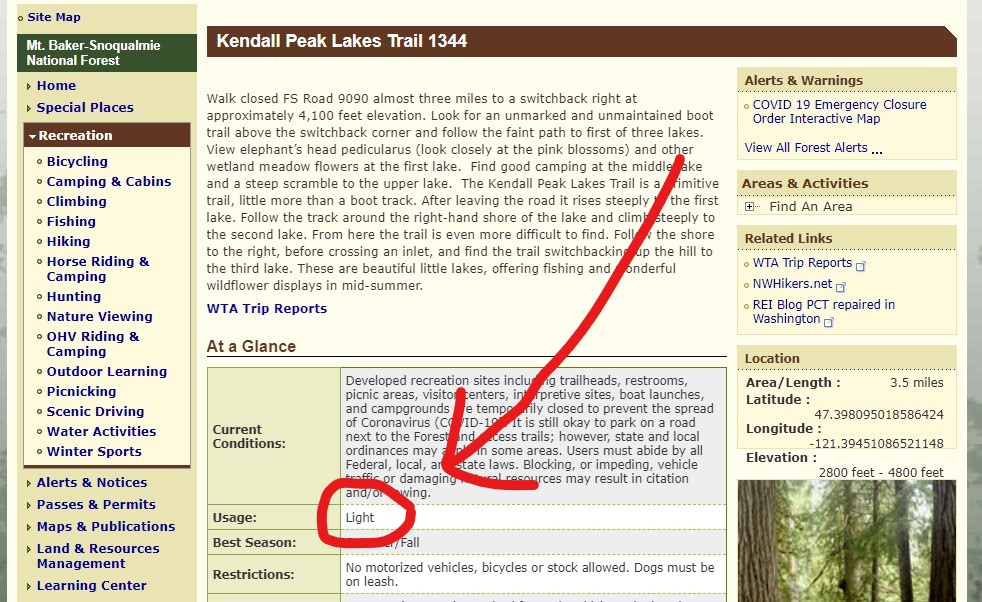 #3 – Study the Map
Most maps that are intended for use in outdoor recreation (such as Green Trails) show places where camping is allowed. This can be a fun way to find a place in a less crowded area where you're more likely to be able to find a site for last minute backpacking.
#4 – Ask a Ranger
This is a fantastic tip, especially for National Parks! Generally, backpacking in National Parks requires a backpacking or wilderness permit (check with the individual park for specifics). When you go to request a permit is a great opportunity to ask what's available and if you're flexible you can often find a site this way. I once got a backcountry permit for a little known and little used backcountry camp in Mt Rainier using this method, and it was wonderful!
National forest ranger stations are also great places to get information about possible backpacking options in that national forest. If you let the ranger know you are open to anything and ask about less crowded trails they might have some excellent advice!
#5 – Use Washington Trails Association Trip Reports
If you'll be backpacking in Washington State, make sure to use the Washington Trails Association trip reports (and donate to them to keep this amazing information coming). Here you can look for backpacking trips specifically, and also read other people's experience of whether or not there were crowds or options for camping at a specific location. Reading these regularly and adding them to your list of backpacking trips or hikes you want to do will make last minute backpacking even easier!