How to make Campfire Buffalo Chicken Foil Dinners
Posted On October 22, 2018
Last Updated on April 24, 2021
Love Buffalo Chicken? Love easy camping dinners? Then Campfire Buffalo Chicken Foil Dinners are for you!! In our family we love camping, and we love good food, but we don't like complicated or fussy food, especially not outside! Last week, thinking of an easy dinner for a one night car camping trip but ready to mix up our usual foil dinner menu, we decided to give this a try and it was a hit! These are definitely going into our regular camp food rotation. I bet you could also make this on a grill or in the oven at home and it would also be delicious!
One of the best things about campfire foil dinners is that they are very forgiving and you can customize them however you like! Enjoy!
Related: Is a Dutch Oven worth it for camping?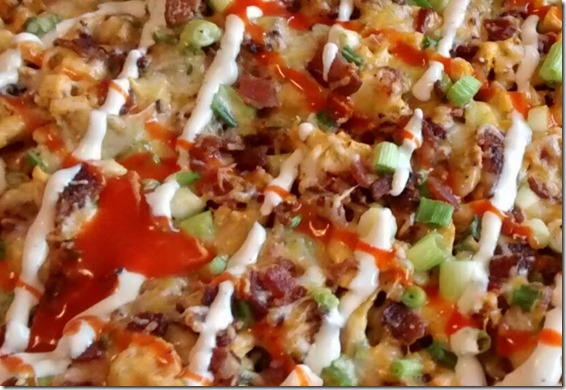 Print
Campfire Buffalo Chicken Foil Dinners
Easy and delicious dinner for camping featuring the ever-delicious buffalo chicken!
Author:
Yield:

2

servings

1

x
4–6 Potatoes of any kind, or a mixture of different kinds (to make it even easier, you can use frozen tater tots!)
1 Tablespoon Garlic Powder
1/2 Tablespoon Paprika
1/2 Tablespoon Cayenne Pepper
2 Tablespoons olive oil
1 cup cooked chicken (could use a large can of chicken for a shelf stable option, if you REALLY want to make it easy, get those shelf stable buffalo chicken packets from the grocery store-they are near canned chicken and tuna)
1 cup Buffalo wing sauce (or any hot sauce)
1/2 cup shredded cheddar cheese
1/4 cup cooked and chopped bacon (optional)
1/4 cup chopped green onions
1/4 cup ranch dressing
Salt and Pepper to taste
Instructions
At Home:
Mix the spices together (including salt and pepper to your taste), add the olive oil. Chop potatoes into small cubes and add to the olive oil/spice mixture. Put this is a container with a good seal (so it doesn't leak).
Mix the chicken with most of the hot sauce/wing sauce (save some for garnish). If using canned chicken you may want to wait to do this in camp (make sure you have some sort of container to mix it in)
You can skip steps one and two buy buying pre-made frozen tater tots and the buffalo chicken pre-made packets (see ingredient list)
Chop the green onions, put in a small container
Shred the cheddar cheese, put in a container
Chop bacon (if using), put in a container
Make sure to pack all the containers, along with tin foil for wrapping and tongs to put them on/off the fire
In camp:
Build a fire, give it time to build up some coals. Position the coals/fire underneath the cooking grate
Spread out the foil, making sure there is plenty to wrap with. Spread the potato mixture on the foil, top with the chicken mixture. Wrap the potato/chicken in the foil, making sure it won't leak
Place foil packets on the fire. Cooking time is approximate, but generally I've found that about half and hour is a good amount of time. You can listen for some sizzling!
Remove one foil packet and test for doneness (putting it back if potatoes are not cooked through)
Top with cheese, bacon (if using), green onion, ranch dressing and the remaining hot sauce!
You can eat directly out of the foil, or put it on a plate or in a bowl.