How to make real pumpkin puree
Posted On October 10, 2018
Last Updated on October 19, 2020
Making your own diy real pumpkin puree is super easy and once you've done it, you might never go back to the canned stuff! It's all pumpkins all over everywhere in Washington right now! About 2000 acres of land in Washington are growing pumpkins, and they are grown in virtually every corner of the state. There are lots of opportunities to pick your own pumpkins but of course you can find them at every store as well. Homemade real pumpkin puree keeps well in the freezer so you can go crazy making your own and have it in the freezer all through the holiday season. Make it part of your local Thanksgiving feast!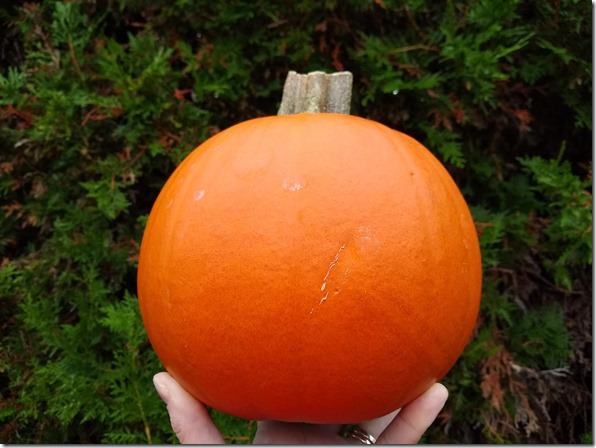 You can use this is almost any recipe that calls for canned pumpkin, although be aware that the fresh pumpkin has more water in it, so draining it or straining it before you use it (especially if you've taken it out of the freezer) is a good idea.
Step one: make sure to buy a sugar pie pumpkin (not a "carving pumpkin"). I've experimented with both and it's definitely important to get the sugar pie pumpkin. The carving pumpkins are less sweet and have a lot more water and a different texture. The sugar pie pumpkins will be labeled as such and are smaller than big ones for carving at around 5 pounds. 
Next up, wash the pumpkin and cut it in half with a large, sharp knife. Also preheat the oven to 350 F.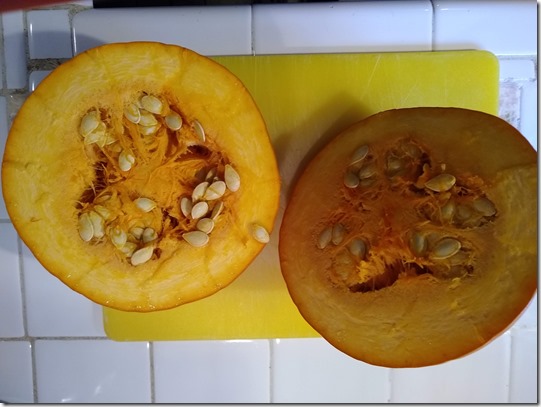 Next, scrape out the seeds. An ordinary spoon works well for this, so does the scraping tool that comes in pumpkin carving kits!
Place the two halves in a glass baking dish (I recommend this because it has sides that keep the pumpkin from sliding off and the juice from making a mess in the oven). I used to grease the pan but then realized that isn't necessary, so I don't do that anymore. I just put the pumpkin in face down, touching the bottom if it fits, but usually it doesn't so don't worry about it.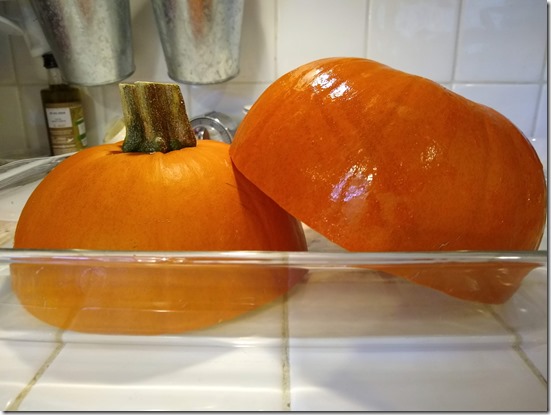 Bake it for a bit over an hour. Usually an hour is enough, but sometimes it doesn't seem quite done so I usually give it an hour and 15 minutes. You can check by seeing if a fork easily goes into it.
After it comes out of the oven, let it cool for at least half an hour so you don't burn your hands removing the rind! Once cool enough to handle, you can either peel the outer rind off, or scrape it out with a spoon (or some combination of both which is what I usually end up doing).
Once you have all the pumpkin in a bowl, either mash it with a potato masher (my preferred method) or you can use an immersion blender or hand mixer.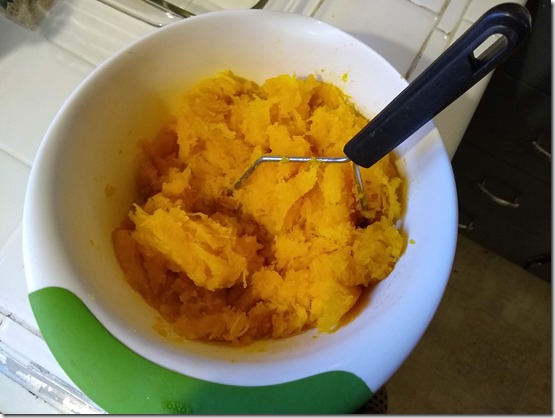 Once that's done, it's ready to use or freeze. A 5 pound pumpkin will yield about 6 cups of puree.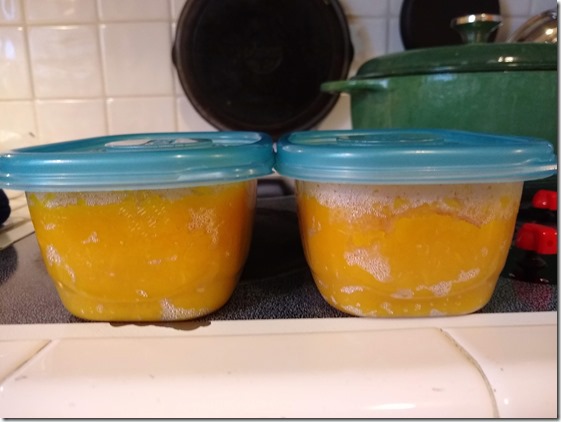 Print
Everything DIY Real Pumpkin Puree
How to make real pumpkin puree at home…with a real pumpkin!
Author:
Prep Time:

10 minutes

Cook Time:

1 hour 15 minutes

Total Time:

1 hour, 30 minutes

Yield:

6 cups

of pumpkin

1

x
Category:

Baking

Cuisine:

American
1 sugar pie pumpkin, approximately 5 pounds
Instructions
Preheat oven to 350 degrees F
Cut the pumpkin in half and remove the seeds and guts (save the seeds for roasting!)
Place the pumpkin halves face down in a glass baking dish (it's ok if they don't both completely touch the bottom).
Bake for one hour and 15 minutes.
Allow to cool for 30 minutes until you can handle the pumpkin without burning yourself.
Remove the pumpkin from the rind and place in a bowl with a spoon.
Use a potato masher, hand mixer or immersion blender to make the cooked pumpkin smooth.
Use as you would in any recipe, or freeze until you're ready to use. Will keep in the freezer for at least six months.
Notes
Be sure to use a sugar pie pumpkin, not a carving pumpkin!
The exact baking time is approximate, you can check it sooner to see if a fork easily goes into it, which means it's done
Keywords: real pumpkin puree