How to Visit Yellowstone in Winter: Ultimate Guide to the Park's Best Season
Posted On February 27, 2019
Last Updated on August 6, 2023
Imagine visiting Yellowstone National Park, walking boardwalks through a geyser basin and seeing no one else. Imagine the solitude and beauty of a lone wolf spotted against the snow, or a herd of bison or elk meandering along the road. You see the heat and steam rising up from the geysers and paint pots in an otherwise frozen landscape. There's a frozen river where you can hear water rushing below, an endless field of stars, the cry of a coyote or wolf across a valley. These are just a few of the joys you'll experience in Yellowstone in winter.
I'm a lifelong lover of the National Parks in general, and Yellowstone in particular. In fifth grade I begged my parents to take me there, and they did! It turns out that I even married someone who grew up in Yellowstone! Over the years I've been to the park many times in all four seasons. I hope to convince you that winter is the BEST time of year to visit Yellowstone, especially if you like to avoid crowds and have unique experiences in iconic places.
We'll start with the reasons why winter is Yellowstone's best season (and the downsides for balance), followed by how to get there and what to bring. I have a suggested itinerary for driving and how to visit without a car. This post will focus on a trip based out of the North Entrance to Yellowstone National Park in Gardiner, Montana. Starting here gives you the most flexibility for a winter visit and it's often not quite as cold as West Yellowstone, the other major winter access point. We will focus on the core winter season when the snowcoaches operate, which is roughly mid December through early March. Grab a hot drink, read on, and get ready for the Ultimate adventure in Yellowstone in winter!
WHY is Winter the BEST time of year to visit Yellowstone?
NO CROWDS!! Really, truly, there are no crowds! No crowds and no traffic. If you hate crowds, this is how to see Yellowstone! (if you're into avoiding crowds in National parks, check out this post for more tips)
Unique (and more fun!) way to travel around the park. Most of Yellowstone's roads are closed during the winter, so they only way to travel is by snowcoach (or snowmobile tour), which is a really fun and unique way to get around (and you don't have to deal with traffic, parking, crowds, or driving). You can still drive one road in the park (described below), but without summer crowds, driving in the park is a different experience entirely
Wildlife are easier to spot and condensed in valleys/ The Lamar Valley in the Northeast part of the park (along the one open road in winter) is a particularly good place to see wolves in winter. (Note: you will not see bears in winter as they are hibernating)
The straight up magical beauty of a frozen snowy landscape, especially in geyser basins, around frozen waterfalls and other thermal features.
Unique environment for winter sports: If you are a cross country skier or snowshoer, this is a spectacular location for it (and a great place to learn cross country skiing by taking a lesson if you've never tried it)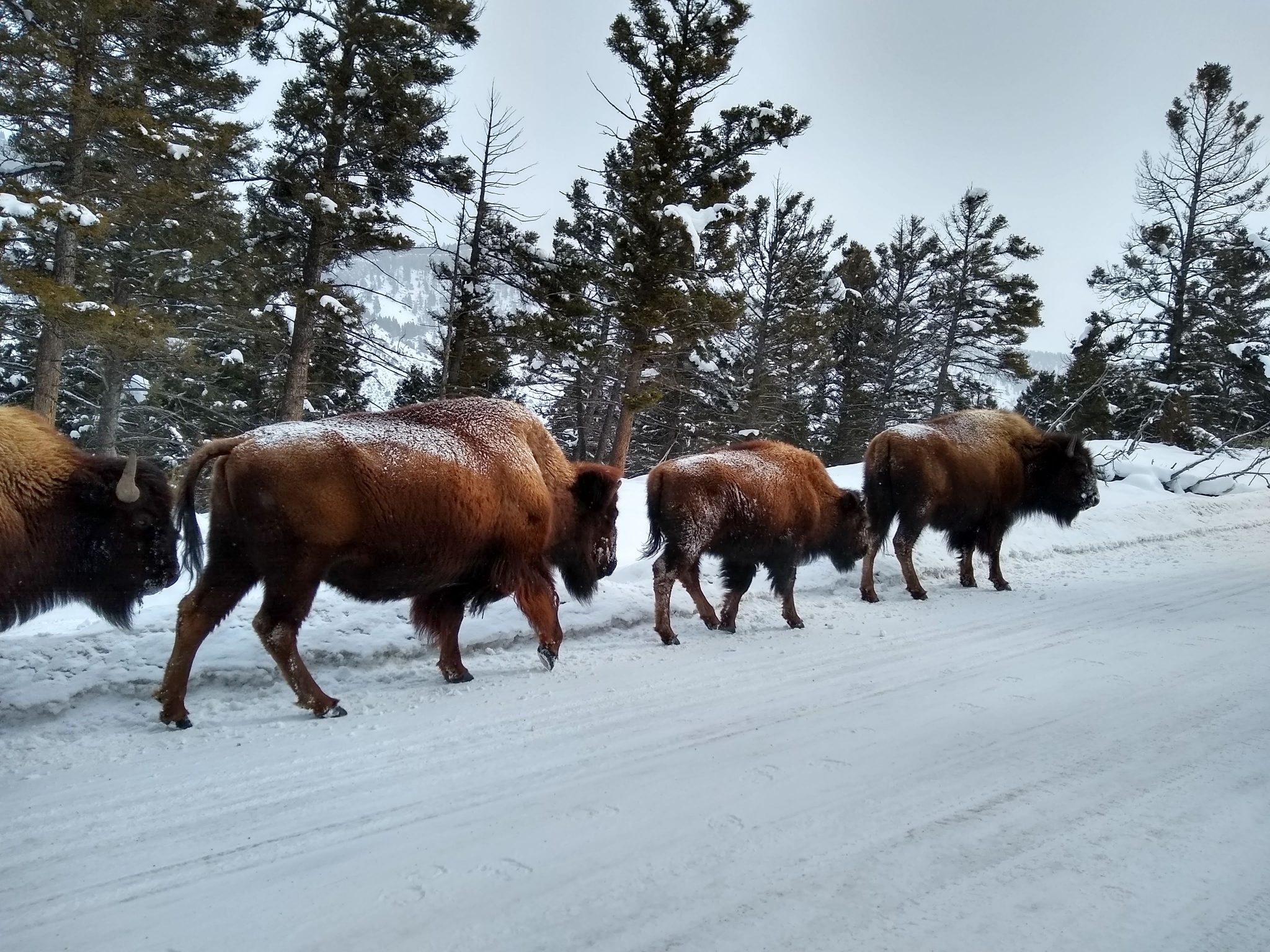 Is there any reason NOT to visit Yellowstone in Winter?
To be fair, even though Yellowstone in winter is THE BEST, there are a few downsides, so in the interest of full disclosure, here they are:
It's Cold. Very Cold. You'll need to prepare accordingly (see below for what to pack). Temperatures on most of my winter visits have hovered around 0 degrees fahrenheit (plus or minus 10 or so), but it is possible for it to be much colder, or warmer. YOU CAN HANDLE IT! It's all part of the adventure! You've got this.
You won't see bears because they hibernate in winter. Otherwise, it's a great time to view wildlife.
Winter driving: If you're not comfortable driving in winter conditions, getting to the park might be intimidating. But fear not! You can do this trip without driving (see car free option further in this post)
Many attractions are closed. Most lodging, many visitor centers and stores are closed inside Yellowstone in winter (but not all! Old Faithful and Mammoth Hot Springs are open).
You can't just drive wherever you want. This is a small price to pay for NO CROWDS AND NO TRAFFIC! Totally worth it!
What to pack for Yellowstone in Winter?
This post contains affiliate links, which means if you make a purchase I may receive a small commission at no additional cost to you. As an Amazon Associate, I earn from qualifying purchases
You'll need to bring the basics that you would normally bring on a trip (medications, toiletries, underwear, travel documents, ID, credit card, etc), but in addition here are a list of things that you'll want to have along in Yellowstone in winter:
Phone accessories: If you're using your phone, great (make sure you have it fully charged and I recommend putting it in airplane mode while in the park so the battery doesn't go dead while it's looking for a signal which drains the battery fast. Around 50% of the park has cell phone coverage but even in covered areas terrain may make the signal inconsistent). If you travel with a big camera, make sure to bring all the memory cards and batteries (more than you think you need!). I recommend bringing a back up power source for your phone. If you're taking lots of photos and especially video, your battery will go down fast and you don't want to lose your camera in the middle of the day!
Analog Entertainment: You will be in places without wifi or a cell phone signal (what?!?), which is awesome, but make sure to bring a book, sketchbook or other non digital entertainment, especially if you are staying in lodging inside the park where there is no wifi and no TV. I love my Kindle for travel.
Analog Navigation (maps): As mentioned above, don't count on having a cell phone signal to find your way. Bring a paper map and a map of any areas you are planning to ski or hike to in the park.
10 essentials: If you are planning to ski, snowshoe or hike, make sure to carry these critical pieces of safety gear. This is especially important in a cold, remote place in winter (especially extra food and clothing).
Swimsuit and Towel for hot springs
Warm Boots and socks for staying comfortable walking around in cold temperatures. I recommend these super warm boots and super warm socks!
Another pair of shoes, so you have something other than boots for walking around indoors or at hot springs. Crocs with closed toes are perfect for this purpose.
A warm coat for walking around outside when it's cold. A down coat is awesome if you have it, but if you live in Seattle you might not. Any warm insulating coat will work. You could also make do with a couple of fleeces and/or sweaters to layer. Layering is great for physical activity but can be frustrating to take everything on and off when going outside, but you can totally make it work for a short trip if that's what you have. I wear a synthetic fill jacket that I bought used at an REI garage sale.
Snowpants or other warm, insulated pants. A cheap pair of bib style snow pants work great. If you're looking for something more durable, try these warm and comfy snowpants that are available in plus sizes too!
Warm hat (make sure it covers your ears) like this one
If you plan on skiing or snowshoeing, you will want some layers to avoid getting too sweaty (make sure to carry your warmer layers with you as well). I really love these leggings (sooo comfy, they don't slide down or roll and have a phone pocket!) and this shirt for cross country skiing or snowshoeing. These can be especially helpful if you get hot while exercising (like me!). For the same reason, I always ski with this buff and a headband (while carrying the warm hat in my backpack), that keeps my ears and neck warm while not getting too hot in a big hat.
Lotion and lip balm (make sure the lip balm has sunscreen in it). You would not believe how dry it is! These items are absolutely essential.
Sunglasses and Sunscreen: Another essential! Even if the temperature is 0 degrees! You'll be at high altitude in the park, where the sun is more intense with less atmosphere to protect you from the sun as well as reflection off the snow. Make sure to also put the sunscreen on! Especially take care to put it under your nose, under your ears and under your chin (places where reflection off the snow causes sunburn quickly).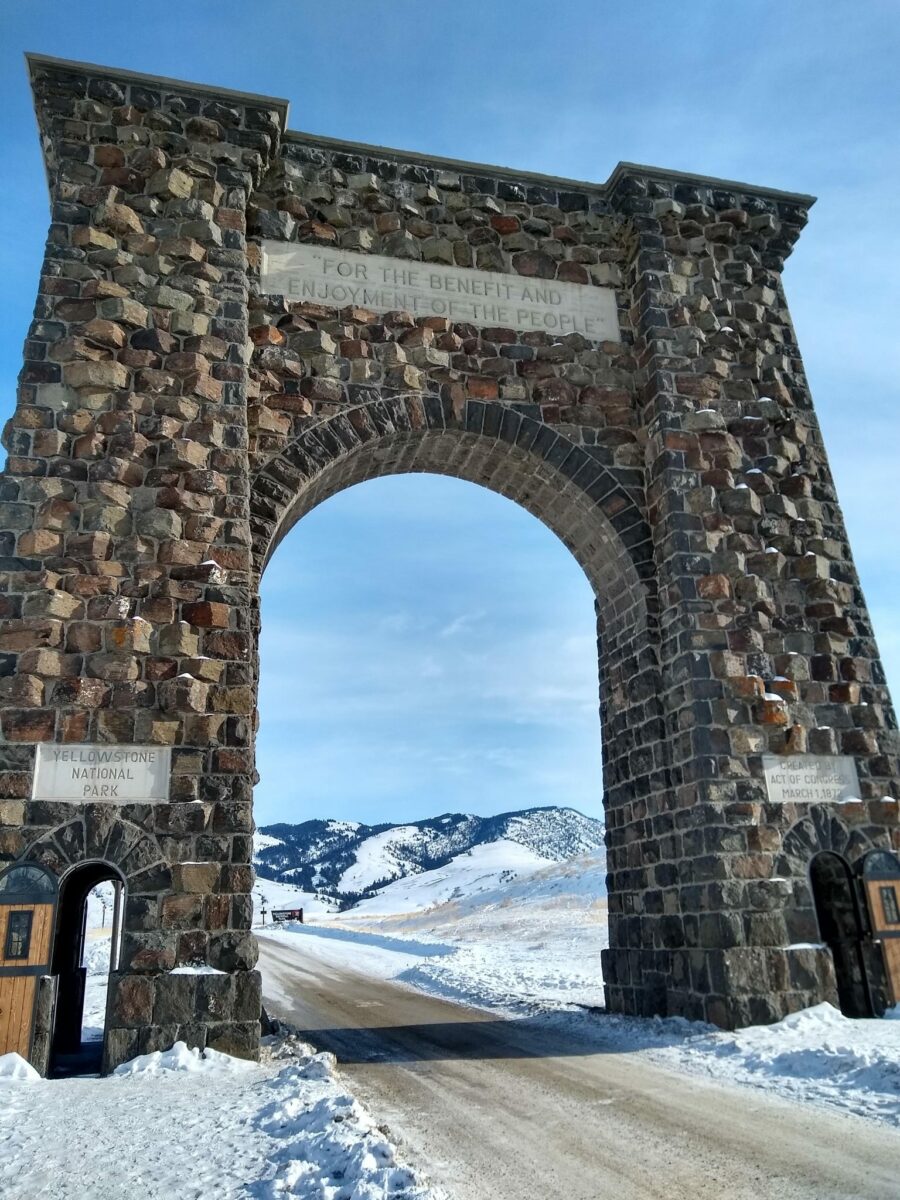 Getting to Yellowstone in Winter
Here I'm describing a road trip starting in Bozeman, Montana (how to do the trip car free is also covered below) and beginning your visit at the North entrance to the park in Gardiner, Montana. You can fly to Bozeman on several major airlines and rent a car, or you can road trip from home. Keep in mind that driving times can be unpredictable with winter weather and storms so be sure to give yourself some extra time and be conservative with how many miles you can travel in a day. From Bozeman, it's 80 miles to the North entrance of the park (more details about the road trip below).
Where to Eat and Sleep in Yellowstone in Winter
If you're on an organized package trip (see further in post), this will be taken care of for you, but if you're traveling on your own you'll need to do a bit of planning for eating and sleeping.
Sleeping
If you want to sleep in the park during the winter season, you'll need to make reservations at Mammoth Hot Springs Hotel or Old Faithful Snow Lodge ahead of time as these accommodations fill up. If you're staying at Old Faithful, you'll need to get there by snowcoach (not driving, see details in itinerary below). You can also stay in Gardiner, Montana (at the North entrance to the park) where there are several year round hotels. There is a fee booth just past the Roosevelt Arch, the fee is $35 for 7 days (make sure to keep your receipt). If you have a pass, you'll need to show it with ID each time you enter.
Eating
There are limited dining opportunities in the park. Both Old Faithful Snow lodge and Mammoth have dining rooms. Warming huts in Madison, Canyon, Fishing Bridge and West Thumb have restrooms, drinks and vending machine snacks. Beyond that you're on your own, so make sure you have some snacks, especially if you're going out skiing or snowshoeing. If you're road tripping, look for hotels with refrigerators and microwaves (I like the Best Western in Gardiner for this reason, along with their free full breakfast), which will give you the option of bringing from your hotel hot food or a hot drink! If you're staying in Gardiner, there are a number of restaurants open all year. The K-Bar has great pizza and the Corral has great burgers, both are local institutions!
5 Day Itinerary for Winter in Yellowstone starting from Bozeman, Montana (Driving)
Day 1: Scenic Drive from Bozeman to Gardiner, Montana (north entrance)
Enjoy a leisurely breakfast at Jam in downtown Bozeman and pick up any provisions you need before starting the 80 mile drive to Gardiner at the North entrance to Yellowstone National Park. This is an incredibly scenic drive through the Paradise Valley along the Yellowstone River. Stop for lunch and a soak at Chico Hot Springs, a historic and delightful diversion. Continue on through Yankee Jim Canyon to Gardiner (watch out for deer and elk here and try to avoid making this drive at dusk). Check into your hotel in Gardiner or at Mammoth Hot Springs Hotel (Mammoth and Gardiner are 5 miles apart). FUEL UP YOUR CAR IN GARDINER (fuel is not available in the park). Take a stroll around the historic and photogenic Roosevelt arch (possibly with an Elk herd roaming around). Have dinner in Gardiner or at the Mammoth Dining Room (currently being renovated, expected to reopen April 2019)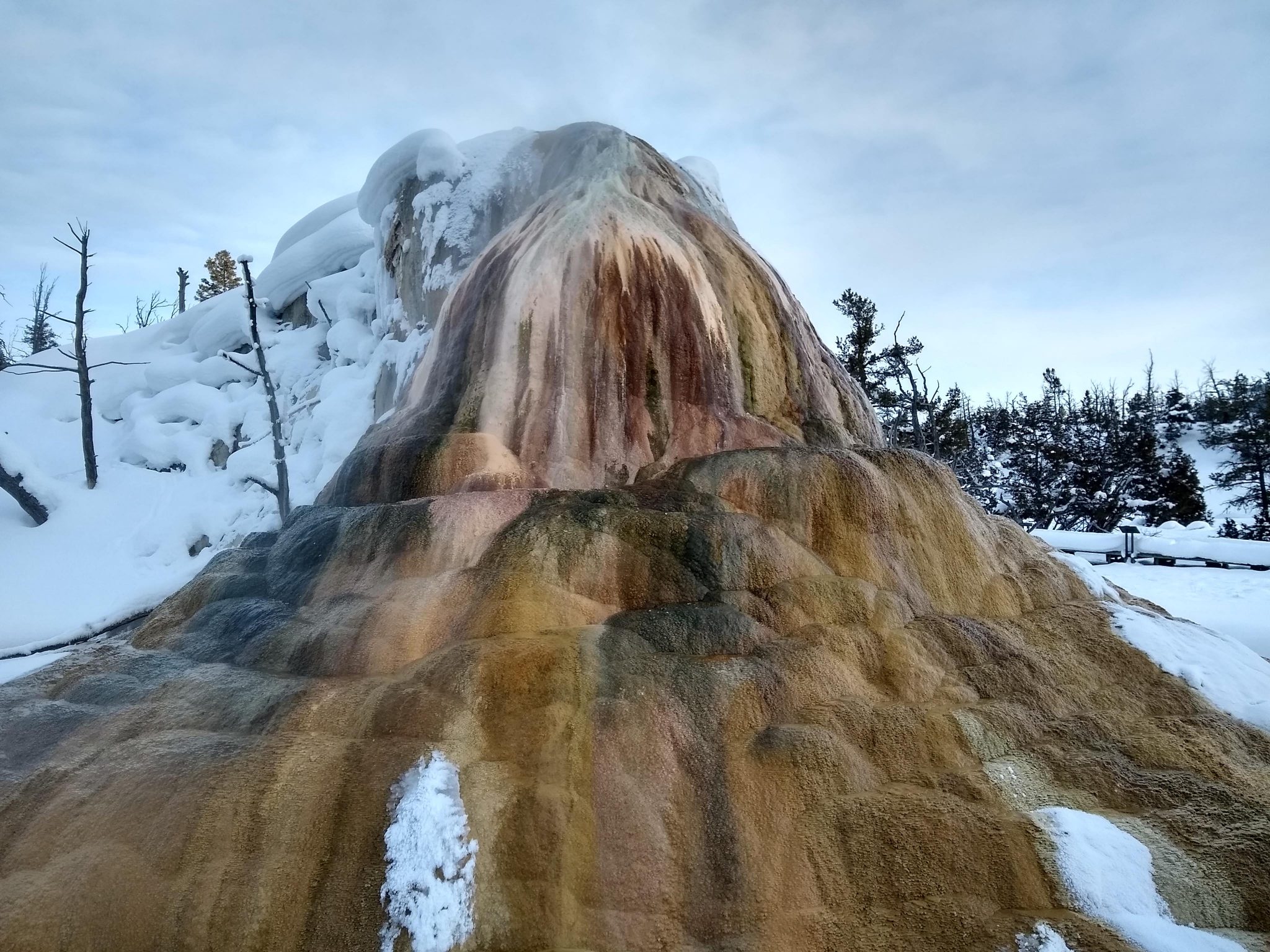 Day 2: Snowcoach Trip to Old Faithful
Don't miss the chance to see the geysers in the winter! It's absolutely spectacular! You can't drive there, you will need to take the snowcoach but the snowcoach is FUN (and you don't have to drive!). It's about 4 hours each way but you'll make stops and see wildlife and incredible scenery. Don't miss this unique experience! If you have skis or snowshoes you can bring them along (you can extend your trip by staying overnight at the Old Faithful Snow Lodge and taking ski lessons or a tour by snowcoach to other parts of the park if you have more time). If you take the day trip you will have about an hour and a half at Old Faithful. I recommend bringing lunch with you so you can spend that time exploring (or add another day or two to your trip and stay a night or two at Old Faithful). Don't miss walking around the geyser basin as it's incredible in the winter. Use caution as the boardwalks can be really icy. You can ski around the geyser basin but if you don't have skis you can walk just as easily (in places walking may be easier due to the ice-a pair of these spikes for your shoes could be helpful!). There are lots of ski trails around Old Faithful, make sure to pay attention to the time so you don't miss the returning snowcoach! If you add an extra day or two here you can take a cross country skiing lesson (with rentals) or a tour to the Grand Canyon of the Yellowstone. You'll be back in Mammoth at 6pm after a long day, so you'll be ready to find some dinner and relax for the evening.
Day 3: Boiling River and Exploring Mammoth Hot Springs
Start the morning with breakfast at your hotel and/or a coffee and a pastry from the super cool and historic Map room at the Mammoth hotel and then head to Boiling River. The Boiling River is a must visit spot in Yellowstone in winter! It is legal to swim here in the Gardiner River after the Boiling River enters it (not in the Boiling River itself). There is a pullout just south of the 45th parallel bridge (between the park entrance and Mammoth). A sign in the parking lot clarifies the rules and hazards. There is a clear trail to follow and if you choose to swim, you'll have to wade through a bit of colder water to get to the hot water (make sure to bring really warm dry clothes to wear when you get out if you swim!). Even if this swim doesn't appeal to you, don't miss out on the 1.5 mile flat hike to the swimming area and back, as it takes you along an increasingly steamy Gardiner River that is very photogenic (especially in winter)! Grab lunch in Gardiner or pack your own and head back to Mammoth Hot Springs. Rent skis or use your own if you brought them to try out the upper terrace ski trail or take a cross country ski lesson. You can also explore the lower terraces on foot or snowshoes or take a skier shuttle to other ski trails in the area. When you're ready for dinner, head to the Corral or the K-Bar in Gardiner (mentioned above)
Day 4: Tower Falls Ski or Snowshoe, Lamar Valley Wildlife Viewing and Chico Hot Springs
Get an early start, check out of your hotel and drive to the Lamar Valley where you have a good chance of seeing wolves, especially around dawn or dusk. It's approximately 30 miles between Mammoth and the Lamar ranger station, but expect this to take at least an hour to drive and possibly longer depending on how many bison are on the road! You are likely to see wildlife all along the road, so if you don't feel like driving that far don't despair, I've seen wolves between Mammoth and Tower Junction.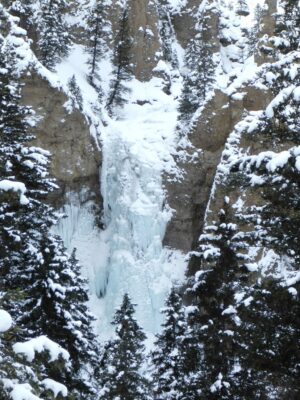 When you're done watching wildlife and contemplating the general vastness, head back to Tower Junction and cross country ski or snowshoe the Tower Fall trail. This route on a closed road climbs slightly and is a 5 mile round trip to Tower Fall. Tower Fall is more beautiful frozen during the winter than in the summer if you ask me! Make sure to listen for the water that is flowing behind and beneath the ice! When you get back to your car, leave the park and head back to Chico Hot Springs, about 45 minutes past Gardiner. I know, I know, you stopped there on the way down, but trust me, you'll want to go back! This time you'll be staying overnight (get a reservation) so check into the hotel and get ready for a good soak in the hot springs and a tasty dinner.
Day 5: Chico Hot Springs to Bozeman
After breakfast (and perhaps another soak), head up to Bozeman and make sure to check out one of Bozeman's fabulous local breweries such as MAP Brewing before leaving town!
Itinerary for Yellowstone in Winter without a car
Xanterra, the concessionaire for Yellowstone National Park, offers a variety of winter vacation packages that include lodging, transportation, tours, rentals and lessons in different parts of the park. They can also arrange a shuttle from the Bozeman airport at an additional cost for a completely car free experience. Ask about this at booking if you're looking for that service. Traveling without a car is a great option for those who don't drive, or those who would rather avoid the hassle of renting a car (especially if it's going to be parked for a few days) and driving in winter conditions! It also means you don't have to do any planning!
I hope you're inspired to visit Yellowstone in winter! It will be the trip of a lifetime and an epic adventure in a National Park that very few people have had. Enjoy!
NOTE: I have not received any compensation or sponsorship from any hotel, tour operator or restaurant mentioned in this post. I have used affiliate links in the packing suggestions.