How to make mini Rhubarb Cheesecake
Posted On April 8, 2019
Rhubarb is almost here!!! You can already find the hot house rhubarb from Puyallup at QFC and Fred Meyer (and possibly other stores, that's just where I've seen it). Rhubarb will be all over our farmer's markets very soon! I had lots of rhubarb sauce on ice cream growing up here in spring and early summer, but I didn't really learn to appreciate Rhubarb until I lived in Alaska, where it is welcomed with a thrill that means summer is really, truly coming. Alaska is also a place with the BEST baked goods, and rhubarb everything is around all the time! The first place lived in Alaska was Skagway, known as Alaska's Garden City. Rhubarb was everywhere, including in the yard of the historic house I lived in. When I moved back home to Seattle, I was determined to never take this tart spring treat for granted ever again. A touch of spring fever and rhubarb cheesecake was born!
Rhubarb is extremely tart and it is going to involve some sugar. This cheesecake is a great way to have a lower sugar (24 g of carbs per individual jar) in a dessert. It has the same amount of sugar as a cup of nonfat strawberry greek yogurt and about a third of the sugar in a Costco muffin!
As for the cheesecake, I love cheesecake but I always had terrible luck making it. I could never get it to bake all the way through, and it requires a pan you can only use for one thing! Our small kitchen does not accommodate any single use tools. I do a lot of canning and a few years ago I started experimenting with making other things in canning jars and I especially came to love making cheesecake in canning jars because not only is it easy, you can put the lids on and freeze them! This is a really fun way to have a super fancy dessert on a picnic too! They travel really well with their lids on so they can be a great thing to bring to a potluck. If you're serving them at home, they are easy to serve (just give your guests the jar and a spoon) and easy to clean up.
My favorite meal to have rhubarb cheesecake with is homemade pizza after a hike!
Print
Individual Rhubarb Cheesecake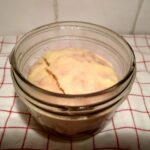 Creamy, delicious individual cheesecakes featuring that spring and early summer favorite, rhubarb! These also freeze really well for future use and are lower in sugar and gluten free!
Author:
Prep Time:

45 minutes

Cook Time:

25 minutes

Total Time:

1 hour 10 minutes

Yield:

8

individual servings

1

x
Category:

Dessert

Method:

Bake

Cuisine:

American
Scale
Ingredients
For the Crust:
2 cups walnuts, crushed (either use a food processor or a mortar and pestle, or you could put them in a ziploc bag and crush it with a hammer)
6 Tablespoons butter, melted
For the Cheesecake:
16 oz cream cheese (two 8 oz blocks)
2/3 cup sour cream
2/3 cup sugar
2 eggs
1 1/2 teaspoons vanilla
For the Rhubarb sauce (yields one cup of sauce):
3 cups diced rhubarb
1/4 cup sugar
1/2 cup water
Instructions
Preheat oven to 325
Combine diced rhubarb, 1/4 cup sugar and 1/2 cup water in a saucepan and bring to a boil. Stir occasionally so it doesn't burn or stick. Simmer for approximately 15 minutes, or until the rhubarb falls apart and the sauce thickens a bit
Spray 8 one cup (1/2 pint) wide mouth mason jars with cooking spray
Use a baking dish (you might need two depending on the size of your dish) and place a dish cloth or cloth napkin to cover the bottom. Set the mason jars on the cloth.
Make the crust: mix the melted butter and crushed walnuts into a paste. Spread the paste evenly among the jar bottoms. Use a wine cork (or another small blunt object) to press the walnut/butter mixture relatively evenly across the bottom of each jar.
Make the cheesecake: Using a stand or hand mixer, mix the cream cheese, sour cream, sugar, eggs and vanilla on high until smooth.
Add 1/4 cup of the rhubarb sauce and mix till just blended (you can mix this by hand as well)
Pour the cheesecake mixture evenly into the 8 jars
Pour hot water around the jars, so that the jars are in a water bath up. Fill until the water comes about a third of the way up the jars.
Bake for 25 minutes, then turn off the oven and leave the jars in the oven for awhile if you have time
Remove jars from oven and from the water bath. Allow them to cool completely. Serve with additional rhubarb sauce poured over the top and whip cream if you like!
Notes
The magic of these cheesecakes is that not only does the flavor of the rhubarb taste amazing, but they can be made way ahead of time and can live in the freezer for at least a couple months (if you can wait that long!). They'll also last several days in the fridge. To make them last, add the lids and rings to the cheesecakes and then you can stack them in the freezer or fridge.
Keywords: Cheesecake, Rhubarb, lower sugar dessert, gluten free