Stan's Overlook Rattlesnake Mountain Hike
Posted On May 8, 2019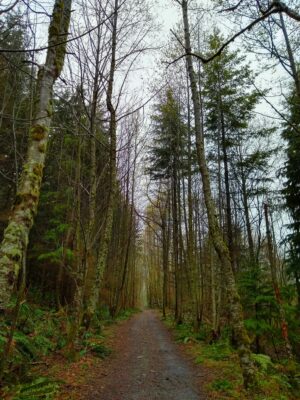 Stan's Overlook is a mellow and less crowded alternative to Rattlesnake Ledge on the opposite side of Rattlesnake Mountain. Part of a ten mile trail across Rattlesnake Mountain, it criss crosses with mountain bike trails but the hiker trails are mostly separated. Four miles round trip with approximately 1000 feet of elevation gain.
Stan's Overlook is the homeland of the Snoqualmie People.
Parking Pass: Discover Pass
Dogs: yes, on leash
Cell phone coverage: Good.
Restrooms: There are pit toilets in the parking lot at the trailhead.
Accessibility and Mobility: This trail is steep at times, but overall it is well maintained. There are sections of rock and and mud in places.
Related: What to wear for a hike in the Pacific Northwest, what to bring on a hike in the Pacific Northwest
Is Stan's Overlook on Rattlesnake Mountain right for me?
If you're looking for a less crowded alternative to Rattlesnake Ledge in the same area with a similar view, and don't mind dodging a few mountain bikes at the trailhead this is a good hike for all year and any weather. I enjoyed it recently on an extremely foggy and wet day where you couldn't see the view at all, but the solitude and convenience of it's location totally made up for that!
What time of year is good for Stan's Overlook?
Any time! This is what makes it so great. I hiked it recently on a cold, rainy, foggy day and I really enjoyed it. With the view it would be even better. I did wear rubber boots (like I often do) as it was a bit muddy in places with all the rain.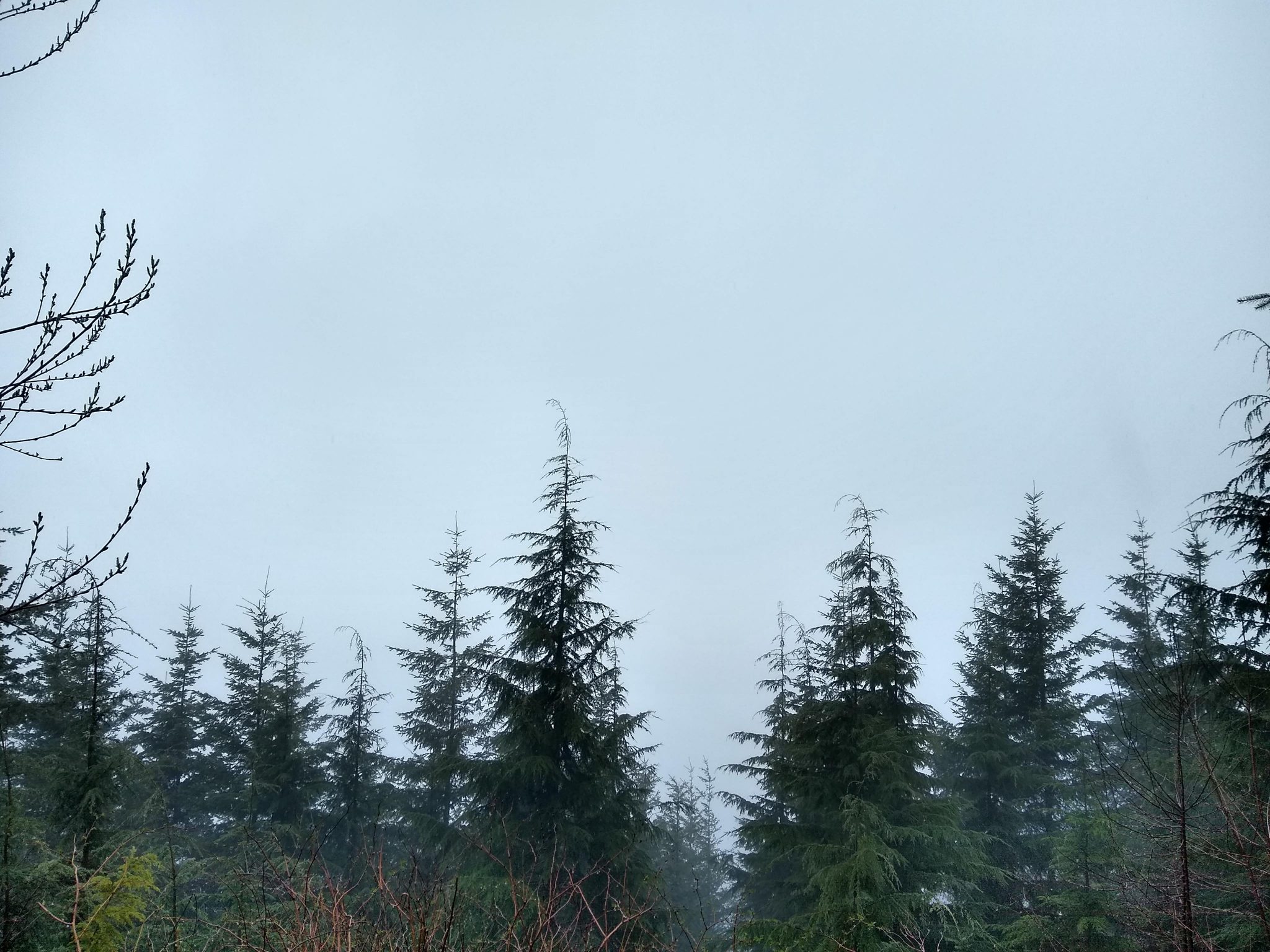 Where is Stan's Overlook Rattlesnake Mountain?
The trailhead for Stan's Overlook is at the opposite end of the Rattlesnake Mountain trail from Rattlesnake ledge. To get there, take exit 27 from I-90 (between Issaquah and North Bend), turning right at the bottom of the exit ramp. This road takes you straight there in just under a mile. Turn right into the parking lot that has a sign for needing a Discover Pass (you need a Discover Pass here). This is just before you enter the parking area for Snoqualmie Point park.
Trail Description
Don't be put off by mountain bikers in the parking lot! You'll only share the trail with them for a few hundred yards (I think mountain biking is great, but I'm not wild about sharing the trail with them, especially with my puppy who is still learning leash walking!). There are a few places where you will cross their trail or be on it for a very short distance, not a big deal at all.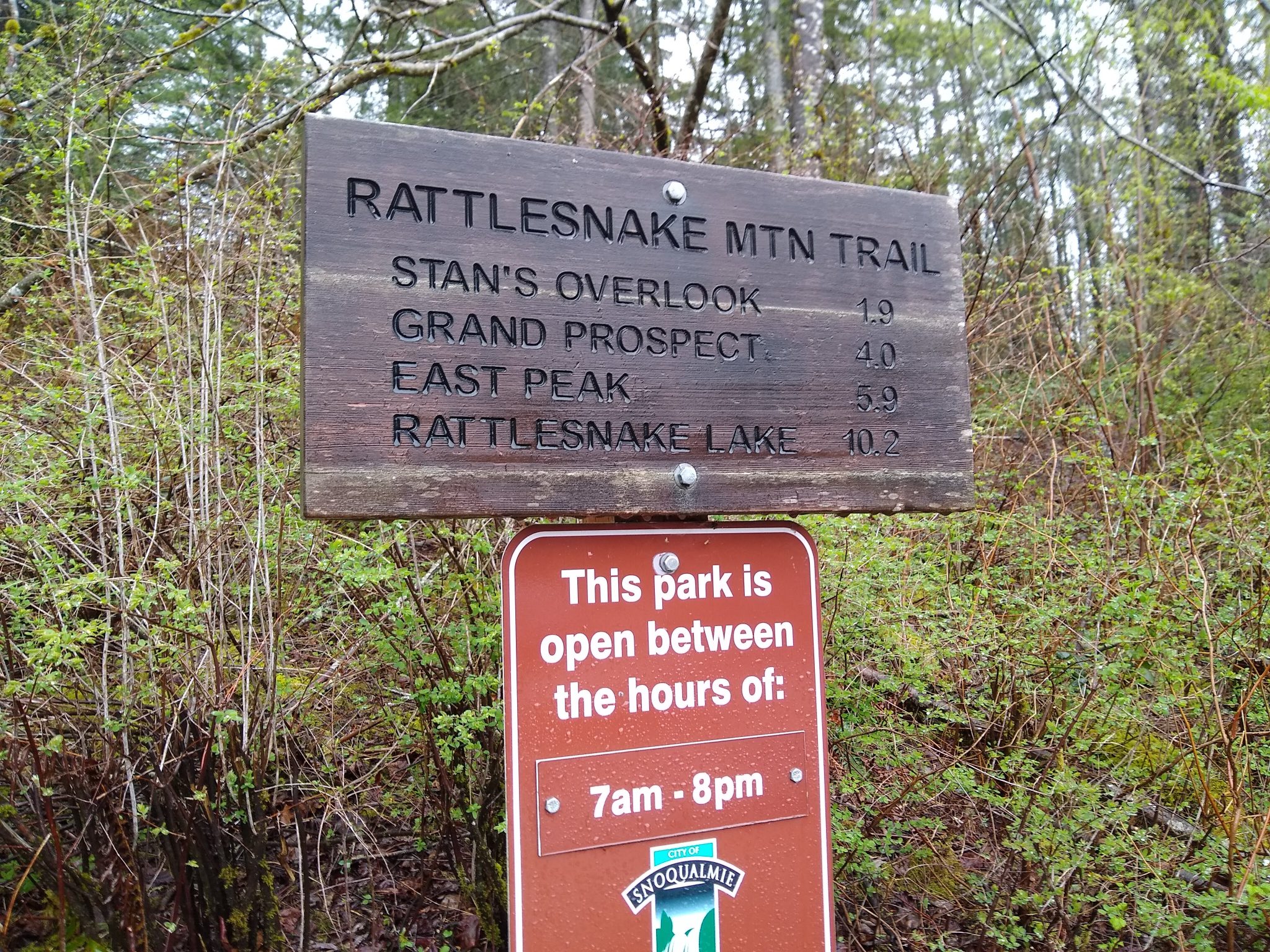 You'll go a couple hundred yards up the trail and here the bike trail separates. There is a big sign about mountain biking, the hiking trail is marked and ahead of you. The first half of the trail is wider, the second half is a little narrower but still plenty of room to not get too wet brushing against the vegetation on a rainy day! A few times you will cross the mountain bike trails, but the intersections are marked. Keep following the signs towards Stan's Overlook (no idea who Stan was!) and Grand Prospect. Towards the end, I thought I had missed it because Stan's Overlook dropped off the last sign and it said "Grand Prospect" only. I couldn't see any other trails (other than a mountain bike one) so decided to go a bit farther. I'm glad I stuck with it because the overlook was not too much farther. When you are almost there, there's a junction with a mountain bike trail and a sign. Follow the mountain bike trail for less than a quarter mile and you'll come to a picnic area with a great view (or fog, lol). Once you've had your rest and your snacks and taken in the view, head back down the way you came!
Breweries and Bakeries near Rattlesnake Mountain
Check out Pioneer Coffee in North Bend and Volition Brewing.
Electric Vehicle Charging
There is fast charging available at the North Bend Outlet Mall (walk to Pioneer Coffee!).