Learn a Winter Olympic Sport at Whistler
Posted On December 2, 2019
Last Updated on April 2, 2022
A really fun way to beat the winter blues is winter adventure! What better way to do this than to learn a winter olympic sport at Whistler? Honestly, I can't think of a single one. Keep in mind that this is Ordinary Adventures, so you don't need to be some kind of super athlete to do this. If you've ever watched the Winter Olympics and thought "I wonder what it would be like to try that" then this post is for you! From mellow cross country skiing to biathlon to ski jumping (what?!?) you can learn it just across the border in Whistler. These activities are at Whistler Olympic Park, which is not in the same place as Whistler Blackcomb for downhill skiing. This location is about 45 minutes away (towards Squamish and Vancouver) in the Callahan Valley. It's a great location for a weekend getaway from Seattle, and you can stay in Squamish or even North or West Vancouver and keep it more affordable than trying to stay at Whistler Village in the middle of ski season. Another thing to note about Whistler Olympic Park is that it has a beautiful day lodge, with food, drink, heated outdoor deck and firepit, changing rooms and FREE showers (bring your own towel).
Related: Best cross country skiing near Vancouver BC
Getting to Whistler Olympic Park
If you're driving, it's about an hour from Squamish and about a 35 minutes from Whistler Village. These are the closest places to get a vacation rental or hotel. It's about an hour and 45 minutes to drive from Vancouver (plus traffic). There are buses available between downtown Vancouver, the Vancouver airport and Whistler Village. There is also a shuttle bus from Whistler Village to Whistler Olympic Park, so it's possible to do this car free!
Cross Country (Nordic) Skiing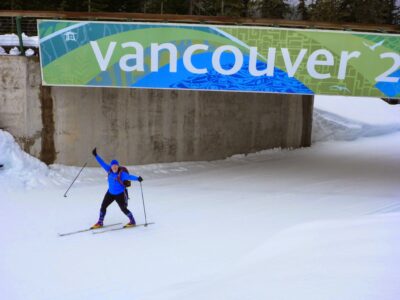 British Columbia is full of amazing cross country skiing and if you want to take a lesson this is a fantastic place to do it. You can rent all the gear as well as take a lesson if you like in different styles of cross country skiing. The trails are pretty epic at the location of all the cross country skiing in the 2010 Winter Olympic games. There are some beginner trails but there is also lots of challenge for people with more experience or for people who like to just get wild with a new sport right away (not me! ha!). The Olympic rings are on a beginner trail that's almost completely flat so you can be out there on your very first day and zoom (or wipe out) right in front of those iconic rings! One note, their blue runs are HARD, a lot harder than the ones in Washington. I've found this to be true at most locations for cross country skiing in Canada.
Biathlon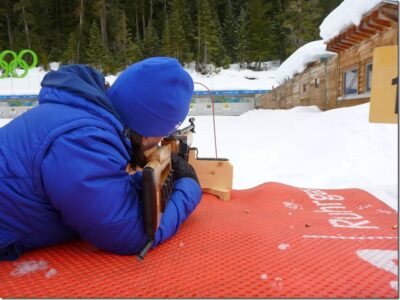 Another way to learn a winter olympic sport is by taking a biathlon lesson. If you're not familiar with biathlon, it's the event where you ski and also shoot at targets. The lesson includes both a skate skiing lesson as well as target practice. You don't have to ski with the gun like Olympic athletes do, either! And, getting down on the ground with my skis on wasn't as scary as I thought it would be. I'm not very comfortable with guns (I'm terrified of sudden loud noises for crying out loud). I never thought learning to do biathlon would be something I would enjoy, but it was a great experience. The instructors did a great job making everyone feel comfortable. The gun isn't that loud. I really loved the target practice and it turned out that I was good at it! Since I'm never good at anything athletic right away, it was really fun for me.
Whistler Sliding Centre: Skeleton and Bobsleigh
If you want to be much more terrified, they also offer an experience in Bobsleigh and Skeleton. I can't speak for those personally, but if you like to zoom downhill on ice, it would be fun to try. You can also watch competitions when they are happening, a tamer way to experience it!
Ski Jump – Are you COMPLETELY NUTS?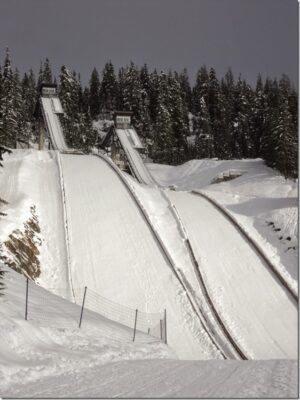 You can literally fly through the air on the ski jump although just standing by it might be enough terror of an experience. At least occasionally they offer ski jump lessons or experiences (an upcoming one was being advertised when we were there). I would suggest calling for when they offer these clinics and what the costs are.