5 Best Trails in Seattle
Posted On March 28, 2020
Last Updated on February 1, 2021
Even though we're surrounded by many amazing day hikes, sometimes you need something closer to home. I've previously written about my favorite walks in Seattle and this post is specifically about routes on trails that feel like a trail and not a walk in an urban area. Some of these trails in Seattle touch sidewalks and paved trails, but all of them have a least some dirt and mud if that's what you're looking for! Perfect for locals looking for a car free outing, or visitors without cars who want to explore forests and beaches in the city.
All of these trails allow leashed dogs (except on beaches – dogs are not allowed on any of Seattle's beaches). All of these are excellent year round and all weather options for when you want an after work adventure on a long summer day, want a short adventure on a rainy winter day or just don't want to do to much planning.
Related: Best Hikes in Bellevue, Best Hikes in North Bend
Seward Park Loop and Peninsula Trails – Southeast Seattle
Location: Seward park is a peninsula sticking out into Lake Washington between the Rainier Valley and Mercer Island
Length: There's a 2.5 mile paved flat trail going around the perimeter of the park (mentioned in my Seattle walks post linked above), in addition there are several additional miles of dirt trails in the middle of the peninsula which are usually almost empty of people. Most people stick to the paved perimeter trail. Use this map to make up your own loops!
Elevation Gain: The middle of the peninsula is about 60 feet up, so depending on how many ups and downs you do it could be up to a couple hundred feet of elevation gain and loss
Special Features: The perimeter trail has a swimming beach, views of downtown, views of Mt Rainier, ducks, birds, turtles and bunnies. If you explore the interior of the peninsula, you'll also see some old growth forest. The old growth trees are on the north end of the peninsula. There is a nesting pair of bald eagles in the park, which you will almost certainly hear, if not see.
Lakeridge Park Trail – Southeast Seattle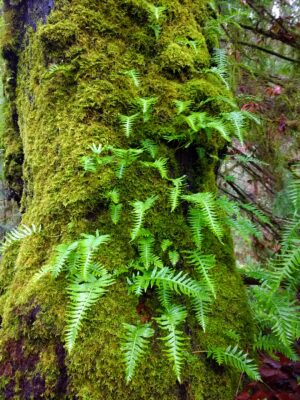 Location: Southeast Seattle, near Lake Washington, south of Seward Park, very near the southern limit of the city of Seattle. I'm including two parks in this side of the city since this is where I live!
Length: About a mile round trip
Elevation Gain: 200 feet
Special Features: I just love this trail, it really feels like you have left the city entirely, even though it's only a mile long. It follows a steep ravine of Taylor Creek through the forest. If you want a longer adventure, you can combine this with a neighborhood walk and nearby spectacular Kubota Gardens.
Lincoln Park Trails – Southwest Seattle
Location: Southwest Seattle, south of Alki beach next to the Fauntleroy (Vashon) ferry terminal
Length: 2 mile loop (5 miles of total trails located in the park)
Elevation Gain: 150 feet
Special Features: Another location with old growth forest and a beach. The beach is right by the ferry terminal so it's a good ferry viewing location! Some of the trails are paved, some gravel and some dirt. A recommended two mile loop is to start either along the beach or bluff trail to the end, then up or down to the other and back to your starting point. Great sunsets!
Discovery Park Loop Trail – Northwest Seattle
Location: Discovery park is located in the Magnolia neighborhood northwest of downtown. You can start the loop at any point, but I like to start at the north parking lot.
Length: 3 mile loop (park has 12 miles of trails if you want a longer outing)
Elevation Gain: 400 feet
Special Features: This loop trail (loops are my favorite!) features forests as well as sweeping views of the Salish Sea from a high bluff. You can go down to the beach and see the lighthouse as well if you want to add on to the trip. Download the map and make up your own route!
Washington Park Arboretum Trail – Central Seattle
Location: Central Seattle, just south of the University of Washington campus, along Lake Washington. There are multiple options for parking and starting a walk, the visitor center or Japanese garden are good options (I usually start at the Japanese garden)
Length: up to 7 miles (from Japanese garden to East Montlake Park (next to campus) and back), can do any shorter length you like!
Elevation Gain: minimal, up to 100 feet depending on exactly which trail you take
Special Features: There is so much variety along this trail! The arborteum is particularly gorgeous in spring, with spring blooms (azaleas, rhodedendrons and more) lining all the trails through the park. The north side of the park passes under the 520 bridge and on to Foster Island and across a couple more islands (linked by bridges) with lots of water birds. This is a great sunrise spot! Parts of the trail are paved and parts are dirt or gravel.