Complete Road Trip Packing List
Posted On April 13, 2020
Last Updated on November 30, 2022
An important part of planning an amazing road trip is giving some thought to what you want to bring with you BEFORE it's time to load the car. If you have a road trip packing list, then you'll be confident that you have what you need for your adventure. I've mentioned before that I am a life long road tripper and I planned my first big road trip (two weeks) when I was 11! I've learned a lot about what you really need on a road trip and I'm here to share it with you.
Any packing list is somewhat personal so as you do more road trips you'll dial in your own personal packing list. This road trip packing list is the one that I use and I've organized it by category to help you think of anything you might want to add to the list.
I have NOT included car camping supplies on this list (find a complete car camping packing list here). In my experience, combining a multiday road trip with car camping can be really challenging. It takes a lot of time to set up and break down camp each day. It works much better if you don't have to set up camp in a different place each day.
This post contains affiliate links, which means if you make a purchase I may receive a small commission at no additional cost to you. As an Amazon Associate, I earn from qualifying purchases
Car Essentials for Road Trips
This section covers things you'll need specifically for the car. We keep these items in the car at all times so we don't actually have to pack them which makes packing less stressful and then we're always prepared. Many of these items we have used around town, not just on road trips!
AAA: You NEED a AAA membership for a road trip in the US and Canada to get roadside assistance in case of a breakdown, running out of gas, battery problems or a flat tire. I've had mine since I learned to drive!
First Aid Kit: Any standard first aid kit will do (get one here on Amazon or here at REI). We have a big first aid kit in the back and a mini one in the glove box that's just a small bag with bandaids, lip balm, hand lotion, pain killers, pepto, benadryl and hand sanitizer
Spare tire and the equipment to change it: It's important to check this before you leave (also make sure your tires are in good shape overall, which reduces your chances of having a flat). If you know you'll be in cell phone range your whole trip, and you have AAA, you don't have to worry as much about knowing how to change it. You'll still need to have a spare though! Make sure to check this if you're in a rental car too.
Flashlight or headlamp: We keep ours in the glove box. Even though the car has interior lights, they often aren't adequate to find something in a bag. In general having a light you know where to find is really handy. Change the batteries before your trip
Toilet Paper: It's always a good idea to have a roll in your car, you never know when a road side toilet will come up short!
Baby wipes: Just so handy for so many things
Napkins and Tissues: Also handy for so many things
Pocket knife: Also handy for so many things
Duct tape: Also handy for so many things
Trash bags: It's really handy to keep all the trash in one place and you can easily throw it away at a rest area with dumpsters
Resuable grocery bags: handy for taking food out of the car for a food stop, or using as a day bag (a backpack also works) or for organizing things
Paper manual for the vehicle
Paper copies of your proof of insurance and ownership (or car rental papers)
Paper map: important back up for when you're out of cell phone range (I also recommend printing any important documents you need for the trip for the same reason). Also helpful to remind yourself or teach your children how to read a paper map!
Some type of splitter so you can charge multiple devices at a time (unless your car already has a million USB ports)
Bug spray
Winter only: Tire chains, snow shovel and a sleeping bag or heavy blanket (we actually keep an old sleeping bag in the car year round)
YOUR DRIVER'S LICENSE
Personal Items for Road Trips
You know better than I do what specific personal items you need, but make sure to bring clothes, toiletries and medications for each member of the group. It helps if each person has an easily identifiable bag that can be found quickly.
When packing your clothes, think about the weather and climate of every place you're traveling to (like you would on any trip) for both day and night. Make sure to pay attention to the weather along your route not just at the destination. You can always stop and do laundry along the way (another fun adventure).
I like to have clothes for long stretches of driving that are comfortable but I also like to keep hiking shoes or running shoes and hiking clothes handy in case I want to make an unplanned stop. I also recommend having a swimsuit, towel and flip flops because you never know when there might be a fun water oriented stop in the summer!
What Kind of Food Should I bring on a Road Trip?
In my opinion having some snacks and drinks with you in the car is very important. It helps keep hunger and crankiness at bay, especially when you can't find a place to eat quickly or are in the middle of nowhere. If you bring some of your meals with you that can also save money!
I recommend bringing along a cooler to give you even more options for food. We used older version of this cooler for more than 10 years and it is absolutely amazing how long it keeps things cold. Even when it's really hot it keeps things cold no problem. Our family recently got an electric cooler and highly recommend it for road trips, you can learn more about it and read our review here.
I recommend making a list of food that needs to go in it and then determine which size you need based on that. This is a great place to get everyone involved including kids in helping decide what snacks and meals you're going to have on the go. A lot of my ideas for hiking snacks are good for road trips too! A few other specifics that are good for kids and adults include:
A refillable waterbottle for each person – fill it up at each stop! I love the Mira ones because they are less expensive than some of the other metal insulated ones and they keep cold drinks cold and hot drinks hot for hours. I also love that they don't get wet on the outside when you put ice in them.
Candy! Or some other fun treat that doesn't easily melt and isn't too sticky
Dry cereal – surprisingly not messy! Good snack for anytime
Fruit snacks – I mean, who doesn't love these?
Actual fruit
Crackers and cheese (or just crackers if you don't have a cooler)
Vegetables and dip (prepackaged ones that are already bite sized work well)
Deli meat and cheese roll ups – just like it sounds! Deli meat + cheese slices and roll them up (pro tip: put the meat inside the cheese, less messy). Different people can have different kinds of meat or cheese too
Granola bars
Trail mix
Cold drinks: it's amazing to stop and get a cold drink out of a cooler on a hot day!
Anything you or your family like that isn't crazy messy and can be eaten without much preparation
Picnics: If you want to save some money on your trip, load up the cooler a bit more and have some roadside picnics!
Road Trip Comfort Essentials
These all items that are extremely helpful to have for comfort on a long car ride and should be at least considered in your road trip packing list.
Travel Pillow – or an ordinary pillow from home depending on how tight your car is packed. Not only for naps they are also just comfortable to put your head on while you look out the window
Blanket – It can be nice to have a cozy blanket to snuggle up with on a long car ride
Sunglasses – these really are essential! Along with sunscreen
Travel mug – it can be really nice to have your own travel mug to make less trash but also to have that mug you really love, even when you're away from home (make sure it fits in your cupholder!)
UV shade for car windows – one like this for the windshield and these work on the side windows. These can be especially helpful for kids.
Camp chairs – completely not necessary but can be fun at stops (you can often use a picnic table instead). I love these ones because they pack up really small but are also really sturdy.
Picnic blanket – if you want to stretch out on the ground somewhere
Frisbee, soccer ball or football to play with at rest stops. We often take a kite with us too. Anything that will get everyone moving for a few minutes when you're taking a break. If you have a dog, bring a chuck it and look for local dog parks as you go!
Entertainment Essentials for Road Trips
Everyone of all ages needs some entertainment on their road trip packing list! This will vary quite a bit from person to person. For example, some people like to read on car trips, other people get super car sick reading. I am fine reading in the car, but I get car sick if I look at my phone too much (weird I know). Make sure to download anything that relies on a cell phone signal as you may not always have a connection. Some things to consider bringing on your road trip include:
Pack of cards or other game that your family enjoys and is portable – even if you can't play it on the road, you could play when you stop for the night or if you have a long delay somewhere
These awesome road trip questions (or make up your own!)
Random fun car games
Activities related to where you are traveling – for example my Mom used to bring a copy of a word search puzzle in the shape of each state. When we crossed a state line we got a new puzzle for that state. I LOVED it. Coloring books are fun too…even for adults!
Don't forget the chargers for any devices you bring!
Headphones – especially for kids so that there aren't different things playing out loud and you have the option of everyone listening to their own thing
I really love my kindle for any kind of traveling, it's so much lighter and easier than carrying books around (though books are also amazing). I love the paperwhite with the light (it's totally nothing like a lighted screen but you can read in the dark – life changing!).
Devices for kids – I know screen time is controversial, but you can always limit it to part of the day. Don't forget headphones!
Make a playlist for your road trip and download it – however you manage your music, make sure you have a way to listen if you cannot connect to the internet
Audio books (make sure you can listen without an internet connection)
Podcasts (downloaded)
A Roof Rack Awning – this is completely NOT necessary, and after the many many road trips I've done in my life this is something I got in the last year. Now I can't imagine not having it. In 5 minutes you get shade or rain protection and it's really amazing. This is the one we have, which I highly recommend. Read more about my roof rack awning recommendations here.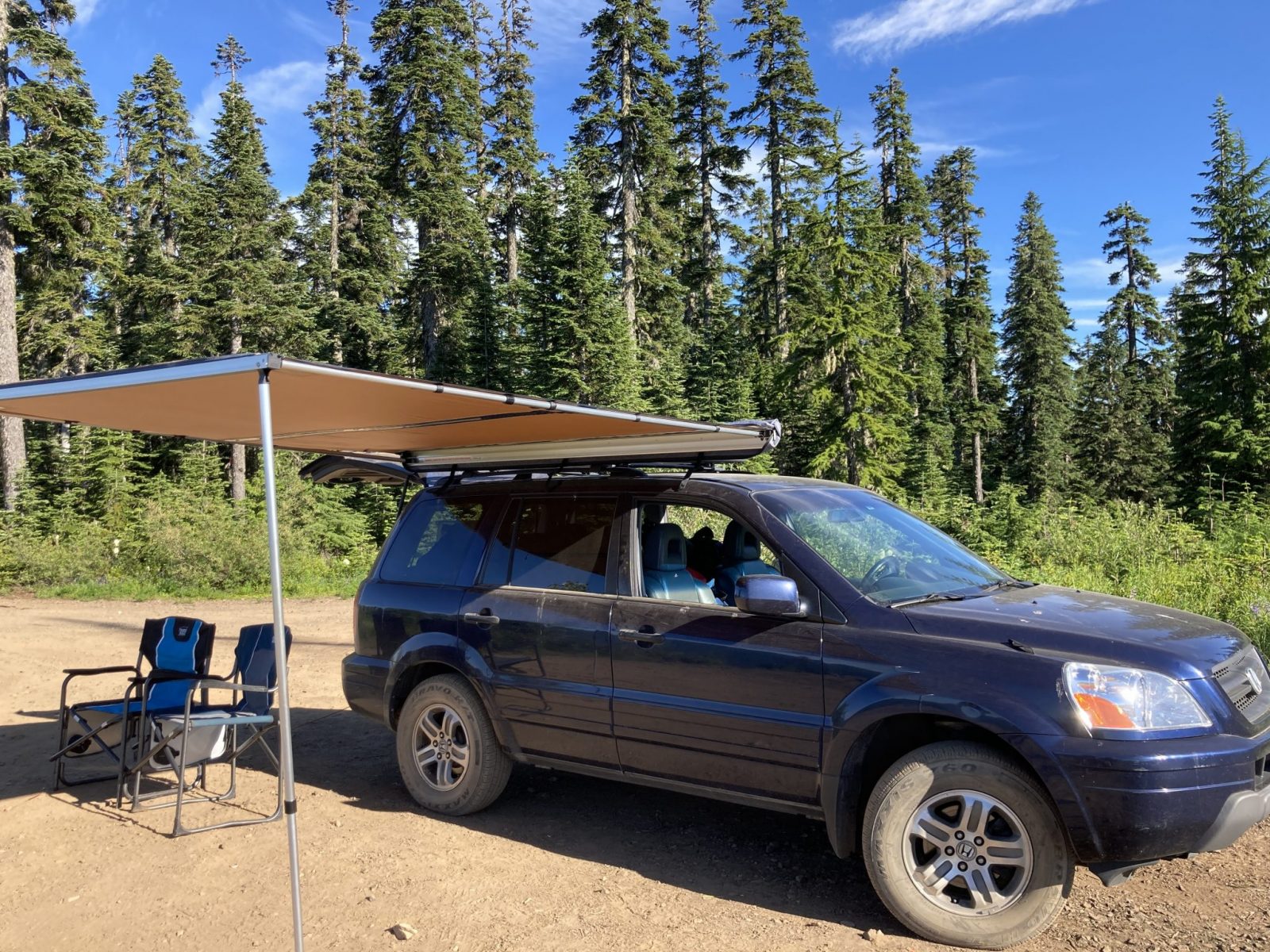 Don't forget to use your creativity to add other things that you think would add to your experience and keep them on your packing list to use every time!