East Ridge Trail on Squak Mountain
Posted On July 2, 2020
Though the mile long road walk to get to the trailhead and the lack of views on the East Ridge Trail may deter many hikers, but this is a small price to pay for the lack of crowds on this 7.5 mile round trip hike with 1800 feet of elevation gain. You do get a few views across the valley between the trees here and there and you get a good workout outside in the forest! There are also many old growth trees in the upper half of this hike. It also connects up with several other trails on Squak Mountain if you want to make a longer adventure out of it. This is one of my favorite hikes in Issaquah!
The East Ridge Trail is on the homeland of the Duwamish people and other Coast Salish people.
Parking Pass: None. Although most of this hike is in Squak Mountain State Park, the parking for this hike is in downtown Issaquah and no parking pass is required. There is no restroom at the trailhead though the restroom in the park near the community center may be open.
Dog Friendly: Yes, leashed
Related: What to wear for a hike in the Pacific Northwest, what to bring on a hike in the Pacific Northwest
Is the East Ridge Trail right for me?
The East Ridge Trail on Squak Mountain is ideal for someone who wants to get in a good workout in a shady forest close to town without many other people.

It's a steep hike, but on a reasonable grade and a well maintained and well signed trail.
You do have to walk about a mile through town/neighborhoods to get to the trailhead, but if you want to find solitude, it's worth it. It seems that there is sometimes a way to get from where you park to the trailhead on another trail, but at the time of this writing the area is blocked by a large construction project, requiring walking on a sidewalk for the first mile.
When is a good time for the East Ridge Trail?
Located in Issaquah, this trail is a good year round option. It's also good for pretty much any weather since there aren't any epic views that would be obscured on a rainy day. It's also mostly shaded (except for the first mile walking through town) so a good option for a hot summer day too.
Where is it?
The East Ridge Trail is located in Squak Mountain State Park and for this trail you park and walk from downtown Issaquah.
To get there, take I-90 to Issaquah and park near the Community Center, Rainier Trail Park and the little yellow house which is the headquarters of the Issaquah Alps Trail Club on the corner of SE Bush Street and Rainier Boulevard. It's just a couple blocks from Front Street, the main street through Issaquah.
Trail Description
Once parked, you'll be walking through town and then a neighborhood for the first mile. Note: the Rainier Trail is there but you are not going to take that trail on this route. Walk back towards Front Street (about two blocks). At Front Street, turn left and go one block to Newport Way. You'll cross over Issaquah Creek and then turn left on to Wildwood Boulevard. Head up the hill and turn left when you get to Sunrise Place. You'll go up a little more of a hill and then start to head slightly downhill (at the time of this writing it is just past a construction site for a housing development).
Just as you start to head downhill, you'll see a wooden sign on the right for Squak Mountain Access Trail. Turn right here and now you're on the actual trail, about a mile from your car.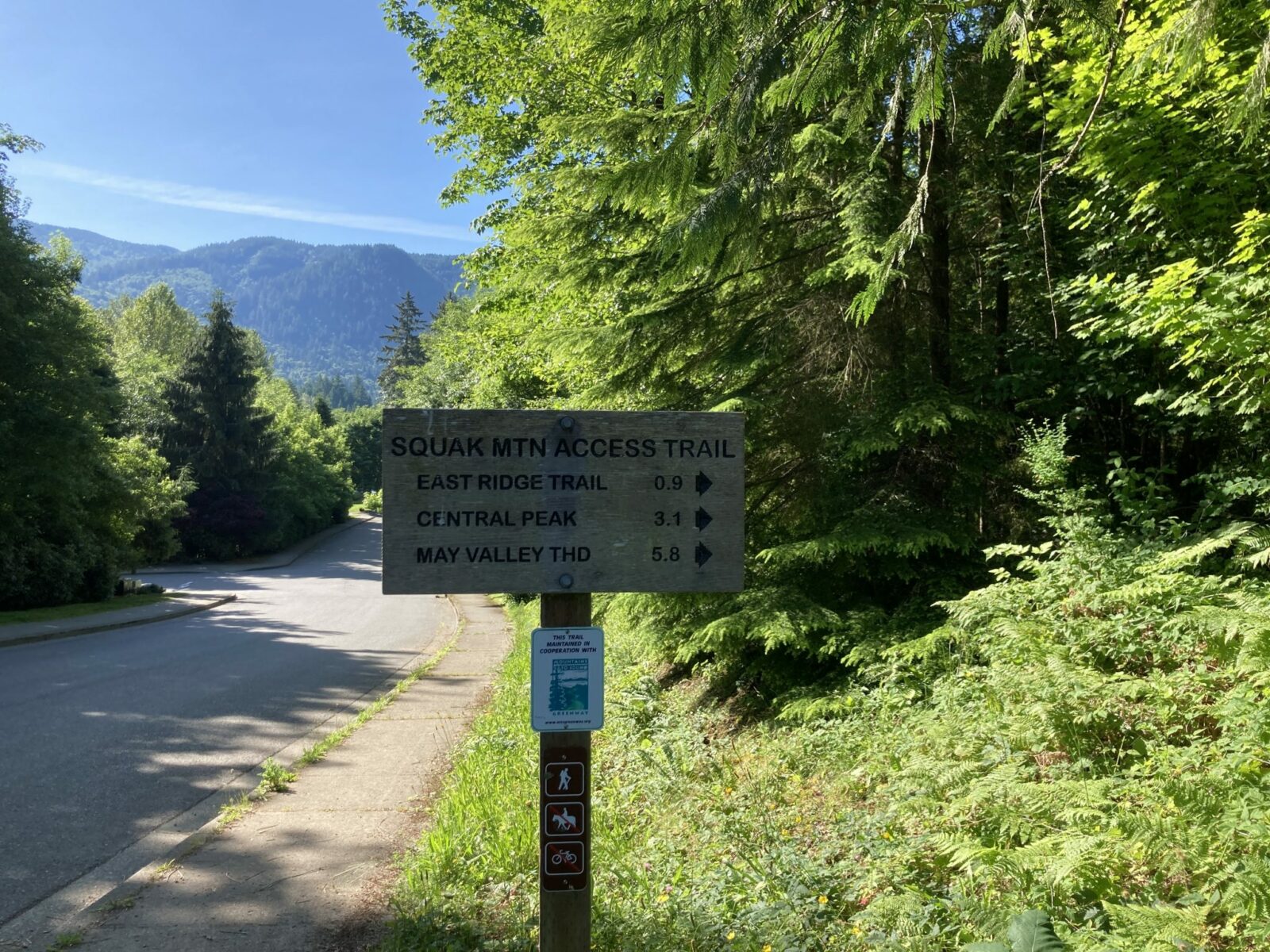 Now on the trail, you'll be gently climbing through the fern filled second growth forest. You'll also descend slightly in a couple of ravines surrounded by trees and lush undergrowth, including abundant salmonberries in early summer!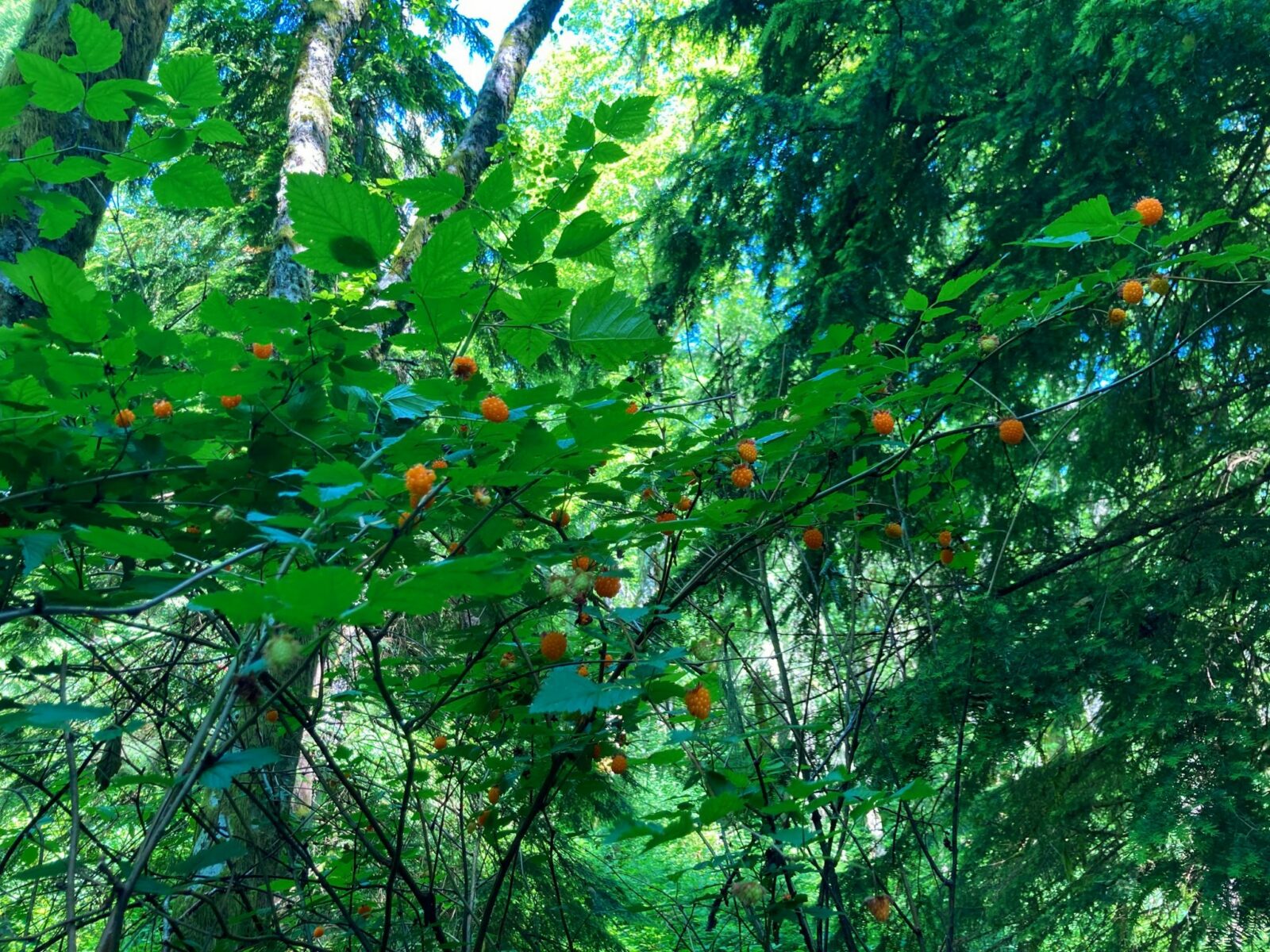 Two miles from your car (one mile on the trail), you'll come to your first trail junction with the Sycamore Access Trail. Keep right here and now the climbing becomes a bit more steep. Now you are on the actual East Ridge Trail proper.
17 switchbacks on the East Ridge Trail lift you in another mile and a bit to the junction with the East SIDE Trail. Go left (uphill) at this junction following the arrow for Central Peak.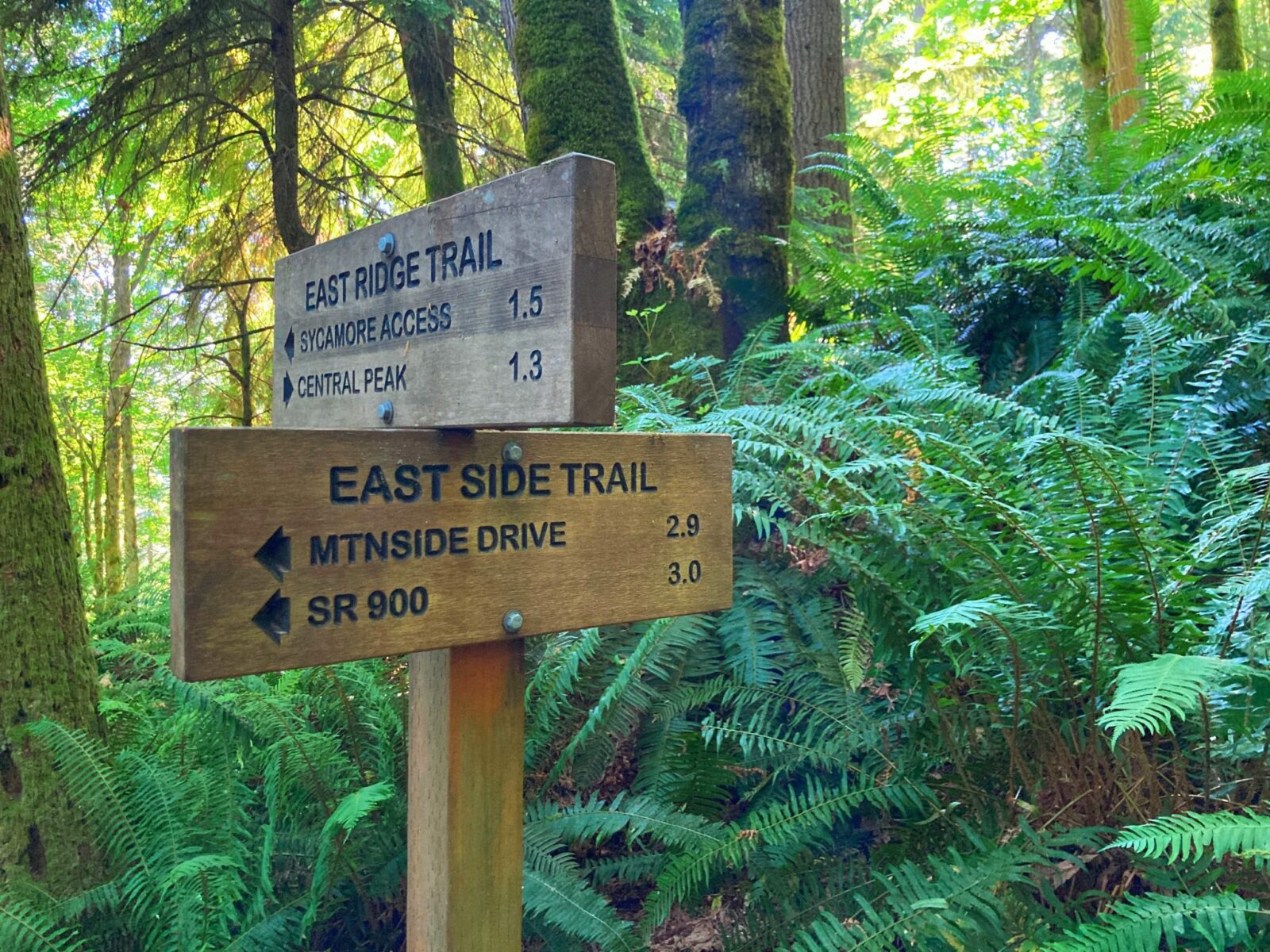 A final steep just under half mile brings you to the junction with the Phil's Creek Trail. Here you can turn around and return the way you came, or you go another half mile up to Central Peak. If you want a one way hike and can arrange a drop off a the trailhead, you could go left here on the Phil's Creek Trail and return on the less traveled side of the May Valley Loop, which takes you to the trailhead on May Valley Road on the other side of the mountain (Discover Pass required).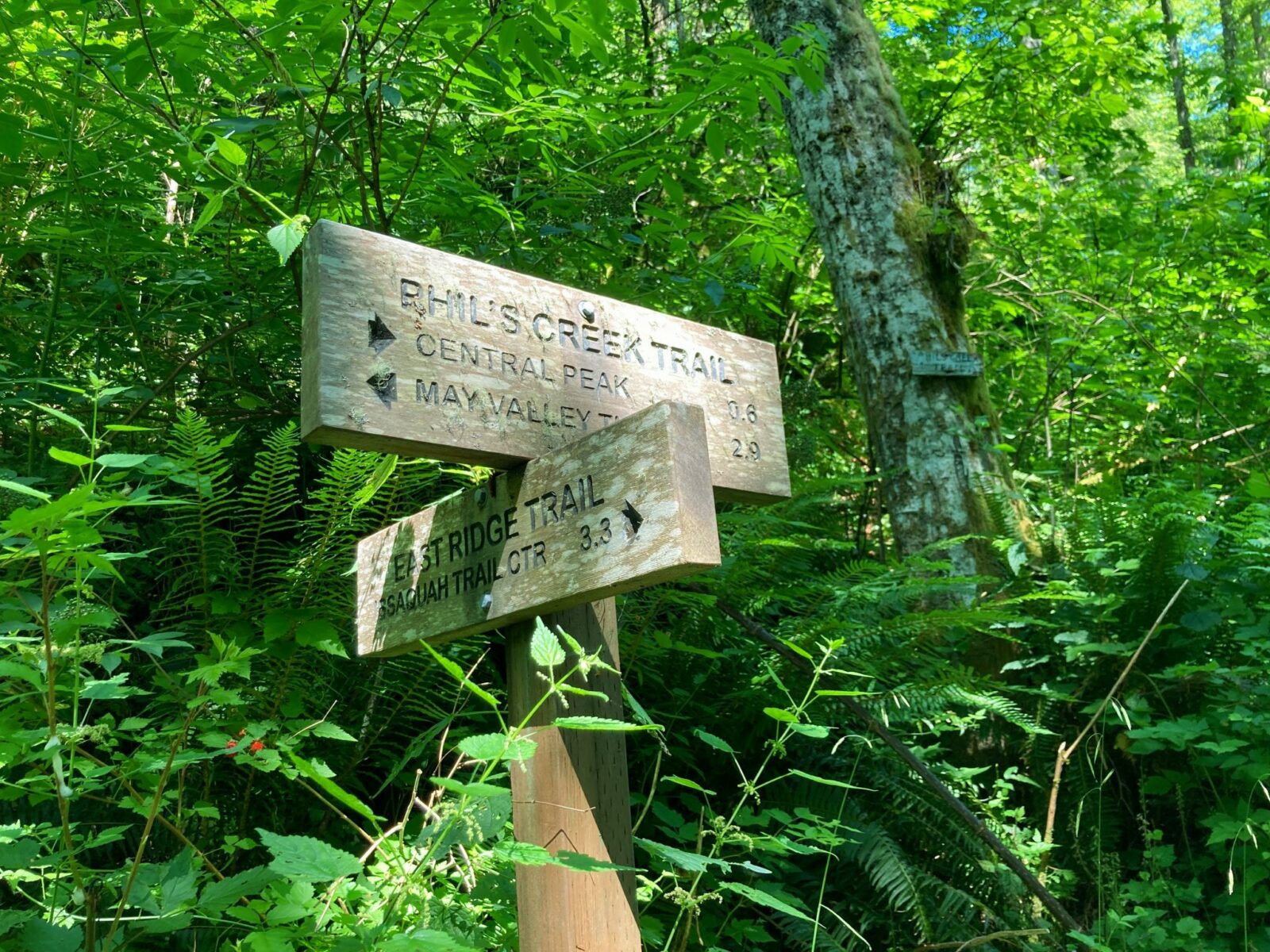 If you turn around and return here to where you parked in downtown Issaquah, your total mileage will be just over 7.5 miles (including the town/neighborhood walk).
Fuel Up after the East Ridge Trail
Since you're already parked in downtown Issaquah, this is a great opportunity to explore the many restaurants nearby!
Electric Vehicle Charging
Downtown Issaquah is well within the range of my EV at 40 miles round trip from where I live in South Seattle. If you need a charge, fast charging is available in the parking lot of Target on NW Gillman Boulevard, less than two miles away.