Best Roof Rack Awning and Should you get one?
Posted On March 31, 2021
Last Updated on November 16, 2023
A roof rack awning for your car can really take your camping and road tripping experience to the next level! Should you get one? And if you do, what kind? I'm a lifelong camper and road tripper and just got a roof rack awning about a year ago and I wish I had gotten it sooner. This article will tell you how to determine if a roof rack awning is right for you and which one to get, as well as what to look for when you're shopping!
Originally made popular through the Overlanding in Australia, a movement for off the grid vehicle travel in remote areas, a roof rack awning is a great choice for anyone who spends a lot of time in the outdoors with their vehicle.
This post contains affiliate links, which means if you make a purchase I may receive a small commission at no additional cost to you. As an Amazon Associate, I earn from qualifying purchases.
For those who want to get right to it, the one I purchased and highly recommend is the ARB awning, and we absolutely love it. I can even set it up by myself if necessary! It's definitely easier with two people but very doable with one. I cover it in a more thorough review along with a couple of competitors below.
What is a roof rack awning?
A roof rack awning is a heavy duty cover that rolls up into a bag attached to your vehicle's roof rack for easy storage. The cover extends and has legs on the outer edge that support it on the ground.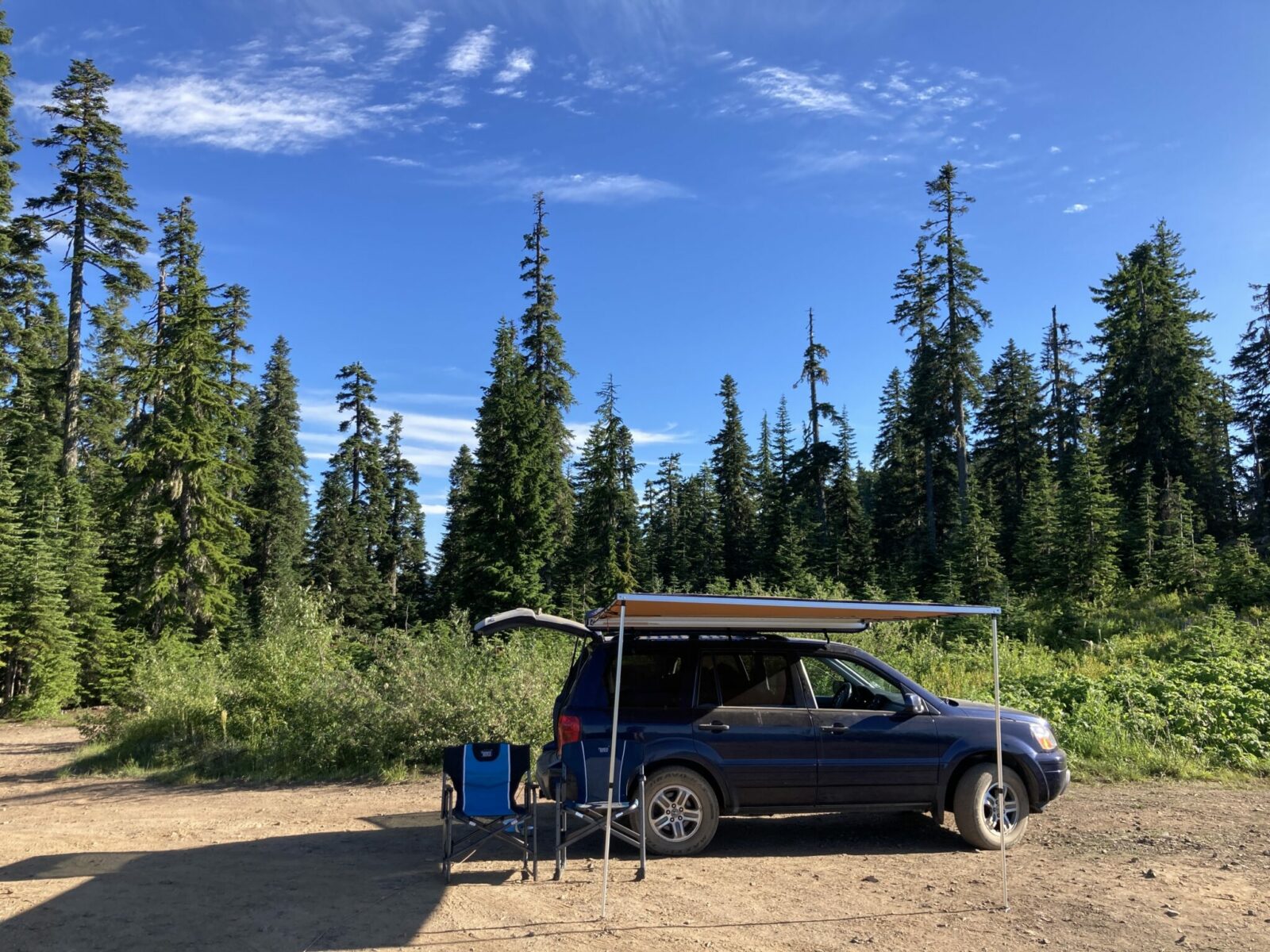 Should I get one?
I have absolutely love having a roof rack awning and can't believe I never had one before! We got one in our family because it is getting harder and harder to find campsites in our area as our population is growing fast and more and more people want to get outside.
We wanted to step up our self sufficiency in camping and road trips so that we could more easily and quickly go to more remote areas. We also wanted to be able to do easier day trips in the winter without having to rely on going to restaurants or finding picnic shelters. The roof rack awning was one of the things purchases we made to make those things happen.
The first big benefit to having a roof rack awning is a nearly instant rain shelter. It's so nice to stop along the road for lunch or for a break and have a quick shelter if it's raining. Not only can you sit under it, you can also set up a table and prepare or eat food out of the rain and without everything you're using getting wet, which is fantastic.
Another major benefit of the awning is shade. On a hot day, it's so much more pleasant to give yourself some shade to get under, whether you're stopping for lunch on a road trip or camping in a hot place without much shade.
Those are the two biggest benefits of a roof rack awning, but you can expand those even more by adding bug shelters, windbreaks and even tents to it (see the bottom section for more on accessories and additional gear).
Installation
Before you can use it the first time, you'll need to install it on your vehicle. This will vary based on your vehicle, awning and rack system. One of the reasons we got the ARB one is that it can attach to most roof racks. It comes with basic hardware needed to install, so you can usually install it with just a wrench. You might need a drill to drill some holes in your existing rack, and you'll definitely want a friend to help support it. It's pretty heavy. Most roof rack retail stores and four wheel drive supply stores can install these for you.
Once it's installed, you won't need to take it off often. You won't be able to use a drive through car wash with the awning installed (it can get caught in the arms or brushes). If you'll want to install and take the awning off frequently, you may want to invest in quick release brackets. We didn't do this, as ours is bolted onto a basket that itself is easy to take on and off, but if we were to do this over, we'd use the quick release.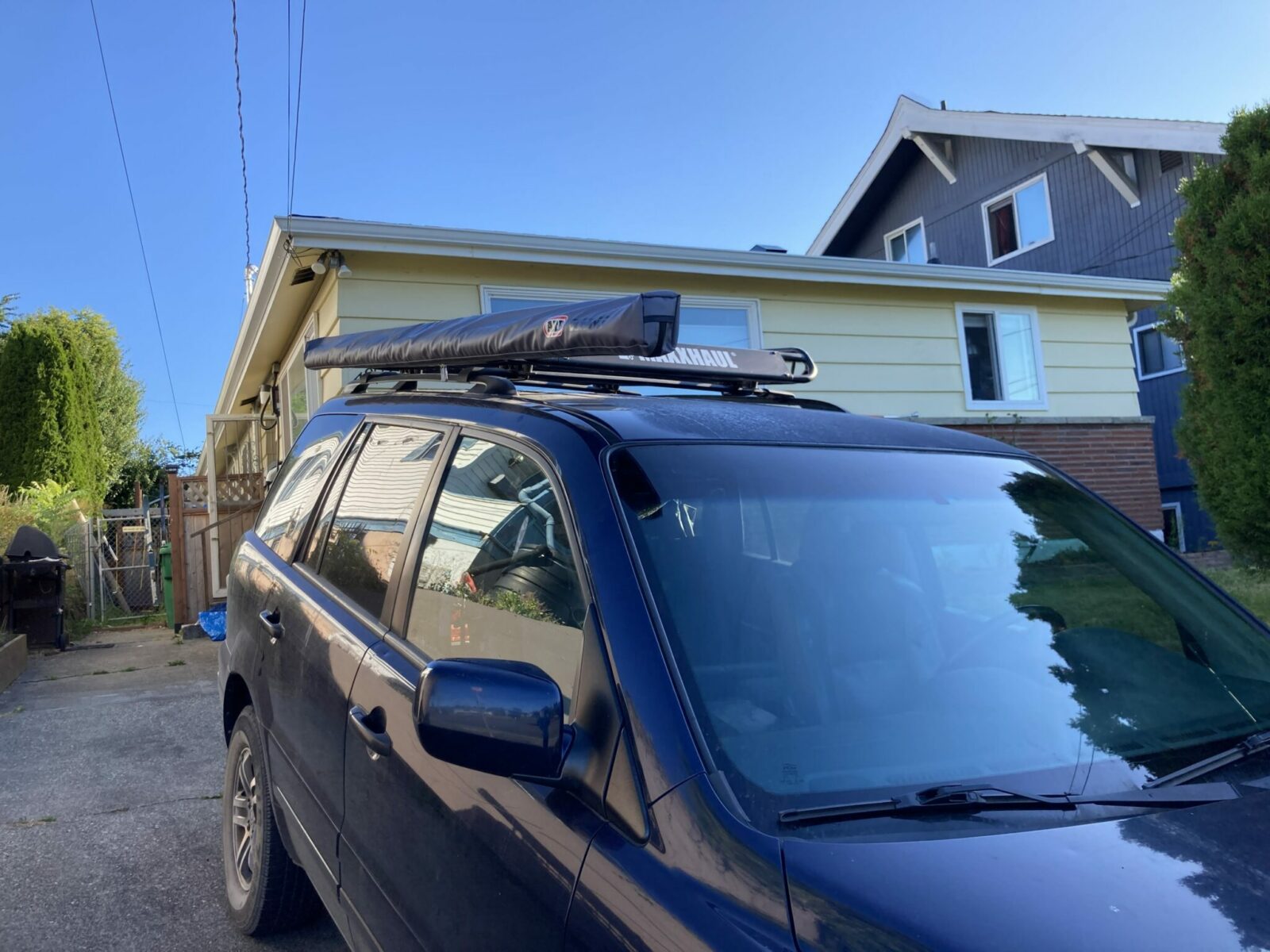 Is it hard to set up?
No! It's easy to set up. In fact, I can even set it up by myself (although it's easier with two people for sure).
How to Set up the ARB roof rack awning by yourself
Unzip the cover on the awning storage case
Free the side poles that support the sides of the awning and let them swing free
Undo the three velcro straps keeping the awning wrapped up tight – do the side ones first and the middle last. If you're short, you might need a step stool to reach it. I'm 5'4″ and I can just barely reach it on my Honda Pilot.
Unroll the awning (if you have another person with you have one of you on each side, if you're by yourself stand in the middle. It will wobble a bit but that's ok.
Secure the side poles into the far end of the awning (twist them a partial turn to loosen then and twist back to tighten.
Pull the support legs out of the end of the awning that's closest to you and furthest from the car
The legs are short but have telescoping legs. For now, just put them on the shortest setting and set one side up and then the other (if you have another person with you one of you should do this on each side)
Once the awning is stabilized on the short legs, you're ready to extend them. If you're by yourself this is the trickiest part. Start one one side and twist the leg so that it gets longer. Extend it a bit, then lock, then do the other side. Go back and forth slowly raising it until you get each side the height you want and make sure they're the same height. If you have another person with you, you can raise each side at the same time to the appropriate height.
Secure the velcro loops along the sides at the top of the awning
If it's windy or you're setting it up overnight, use the guy lines (small ropes that come with it) to tie the support legs to a tree or rock (or another vehicle). This is really important to keep it stable and strong. If you're setting it up for a short time in calm weather, you can skip that step.
When you're ready to take it down, do all these steps in the opposite order. When you get to the very end and are securing the velcro straps inside the storage bag, if you're short like me you might need a stepstool or something to stand on to reach it.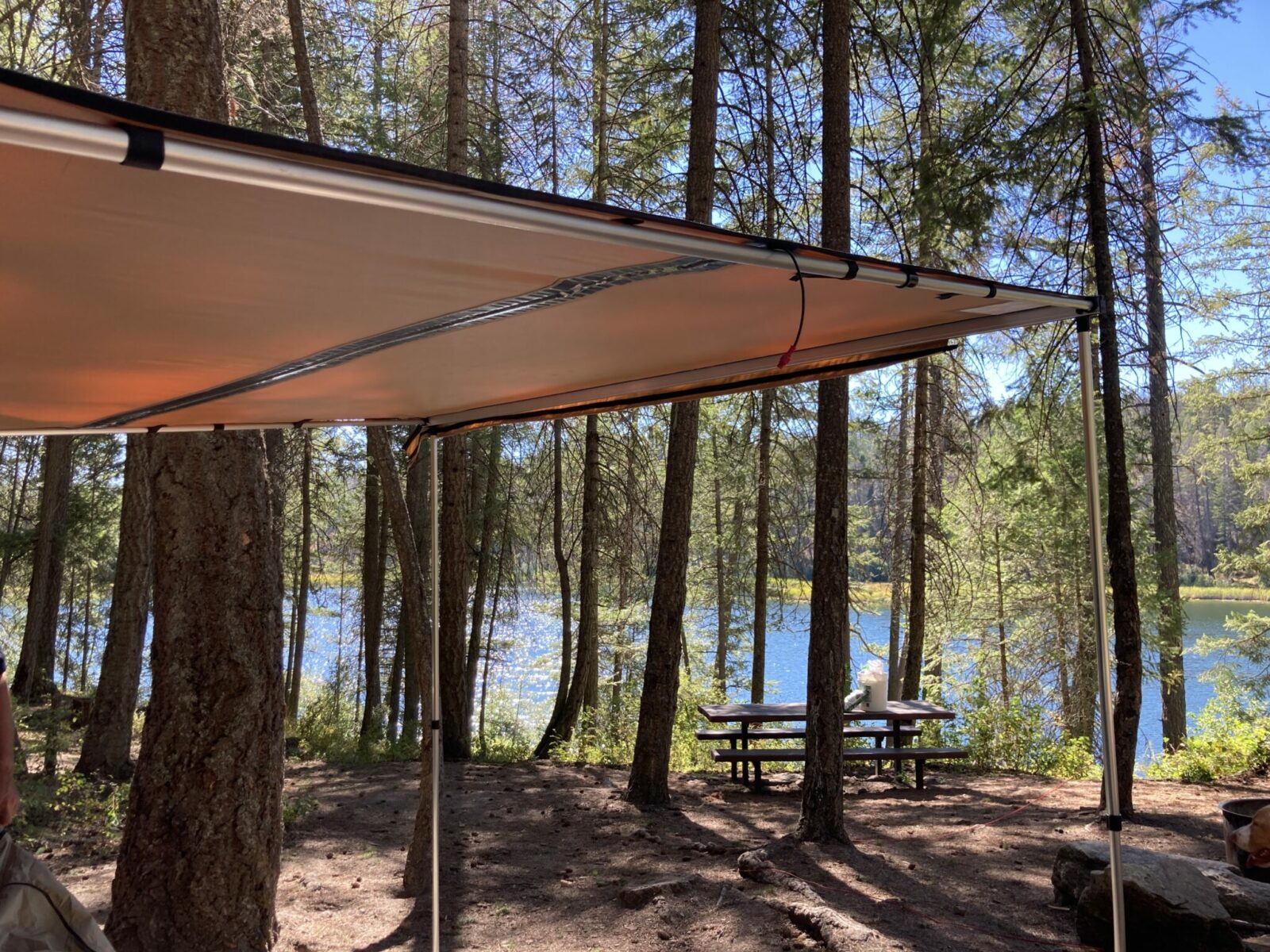 What to look for when shopping for a roof rack awning
If you're looking to purchase a roof rack awning, the one I love is not necessarily the best one for you. With a different vehicle, different needs for it and a different climate, that might make a different one a better fit for you. Here are some things to consider if you're doing your own research:
Will it work with my vehicle? Some awnings are specific to RVs and are much heavier and are often electric, which isn't a great fit for a car or SUV. Make sure that you measure the length of your vehicle and where you want it to sit and then purchase the correct size. Most roof rack awnings come in multiple sizes. Make sure to note which dimension will be against the car and attached to the roof rack and which will be away from the car. For example, if it's 6 feet x 8 feet, is it 6 or 8 feet that will attach to the roof rack?
Will it work with my roof rack? Similar to the above, make sure it doesn't require special roof racks to attach to (or if it does that's the roof rack you have!)
How sturdy is it? Some are essentially a tent fly you attach to your car, and that might be perfect for you if you aren't going to add any other accessories and you don't need it to stand up to serious wind and rain (for example if you're going to use it exclusively at the beach on hot days)
Does it have a warranty? This was a big factor for me, I wanted it to be super durable and able to stand up to the tough climates and conditions it's going to see in my life. I also consider a strong warranty to be a symbol of high quality construction and materials
How easy is it to install and set up when I'm out and about? Can I do it by myself if I need to? This is covered in more detail above, but it's good to know what will be required to install it and how users find setting it up.
What type of climate will I be using it in? If you're looking for primarily a sun shade and don't need it to stand up to wind or rain, then you can get by with something lighter and less durable. If you're in a climate like the Pacific Northwest where you need some serious rain and wind protection, you need something much more durable and strong. Avoid the batwing style or tent style ones if you're looking for a rain shelter or need it to stand up to wind.
Why I bought and recommend the ARB roof rack awning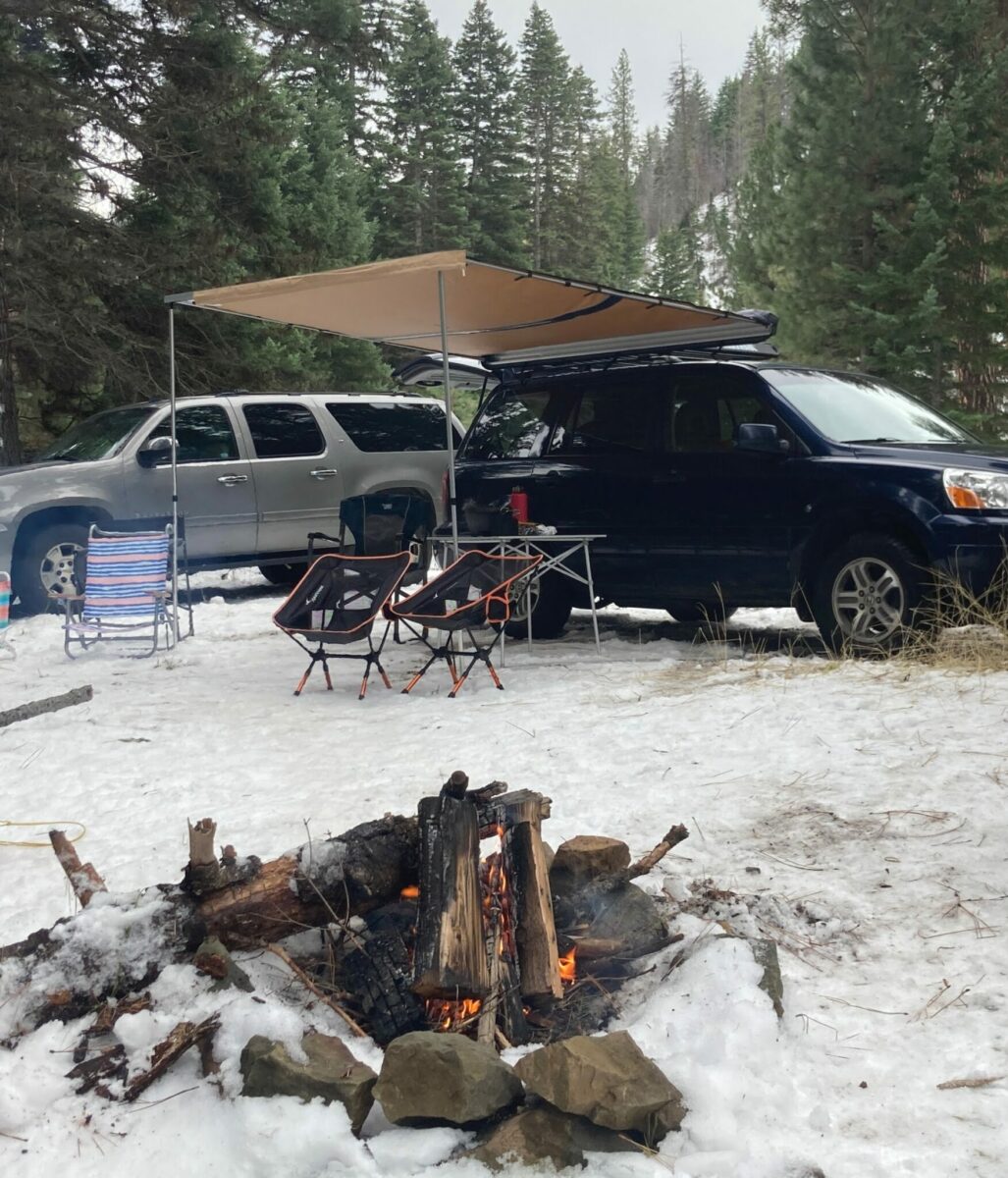 After a lot of research and exploring the different options available, the ARB roof rack awning was the one we chose and we have been absolutely thrilled with this purchase. I wish we had done it so much sooner. I love being able to set it up quickly and that I can set it up by myself if I need to. Here's why I went with and recommend the ARB one:
Excellent Warranty – They have a three year warranty which was a big factor for me (see above).
Quality – you can get a cheaper roof rack awning than the ARB, but the others are not as sturdy as this one and without the warranty. We knew we would be using this in a variety of bad weather conditions and wanted to make sure it would stand up to that (and it has)
Stands up to wind – a major drawback to some of the others is that they don't do well in wind. I knew we needed one that would do well in wind (which it does as long as you use the tie outs that come with it to secure the legs).
It came in the size we wanted, which was 8 feet. It also comes in smaller sizes if that's better for you.
The zipper for the storage bag is on the bottom – this might not sound important but with the zippers on the bottom it stays much cleaner and dryer since nothing leaks in through the top. This is a big deal in our climate!
Accessories – we knew that we wanted to get the tent that attaches to the awning and we wanted it to be on the ground, not a roof top tent. This was a good solution for that (more on that below). ARB seemed to have the most accessories and the most different ways to use the awning, both now and in the future if we want to change our set up more.
Works with any roof rack – we know we will be replacing our current camping vehicle in the near future (it has 225,000 miles on it!) and we wanted to make sure this would work with any of the vehicles we are considering replacing it with
Easy to install, set up and take down – it's not easy to find something super strong, high quality and durable that is ALSO easy to set up and take down. This seems to be a good balance of both.
Brand recognition – I'm not normally a big believer in brand names, but in this case, ARB has been around for decades. They have decades of experience developing products that are loved by Overlanders in Australia, the United States and all over the world. The tried and true brand seemed best for this purchase, since we intend to have it for a long time and use it with other accessories.
There two things that are not great about the ARB roof rack awning:
Dust and dirt can get stuck in the telescoping leg and side supports which makes it harder to get them to loose and tighten (and therefore lengthen and shorten). This has not been a deal breaker for me, but it's frustrating.
It's a little tricky to take it down or put it up on your own. This is a trade off for the high quality and tough construction, so I'm ok with it. And it can be done as I talked about above, but it's not super easy. If you have another person with you whenever you use it, then it's not an issue at all.
Additional roof rack awning options to consider
If the ARB roof rack option doesn't seem like the best fit for you, here are a couple others to consider that are loved by lots of people and have plenty of great reviews. Generally speaking, the other options are less expensive but also less durable or more frustrating in different ways. They also had much shorter warranties.
If you're in a dry climate without a lot of wind, or if you're primarily going to use it as a sun shade in good weather at the beach or a park, one of these might be a good fit for you and save you some money:
One more note – a lot of reviewers mentioned their Rhino Racks coming without the hardware! Hopefully that problem gets solved soon.
Other roof rack accessories to consider
One of the best things about the roof rack awning we have is that you can get other accessories and attachment systems to make your camping and road trip experience EVEN MORE AMAZING. A few examples include
Tent/Awning Room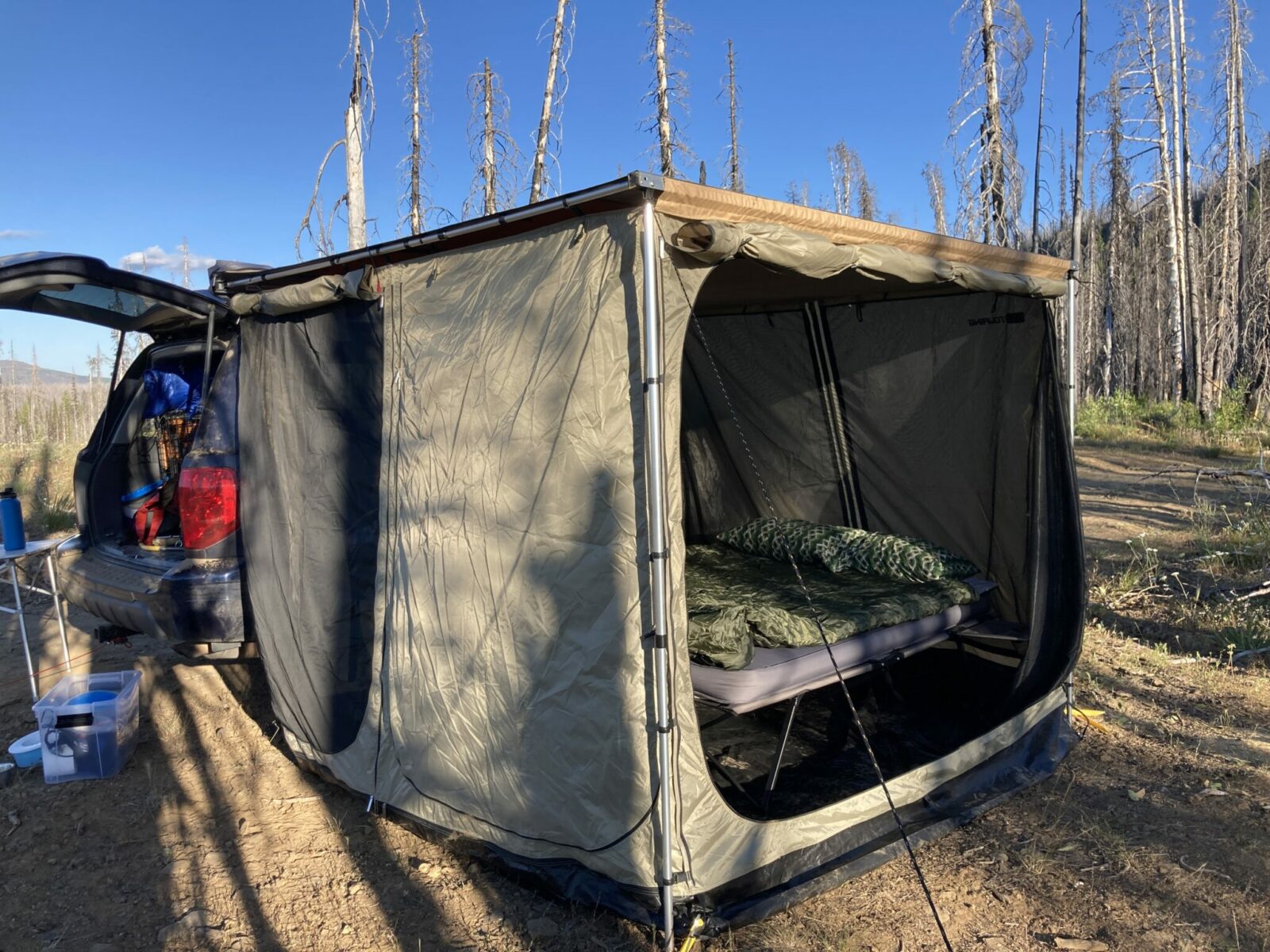 We have the ARB awning room that we use as a tent and we love how roomy and spacious it is. It even has room for a queen size cot and air mattress…downright palatial! Jay is 6'4″ and he can stand up inside it which is absolutely amazing. You can open any of the walls to be screens or fully open or you can have them all closed. It's really easy to change which are open and closed. It takes about as much effort as opening window blinds at home.
The one bummer about it, and it's significant, is that once it's set up you have to take it down to drive anywhere. It's easy and quick to set up and take down, but moving all your stuff in or out is not ideal. It's wonderful if you're not driving anywhere once you set up camp!
You can also use it as a room if you have another solution for sleeping (like an RV or roof top tent). This would have been amazing to have when we lived in Alaska because it's a perfect screen tent for bugs!
IMPORTANT – make sure you get a tent/awning room and awning that are the same size!
Roof Top Tent
We considered one of these when we got the awning. Ultimately, we decided to go with the bigger tent on the ground because we can't really picture carrying our 70 pound dog up the ladder! If you have a dog definitely think this through before getting a roof top tent. They are also really expensive and were way out of our budget.
Windbreak or shade panels
ARB makes additional panels that you can add to the sides if you don't want to deal with having the whole tent room or awning room. This can be a really good way to get some additional shade. You can also use it as a wind break. If it's windy enough to need a wind break make sure to tie the guy wires to secure the poles first! The panel itself comes with additional tie downs for wind.