Asahel Curtis Nature Trail: I-90 Leg Stretch
Posted On July 31, 2019
Last Updated on January 31, 2023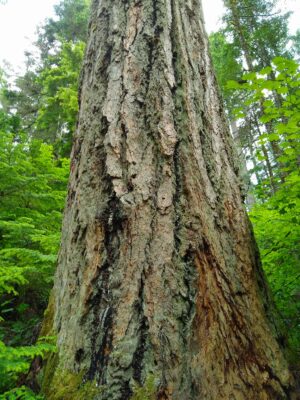 The Asahel Curtis Nature Trail is a surprisingly gorgeous and nature packed trail given it's short length (one mile), less than 200 feet of elevation gain, and it's location right next to I-90! This is about an hour away from Seattle (same trailhead as Annette Lake), so probably not worth it just to do this hike (if you want to see Old Growth forest you can actually do that right in the city of Seattle). However, if you're looking for a place to stop and stretch your legs while driving over Snoqualmie Pass on I-90, this is a perfect diversion. The trail is named for a photographer in the 19th century who took many photos of Washington state.
This trail is part of the Annette Lake Sno Park and you can access it in winter with a Washington Sno Park pass. There is usually some snow here, sometimes there is deep fresh snow and other times hard packed and icy snow.
Annette Lake is located on the homeland of the Snoqualmie, Duwamish and Coast Salish people.
Parking Pass Needed: Yes, Northwest Forest Pass (or America the Beautiful Pass)
Dog Friendly: yes, on leash
Cell phone coverage: Good.
Restrooms: Pit toilet at trailhead (year round)
Accessibility and Mobility: This hike has some rocks, roots and mud. In winter, the trail is often icy and hard packed. Microspikes and poles and at times snowshoes are helpful.
Is the Asahel Curtis Nature Trail right for me?
If you're looking for a challenging hike, or even a moderate one, then this is probably not for you. It's just a mile, and while it's gorgeous and features old growth trees, it's probably not worth the drive from Seattle just to do this. In my opinion, this is a great leg stretch or break driving over I-90, especially if you got stuck in terrible traffic and it's taking longer than planned! Even if you feel like you just left home, this trail is worth the stop for it's gorgeous forest and beautiful creek just a short hop off the freeway.
When is a good time for the Asahel Curtis Nature Trail?
Generally speaking, from late April or early May through early November this trail should be accessible and snow free. However, different snow levels in different years could change this dramatically. It's a good hike for any type of weather, being in the forest where the primary features are trees and the creek. Anytime you're on a road trip across Snoqualmie Pass is a great time for the Asahel Curtis Nature trail!
Where is it?
It shares a trailhead with the Annette Lake Trail, which you can access by taking I-90 to Exit 47. If you're heading east, go to the right at the end of the ramp, then turn left when the road ends and you'll quickly come to the parking lot. Directions from Google maps will get you there no problem.
Trail Description
Starting from the parking lot, you'll go to the left of the trailhead sign (to the right is the Annette Lake trail). You'll quickly cross a bridge over a beautiful creek.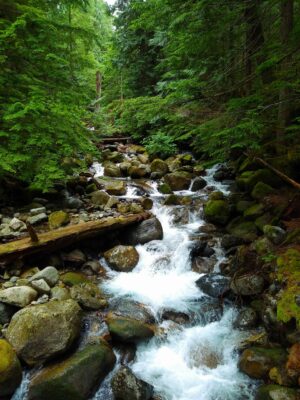 This trail is about a mile and has numbered posts throughout (grab the guide at the trailhead sign when you start) and you'll wind and climb gently here and there throughout a ferny old growth forest. The trail is a loop which you can go around in either direction. Marvel at the giant trees and undergrowth before the loop completes back near the footbridge taking your back to your car.
Looking for other old growth trees in and near Seattle? Check out this post!
Breweries and Bakeries near Asahel Curtis
Grab some delicious coffee and pastries at Pioneer Coffee in North Bend or grab a beer at Volition Brewing or the Snoqualmie Falls Brewery. The North Bend Bar and Grill is also an excellent option for food and drinks in downtown North Bend.
Electric Vehicle Charging
There is fast charging with two different charging companies at the North Bend Outlet Mall near downtown North Bend.