Long Beach Washington Weekend: Year round fun!
Posted On October 9, 2019
Last Updated on November 29, 2023
A Long Beach, Washington weekend is the perfect getaway from Seattle, Tacoma or Portland any time of year. It's a low key, outdoor oriented place with tasty food and drink, cozy lodging and miles of walking and biking opportunities, not to mention the beach! It's probably obvious that the beach is a wonderful place to go in the summer, and of course it is! I want to share with you why it's a fabulous getaway in the fall, winter and spring, too. Not only is it less crowded and therefore easier to find a place to stay for a lower price, you can do most of the same activities, and you can do some things that aren't an option in the summer, like razor clam digging and checking out the cranberry harvest.
Long Beach, Washington is a great place to go with kids and dogs. This was one of my favorite places in Washington when I was a kid! The many hiking opportunities are excellent year round. This is a great weekend trip on its own, but also makes a nice two or three day addition to an Olympic National Park trip. The Long Beach Peninsula Visitors Bureau hosted us for a recent visit, however all opinions are my own.
Where to Stay on the Long Beach Peninsula
There are lots of lodging options for a Long Beach weekend, including vacation rentals, hotels, Bed and Breakfasts and camping. In addition to tent camping, Cape Disappointment State Park has yurts and cabins if you like to camp but wouldn't mind heat and a roof! You can even splurge on the historic lighthouse keeper's quarters near the North Head lighthouse.
I have stayed at the Adrift Hotel and the Moby Dick Bed and Breakfast, both are comfortable, cozy and have a fun local beach atmosphere. The Moby Dick is a small historic bed and breakfast, with just a few rooms and a big shared space. It's on the quieter eastside of the peninsula, with a large property and garden. The Adrift Hotel is larger and in the middle of the action right next to the beach. It has bike rentals and board games and is adjoining the distillery and a spa. The Adrift Hotel is pet friendly.
For camping, Cape Disappointment State Park has a large campground and yurts and cabins which are especially great for a fall, winter or spring Long Beach Washington weekend. You get the fun of camping but you also have heat and a roof over your head! What's not to love about that?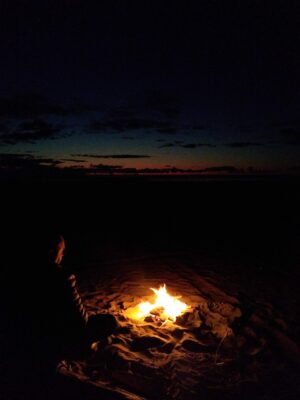 Where to eat and drink on the Long Beach Peninsula
There are lots of great places to eat during your Long Beach Washington weekend. The Pickled Fish in the Adrift Hotel has good food and an incredible view (go for sunset!) of the beach and the ocean. Try pizza or fish and chips. Another place with good food and ambiance is the Salt Pub in Ilwaco. It adjoins this busy commercial marina and has locally themed pub favorites like Dungeness crab mac and cheese, Willapa poutine (a clam forward version of the beloved Canadian appetizer-perfect for clam lovers!) and tuna fish and chips.
Looking for a quick bite? For breakfast check out the fabulous coffee stand, Roots, which is way more than a coffee stand! They have super delicious breakfast sandwiches (one of the best I have had EVER) and smoothies as well as excellent coffee. You can find Roots in Ilwaco on Hwy 101 just a half block north of the stoplight (at Spruce street). For a quick lunch for seafood lovers, try Captain Bob's Chowder (chowder, fish and chips) on 5th between Ocean Beach Blvd and Pacific Ave in Long Beach. Bakery lover? Try the Cottage Bakery on Pacific and 2nd.
Long Beach is also home to some delicious drinks! If you love beer, head over to North Jetty Brewing and taste them all (you can grab a hot dog or pretzel there too)! Lots of variety with a beer for everyone. I loved the Yellow Boots Kolsch! If you're into distilleries, check out Adrift Distillers, located next to the Adrift Hotel. In their tiny distillery they produce a tasty array of vodka, gin and other spirits as well as the unique and delicious cranberry liqueur (made from organic cranberries grown a mile away!).
Things to do on the Long Beach Peninsula
A Long Beach Washington weekend comes with lots of opportunity for a variety of fun activities any time of year! Here are a few highlights
Beach Adventures! The Long Beach Peninsula is graced with a long (hence the name!) sandy beach that you can walk on for hours. Dogs are welcome on the beach. You are even allowed to drive on the beach if you like (make sure to follow the well posted rules and not get caught in soft sand)! There's a long tradition of flying kites here, and there is a huge kite festival in August that was one of my favorite things when I was growing up. If you're visiting in the fall, winter or spring, those are also great times to fly your own kite or check out the kite museum. The sunsets here are incredible and you can have a beach fire in the sand to enjoy the sunset and the beach after dark.
Cape Disappointment State Park: This state park has it all and is one of my favorites in the whole state. From not one, but TWO lighthouses, to lots of beach, an impressive view of the mouth of the Columbia River, forests, history and 8 miles of hiking trails, this park is easy to lose yourself in for the whole weekend all by itself.
Walk or Bike the Discovery Trail: This 8 mile nearly flat, wide and paved trail from Ilwaco to Long Beach through Cape Disappointment State Park is a great place to walk, roll or bike through towns, forests and along the beach. There are lots of access points, so you can make this as long or short as you like.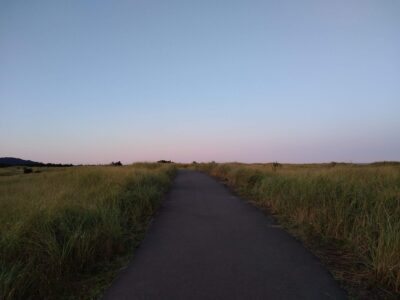 Learn everything about Cranberries: The Long Beach Peninsula is one of the major areas of cranberry growing in the US. If you happen to be in the area in late September or October, you may get the chance to see the harvest in action. If you want to guarantee it, visit the second weekend of October, during the Cranberrian Fair, when you can see the bog next to the Cranberry museum being harvested. The cranberry museum is the best place to buy local fresh cranberries or pick up almost anything else cranberry you might want (try the cranberry ice cream!). You can even buy your own cranberry plant for home if you'd like to try your hand at growing them yourself.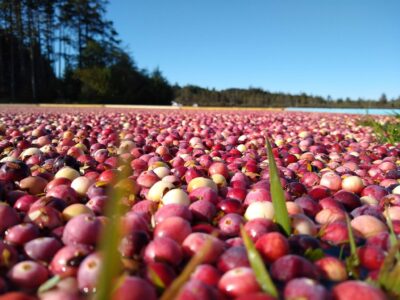 Birdwatching: Leadbetter State Park at the north end of the peninsula, and Willapa Bay National Wildlife Refuge are both excellent places to look for birds. Leadbetter features forest and beach and several miles of hiking trails (including some ADA trails) from which to watch for birds (note: dogs are not allowed at the north end of Leadbetter). Willapa Bay National Wildlife Refuge is adjacent and can be accessed on the other side of the bay (a nice stop on your way to or from the peninsula). One of the short trails in the refuge takes you to a stand of old growth cedar (possibly the biggest I've seen!) within half a mile.
Razor Clam Digging: If you packed your sense of adventure and a desire to harvest some of your own seafood, then join in the razor clam dig! Throughout the fall, winter and early spring Washington state has openings on weekends for razor clams. Big lights are set up on the beach and it's quite the event! Note that if you're visiting on a razor clam weekend, things may be busier than you expect. If you want to give it a try, you can check out the current harvesting times, equipment and fishing license info here.
Special Events during Fall, Winter and Spring
There are lots of special events you can build your Long Beach Washington weekend around if you like! Here are a few that occur during the shoulder and off season:
Wild Mushroom Celebration: October 1-November 15, Look for special menu items featuring locally foraged mushrooms
Cranberrian Fair: Usually second weekend of October, harvesting at the bog next to the cranberry museum, arts and crafts, all things cranberry!
Columbia-Pacific Fiber Festival: November 8-10, new for 2019! A celebration of knitting, weaving and more including classes and demonstrations
Crab pot Christmas: The first Saturday of December, the lighting of a Christmas "tree" made of crab pots!
Restaurant Month: The month of January features specials on meals featuring Pacific Northwest ingredients and dishes!
Razor Clam Digs: Various weekends throughout the fall, winter and early spring. See dates here.