The Best Pacific Northwest Winter Gear (2023)
Posted On January 31, 2021
Last Updated on November 16, 2023
If you want to get outside more during the winter months, you'll need the right gear to stay dry, warm and comfortable. The best Pacific Northwest winter gear is critical in our climate and doesn't need to be too expensive to get the job done.
Finding the winter gear that works best can be challenging, due to our rainy and muddy winters, alternating wet, foggy and sunny springs, dry warm summers and random autumns. Here we'll cover a basic set of outerwear for hikes and walks in and near Seattle and the Pacific Northwest that also work for snowshoeing and cross country skiing (which are also wet activities around here) in the sno parks and National parks in the Cascade and Olympic mountains. I'll share some general principles and some specific products that I can't live without during the rainy months.
This post contains affiliate links, which means if you make a purchase I may receive a small commission at no additional cost to you. As an Amazon Associate, I earn from qualifying purchases
The Best Rain Jacket for winter in Seattle
My Top Recommendation – REI XeroDry or Marmot Minimalist
The most important piece of Pacific Northwest winter gear is an excellent rain jacket. The overall best option is a non insulated gore-tex jacket with armpit zippers priced around $200. I recommend getting one size larger than you normally wear, to accommodate insulating layers underneath.
Both the REI XeroDry and Marmot Minimalist are the two rain jackets I currently own and both of them feel like new after a couple years of heavy use. I would make the decision based on where you like to shop and what size you are.
The REI XeroDry comes in plus sizes, which the Marmot minimalist unfortunately does not.
REI XeroDry is only available at REI, while the Marmot Minimalist is available on Amazon.
I recommend getting a 2.5 layer rainjacket as it's much more durable than a 2 layer one, but not as expensive as a 3 layer one, which are VERY expensive.
Get a non insulated one and then layer with a light or heavy puffy or fleece underneath when you need it. If you're working hard, keep the warm layer in your pack and take it out for breaks so you don't get cold. If you sweat a lot inside the jacket it will start feeling wet inside, especially when you're hiking, snowshoeing or skiing uphill.
Armpit zippers, also called pit zips, are zippers under the armpit of the jacket that you can unzip if you're exercising to let out some of the moisture from your body and improve ventilation (and you can close them when you stop moving to preserve warmth). Watch out for ultra-light jackets. These often have terrible durability (a season or less) due to light construction and a lack of internal lining, and are designed for occasional use in a light rain, not daily wear.
Make sure you get a rain jacket with an adjustable hood that you can tighten so it doesn't move around and block your vision or drive you crazy.
Honorable Mention – Kirkland Signature Trench Coat for Women
Now before you laugh, I need to tell you that this is an AWESOME rainjacket for many adventures in the Pacific Northwest. It is not as completely waterproof as the Marmot Minimalist, but it is ALMOST as good. It is also heavier, but the upside is that it's longer and goes down to mid thigh. This is perfect when it's super wet! It's also a really comfortable and affordable rain jacket. I wear it on hikes and walks all the time (unless there's going to be a lot of climbing and sweating, then it isn't great) but it's also dressier looking and perfect for work or wearing with a dress. It's avaiable in sizes Small – 3X
Pro Tip: Did you know that you can find most clothes you see at Costco on Amazon? It's true! I originally bought this coat at Costco but you can get it on Amazon:
Back up for Sitting around in Heavy Rain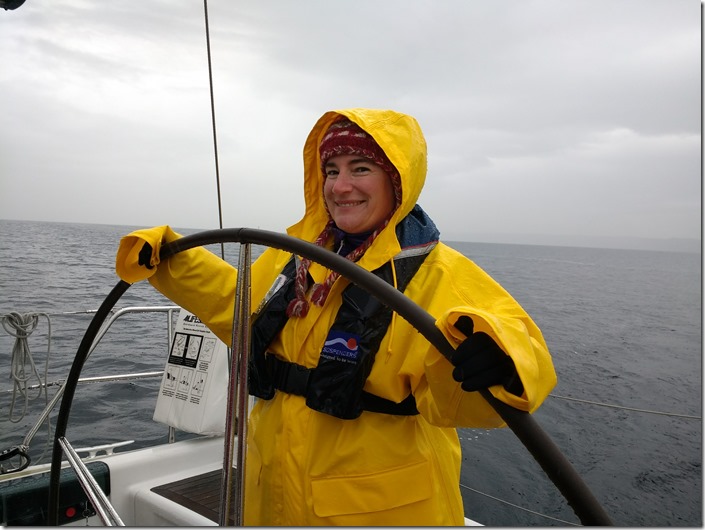 I also have a yellow rubber rain jacket (see sailing photo at the top!) for more serious rain when I'm not moving around as much (such as sailing in the photo at the top of the post), but while this is truly waterproof in a way that no recreational jacket will ever be, it's just too hot and clammy if you're walking or doing any kind of consistent movement. I also have a lighter jacket for running, but it's not really waterproof and not appropriate for being in a lot of rain for a long time.
The Best Pacific Northwest Winter Boots
Another important part of your Pacific Northwest winter gear is your footwear! Many people have their favorite hiking boots. I have hiking boots but most of the time I wear waterproof hiking shoes instead. I also love to wear rubber boots while hiking, as long as they're super comfortable. I even have a pair of super comfortable snow boots to recommend for winter hikes. Here are my top recommendations for each:
Best Waterproof Hiking Shoes
The Waterproof Merrell Moab hiking shoes are my favorite hiking shoes. They are waterproof, comfortable and have excellent grip. I wear them all year long. For snowshoeing I often wear them with gaiters to keep the snow out (more on that in the "other helpful gear" section).
These links are for women's sizes, but they are also available for men.
When buying hiking shoes, I highly recommend making sure they are waterproof, ones that are not waterproof are not great for the Pacific Northwest! If you do wear some that aren't waterproof, make sure to wear wool socks and bring a couple of dry pairs so you can change them when they get soaked.
Best Rubber Boots for Hiking – Try it you'll love it!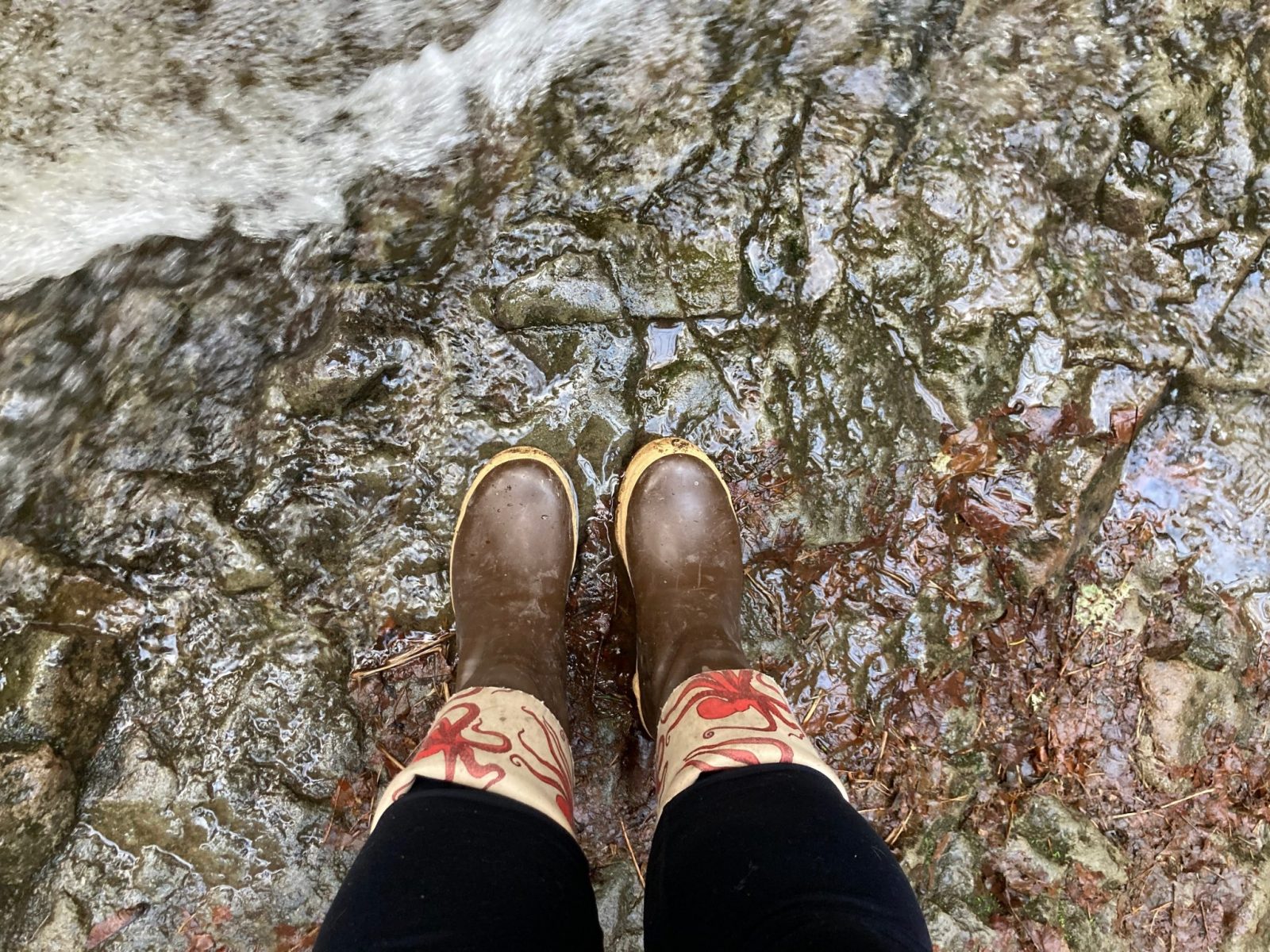 Often when I tell people I frequently hike in rubber boots during the winter, they say "I could never do that!". I respond by saying "you must not have ever had the right rubber boots! XtraTuf boots are amazing for complete waterproofness, durability (I had my last pair for more than 15 years) and comfort. They also have a good tread for keeping traction on muddy trails and wet surfaces. The only downside to these boots is that they get hot so I can't wear them in the summer! In winter though, they are perfect for our muddy and wet trails. They are also heavier than shoes, but they're boots! I have these super cute Octopus print ones from Salmon Sisters, but you can also get plain, ordinary brown ones without any fun pattern. Salmon Sisters also has ones with mermaids, fish and other super fun designs!
By the way, my husband has hiked hundreds of miles off trail in Alaska as a field archaeologist. If that isn't a testament to their comfort and durability I don't know what is!
Make sure you have tall wool socks to wear with them so your feet and legs stay comfortable.
Best Waterproof Hiking Boots
If you are going to get hiking boots, I still recommend Merrell Moab. They are basically the same as the shoe, but higher hiking boots with ankle support. Pay attention because there is also a version that is NOT waterproof. Unless you live in Arizona, get the waterproof ones!
Best Snowboots for Hiking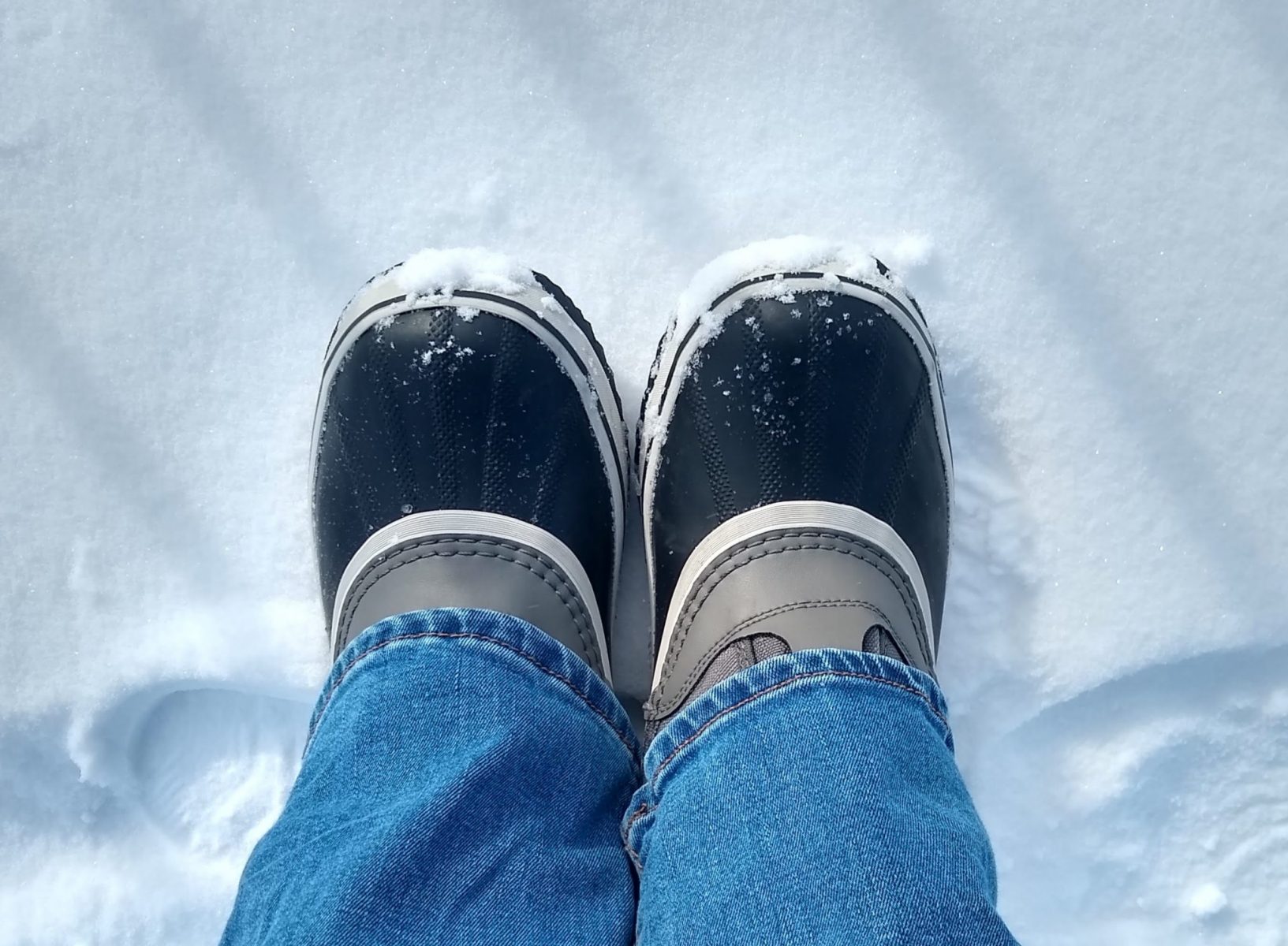 If you're going to spend a lot of time in the snow (especially in Central and Eastern Washington, Oregon and British Columbia) then you might consider getting some snowboots. I love these Sorel ones, they are rated to -25 degrees Fahrenheit and they are still waterproof! If you're headed to Interior Alaska in winter, you might want to get these Sorel boots instead. They are rated to -40 but they are NOT waterproof so they are not great for Washington and even most of Alaska! I prefer the ones below since I don't like being outside for long periods when it's -40 anyway! Not only are they comfortable to walk for miles, I think they're adorable.
There is one annoying thing about them, which is that the liners come out every time you take them off. It's not terrible, but I find it really annoying. They are still the best I've found so I deal with it!
Other Useful Gear for a Pacific Northwest Winter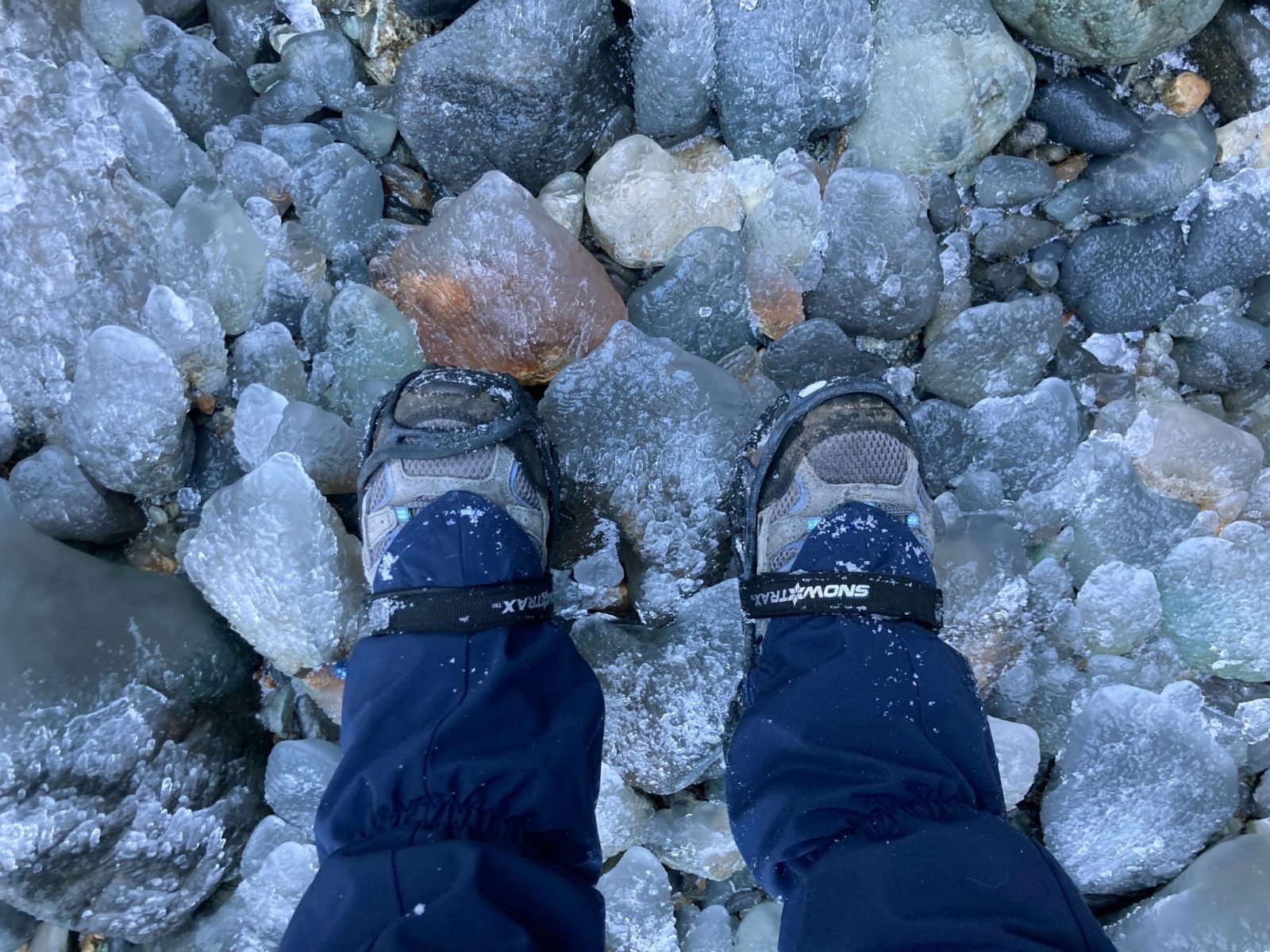 Microspikes – Tire Chains for your feet
Microspikes are an extremely helpful piece of gear to have for winter hiking in the Pacific Northwest and Alaska. There are times when the snow is packed down and icy, or you encounter unexpected ice. They are super light and easy to carry with you. I keep them in my pack from October through April and I'm often grateful to have them! There are many different kinds, some inexpensive, some much more expensive. There is no reason to spend a lot of money on this. You just need some metal spikes that strap easily to your feet. That's it! You can also strap them on to any shoes or boots.
Gaiters – Keep water out of your boots or shoes!
Gaiters are not a requirement, but they make a big difference in keeping your feet dry, especially if you wear hiking shoes instead of boots while snowshoeing. I don't normally wear them hiking (if it's that wet and muddy I wear rubber boots instead), but I always wear them with my shoes for snowshoeing and it makes a huge difference. This set from Outdoor Research is hands down the best out there. Super effective and easy to put on and take off.
Wool Headband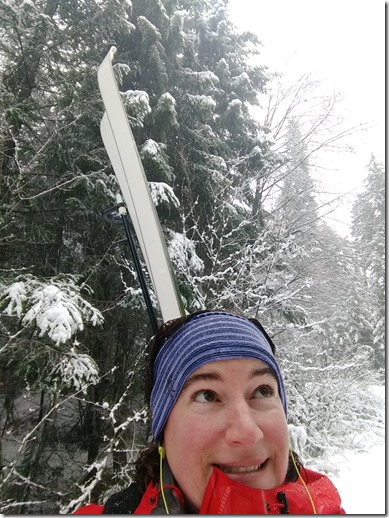 A hat to wear under the hood of the rainjacket is a great idea and a small but super helpful piece of Pacific Northwest winter gear. I recommend a wool or fleece hat which will still keep you warm if it gets wet. I have many hats that I wear all the time, but I often get to hot in them, so I prefer to keep the hat in my pack for breaks and wear a wool headband instead while I'm moving. It keeps my ears warm while keeping me from getting too hot. Perfect.
Rain Pants
I am not a fan of rain pants, like not at all. They are hot, clammy, bulky, get in the way and are either tight and uncomfortable around the hips or huge and hardly stay on. They do come in handy to pull on when taking breaks, sitting in the snow, or when you need to sit on a wet log. Sometimes it's wet enough that I even wear them hiking! I have found this pair from REI fits well, isn't too baggy or too tight and is surprisingly comfortable. They come in regular sizes, plus sizes, tall and petite too.
Leggings
I am a big fan of leggings for winter hiking! They are warm and flexible and they are already tight against your legs so they aren't horrible when they get wet like most pants are. They also work well as a layer underneath rain pants or snow pants too!
My go-to pair are these amazing Baleaf ones. They stay put, they don't slide down and they have a huge pocket on the side you can put your phone in without pulling the pants down. There is also a fleece lined version that is warmer and perfect for winter, although sadly the fleece lined ones have a smaller waist pocket instead of the side one. They come in sizes Extra Small -3X.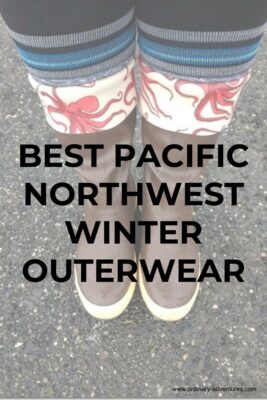 Now that you've got the gear, you can go beyond the rain and get started with snowshoeing or cross country skiing! Now get out there and start enjoying winter!