Best Hiking Pants for Curvy and Plus Size Women
Posted On March 1, 2021
Last Updated on January 1, 2022
Having trouble finding an awesome pair of hiking pants for your female curvy body? If so, you've found the perfect place because I have tried SO MANY and I'm excited to share my favorites here.
This post contains affiliate links, which means if you make a purchase I may receive a small commission at no additional cost to you. As an Amazon Associate, I earn from qualifying purchases
For those who want a quick answer, I recommend either the Columbia Saturday Trail Pants (here at REI and here on Amazon) OR REI's Savanna Trails Pants. Both are available in plus sizes up to size 24 in both cases.
I've worked many seasons and a guide and worn hiking pants daily, so I've had the opportunity to put these to the test!
I want to give a shout out here to Mirna Valerio, and Jenny Bruso of Unlikely Hikers, who along with others have done so much work to pressure brands to build out more plus size clothing for hiking and other outdoor activities! Without their work, there would be far fewer sizes available. Unlikely Hikers has a fantastic list of places and brands for all kinds of plus size activewear, check it out. The majority of American women wear size 14 or larger, so it's high time gear was made for us!
For reference, I am 5'4″ and usually wear size 14 or 16 pants. I'm pretty curvy which makes finding pants really challenging. It's really hard to find pants that are big enough through the hips and butt without being completely balloony or way too long. It's so important to have hiking pants that are comfortable for hours on the trail and that you have complete freedom of movement in.
I'm thrilled to say that over time I have found these two amazing options and a couple really solid honorable mentions. I'm also aware that I have a lot more options than women who wear sizes bigger than me.
Related: What I wear for a day hike in the Pacific Northwest and Alaska, Best hiking shirts for busty and plus size women
Why I wear pants for hiking instead of shorts
I firmly believe that everyone should wear what is comfortable for them while hiking (or doing anything else!) and many people love hiking in shorts and if that's you then go for it! I've switched to fully wearing pants for hiking (and shorts for more loungy activities) because:
No chafing – my legs get chafed from rubbing together while hiking in shorts, and often the shorts ride up to make that even worse. With hiking pants (at least the ones included here) that hasn't been an issue for me.
No need to put sunscreen on my legs – seriously, I hate doing this! It's so much easier to not!
Protection from bugs and brush – similar to the sunscreen, it's so nice to not worry about bug spray and just have the pants keep the bugs away! It also provides some protection from scratches from branches and brush while you're on the trail
After extensive testing in some pretty hot places (where I couldn't bear dealing with the sunscreen anymore), I determined that the pants are actually cooler than shorts. This might be a personal preference, but it's less of my body for the sun to beat down on. Make sure the pants are light colored, that makes them much cooler.
Top 2 Hiking Pants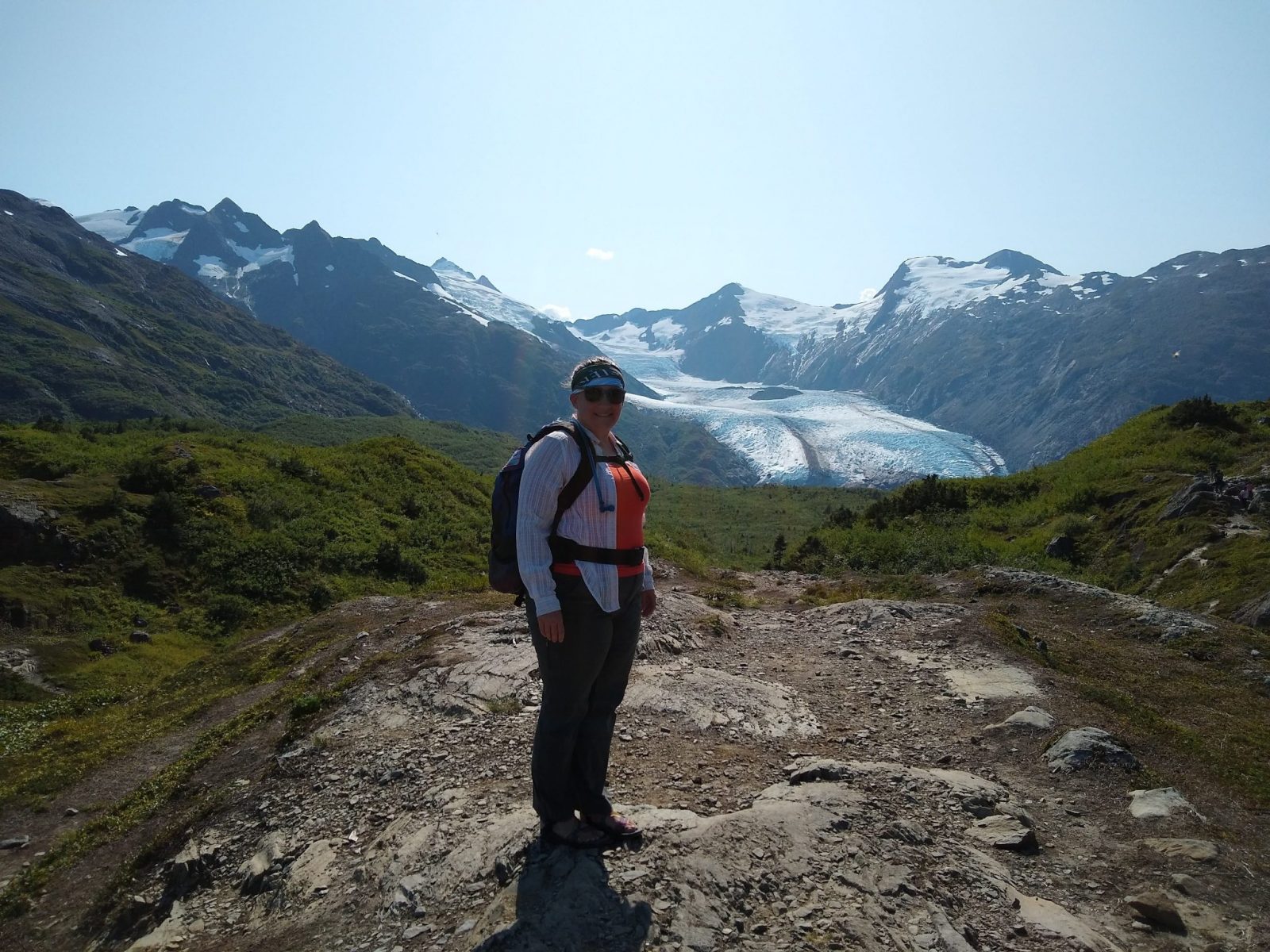 These are my two favorite pairs of hiking pants that I've found for my body. Both are lightweight and available in plus sizes. They both offer excellent sun protection. They are both loose fitting without being too baggy, which makes them comfortable and good for bug protection. Side note: leggings are no good for bug protection because they are tight against your skin and bugs can bite right through! They both dry quickly and are comfortable in very hot weather.
| | | | |
| --- | --- | --- | --- |
| Pants | Pros | Cons | Sizes Available |
| Columbia Saturday Trail Pants | Durable, convert to capris with a snap, super soft material | Pockets are not as deep | Up to 24 including short and long |
| REI Co-op Savanna Trails Pants | Lightest weight, deep pockets | Doesn't convert to capris, no short and long sizes | Up to 22 |
The Columbia Pants are available at REI and Amazon, the REI Savanna pants are available at REI. It's a really tough call between these two, I wear them both regularly. The Savanna pants might end up being as durable as the Columbias, but I haven't had them as long so can't say for sure.
Between these two it really comes down to pockets, sizing, how lightweight you want them and price. They are both lightweight but the Savanna pants are a little lighter. The price is not super different although the Columbias cost a little bit more. You can't go wrong as a curvy women with either of these pairs of hiking pants!
Honorable Mention and Loved by Others
I've tried a lot of hiking pants on my curvy body and these two are for sure my favorite. However, I have a couple of other recommendations that I have also loved and I know are loved by others:
REI Sahara Convertible Pants – many people REALLY love these. They are pants when you want them, shorts when you want them! They're pants but you can zip off the legs. I had them for many years and they served me well and lasted a long time. They fit well and the convenience of being able to have shorts, especially when camping, was awesome. The reason I switched to regular pants is that the way the zipper hit my legs felt a little tight and uncomfortable, especially going up and down steep sections. I've heard other curvy and plus size people report the same. Now I just wear the pants and carry a pair of shorts if I want them. These are available in sizes up to 22W.
Hiking Pants for wet and cold days
The favorite hiking pants I listed above are definitely for warm and dry days. They work just fine on chilly mornings and when there's a bit of rain. They are NOT ideal for days with a lot of rain or when it's really cold.
Both the Columbia and Savanna pants are completely fine in a bit of rain, but if your pants are going to really get soaked I recommend wearing either leggings or softshell pants. I can't stand hiking in rain pants, they get so clammy! I do often carry them to sit on and I use them camping and backpacking and other activities where I'll be sitting around when it's raining or if I'll be sitting on wet things. When I do wear rain pants, this is the pair I've found that's the best and they are available in plus sizes. Most of the time though I wear leggings or softshell pants on rainy days.
Best Leggings for Hiking
Honestly, the best leggings for hiking are any pair you already own, know, love and find comfortable. You do not need a special pair just for hiking.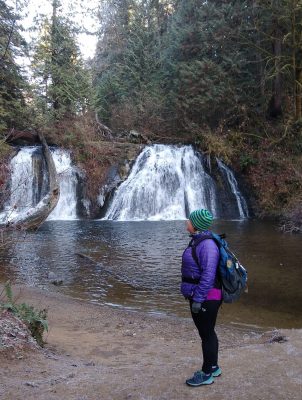 When it's wet I find leggings easier to deal with because they don't get heavy and saggy and flop around. My favorite leggings for hiking are this pair (again with the amazing pockets). They don't slide down and they are super comfortable. I also have this version that is fleece lined (sadly without the pockets, though they still have one good waistband pocket that I can fit my phone in) for colder days. The fleece lined version comes in bigger sizes than the others, up to 3X.
Softshell Pants
Softshell pants offer some of the wind and rain protection that rain pants do, but they are much more comfortable! I have an older version of the REI Activator pants and they're fantastic for colder and wetter days. They have also lasted for years of heavy use without much wear. They come in plus sizes up to 3X.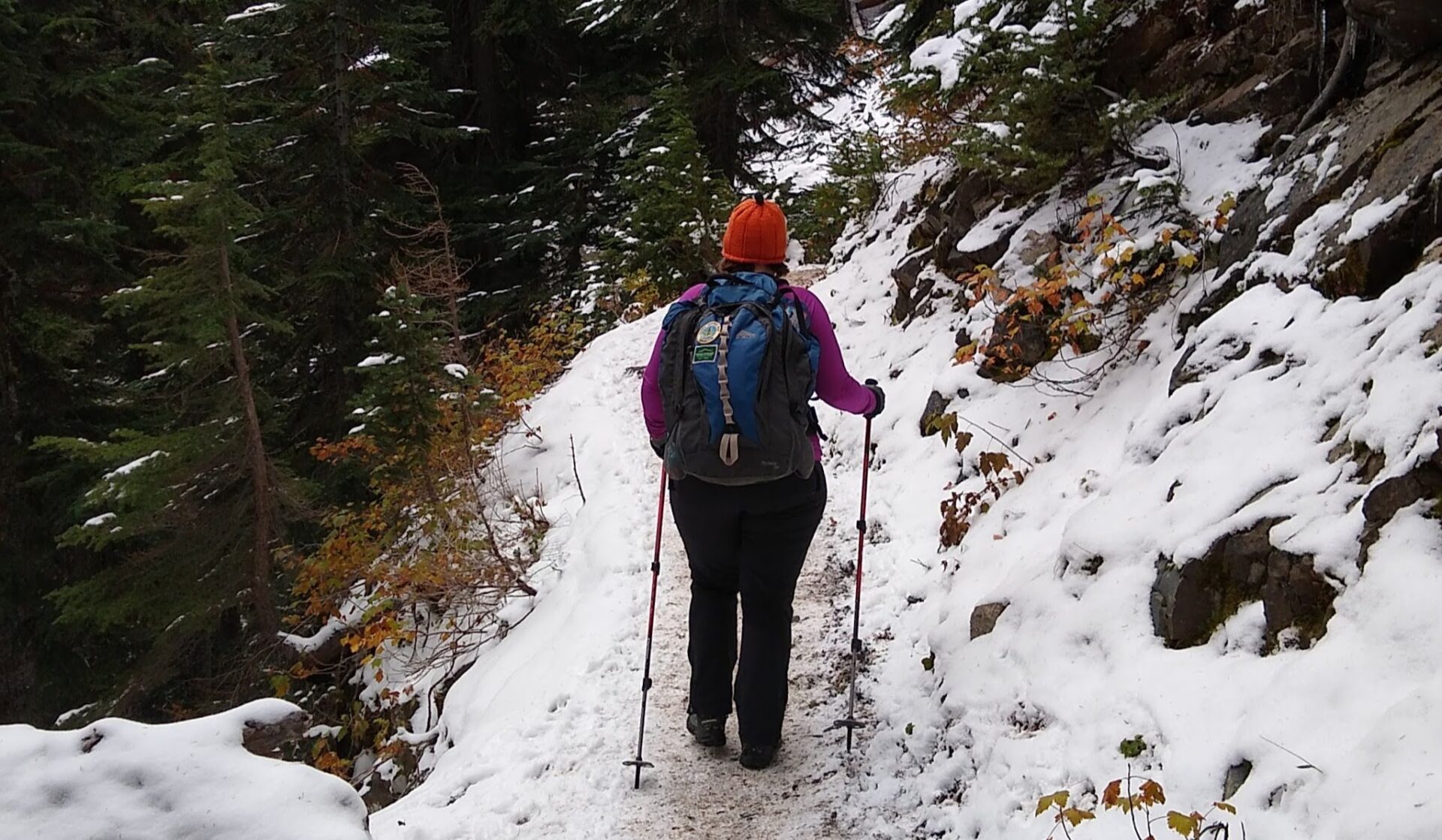 REI has made them even better since I got mine, in particular they have a stretchier waistband which I'm looking forward to getting when my current pair needs to be replaced! Read my recommendations for the best winter gear in the Pacific Northwest here.
Do you have a favorite pair of hiking pants? I'd love to hear about them!