Is a Dutch Oven Worth it for Camping?
Posted On April 24, 2021
Last Updated on November 16, 2023
Dutch oven cooking is a fun, delicious, creative and ancient way of cooking food over an open fire, but it can feel a bit intimidating to get started. It's true that it is NOT the easiest or fastest way to make camping meals, but it is a really fun way to make camping meals, for those who enjoy cooking and learning new skills. If you enjoy cooking and want to take your camping meals to the next level, this post has everything you need to know to get started!
This post contains affiliate links, which means if you make a purchase I may receive a small commission at no additional cost to you. As an Amazon Associate, I earn from qualifying purchases
If you're looking to purchase a dutch oven for camping, I recommend this one from Barebones or this Lodge one from Amazon (or here from REI). More details on why I like these and what to look for are below.
What is a Dutch Oven?
A dutch oven is a heavy pot with a tight fitting lid. It can be used either at home on a stove top or in the oven, or they can be used to cook over an open fire. They are perfect for nourishing and delish one pot meals. Humans have been using this method of cooking for centuries!
There are some important details to make sure you have in your dutch oven if you want to use it to cook while camping over an open fire, such as ensuring it has a flat lid and a handle on the pot (see below for more details on what to look for).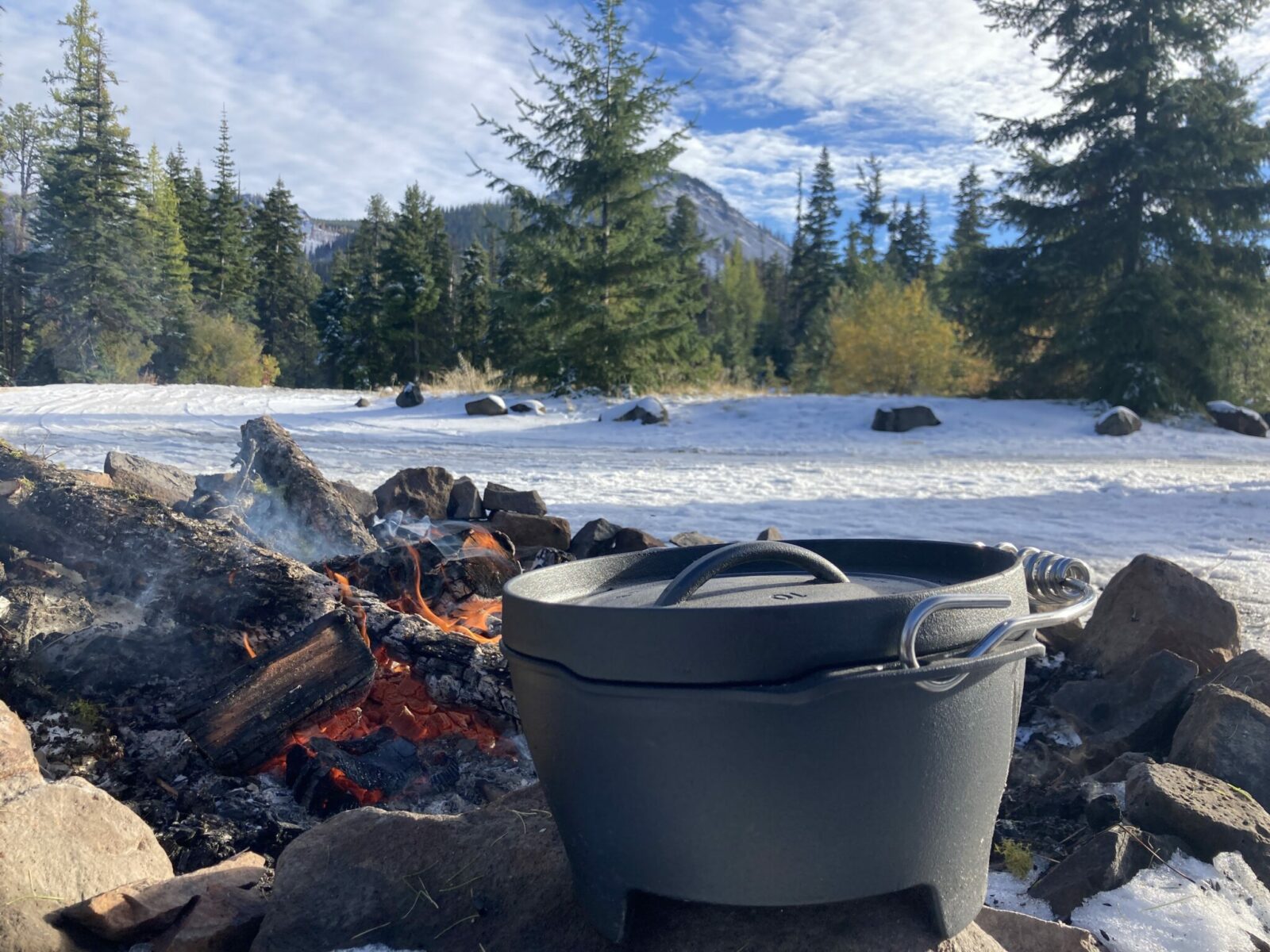 Is a Dutch Oven worth it? Pros and Cons
Dutch oven cooking while camping can be really fun, but it also has some downsides. These are the major benefits and drawbacks to using a dutch oven while camping:
Pros
If you enjoy cooking, you'll love dutch oven cooking!
It's relaxing since you're mostly sitting and watching the fire
It's creative! You can enjoy adapting your favorite recipes for the dutch oven
You can make things you otherwise wouldn't be able to make camping, such as baked goods (bread, cobbler) or slow cooked meals like stews
Cons
It's heavy and takes up quite a bit of room. You can only realistically do this if you are driving to your campsite
You can't use it if there's a burn ban in place preventing campfires
Unlike an oven, you can't know the exact temperature
It takes time
It's more of a hassle to clean than some other methods of camp cooking
Bottom Line: If you enjoy cooking and like to chill out while camping, you will love dutch oven cooking! If you like to be on the go and don't particularly enjoy cooking then this is probably not for you. Also consider how often burn bans and fire danger are a factor where and when you most often camp.
What is the best Dutch Oven for camping?
We use a dutch oven at home all the time, but we use a different one for camping. Our home one has a rounded top and is perfect for the stove top or oven, but doesn't have a way to get it in or out of the fire. It also doesn't have a flat top you can mound coals on, so it doesn't work in a fire.
The most important things for a dutch oven you are going to use for campfire cooking are:
Made of cast iron – this will ensure it can hold up to the intense heat of a campfire and help distribute the heat throughout the pot. It needs to be cast iron ONLY, not enamel coated cast iron (such as a Le Creuset)
Has a FLAT top with ridges along the outside. This allows you to pile coals on top of the dutch oven which is really important for even cooking.
Has a handle you can use to get it out of the fire (and in, but getting it out is trickier!)
Figure out what size you want – ours is a 4 quart (we have a bigger one at home but wanted one a bit smaller for camping). I'd say a 4 quart is ideal for 2-4 people. If you're regularly camping with more than 4 people, you might want to get a 6-8 quart one. If you camp with 4 very hungry people regularly, you also might want to size up to 6-8 quart.
The one I have and love (pictured above) is this one from Barebones. Barebones is a small, independent business that makes a variety of amazing products for outdoor living. I got this as a gift from my Mom for my birthday and I absolutely love it.
If you're looking for one you can buy on Amazon or at REI, another fantastic option is the Lodge dutch oven (our home dutch oven is a Lodge brand and it's absolutely fantastic). Make sure you get the one for outdoor camp cooking (with a flat lid with sides and a handle).
There are lots of accessories you can buy for dutch ovens for campfire cooking, but most of them you don't need! The one thing you do need is a tool to lift the dutch oven out of the fire when it's super hot. You can use anything really to slip through the handle and lift it out, but it can be helpful to have a tool for that purpose. Make sure that you can lift both the lid only (to check how it's doing) as well as lift the whole dutch oven by the handle. I use this inexpensive tool that's really convenient:
The last thing you'll need is something to put coals on top of the dutch oven lid with. I recommend using a small shovel or a pair of tongs. You don't need a special tool for this!
How do you use a Dutch Oven for cooking on a campfire
While cooking in a dutch oven is not necessarily easy, it is mostly hands off! These are the steps to follow for most dutch oven recipes:
Build a wood or charcoal fire. It takes some time for the fire to burn to the point where it has enough coals for cooking, so make sure you start this process at least 30 minutes before you want to cook
Assemble the ingredients in the dutch oven. Recipes will tell you want to do, and make sure to put items in the order recommended in the recipe. This is usually important! Usually you put everything in and then let it cook.
Put the lid on the dutch oven and place it in the fire. Try to put it somewhere with coals all around it. Add some coals to the top of the lid using tongs or a shovel. Make sure you put it IN the fire, not on a cooking grate above (this won't be hot enough)
Wait the amount of time the recipe says you need to cook. It's hard to know the exact temperature of a fire so I recommend checking it the first time a few minutes before the recommended time. If it's not done, you can cook it longer and check it every 10- 15 minutes. When you check it, you can pull the lid up with the lifting tool and you don't have to take the whole thing out of the fire. I also recommend rotating it once in the middle of the cooking time, since the fire is usually hotter on one side.
When you're ready to take it out of the fire, brush the coals off the lid with a shovel or tongs. Carefully remove the dutch oven by the handle with the lifting tool or a stick or something else sturdy. Set it down on a picnic table or another surface that you can put hot things on.
Serve and enjoy! (make sure that your fire is completely dead out before leaving your campsite or going to bed).
How to clean your Dutch Oven
The key to cleaning a dutch oven is to scrape it out while it's still warm. I love this inexpensive scraper specifically for this purpose!
Scrape out any remaining food (make sure to not leave food scraps outside), put it in a trash can or pack it out) and then rinse out the dutch oven with water (if you have warm water that's great but if not you can use cold water no problem). Scrape it out again and repeat until it's clean.
You do NOT want to use dishwashing liquid or a dishwasher when you get home on your cast iron dutch oven!
If it gets any rust spots (which happens when parts of it stay wet), you can remove these by rubbing some olive oil on it with a paper towel.
My Favorite Dutch Oven Recipes
I highly recommend Fresh of the Grid as a terrific resource for getting started and getting excited about dutch oven cooking in camp! From nachos to apple pie to breakfast, they have a ton of ideas and well tested recipes.
My favorite things to make in the dutch oven while camping so far include macaroni and cheese (soooooo easy and fast!!) and lasagna. These are both recipes from Fresh off the Grid. I love bringing one of those pre-made grocery store garlic breads to heat up in the fire along with the lasagna.
Breakfast can be a fun thing to make in the dutch oven, as long as you aren't hurrying to go out somewhere and are having a leisurely camp morning. A breakfast casserole like this one is great (although a little fussy with cooking the sausage first, but you can do that at home before you come!) and if you're looking for something even easier, try these Chilaquiles.
How to Adapt a favorite recipe for a Dutch Oven
If you have a favorite recipe that you want to take camping, you can probably adapt it for a dutch oven! When you're just getting started, I recommend following a recipe specific to cooking on a fire. You can google your favorite dish + "dutch oven camping (or campfire)" and you'll probably find several options!
If you're ready to experiment a bit more, any recipe you make at home in a slow cooker or instant pot you can make in a dutch oven! Basically any one pot meal with some liquid in it will work. The main thing you'll need to adjust is the cooking time and possibly the order of ingredients or a few substitutions. It helps if the recipe is as simple as possible. If you put all the ingredients in at the same time it's much easier than if you have to mess with it throughout the cooking process.
Again, the internet is your friend here. Have fun and be creative!
Other Camp Cooking Ideas
If you're not sure dutch oven cooking is right for you, there are plenty of other ways to have fun with camp food! In my master camping checklist, I talk about some of the cooking tools and methods that I use when camping. Some other ideas include:
Foil dinners (or breakfasts): A foil dinner is cooked over an open fire, but in this case you wrap the ingredients in aluminum foil and place them on the fire grate over the campfire. Anything you can roast, you can make in a foil dinner and it has the advantage of no clean up (just throw the foil away and all you have to clean is your fork!). A favorite in our family is buffalo chicken foil dinners.
Camp stove: you can have a small, camping stove or a bigger campstove (like the Coleman one I use). You'll also need a pot to use with it, but you can make just about anything you can make on a stove top with one of these
Hot water cooking only with a jetboil: if you want to keep it really simple, you can cook using boiling water only! The jetboil (get one here on Amazon or here at REI) is an easy, fast and lightweight cooking stove for boiling water. You'd be surprised how much you can make with just boiling water…especially if you do some prep at home. Check out my favorite dehydrated vegetarian chili if you need some inspiration!