Gold Dredge 8 in Fairbanks: Local Review
Posted On August 22, 2023
Gold Dredge 8 is definitely the best gold mining oriented tour in Alaska. I'm a former Alaskan and resident of Fairbanks and I've taken hundreds of people here as a tour director and guide. Everyone loves it. Including people who don't think they are interested in gold!
Gold played a key role in the founding of Fairbanks in 1902 and continues to be an important part of the economy today. In addition to learning all about the history of gold mining in interior Alaska you'll also get the chance to pan for your own bit of gold. It's so exciting to see that bit of gold color in the bottom of your pan, even for me and I've done it hundreds of times!
Where is Gold Dredge 8 located?
Gold Dredge 8 is located about 9 miles north of downtown Fairbanks just off the Steese Highway and Goldstream Road on the Old Steese Highway. It's about a 20 minute drive from downtown Fairbanks.
You can take a taxi or rideshare here, or you can easily park your rental car if you have your own wheels. If you booked the Gold Dredge as part of a larger tour of Fairbanks or Alaska, transportation will be provided.
Who is the Gold Dredge 8 best for?
Similar to the Riverboat Discovery (and owned and operated by the same family), this is a tour that pretty much everyone is going to enjoy. Those interested in gold mining or history as well as kids might especially love it, but this is definitely a crowd pleaser.
What to expect at Gold Dredge 8
The tour at Gold Dredge 8 starts with a welcome and learning about the Trans Alaska oil pipeline, which crossing the property near the parking lot. You'll learn about oil in Alaska before getting to the gold and there's lots of opportunity for photos.
After that, you'll board a replica of the Tanana Valley Railroad for a short (and slow moving) train ride past several areas of historic mining equipment where they do live demonstrations of how it works.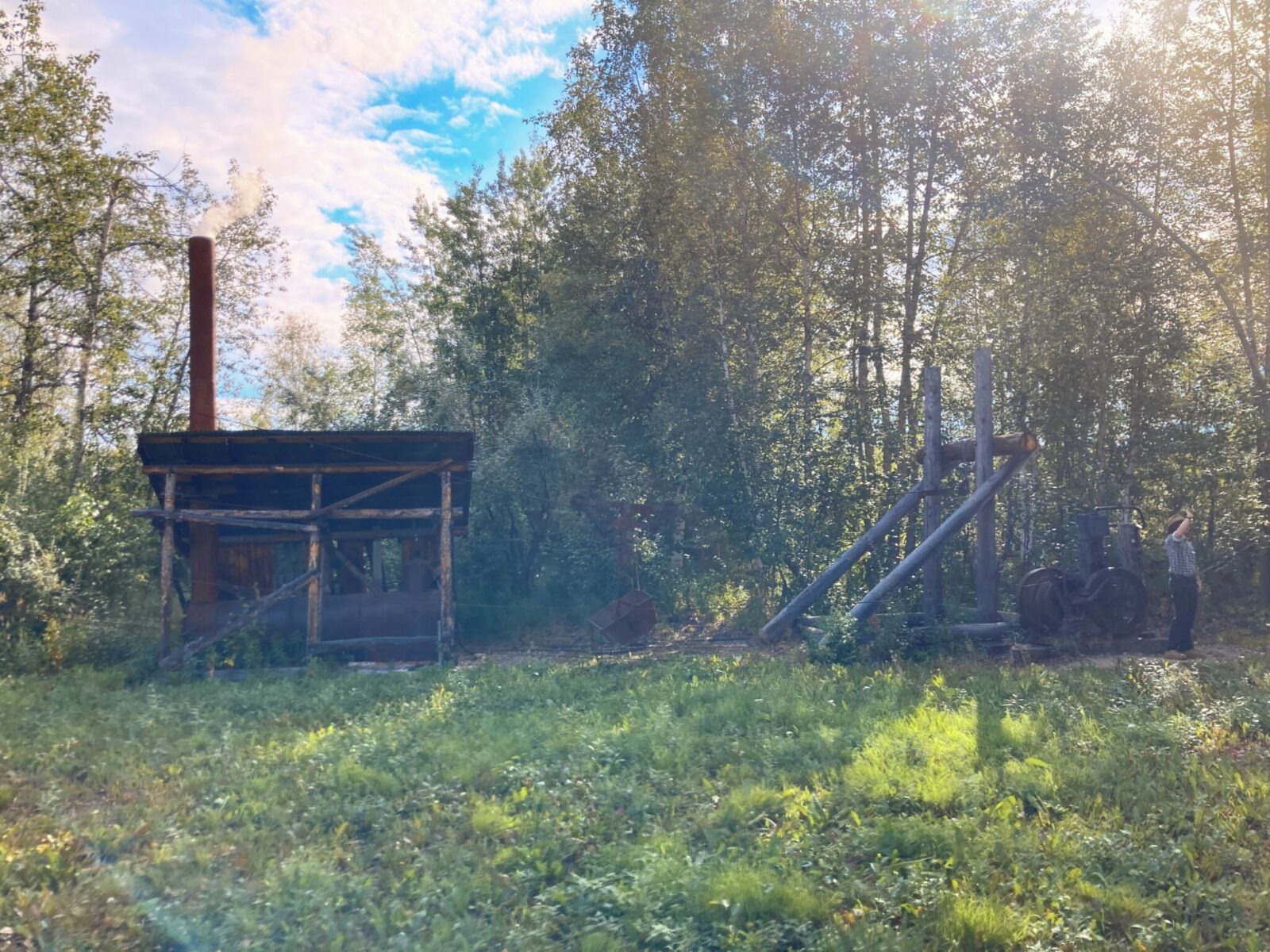 After about 15 minutes you'll get to the actual historic gold dredge for which the tour is named. The guides will explain how the dredge works and do a demonstration of how to pan for gold.
Then you'll pull up to the gold panning area and get off the train. As you step off, they will hand you a poke, which is a small bag of gravel containing gold.
This is the best part of the tour, where you get to pan for gold yourself in the covered panning area. They have lots of staff to help you if you get stuck or need some help with your gold pan.
Once you get your gold flakes, you can bring them inside to get them weighed in the gift shop and find out how much your gold is worth! If you like you can have it made into a necklace or magnet, or you can just keep it in the old school film canister they give you for that purpose.
While waiting for the train to take you back to the parking lot, don't miss the free cookies and coffee! I highly recommend taking the time to go out to the historic gold dredge and walking through it, the ins and outs of how a gold dredge mined for gold in the mid 20th century is really fascinating.
They'll let you know over the PA system when it's time to head back to the train for the 5 minute ride back to the parking area and the end of the tour.
Accessibility and Mobility
Gold Dredge 8 is fully wheelchair accessible, except for the historic gold dredge itself.
When is Gold Dredge 8 open?
Generally the Gold Dredge is open from mid May though mid to late September. There are a few different time options throughout the day.
How long is the Gold Dredge 8 tour?
The tour is about two hours long.
Is there food at Gold Dredge 8?
There isn't food available for sale, however they have complimentary cookies and coffee in the gift shop!
Is there wifi or cell service?
There isn't public wifi at the Gold Dredge but cell service is pretty good (depending on your provider and how well roaming is covered on your plan if you're a visitor to Alaska).
Are there restrooms?
Yes, there are plenty of restrooms in the gift shop and gold panning area. They are flush toilets with running water! There are not restrooms before you get to that point, however (about 45 minutes into the tour).
What to wear for the Gold Dredge 8 tour
In mid summer, Fairbanks is generally dry and can get quite hot. Most days in mid June through early August are in the 70s and 80s, occasionally hotter. There can be rain showers or cooler weather any day, so I always recommend bringing and extra layer or a rain jacket.
Most of the tour is covered, except for when you first arrive and are learning about the pipeline, that part is not covered. The rest of the tour (replica train, gold panning area, gift shop, inside the dredge) is covered, though mostly outside.
In early and late season it can definitely be raining or chilly. If you start in the morning and it's cold, it might be warm in the afternoon so make sure you have a couple of layers to stay comfortable.
Costs and Booking
If you are visiting Fairbanks as part of a cruisetour or other organized tour, check to see if this tour is already included as part of your time in Fairbanks. If not, you can book it on your own (or possibly through your guide, check with them).
If you're traveling on your own to Fairbanks, you can book directly through their website.
The cost is $54.95 for adults and $34.95 for children age 3-12. Children younger than 3 are free.