25 Unique Things to do in Fairbanks Alaska
Posted On May 4, 2020
Last Updated on September 21, 2023
Fairbanks is a unique community that is quite different from other places that visitors generally go in Alaska. It is in Alaska's interior, giving it a very different climate and weather than many other parts of Alaska. Far from the coast, interior Alaska is dominated by it's rivers, spruce forests and tundra as well as it's midnight sun and unending daylight of summer and it's frigid, dark and Aurora lighted winters.
The Fairbanks area is the homeland of the Dene Nation, who are Athabascan People. The Tanana Chiefs Conference is based in downtown Fairbanks.
As a former Fairbanksan, I love to share all the amazing and unique things to do in Fairbanks. I worked in tourism when I lived in Fairbanks and I still spend time in Fairbanks every year both visiting and as a tour director and I love to share it with visitors.
March is my favorite time to visit Fairbanks, but if you're not a fan of winter my second choice is September (when the fall colors are perfect and night returns and with it the Northern Lights). May and June are best for seeing the midnight sun. This article includes plenty of year round activities in Fairbanks as well as things to do in summer and winter.
ANY time of year will give you lots to do in Fairbanks, so let's get started!
Related: Complete Guide for planning your trip to Alaska, 11 Best stops on a road trip from Anchorage to Fairbanks
Is it worth visiting Fairbanks?
Absolutely! Fairbanks is one of the more underrated places in Alaska which means there are many unique things to do for those willing to dig a little deeper for travel experiences.
Fairbanks is worth a visit simply for it's uniqueness in Alaska and in the world. You'll never see another place quite like it! All of these things to do in Fairbanks are unusual and things you won't find anywhere else. Most of them are available all year, exceptions to this are listed under "summer only" and "winter only" activities.
Things to do in Fairbanks year round
Take a photo of the Love Alaska Sign
Don't miss the Love Alaska Sign, behind Pike's Waterfront Lodge across the Chena River.
Morris Thompson Cultural Center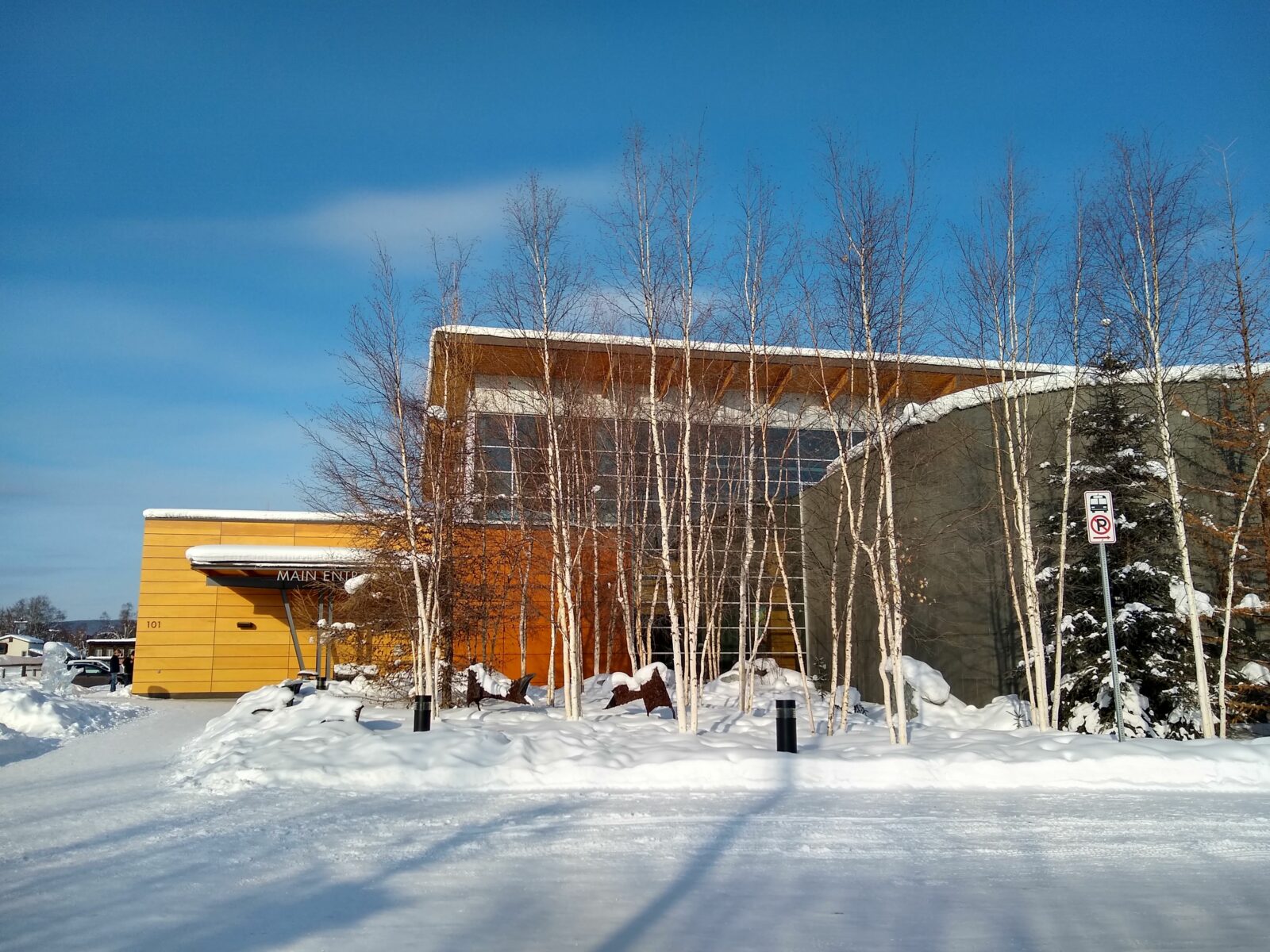 The Morris Thompson Cultural Center should be your first stop and is a wonderful place to learn even more ideas about things to do in Fairbanks. It's free and provides a ton of information about Fairbanks and it's history as well as indigenous people of the Tanana Valley both today and in the past.
In addition to learning a lot about Fairbanks, you can also get lots of information for the Public Lands Information Center and Explore Fairbanks which are both housed in the same building. You can get maps and information about absolutely everything both in town and in the surrounding public lands.
Walk along the Chena River
Most cities that have a river have a river trail alongside them and Fairbanks is no exception. There is a trail along the south side of the Chena River that starts at Pioneer park and winds along the river for several miles.
You can continue through downtown all the way to the Morris Thompson Cultural Center (a walk is an excellent activity after visiting the center). Make sure to check out the Antler Arch when you're there, it's right behind the Visitor Centre near the river.
Chena Hot Springs
If you only do one things in Fairbanks, other than visit the Morris Thompson Cultural Center, make it this! I got engaged at Chena Hot Springs so it's possible I'm a bit biased, but I think you'll agree that this is not only one of the best things to do in Fairbanks, but one of the best things to do in all of Alaska!
I love going to the hot springs in winter best, but I enjoyed it all year long when I lived in Fairbanks.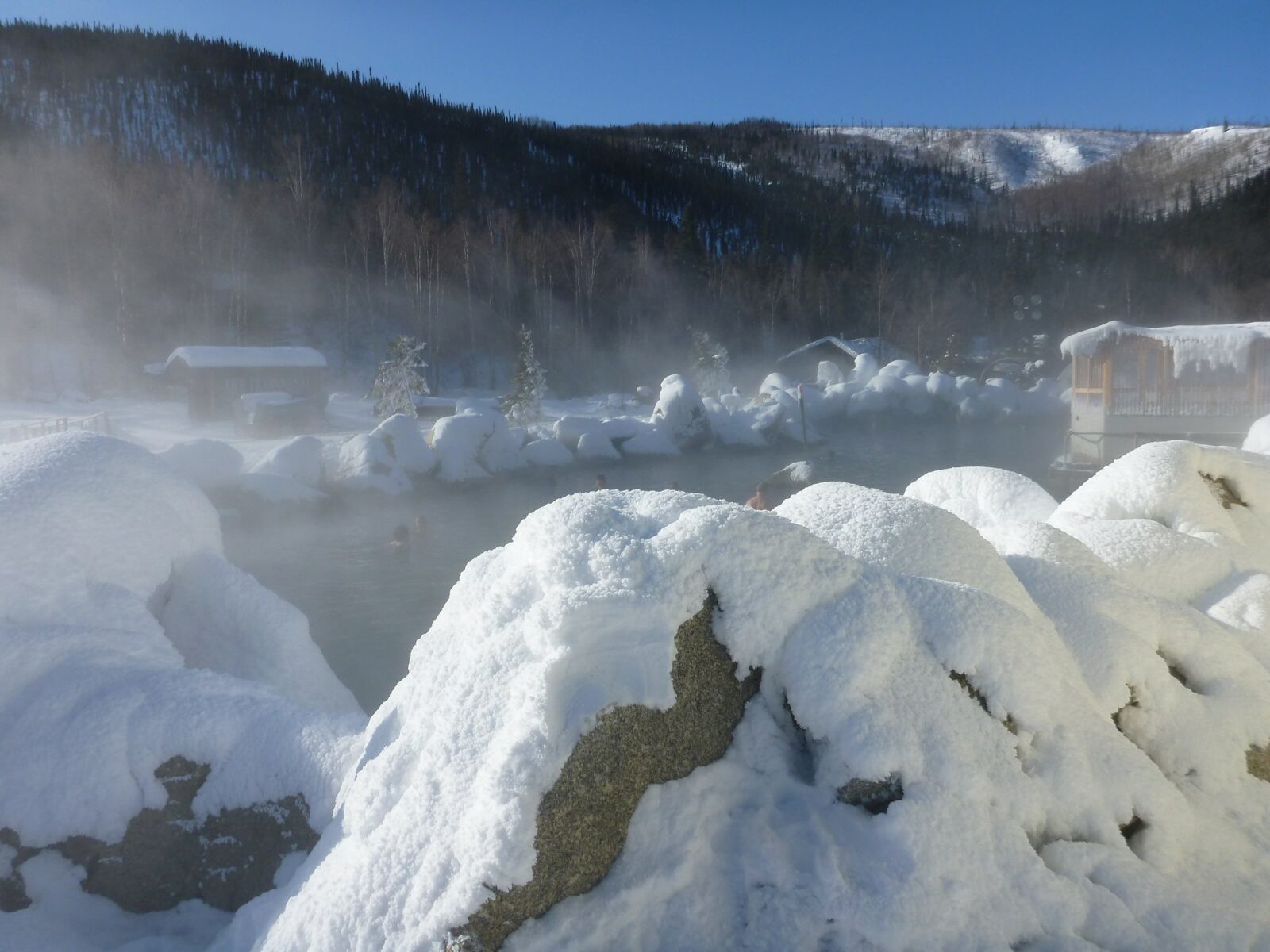 It takes about an hour and a half driving to get there depending on the weather and how many stops you make, so devote the day to it if you can. The drive out to Chena goes through the Chena River State Recreation Area, an area with multiple hiking trails and fishings spots. This is also an excellent place to see moose, I don't know if I've ever driven this road without seeing at least one!
Of course you have to do some soaking in the hot springs. There is an outdoor hot pool (the best) as well as an indoor pool. They have changing rooms and lockers. You can also rent a towel if you don't have one.
The other thing that you must do at Chena Hot Springs is visit the Ice Museum, which is open all year. Here, you can see some amazing ice sculptures and even slide up to the ice bar for a cocktail served in an ice martini glass! It's an additional $15 for the apple-tini cocktail but DO IT. It's not something you'll do anywhere else.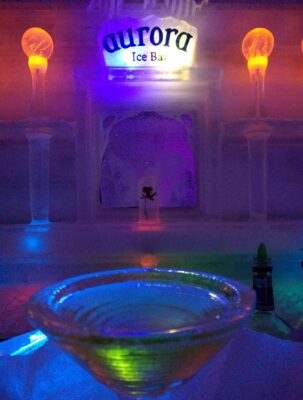 Chena Hot Springs resort offers many other activities and tours including arctic circle flights and dog sled rides. They also rent lots of gear and equipment which is really helpful for visitors!
Walk at Creamer's Field
Creamer's Field is a gem and a wonderful year round thing to do in Fairbanks. A former dairy farm protected as a migratory bird refuge, Creamer's field is home to many migratory and summer birds from spring through early fall.
Come in summer to watch birds or come in winter to ski the cross country ski trails that circle the refuge!
Fountainhead Antique Auto Museum
The Fountainhead Antique Auto Museum houses lots of perfectly restored antique cars along with period fashion and other details throughout the history of cars. Even if you're not that interested in antique cars, you will still be impressed by the immaculate restoration and the story of cars through time. Admission is $12 for adults (13 and up) and $6 for kids age 6-12.
University of Alaska Museum of the North
The Museum of the North is home to galleries telling the natural and cultural history of the distinct regions of Alaska. There is also a gorgeous gallery of diverse Alaskan art from the last 2000 years as well as a massive whale skeleton. The bus from "Into the Wild" is being restored here and hopefully will be visible to the public in the next few years.
University of Alaska Fairbanks Musk Ox Farm
The musk oxen and reindeer at the farm are one of my absolute favorite things about Fairbanks.
Both of these highly adapted arctic animals are fascinating to learn about and quit frankly adorable. If you are interested in animals at all, you do not want to miss the tour offered at the farm.
The tour is offered daily in summer and on weekends in winter. You'll get up close with the animals and learn about their fascinating adaptations as well as how the researchers are caring for the animals and learning more about them.
Trans-Alaska Oil Pipeline Viewpoint
If you're thinking, "an oil pipeline? how can that be interesting?" let me tell you that if you use any oil, ever (like we all do) it's interesting and worthwhile to learn just a bit about where it comes from and this is a low key way to do that. This is one of my favorite places to take visitors because it's so fascinating and unique.
This viewpoint is a large pullout with interpretive signs in a place where the oil pipeline passes very close to the road. The Trans-Alaska Oil pipeline was built in the 1970s to move oil from the oil fields in Prudhoe Bay on the Arctic Ocean to the marine terminal in Valdez. This 800 mile pipeline is a remarkable feat of engineering. The pipeline and associated oil revenue make up the bulk of Alaska's state budget today and the construction of the pipeline led to explosive growth in the town of Fairbanks during the 1970s.
Here you can learn about the construction of the pipeline, how it's cleaned and how it was built in such a harsh environment with all the additional challenges that created for engineers.
To get here, travel north out of Fairbanks on the Steese Highway. After you pass the turn for Chena Hot Springs road, the pullout is about 4 miles further on the right side. If you miss it and arrive at Goldstream Road, or the community of Fox, then you've gone past it.
Chena Lake Recreation Area
Chena Lake Recreation Area is about half an hour from Fairbanks near the town of North Pole. An excellent year round location for outdoor recreation that's popular with locals! When I lived in Fairbanks, one of my best friends lived here (her spouse was the manager) so I probably spent more time here than anywhere else except home and work.
The Army Corps of Engineers built a 7 mile dike here after a flood in the 1960s devastated Fairbanks, creating a good sized lake. The park has a section along the river and one along the lake. In the summer, this is a wonderful beach to hang out at and go swimming or canoeing or kayaking. There is a run of salmon which at this point have made it 1000 miles upriver from the Bering Sea to this small river which makes for an impressive site when they are running. The park is also an excellent place to see wildlife and has a campground.
When winter arrives, there are groomed cross country ski trails along the river and you can rent ice fishing huts if you want to try your hand at that. During Aurora season, Chena Lake is an excellent place to look for the northern lights.
Sample Local Craft Beer and other Craft Beverages
Fairbanks has an excellent craft beer scene with lots of delicious brews made in town. It deserves it's place on my self guided beer tour of Alaska! A few of my favorites include:
Black Spruce is a tasting room only and has some lovely outside seating on the south side of town.
Hoodoo Brewing is also a tasting room and is located closest to downtown near the railroad terminal. They also have an outside seating area with propane heaters!
Latitude 65 is a tasting room with food trucks and great beer
Hoarfrost Distilling has delicious cocktails mae with their own vodka – try anything cranberry!
Walk with Reindeer
A unique thing to do in Fairbanks is to visit the Running Reindeer Ranch or Chena Outdoor Collective where you can walk with reindeer year round. The walk includes the opportunity to learn everything you ever wanted to know about reindeer and about their environment.
Things to do in Fairbanks in Summer
In addition to all the year round Fairbanks activities mentioned above, there are some unique things to do in Fairbanks that can only be done in the summer.
Go for a hike in Fairbanks
There are lots of wonderful hikes around Fairbanks to enjoy in the summer! My favorite hike close to Fairbanks is Angel Rocks along Chena Hot Springs road. You can do a 4 mile loop with 900 feet of elevation gain from the trailhead at mile 48.9 Chena Hot Springs Road. If you have more than one vehicle and a group, you can make it an 8 mile one way hike with 1900 feet of elevation gain from the trailhead to Chena Hot Springs! There are some amazing views up there and hiking into the hot springs is pretty great.
Another option is Wickersham Dome, about 40 miles from Fairbanks to the northeast. Wickersham Dome is a 7 mile hike with 1400 feet of elevation gain and big views of the surrounding hills and distant mountains.
If you're looking for more distance and climbing (and more amazing views) strong hikers can check out Granite Tors, which is about 14 miles round trip with 3400 feet of elevation gain. The Granite Tors trailhead is about 45 miles from Fairbanks on Chena Hot Springs road (before you get to Angel Rocks).
With a bit more driving, you can access the many trailheads in the Eastern Alaska range along the Richardson Highway, or in the White Mountains north of Fairbanks or around Denali National Park.
See the Midnight Sun
On the summer solstice (June 21) the sun sets after midnight and comes up again a couple hours later. The novelty of having it never get dark all night if fun and gives you the opportunity to go outside and play or read a book all night long! If you're visiting Fairbanks from late April through mid August, it won't get dark at all.
Float the Chena River
A favorite local activity is to float the Chena River from somewhere downtown to one of the restaurants with outside decks. If you're a visitor, you can rent kayaks or canoes at Pioneer Park and float down to the Pumphouse and they'll pick you up at the other end. If you like local experiences when you travel, do this!
Have a Drink or a Meal on a deck next to the Chena River
In summer, sitting outside on one of the decks at the Pumphouse or Pike's Landing for a drink or happy hour is a pretty amazing experience! Just grab a drink or a snack in the mid afternoon or later at night if you're on a budget, or splurge and have lunch or dinner there.
Even if you're not into the floating idea, you still gotta do the deck!
Pioneer Park
Technically Pioneer Park is open all year, and it has beautiful lights up most of the winter. You can still walk around and read the signs, but in my opinion this is a better destination in summer.
Pioneer Park is a collection of historic buildings and recreations to celebrate the history of Fairbanks situated on the south bank of the Chena River. It's a great place for kids with a playground, a train around the perimeter and a carousel. There's also food, an art gallery and other shops located in the historic cabins that have been moved from other parts of town to be preserved here.
Riverboat Discovery
The Riverboat Discovery is an extremely popular experience that everyone loves. If you're an independent traveler, don't be put off and miss out by how many cruise travelers are doing it. I've taken hundreds of people here and everyone loves it! That includes me and I've been on it many times.
This is a good way to see the many things Fairbanks is known for if you're short on time or don't want to organize it all yourself. In addition to a river cruise, you'll get to learn about Athabascan culture and see sled dogs in action.
Gold Dredge 8
The Gold Dredge is an excellent place to learn about gold mining in the Fairbanks area. I believe that everyone who visits Alaska should try their hand at Gold planning because it's really fun! You will also learn a LOT about gold mining which is a fascinating part of Alaska's history.
Snuggle puppies at a dog sledding kennel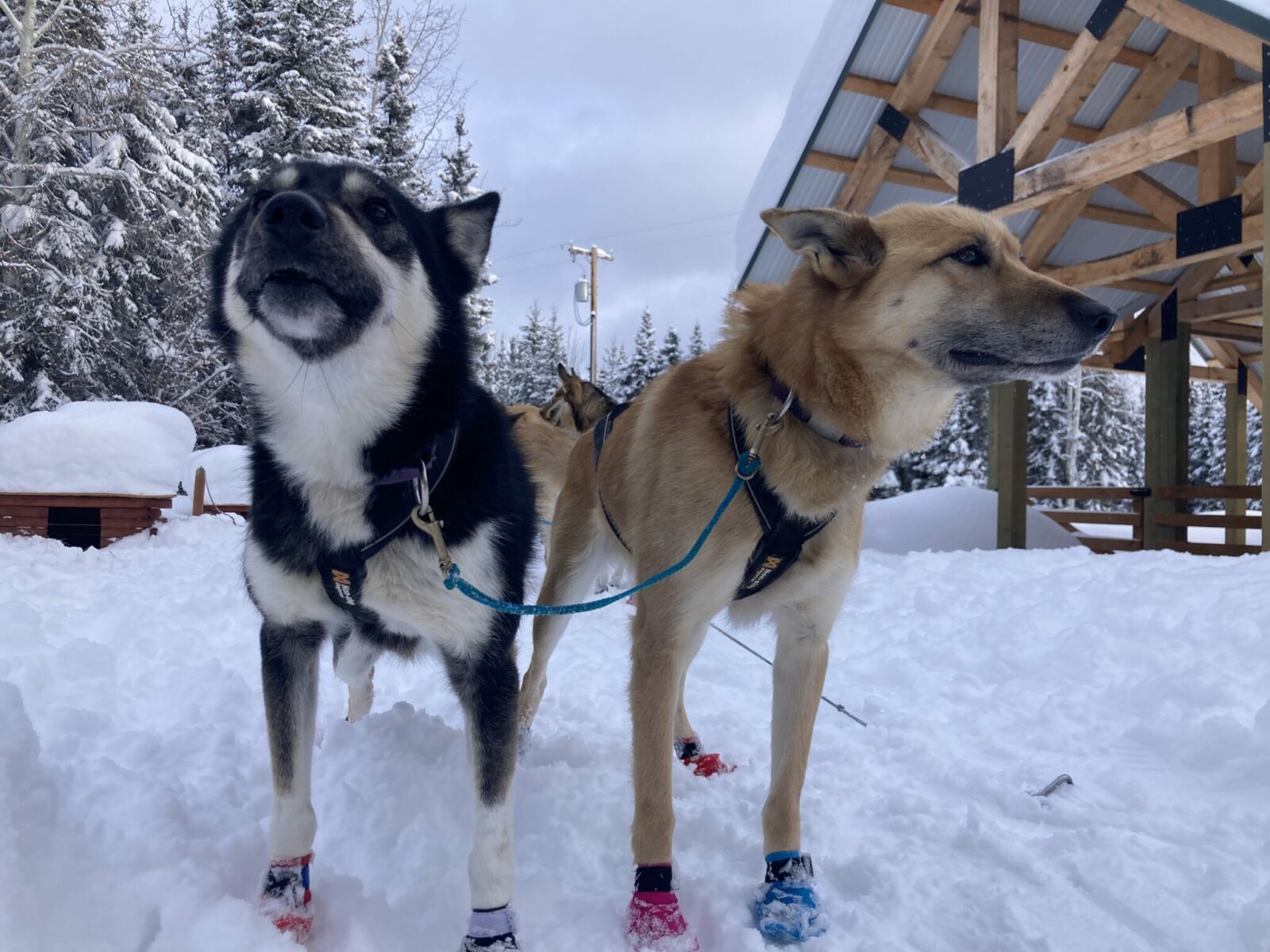 To fully experience dog sledding, you really need to do a winter visit (great for so many other reasons too). Dog sledding is a winter sport and to go for a ride you'll need to be there in the colder months.
When summer comes, there is still plenty of opportunity to learn about the sport of dog sledding, or dog mushing as it is known in Alaska.
A visit to a kennel will give you the chance to interact with the wonderful dogs, learn about the dogs and the sport of mushing and get to know a dog musher.
The Riverboat Discovery includes a visit to Trailbreaker Kennel and to go visit dogs on your own, check out Paws for Adventure or the Chena Outdoor Collective (read more about this in the winter section below).
Things to do in Fairbanks in winter
When winter arrives, Fairbanks becomes even more magical! In addition to the year round things to do, these are some unique things to do in Fairbanks you can only do in winter.
Chase the Northern Lights
By far the thing most visitors want to do in Fairbanks in winter is see the Northern Lights! Fairbanks is the best place in the world (at least near civilization) to see the Northern Lights because of its combination of the perfect latitude under the Aurora Oval as well as its frequently clear skies.
You can see the northern lights in late summer and very early spring, but late winter is an absolutely ideal time.
All you really need to do is look up, a lot, when it's dark and clear. However, you can also take a tour and have your guide help you keep watch and do the driving. Another good option is Aurora Pointe Activity Center, where you stay in one spot (a spacious heated building with hot drinks and cookies!) and learn about the Aurora while waiting in the comfort of a heated room.
Hint: West Coast residents (or anyone really if you don't mind the longer flight time) can wait for a favorable forecast and plan a last minute weekend trip!
Experience the thrill of Dog Sledding
If you're visiting in winter, make it a priority to experience dog sledding! This unforgettable adventure is a true Alaskan experience and a great way to learn more about life in Alaska.
There are many wonderful places to try dog sledding, though I particularly love Chena Outdoor Collective, where you can meet mushers and dog teams that race in world famous dog sled races like the Iditarod! There are not dog teams living on site, the teams and mushers come for the tours and you get to participate. Make sure to book online in advance. Read my full review of Chena Outdoor Collective's dog sledding tours here.
Cross Country (Nordic) Skiing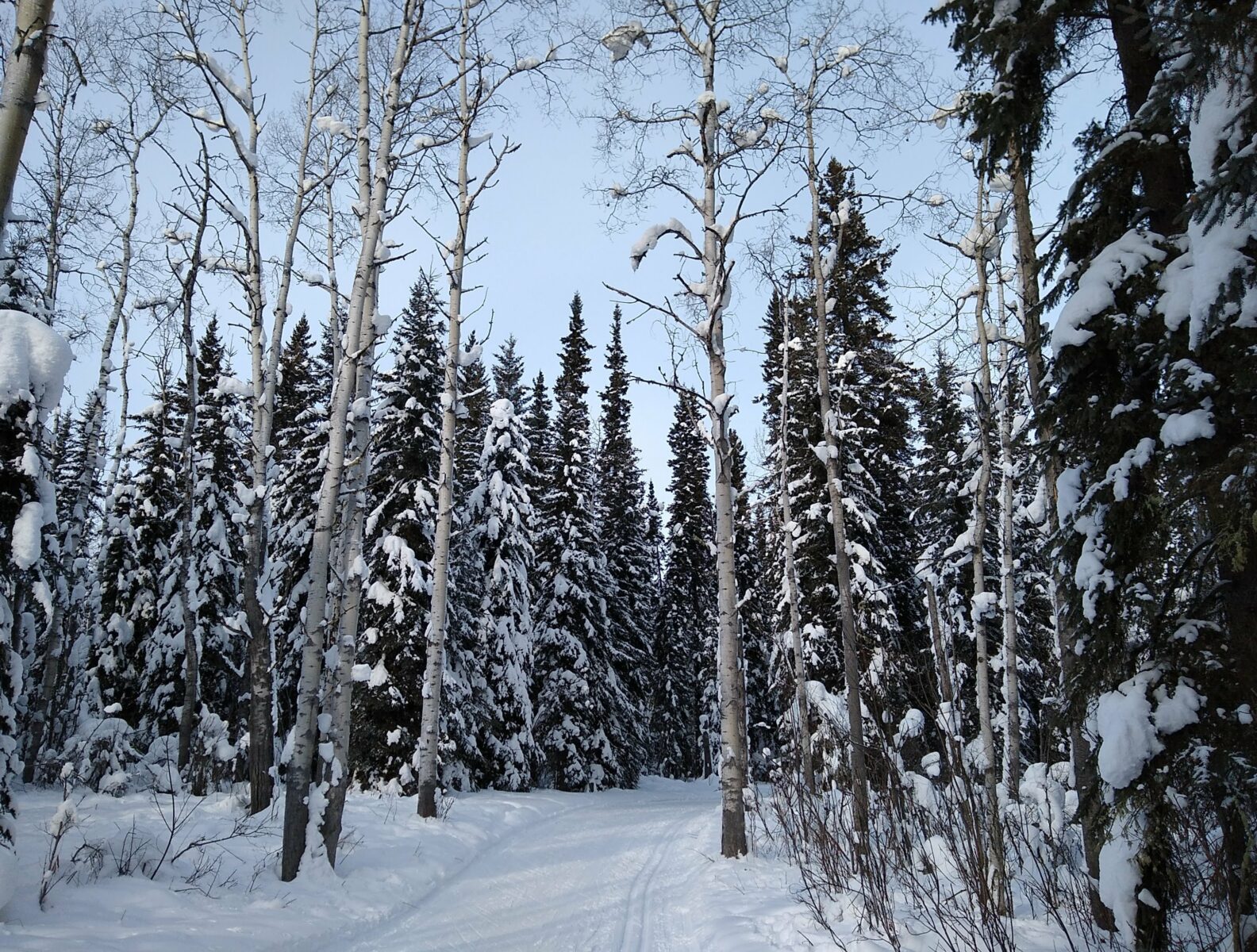 Other than seeing the Northern Lights, cross country skiing is the best thing to do in Fairbanks if you're there during the winter. Fairbanks has many miles of amazing cross country skiing in multiple locations. These are my five favorite places for cross country skiing in and around Fairbanks.
Hike to the Castner Glacier Ice Caves
Castner Glacier and the Castner Glacier ice caves are about a 2.5-3 hour drive from Fairbanks down the scenic Richardson Highway. This is a wonderful winter adventure with a short but adventurous hike to the Castner Glacier and the ice caves. Learn all about how to plan your own outing to Castner Glaicer here.
Try a new winter activity
If you're looking for things to do in Fairbanks in the winter, there are so many new winter activities you can try! You can take a tour during the winter to try snowmobiling, ice fishing and dog mushing! Inquire about these opportunities when you're at the visitor center or out at Chena Hot Springs.
Visiting Denali National Park from Fairbanks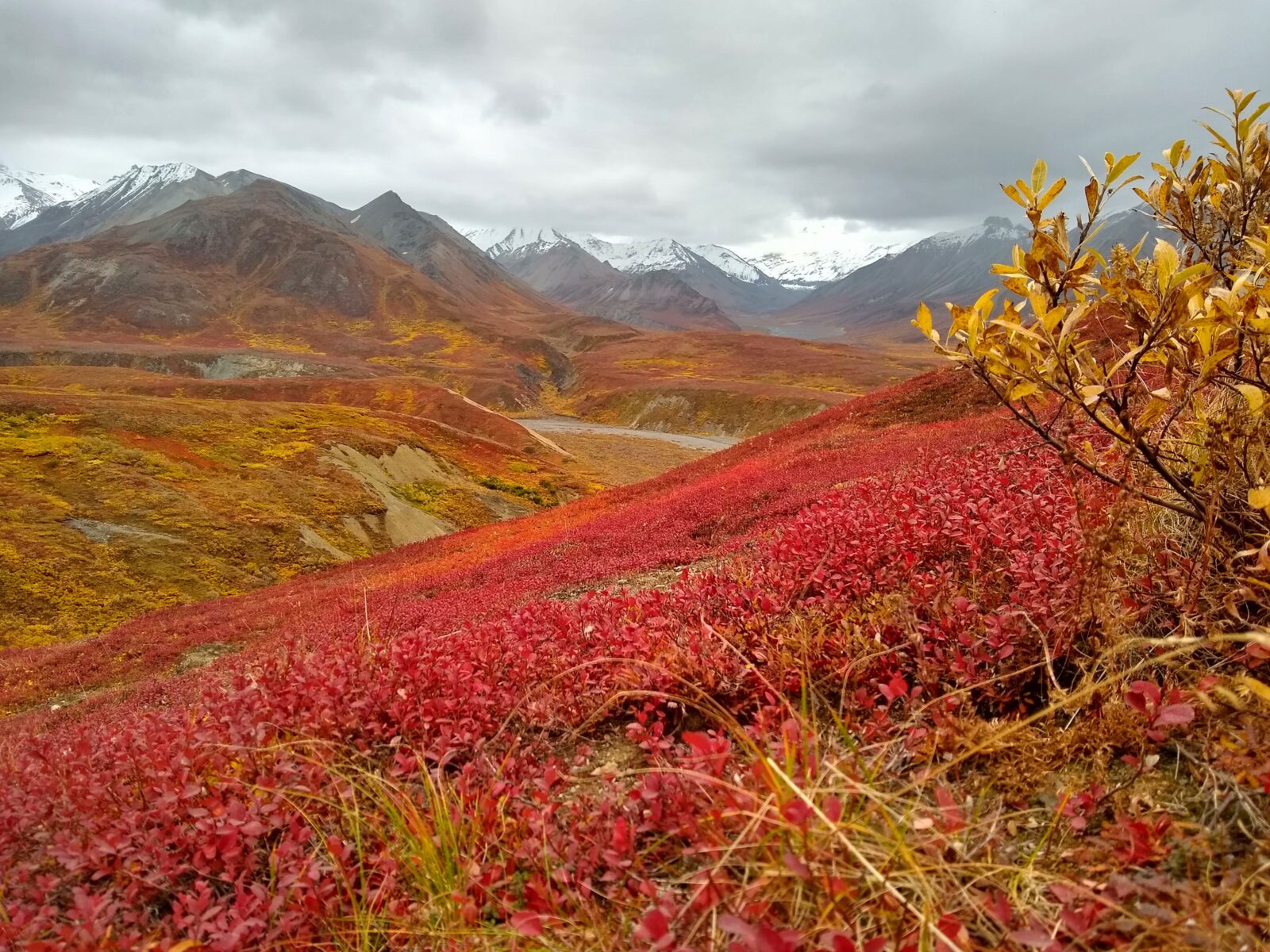 2023 Note: The Denali Park Road closed at Milepost 42 (Polychrome Pass) in August 2021. The park service has announced that the road will remain closed at this point at least through the 2023 season. A permanent fix to this section of road is currently being built. Bus tours will still operate up to that point. Eielson Visitor Center and Wonder Lake will not be accessible.
Visiting Denali National Park from Fairbanks in Summer
Denali National Park is about 2 hours away from Fairbanks, south on the Parks Highway going towards Anchorage. Fairbanks is the closest major airport to Denali. Denali National Park has two distinct seasons of operation: summer (mid May through mid September) and winter (the rest of the year).
I recommend spending at least one night in Denali and ideally two to give you a full day in the park. Make sure to reserve hotels and camping in advance (hotels need to be reserved far in advance). If not, you could do a day trip of visiting the park entrance area, including the visitor center, the dog kennels and hiking Mt Healy.
Denali's summer season generally runs from mid May till mid September. During this time everything is open, almost everything is closed outside of that time. If you're visiting Denali in summer, you can only travel in to the park in an organized tour or shuttle. The first 15 miles of the road are open to private traffic.
A really unique way to see Denali is to enter the Denali Road Lottery, if you're up for rolling the dice on the lottery and some cold weather (but it's amazing!).
Visiting Denali National Park from Fairbanks in Winter (mid September – mid May)
If you're looking for things to do in Fairbanks in the winter (which in Denali is defined as mid-September through mid-May) then a day trip to Denali is a great idea. I would save this for a day of good weather as it's a beautiful drive there! The park road and all facilities are closed, so there are limited things to do. You can walk or cross country ski, or walk on the road if it's snow free.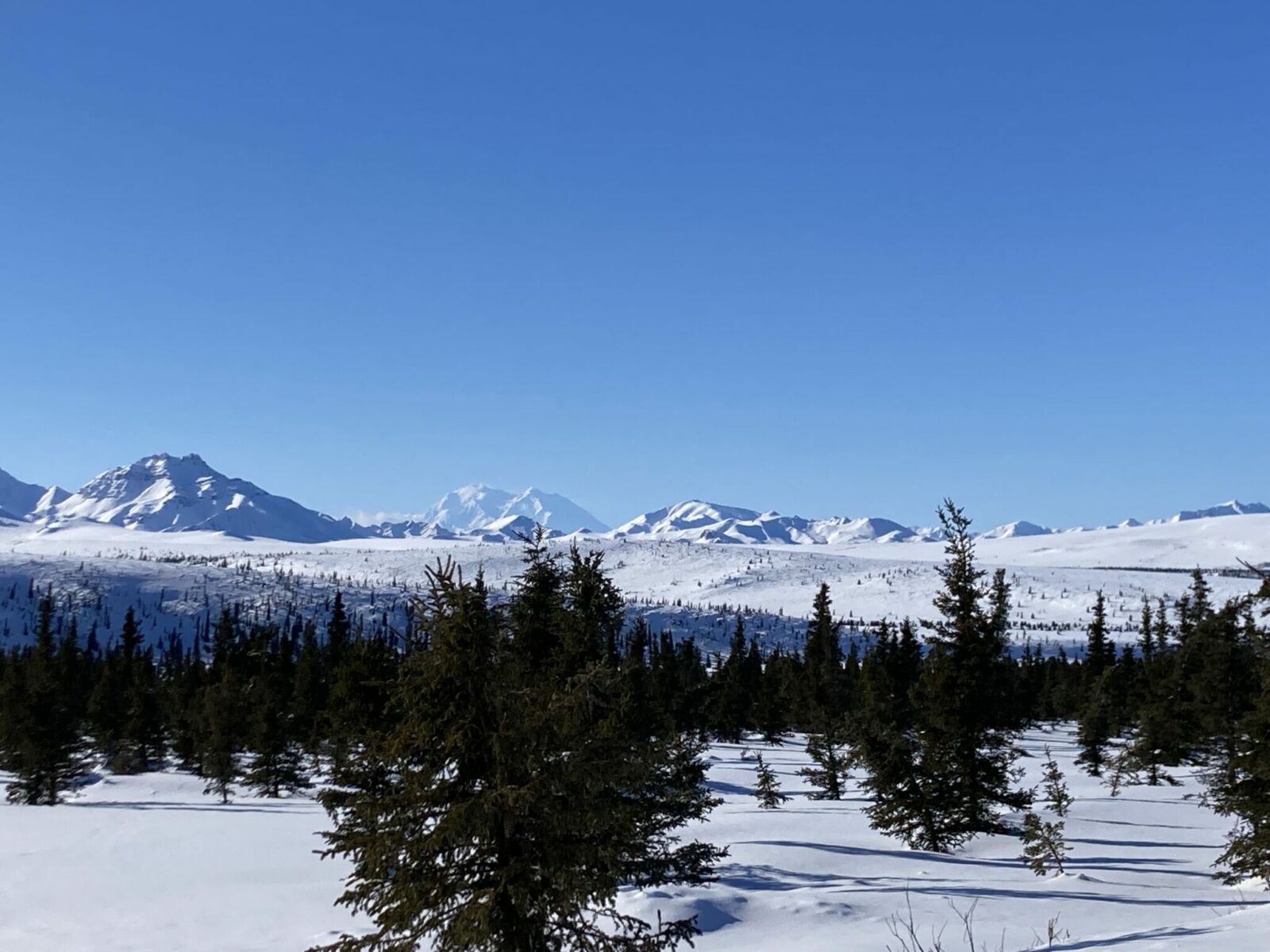 Where to stay in Fairbanks
Hotels
Lodging in Fairbanks during the summer months and late winter books up early! Depending on what type of lodging you're looking for, here are a few suggestions:
Fairbanks has a number of chain hotels and some smaller hotels. Most of the hotels are near downtown, the university or the airport.
My personal favorite hotel in Fairbanks is Pike's Waterfront Lodge, which is right by the river and has a wonderful deck for hanging out in the summer. They also have a shuttle that gives rides to the airport and the train station.
This map shows in real time the different accommodations options available in Fairbanks so you can easily see how close different options are to what you want to do and whether or not you need a car.
This section contains affiliate links, which means if you make a purchase I may receive a small commission at no additional cost to you.
Vacation Rentals
Pay attention to the location of your vacation rental as some may be a significant drive from town. The outlying areas are wonderful places to stay, just make sure you know where it is and have access to a rental car if you're staying away from town.
Cabins
In Fairbanks, a cabin means a small house without running water. This is normal in Fairbanks! I lived in a cabin without running water (also known as a dry cabin) for two of the years I lived there. If you want to go local and/or save a lot of money I highly recommend giving a cabin a try.
A cabin will be MUCH less expensive than a regular house vacation rental or hotel room. You'll have a cooking set up and your host will let you know how to wash dishes with the water provided. You will also get the chance to use your very own outhouses. Your host will have ideas for places to go for a shower. This is a great adventure, especially for budget travelers. One of my good friends rents dry cabins, so if you want one that's guaranteed to be awesome, book hers!
Alaska State Parks public use cabins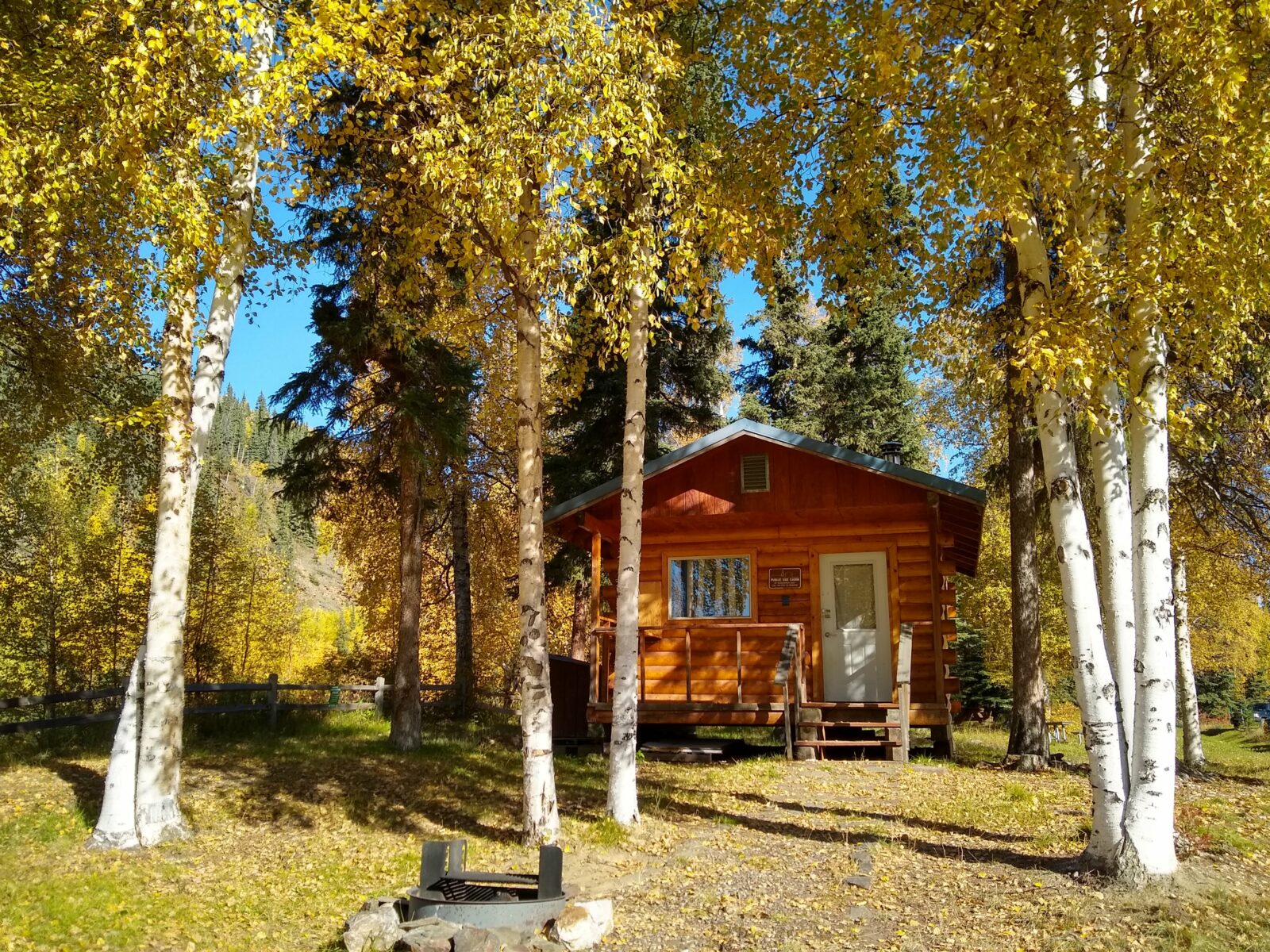 Alaska has more than 80 public use cabins across the state! Many of them are in the Fairbanks area. These are a great way to get away from it all and just spend some time relaxing. Cabins must be reserved online. The cabins are more basic than one you would rent on Airbnb. Think of it as camping, but you don't need a tent.
You need to bring sleeping bags and pads, water, food and cooking gear. They do not have running water so there are no showers. They have outhouses for each cabin. Alaska's public use cabins are a great way to find a budget friendly night's sleep and get away from it all without spending a fortune.When reserving, read all the information carefully as some cabins you cannot drive to. Cabins are open year round, though access may change at different times of the year. Information about seasonal access will be included in the description when you reserve.
Campgrounds
Most campgrounds in Fairbanks have a lot of RVs, so if that isn't your jam, you might want to consider camping a bit outside of town, perhaps at one of the campgrounds along Chena Hot Springs road.
In town, my favorite campground is the River's Edge RV park, which is in a lovely setting next to the river.
The best restaurants in Fairbanks
Fairbanks has some truly exceptional restaurants for a smaller city. From pizza to prime rib to barbeque, you'll find amazing food.
Turtle Club: On the edge of town, this is the Fairbanks restaurant institution. Widely believed to be the best prime rib ever, and the salad bar is super popular in winter! Note: if you don't like prime rib, don't go to the Turtle Club. It's amazing, but that's what they do.
Alaska Coffee Roasters: Wonderful coffee (and you can buy beans), pastries and (of course!) pizza
Sunrise Bagel and Espresso Three drive through shops in different parts of town with delicious coffee as well as amazing breakfast sandwiches!
East Ramp Wood Fired Pizza: incredible wood fired pizza with a great view of all the aviation coming and going from the busy Fairbanks airport. There are jets, float planes, ski planes, small planes, cargo and passenger flights here. A must do for pizza lovers and aviation enthusiasts!
Lavelle's Bistro – fine dining very popular with locals and a strong focus on locally sourced and Alaskan ingredients. This is the best place for wine lovers in Fairbanks!
Big Daddy's BBQ – Amazing BBQ in downtown Fairbanks
The Library – amazing cocktails downtown and very popular with locals
Pike's Landing: This is a great place to sit on the deck for a drink and some food in the summer and watch the river go by
The Pumphouse – a popular special occasion restaurant in a historic building near the river
Thai House – all the Thai food in Fairbanks is incredible! Thai House is my personal favorite.
Fushimi Japanese – all the Japanese favorites including sushi, bento, noodles and more!
Cookie Jar – A local favorite for soup and sandwiches and OF COURSE delicious cookies!
Hot licks: see above about Alaskans love of ice cream! Hot licks is only open in the summer.
Related: Best places to eat in Alaska according to Alaskans
Final Thoughts
Fairbanks is an amazing and unique town in Alaska's interior with lots to see and do, from outdoor adventures to museums and great restaurants!