20 Unique Things to do in Fairbanks Alaska
Posted On May 4, 2020
As a former resident of Fairbanks, I love to share all the amazing and unique things to do in Fairbanks! I worked in tourism during the summers I lived there so I was lucky enough to get to show people around and I loved it.
Fairbanks is a unique community that is quite different from other places that visitors generally go in Alaska. It is in Alaska's interior, giving it a very different climate and weather than many other parts of Alaska. Far from the coast, interior Alaska is dominated by it's rivers, spruce forests and tundra as well as it's midnight sun and unending daylight of summer and it's frigid and Aurora brushed winters. See this post for how to plan your full Alaska itinerary, including Fairbanks.
Fairbanks is worth a visit simply for it's uniqueness in Alaska and in the world. You'll never see another place quite like it! All of these things to do in Fairbanks are unusual and things you won't find anywhere else. Most of them are available all year, exceptions to this are listed under "summer only" and "winter only" activities.
I've already talked about why I think March is the best time of year to visit Fairbanks, but if you're not a fan of winter my second choice is September (when the fall colors are perfect and night returns and with it the Northern Lights). May and June are best for seeing the midnight sun.
Morris Thompson Cultural Center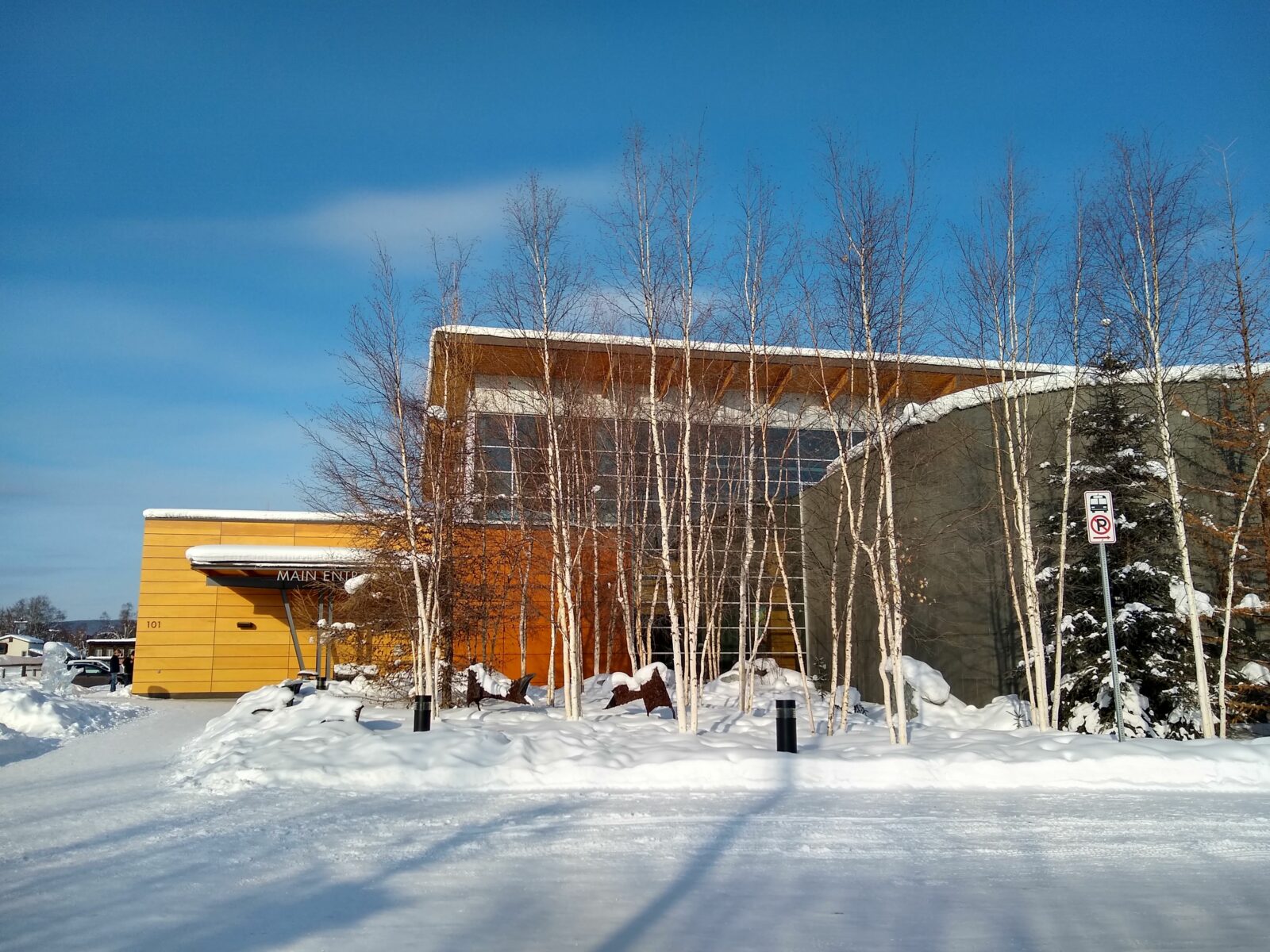 The Morris Thompson Cultural Center should be your first stop and is a wonderful place to learn even more ideas about things to do in Fairbanks. It's free and provides a ton of information about Fairbanks and it's history as well as indigenous people of the Tanana Valley both today and in the past.
In addition to learning a lot about Fairbanks, you can also get lots of information for the Public Lands Information Center and Explore Fairbanks which are both housed in the same building. You can get maps and information about absolutely everything both in town and in the surrounding public lands.
Walk along the Chena River
Most cities that have a river have a river trail alongside them and Fairbanks is no exception. There is a trail along the south side of the Chena River that starts at Pioneer park and winds along the river for several miles. You can continue through downtown all the way to the Morris Thompson Cultural Center (a walk is an excellent activity after visiting the center).
See the Northern Lights or the Midnight Sun
No matter what day of the year you visit Fairbanks, you will EITHER see 24 hours of daylight (the sun sets for a couple hours but it never gets dark) OR you'll have an excellent chance of seeing the Northern Lights! Both of these are extremely unique things about Fairbanks and it's totally worth it to get up at 1am so you can go outside and read a book for a few minutes in the daylight or to bundle up and have a chance at Aurora Viewing during the fall, winter and early spring.
You'll have all night daylight from May through early August and then the rest of the year when there's darkness, you have a chance of seeing the Aurora! There's enough darkness for Aurora viewing to be good from late August through March. If you're interested in planning a trip to Alaska to see the Northern Lights, check out this post with all the details about how to do that.
Chena Hot Springs
If you only do one things in Fairbanks, other than visit the Morris Thompson Cultural Center, make it this! I got engaged at Chena Hot Springs so it's possible I'm a bit biased, but I think you'll agree that this is not only one of the best things to do in Fairbanks, but one of the best things to do in all of Alaska!
I love going to Chena in winter best, but I enjoyed it all year long when I lived in Fairbanks.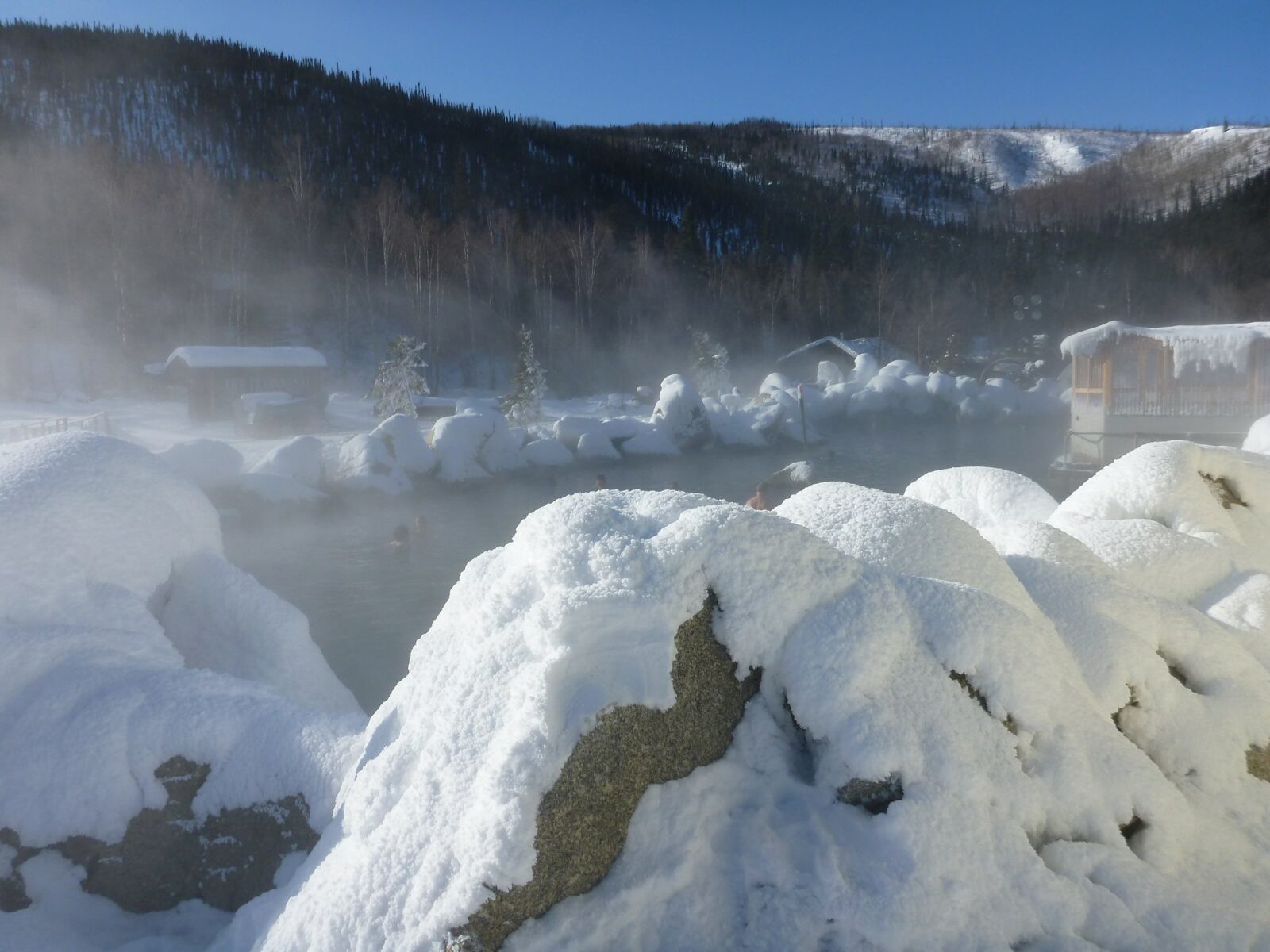 It takes about an hour and a half depending on the weather and how many stops you make to get to Chena, so devote the day to it if you can. The drive out to Chena goes through the Chena River State Recreation Area, an area with multiple hiking trails and fishings spots. This is also an excellent place to see moose, I don't know if I've ever driven this road without seeing at least one!
If you're looking for a hike in the Fairbanks area, I highly recommend Angel Rocks. You can do a 4 mile loop with 900 feet of elevation gain from the trailhead at mile 48.9 Chena Hot Springs Road. If you have more than one vehicle and a group, you can make it an 8 mile one way hike with 1900 feet of elevation gain from the trailhead to Chena Hot Springs! There are some amazing views up there.
Once you arrive at Chena, OF COURSE you have to do some soaking in the hot springs. There is an outdoor hot pool (the best) as well as an indoor pool. Swimming is $15 for adults, $13 for seniors and $12 for kids (6-17, 5 and under are free with an adult). You can also rent a towel if you don't have one.
The other thing that you must do at Chena Hot Springs is visit the Ice Museum, which is open all year. Here, you can see some amazing ice sculptures and even slide up to the ice bar for a cocktail served in an ice martini glass! It's $15 to visit for adults and $10 for kids. It's an additional $15 for the apple-tini cocktail but DO IT. It's not something you'll do anywhere else!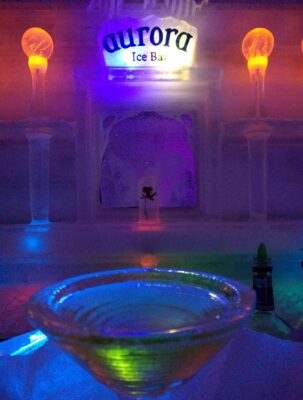 Chena Hot Springs resort offers many other activities and tours including arctic circle flights and dog sled rides. They also rent lots of gear and equipment which is really helpful for visitors!
Walk at Creamer's Field
Creamer's Field is a gem and a wonderful year round thing to do in Fairbanks. A former dairy farm protected as a migratory bird refuge, Creamer's field is home to many migratory and summer birds from spring through early fall.
Come in summer to watch birds or come in winter to ski the cross country ski trails that circle the refuge!
Fountainhead Antique Auto Museum
The Fountainhead Antique Auto Museum houses lots of perfectly restored antique cars along with period fashion and other details throughout the history of cars. Even if you're not that interested in antique cars, you will still be impressed by the immaculate restoration and the story of cars through time. Admission is $12 for adults (13 and up) and $6 for kids age 6-12.
University of Alaska Museum of the North
The impressive Museum of the North is home to galleries telling the natural and cultural history of the distinct regions of Alaska. There is also a gorgeous gallery of diverse Alaskan art from the last 2000 years. Admission is $16 for ages 13 and up, $14 for seniors and veterans and youth (age 5-12) $9.
Trans-Alaska Oil Pipeline Viewpoint
If you're thinking, "an oil pipeline? how can that be interesting?" let me tell you that if you use any oil, ever (like we all do) it's interesting and worthwhile to learn just a bit about where it comes from and this is a low key way to do that.
This viewpoint is a large pullout with interpretive signs in a place where the oil pipeline passes very close to the road. The Trans-Alaska Oil pipeline was built in the 1970s to move oil from the oil fields in Prudhoe Bay on the Arctic Ocean to the marine terminal in Valdez. This 800 mile pipeline is a remarkable feat of engineering. The pipeline and associated oil revenue make up the bulk of Alaska's state budget today and the construction of the pipeline led to explosive growth in the town of Fairbanks during the 1970s.
Here you can learn about the construction of the pipeline, how it's cleaned and how it was built in such a harsh environment with all the additional challenges that created for engineers.
To get here, travel north out of Fairbanks on the Steese Highway. After you pass the turn for Chena Hot Springs road, the pullout is about 4 miles further on the right side. If you miss it and arrive at Goldstream Road, or the community of Fox, then you've gone past it.
Chena Lake Recreation Area
Chena Lake Recreation Area is about half an hour from Fairbanks near the town of North Pole. An excellent year round location for outdoor recreation that's popular with locals! When I lived in Fairbanks, one of my best friends lived here (her spouse was the manager) so I probably spent more time here than anywhere else except home and work.
The Army Corps of Engineers built a 7 mile dike here after a flood in the 1960s devastated Fairbanks, creating a good sized lake. The park has a section along the river and one along the lake. In the summer, this is a wonderful beach to hang out at and go swimming or canoeing or kayaking. There is a run of salmon which at this point have made it 1000 miles upriver from the Bering Sea to this small river which makes for an impressive site when they are running. The park is also an excellent place to see wildlife and has a campground.
When winter sets in, there are groomed cross country ski trails along the river and you can rent ice fishing huts if you want to try your hand at that.
Sample Local Craft Beer

Fairbanks has an excellent craft beer scene with lots of delicious brews made in town. A few of my favorites include:
Silver Gulch has been around the longest and can be found on tap all around town, around Alaska and sometimes even in Seattle! Their big location in Fox (a few miles outside of town) also has a restaurant.
Black Spruce is a tasting room only and has some lovely outside seating on the south side of town.
Hoodoo Brewing is also a tasting room and is located closest to downtown near the railroad terminal. They also have an outside seating area with propane heaters!
Walk with Reindeer
A pricey and wonderfully unique thing to do in Fairbanks is to visit the Running Reindeer Ranch, where you can walk with reindeer year round! The walk includes the opportunity to learn everything you ever wanted to know about reindeer and about their environment. Also: cookies! This unique opportunity is available all year. They provide guidance on their website about what to wear throughout the year to stay comfortable.
Reindeer walks cost $70-$100 depending on the season for adults and $40 for children.
Stay in a Public Use Cabin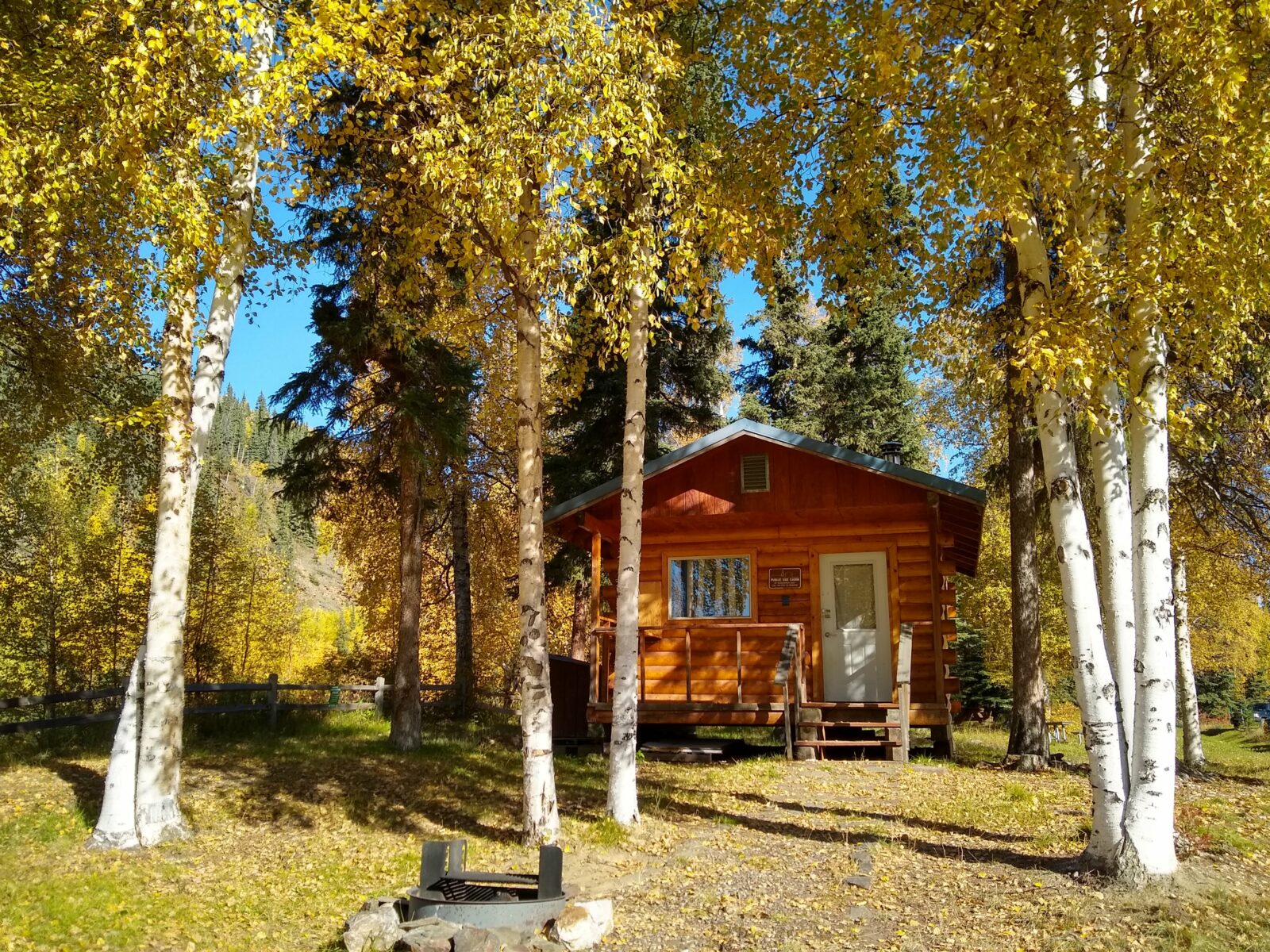 Alaska has more than 80 public use cabins across the state! Many of them are in the Fairbanks area. This can be a great way to get away from it all and just spend some time relaxing. Cabins must be reserved online.
The cabins are basic and essentially camping. You need to bring sleeping bags and pads, water, food and cooking gear. They do not have running water so there are no showers. They have outhouses for each cabin. Alaska's public use cabins are a great way to find a budget friendly night's sleep and get away from it all without spending a fortune.
When reserving, read all the information carefully as some cabins you cannot drive to. Cabins are open year round, though access may change at different times of the year. Information about seasonal access will be included in the description when you reserve.
Denali National Park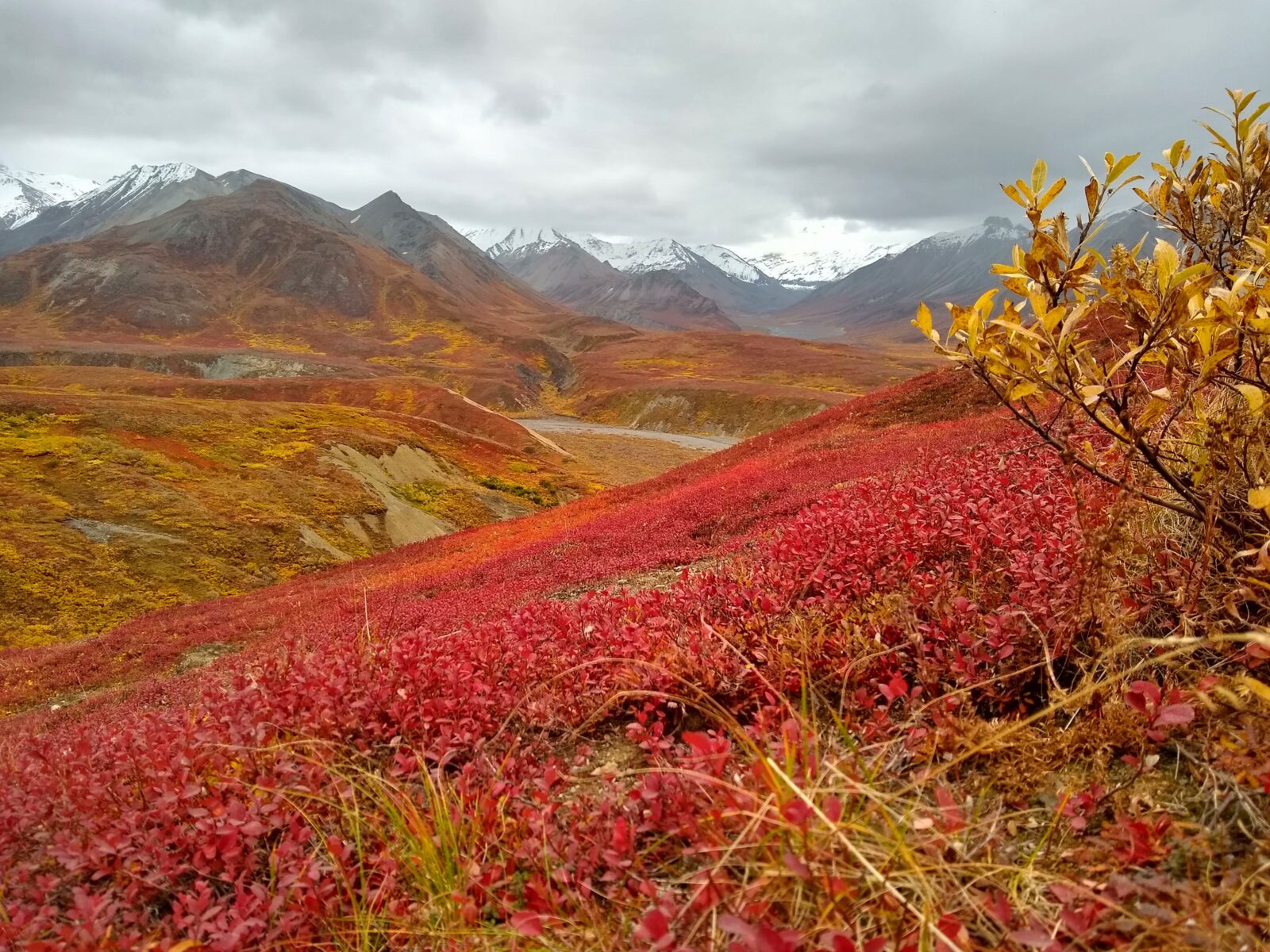 Denali National Park is about 2 hours away from Fairbanks, south on the Parks Highway going towards Anchorage. Denali National Park has two distinct seasons of operation: summer and mid September through mid May.
Visiting Denali National Park from Fairbanks in Summer
Denali's summer season generally runs from mid May till mid September. During this time everything is open, almost everything is closed outside of that time. If you're visiting Denali in summer, you can only travel in to the park in an organized tour or shuttle. The first 15 miles of the road are open to private traffic.
I recommend spending at least one night in Denali (camping or in an area hotel, make sure to reserve in advance!) if you're planning to do the all day bus trip (which you should, it's so much more amazing than it sounds!). If not, you could do a day trip of visiting the park entrance area, including the visitor center, the dog kennels and hiking Mt Healy.
A really unique way to see Denali is to enter the Denali Road Lottery, if you're up for rolling the dice on the lottery and some cold weather (but it's amazing!).
Visiting Denali National Park from Fairbanks in Winter (mid September – mid May)
If you're looking for things to do in Fairbanks in the winter (which in Denali is defined as mid-September through mid-May) then a day trip works well. I would save this for a day of good weather as it's a beautiful drive there! The park road and all facilities are closed, so there are limited things to do. You can walk or cross country ski, or walk on the road if it's snow free.
Summer Only Things to do in Fairbanks
University of Alaska Fairbanks Musk Ox Farm
The musk oxen are absolutely my favorite thing about Fairbanks in summer and going to the Musk Ox farm is one of my favorite things to do in Fairbanks and something I miss so much! I follow along on Instagram to get my musk oxen fix but I still miss them so much!
You can drive up and look at them through the fence if they happen to be close by, or you can take a tour (highly recommended!) for $10 and get to see them up close and learn all about the musk ox's remarkable arctic adaptations. They are truly amazing animals!
Pioneer Park
Technically Pioneer Park is open all year, and it has beautiful lights up most of the winter. You can still walk around and read the signs, but in my opinion this is a better destination in summer.
Pioneer Park is a collection of historic buildings and recreations to celebrate the history of Fairbanks situated on the south bank of the Chena River. It's a great place for kids with a playground, a train around the perimeter and a carousel. There's also food, an art gallery and other shops.
Have a Drink or a Meal on a deck next to the Chena River
In summer, sitting outside on one of the decks at the Pumphouse or Pike's Landing for a drink or happy hour is a pretty amazing experience! Just grab a drink or a snack in the mid afternoon or later at night if you're on a budget, or splurge and have lunch or dinner there.
Gold Dredge #8
The Gold Dredge is an excellent place to learn about mining and while very touristy (when I drove tours in the cruise industry we took our guests here) it's a great place to visit. I believe that everyone who visits Alaska should try their hand at Gold planning because it's really fun! You will also learn a LOT about gold mining which is a fascinating part of Alaska's history.
The cost is $42.95 for adults and $26.95 for kids (under 3 free) and it requires a reservation to visit.
Riverboat Discovery
The Riverboat Discovery is another touristy (also visited by cruise tour passengers) experience but it is also pretty great. It's an expensive option at $69.95 for adults and $42.95 for kids (under 3 free) and also requires reservations.
This is a good way to see the many things Fairbanks is known for if you're short on time or don't want to organize it all yourself. In addition to a river cruise, you'll get to learn about Athabascan culture, see a bush plane and sled dogs in action.
Winter Only Things to do in Fairbanks
Cross Country (Nordic) Skiing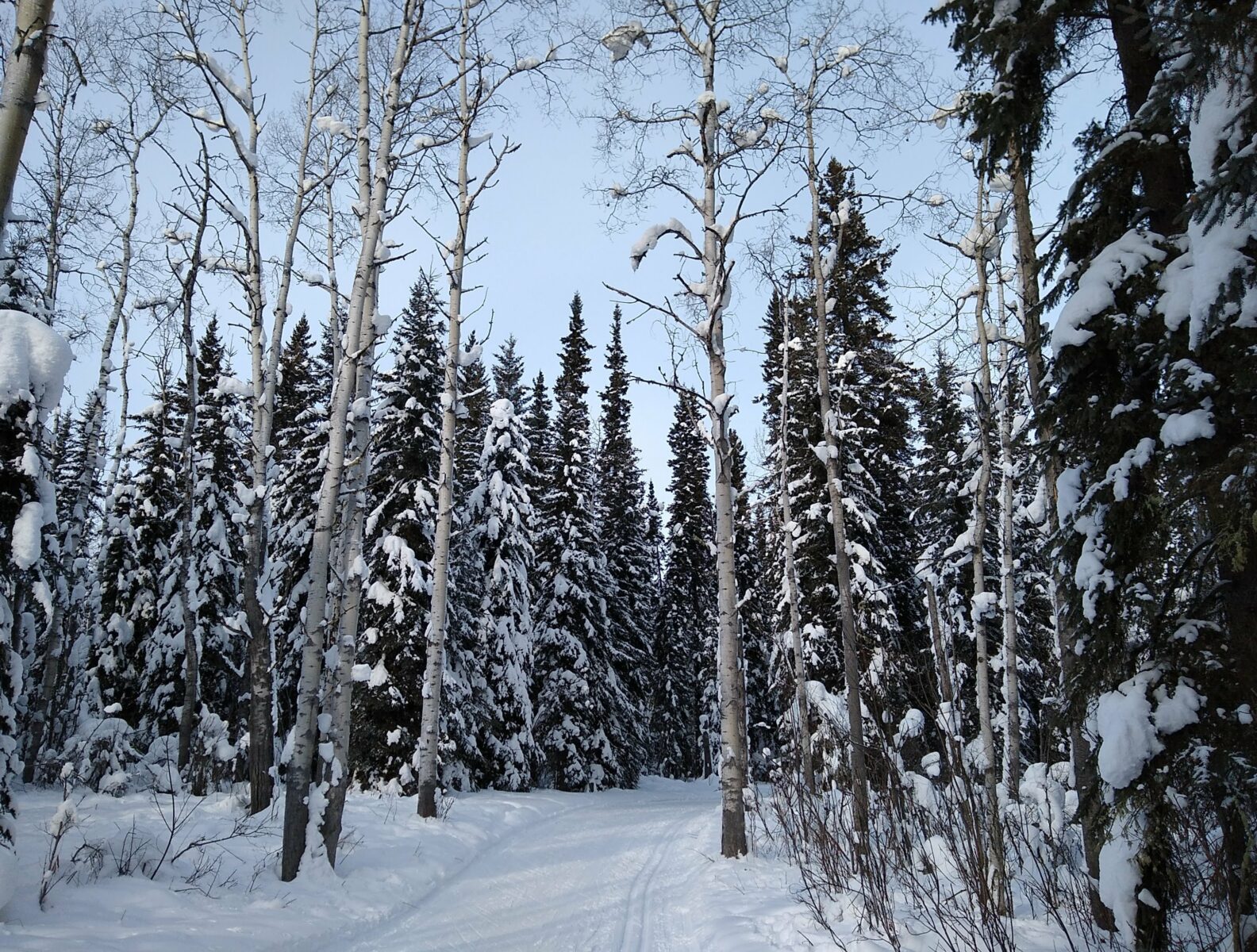 Other than seeing the Northern Lights, cross country skiing is the best thing to do in Fairbanks if you're there during the winter. Fairbanks has many miles of amazing cross country skiing in multiple locations. Some good places to try out skiing are Birch Hill and the University of Alaska Fairbanks ski trails. There are also ski trails around Creamer's Field as well as at Chena Hot Springs and Chena Lakes.
Try a new Winter Activity
If you're looking for things to do in Fairbanks in the winter, there are so many new winter activities you can try! You can take a tour during the winter to try snowmobiling, ice fishing and dog mushing! Inquire about these opportunities when you're at the visitor center or out at Chena Hot Springs.
If you're planning a trip to Alaska, check out my list of the best things to do in Alaska recommended by Alaskans and the best things to eat in Alaska recommended by Alaskans. I also recommend my packing list for Alaska in winter and summer. Have an amazing time in this unforgettable Alaskan town!