Lopez Island Bike Camping: Last minute camping!
Posted On June 26, 2019
Last Updated on July 22, 2021
It's summer! Summer is awesome around here! One thing that is not so awesome about summer is crowded places and full campgrounds and limited options if you didn't plan months ahead of time, and sometimes you just want to be spontaneous! Enter Lopez Island bike camping, the perfect solution to your dilemma! Here you can camp without a reservation and without planning ahead but there's a catch….to take advantage of this no planning option you have to get to the campground by human power (walking, biking or kayaking). If you do this, they won't turn you away! Not only that, if you don't bring the car you don't need a ferry reservation either! Also, both camping and the ferry ride are less expensive without a car. What's not to love? Possibly biking. I will freely admit to not being a strong cyclist and to be honest, I don't love biking. I don't mind it, but I don't love it. I'm slow and can barely climb hills and I DID THIS and LOVED IT. It should also be noted that I have an old, heavy, second hand bike. That means YOU can also do Lopez Island bike camping! Why Lopez you ask? I like Lopez because it doesn't have as many hills (there is one hill coming up from the ferry but other than that the hills are mellow) and it's very sleepy with hardly any traffic or crowds (except at the ferry terminal on the way back if it's a Sunday or holiday Monday). Here's everything you need to know to make Lopez Island bike camping happen!
How can I get to Lopez Island with my bike?
The only way to get to Lopez (unless you have access to your own boat) is on the Washington State Ferry from Anacortes. The ferry schedule can be a little bit of a struggle to read, but essentially you want to make sure you're looking at the ferry going the right direction and making sure it stops at Lopez and Anacortes. Using the link above is easier to make sense of than the paper schedules available at the terminal. Late June through late September, the ferry runs 6 times a day (watch out in the spring as there are less sailings!). Make sure to pay attention to what time you need to be back at the ferry terminal (you don't need to get in the car line but I'd still suggest being there at least 20 minutes ahead of time). Anacortes is about a 2 hour drive from Seattle and there is paid parking at the terminal. Give yourself lots of extra time in case of traffic and for messing around with loading your bike which always takes longer than I think it will. It costs $17.75 per person and bike to go on the ferry with your bike. You buy your ticket and then line up in the walk on area like this: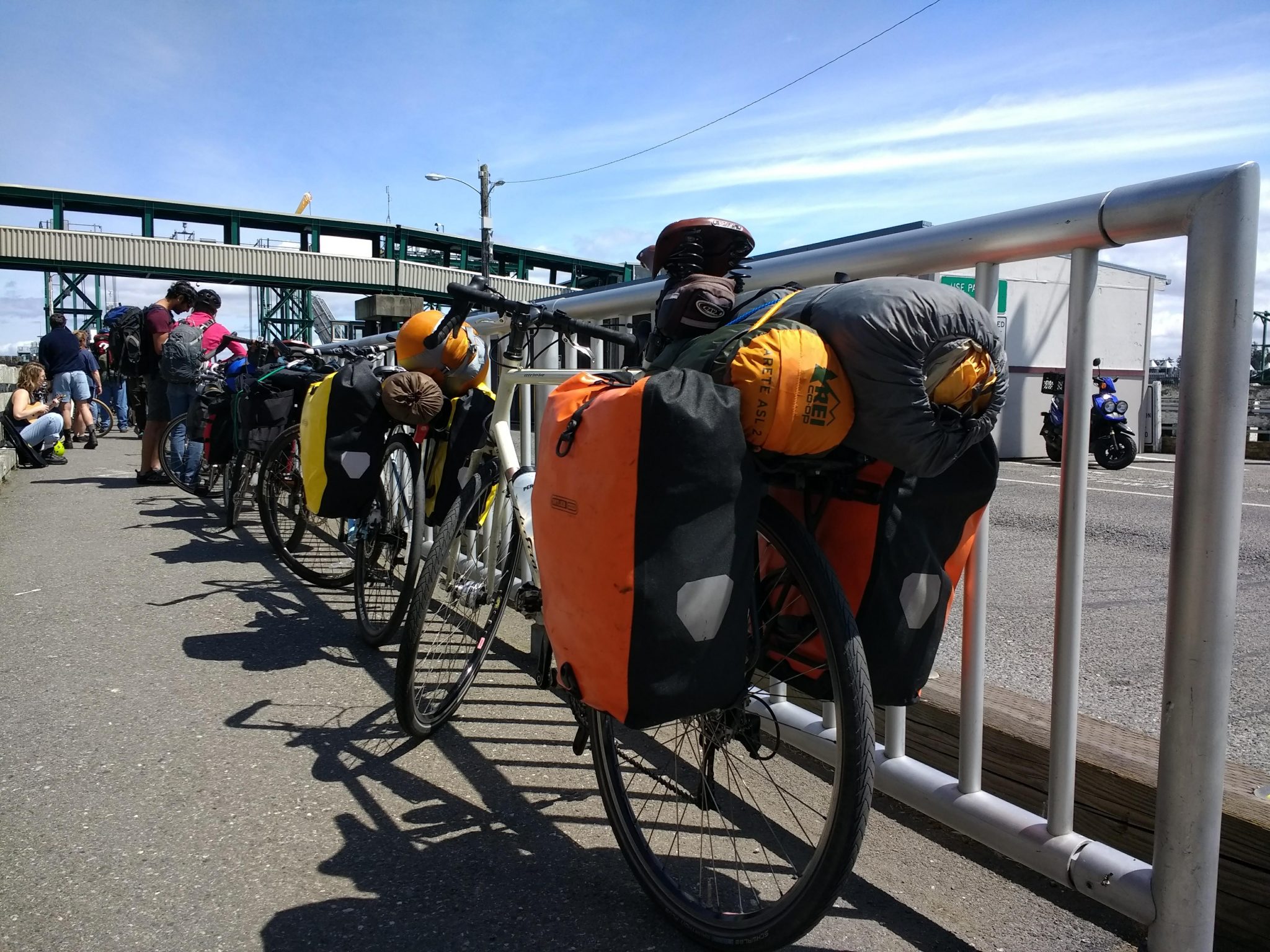 Bikes are loaded first, and there are lots of yellow ropes near the front of the ferry that you can tie around your bike to secure it, like this: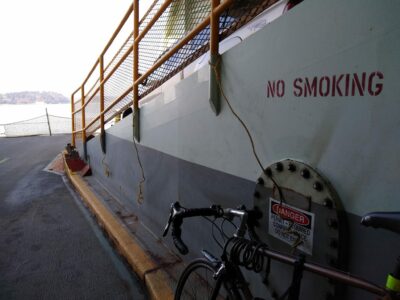 There's no way to lock your bike, but I wouldn't worry about it, it doesn't seem to be a problem, and there's nowhere for someone to go other than overboard if they steal your bike! Sometimes, when there are a lot of bikes, they load the bikes last and sort of pile them all over the back of the car deck. Usually this happens on holiday weekends, like this: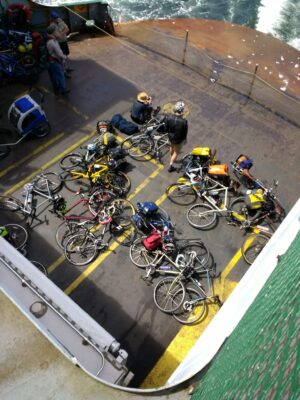 When you arrive at Lopez Island, if you boarded first, you'll unload first before the cars. Yes, the cars are waiting for you and no, it doesn't matter that you're slow! Don't worry about the cars, they're fine.
Packing your camping gear on a bike
This post contains affiliate links, which means if you make a purchase I may receive a small commission at no additional cost to you. As an Amazon Associate, I earn from qualifying purchases
This is easier than it sounds, as long as you keep it simple. To keep it really simple, you could load it all in a bigger backpack (like one you might use for an overnight trip). I find that cumbersome and uncomfortable so I take the approach of packing light and strapping most things to the bike and putting everything else in the bike bag (if you don't have a bike bag you could use a small backpack and that would work great). I highly recommend practicing this at home so you aren't doing it for the first time in the ferry parking lot (unless you give yourself a lot of time for that). Here's what we brought for two nights of camping, all of which attached to my bike or went in a small bike bag, except for our jetboil and 8 dehydrated meals (two breakfasts and two dinners for two people) which Jay carried in his second bike bag:
Tent
Sleeping pad
Sleeping bag
Snacks
A few toiletries and personal items (lip balm, medications, sunscreen, knife, toothbrush, toothpaste, deodorant
A set of warm clothes and hat for evening
Two extra t shirts, two changes of underwear
Bike waterbottle (this isn't necessary, you could just bring a regular waterbottle)
Mug for hot drinks
I don't have bike shoes, I just have regular pedals so I wore my hiking shoes and brought a pair of flip flops
I also wore bike shorts, sunglasses, gloves and a helmet, but those weren't packed because I was wearing them
The tent, sleeping pad and sleeping bag were strapped with bungee cords to the rack across my back wheel, the rest of it was in my bike bag which is the size of an ordinary backpack. There wasn't quite room for my warm fleece layer so I just stuck that in the bungee cord on the back tire.
Where to go for Lopez Island Bike Camping?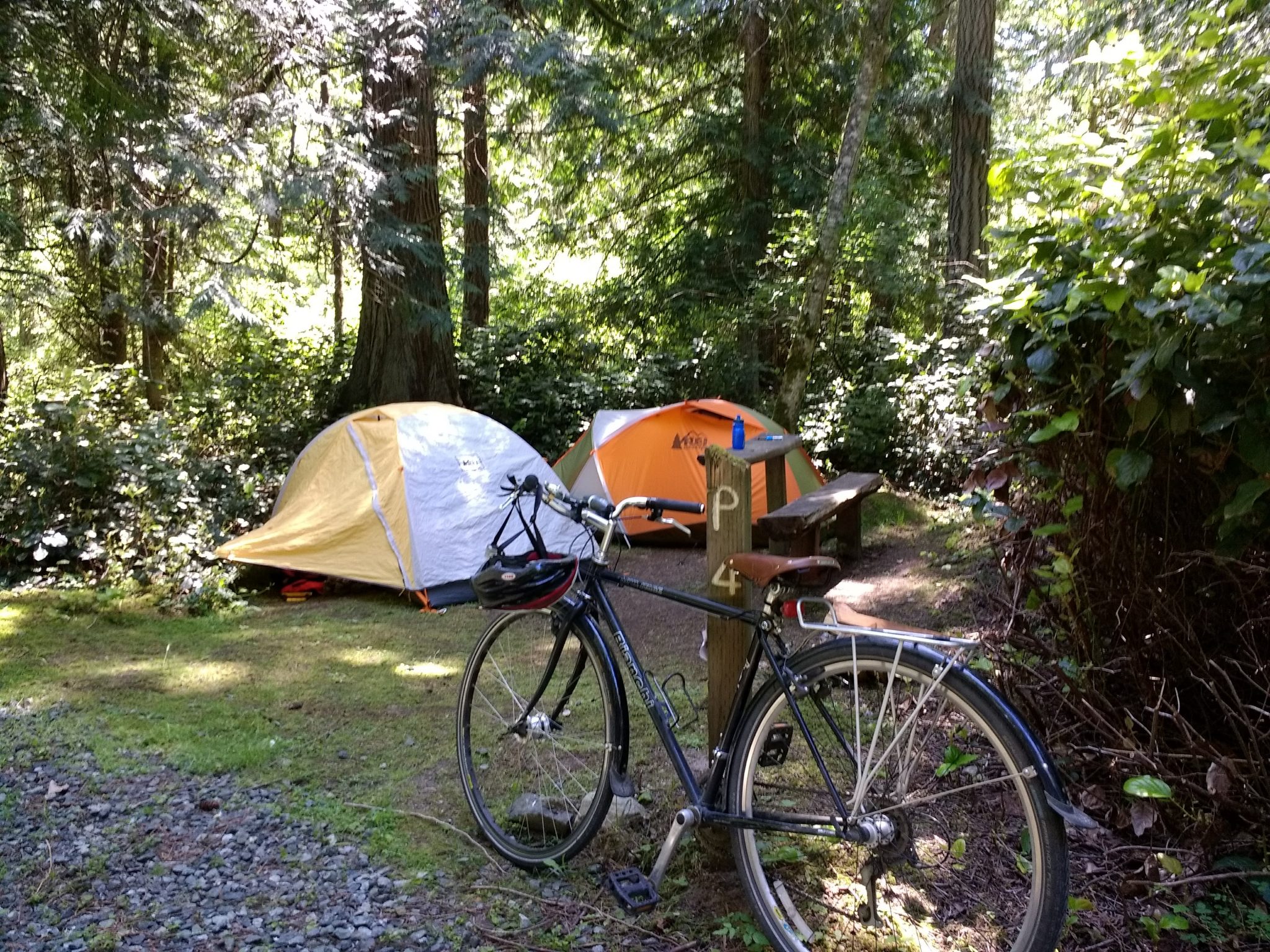 There are two campgrounds that will be a good option for Lopez Island bike camping. They both have advantages and disadvantages, I'll talk about them separately below.
Camping at Odlin County Park
This is a good option if you don't want to bike very far with your gear. The park is less than two miles from the ferry. You would still have to go up the ferry hill, but there's no avoiding that no matter what you do (I just walk my bike up it, it's only about a mile and then I'm good to go!). This would be an especially good option if you put everything in a big backpack. Odlin County Park has biker/hiker sites, and they won't turn anyone away (you might be at a site with other people if the campground is full). Here you can be done setting up your camp and then you can ride around (or sit around) without having to carry all your gear. Camping here is $22 (if you don't have a car and bike/walk/kayak to the campground).
Camping at Spencer Spit State Park
Spencer Spit State Park is about 6 miles from the ferry, on a very scenic route. When you arrive at the park, they have several hiker/biker sites for $12. The park itself is a must visit (see below) and if you camp here you'll have quick access to the whole park. The trade off is that it's a bit further to ride with your gear. They also don't turn away any bikers, even if they're full (again you could be sharing a site)!
When is the best time for Lopez Island Bike Camping?
In theory, you could do Lopez Island bike camping anytime, all year (keeping in mind the more limited ferry schedule during the shoulder and off season), but in reality this is going to be the most fun in the summer. This lines up nicely with the time of year when it's hard to find camping options without reservations!
Things to do on Lopez Island by Bike
There are lots of great things to do on Lopez Island! A few of my favorites by bike are:
Spencer Spit State Park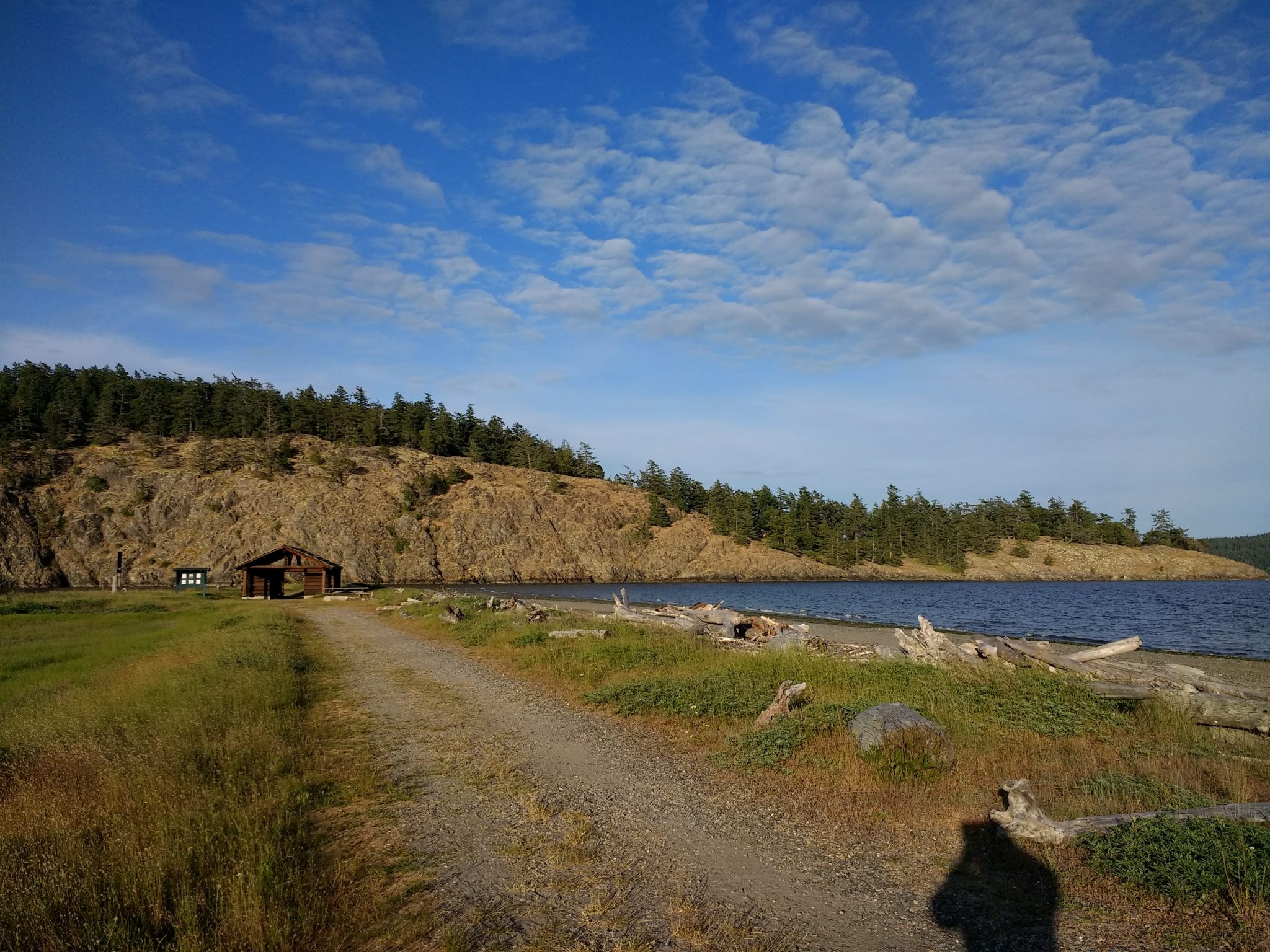 Whether you camp there or not, definitely take the time to spent a lazy afternoon hanging out at Spencer Spit State Park. The spit itself is a must-do, and there are firepits out there which are great for catching a sunset. There is also a vendor renting kayaks and this is a great place to kayak, especially around Frost Island which is covered in vertical tidepools you can see from your kayak! They'll teach you how to do it so you can go out even if it's your first time.
Fisherman's Bay Trail
There's a trail through this protected wetland which is completely flat and beautiful. You can check out all the boats coming and going and here you're on the opposite side of the island from Spencer Spit, for some slightly different scenery. This is also close to the town part of Lopez where most of the restaurants are located as well as the grocery store.
Lopez Island FOOD
Lopez has surprisingly awesome food for such a small place! There are lots of options near or in the village (about 5 miles from the ferry terminal) including the renowned farm to table restaurant, Ursa Minor, as well as the amazing Holly B's bakery (get some cinnamon rolls!!) and many more.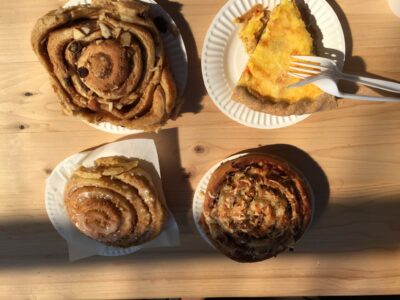 Wine tasting is also a fun and unique option at Lopez Island Vineyards. Most of Washington's wine grapes are grown in Central Washington (as are many of the grapes used in Lopez Vineyards wine) but they also have a vineyard onsite and make some wines with island grapes! In addition to some tasty wine, they have a lovely vineyard patio!
More biking!
I'm pretty happy with the mellow riding around the places I've mentioned above, but if you want to get serious about more biking, you can do a long all day ride around the island. Here is a helpful bike map for Lopez Island if you're looking for good routes on any part of the island.