Complete Guide to Visiting Cypress Island in Washington
Posted On January 15, 2022
Cypress Island is an absolutely stunning place in the San Juan Islands of Washington State. This is a wonderful destination to get away from it all and experience some fantastic camping in the Pacific Northwest. Cypress Island does not have public ferry service, but it is closer to Anacortes than some of the other islands off the ferry route, making it shorter and therefore less expensive to get to by water taxi. It takes a bit of work and planning to get there (totally worth it!) and that's what this post is all about!
Cypress Island does not have any lodging other than camping. There are no services on Cypress Island so you need to bring everything you need with you.
Cypress Island is in the Salish Sea (Puget Sound) and is the traditional homeland of many Indigenous people, including the Lummi, S'Klallam, Samish, W̱SÁNEĆ and Stz'uminus People.
Dog Friendly: Dogs are allowed on leash on trails and in campgrounds on Cypress Island. There is no trash service on Cypress Island, you must pack out all trash including dog poop.
Cell phone coverage: There is some cell phone coverage here in most places.
Restrooms: There are pit toilets located in each campground.
Where is Cypress Island?
Cypress Island is part of the San Juan Islands, an archipelago in northwest Washington State. It is the closest island that doesn't have ferry service to Anacortes.
How do you get to Cypress Island?
There is no Washington State ferry service to Cypress Island. Getting there requires taking a water taxi or your own boat.
Water Taxi
A water taxi is a smaller charter boat that has scheduled and charter service to smaller islands not served by the ferry. You can take a water taxi from Anacortes to Cypress Island.
You can bring a kayak on board with you for an additional fee as well as pets.
Related: How to visit Sucia Island in the Outer San Juans
With your own boat
If you have your own boat, you can get to Cypress Island on your own. Note that moorage at the island can be very challenging to find as the available spots fill quickly in the summer! If you plan to sleep on board your boat, most of the mooring balls are exposed to wakes and can make for a rocky night. Eagle Harbor is more protected from the wakes, but there are only a few mooring balls. If you're kayaking or are otherwise able to beach your boat, you don't have to worry about mooring buoy availability, you can just beach your boat at Pelican Beach.
One word of caution about kayaking to Cypress Island. People kayak to Cypress from Anacortes, Guemes Island and Bellingham. It is critical to know how to read the nautical charts and the tide current charts as well as have accurate and up to date weather reports. Tide rips can come up quickly and surprise you, and you have to cross major shipping lanes. It is very important to know how to judge these conditions and be experienced and ready for this crossing. If you're a less experienced kayaker, a better option is to bring the kayak with you on a larger boat or water taxi and explore the shoreline once you arrive.
When is the best time to go to Cypress Island?
The best time for a fun camping experience is in the summer! Generally speaking the days are warm and the nights aren't too cold for camping and there are 16 hours of daylight.
Although the mooring buoys are generally full every night, there is quite a bit of turnover. If you take the water taxi and get dropped off or can beach your boat, then you don't need to worry about that. Though there are only a few campsites, I have never seen them full even in summer, so this can be a wonderful summer destination that isn't too crowded.
Camping on Cypress Island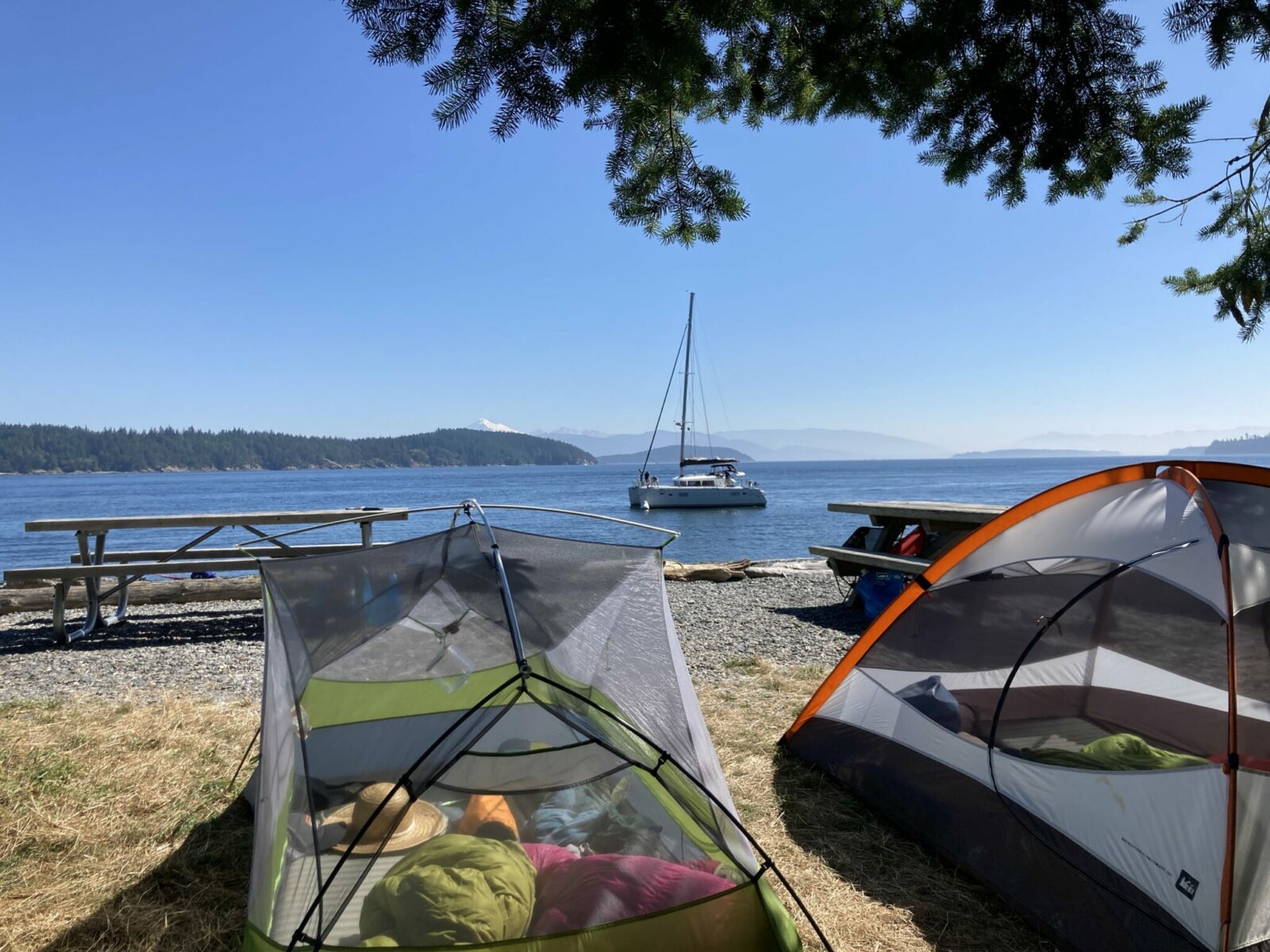 The only way to stay overnight on Cypress Island is to camp and it's a fantastic place for camping! Most of the island is Washington State Department of Natural Resources land and there are two small camping areas – Pelican Beach and Cypress Head. Both are on the east side of the island. They are first come, first served, but I have never had a problem camping here even on a weekend in the middle of summer.
There isn't anywhere to buy anything on the island so make sure you bring everything (including firewood, water and trash bags) with you. There is a pit toilet, but no other services.
No trash service is available, you must take all of your trash with you when you leave.
Related: Complete Guide to Camping in the San Juan Islands
Things to do on Cypress Island
Even if you aren't interested in camping, you can do a day trip over to Cypress by water taxi from Anacortes and still enjoy the peaceful location and the many hiking trails and beaches.
There are no services or organized activities, but there is still plenty to do here!
Hiking on Cypress Island
Cypress Island has 20 miles of hiking trails, taking you through the forests, near small lakes and to gorgeous view points of the San Juan Islands and the Salish Sea and mountains beyond. Some of the trails are flat and wide, others climb up to viewpoints. Download and bring the map with you so you can explore the trails.
Cypress is home to one of my all time favorite hiking trails, Eagle Cliff. This trail is closed from February 1st to July 15th to protect sensitive habitat for nesting Bald Eagles. After July 15th, however, this is a wonderful hike to one of the best views in Washington State!
Eagle Cliff is a 3 mile round trip hike from Pelican Beach with 800 feet of elevation gain. The last half mile involves a fair bit of steep scrambling over some bigger rocks. When you come out at Eagle Cliff you have an amazing view all around the San Juan Islands! You may even catch the eagles soaring around you. Bring your headlamp with you as this is an incredible sunset spot.
Kayaking around Cypress Island
If you bring your kayak over, the east side of the island is a great place for exploring around the rocky tidepools and shore of Cypress Island. The west side of the island doesn't have landing places for kayaks. You can also explore the tiny Cone Islands just off Cypress's east shore.
A strong word of caution about kayaking here. While the water is quite protected, there are wakes from nearby shipping lanes and there can be a very strong current along the east side of the island. Make sure you are knowledgeable about tides and currents and experienced enough to prepare for wakes from boats and ships.
Beachcombing
Pelican Beach is a beautiful rocky beach with driftwood and a wonderful place to explore the beach as well as just sit and be, taking in the peaceful environment. It's also a great location for reading or doing art.
Fishing and Shellfishing
Some of Cypress Island's shores and the waters around it are open to fishing and shellfishing. Check out the Washington State Department of Fishing and Wildlife for details about fishing licenses, seasons and locations.
Final Thoughts
Cypress Island is a peaceful summer getaway that you can get to by water taxi from Anacortes, making it feel a lot further away from civilization than it is. It requires complete self reliance as you need to bring everything with you for your visit and pack everything out.
This is perfect for someone who wants to get away from it all in an island location without services that is still relatively straightforward to get to.