11 things to do in Port Hardy and Port McNeill on Northern Vancouver Island
Posted On June 22, 2022
Last Updated on July 4, 2022
Port Hardy and Port McNeill are two remote towns on stunning Northern Vancouver Island. Far off the track for most visitors to the island, this is a friendly and vibrant community built unapologetically on the timber industry. Whether you're spending time in Port Hardy while waiting for a ferry, or you're the kind of traveler who likes unique and less visited destinations, you'll find plenty to enjoy and do on Northern Vancouver Island.
Where are Port Hardy and Port McNeill?
Port Hardy and Port McNeill are port towns on Northern Vancouver Island about a 30 minute drive from each other. Port Hardy is the northernmost end of the road system on Vancouver Island.
Port Hardy and Port McNeill are on the land of the Kwakwa̱ka̱'wakw First Nation.
How to get to Port Hardy and Port McNeill
Many people pass through Port Hardy on their way to or from other remote areas of Coastal British Columbia on the ferry. The ferry goes from Port Hardy to Prince Rupert (15 hours), Bella Coola (10 hours) and Bella Bella (20-30 hours depending on stops).
You can also drive to Port Hardy from other towns on Vancouver Island, such as Victoria, Nanaimo and Campbell River. From Vancouver, you need to take the ferry to Nanaimo (or Victoria) and then drive from there.
Port Hardy is about a 6 hour drive from Victoria (without stops) and a 4 hour drive from Nanaimo.
Best time of year to go to Port Hardy and Port McNeill
You can go to Port Hardy and Port McNeill any time of year. These lumber oriented towns keep working all year round.
Summer is the ideal time with long days, more sun, less rain and warmer temperatures. In winter tours will not be operating, but generally lodging is still available.
Things to do in Port Hardy
Carrot Park
Carrot Park is a beautiful city watefront park, with totem poles, a walking path and a rocky beach. There is a funky sculpture of a partially eaten carrot, which commemorates the completion of the paved highway to Port Hardy in the late 1970s. The story goes that the people of North Vancouver Island were offered a carrot or a promise of a paved road for a long time before it happened.
Bear Cove
A delightful park near the ferry terminal, this is a good place to stretch your legs, explore the rocky beach or have a picnic while waiting for the ferry, or anytime visiting Port Hardy.
Quatse Estuary
The Quatse River Estuary is a peaceful place to look for birds and other wildlife where the river meets the ocean. A trail through the estuary starts next to the Port Hardy RV resort.
Quatse Salmon Stewardship Centre
At the time of this writing, the Quatse Salmon Centre has not reopened since the pandemic, but hopefully it will again be open seasonally for visitors to learn about the fascinating life cycle of salmon and their habitat.
Things to do in Port McNeill
Take the Ferry to Alert Bay or Sointula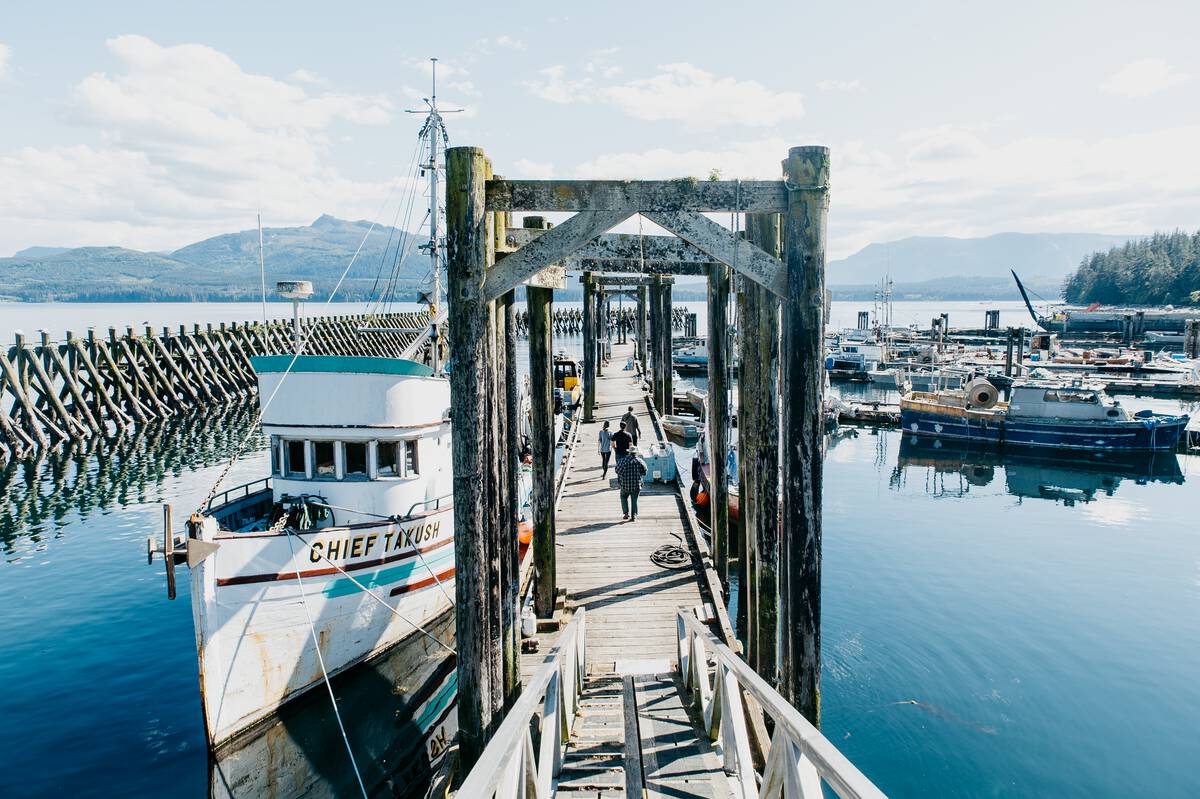 From Port McNeill, you can take a short (25 minute) ferry ride to Sointula (Malcolm Island) and visit a historic Finnish fishing village. You can leave your car in Port McNeill and bike or walk once you arrive on the island, or bring the car and explore even more.
Alert Bay is another short ferry ride (45 minutes) away, and the ideal place to explore and learn about the Kwakwaka'wakw First Nation. Here a walking tour (leave the car in Port McNeill) will take you by the world's tallest totem pole, the U'mista Cultural Centre and by the traditional Big House. There is also plenty of opportunity to buy First Nations arts and crafts and take in the rugged beauty and culture of Comorant Island.
See the world's largest burl
For those who love roadside oddities, don't miss the world's largest AND the world's SECOND largest burl on display in Port McNeill. Burls are a growth that is part of a tree and can be quite small up to 20 feet in diameter like the burl here!
The burls are also a testament to the importance of forestry and logging on North Vancouver Island.
Explore the waterfront park
There is a walking trail through downtown Port McNeill, taking you on a self guided tour of a neighborhood, the ferry terminal, the marina and visitor centre and the heart of downtown. You can walk down to the rocky beach here as well.
Other places to Explore nearby on North Vancouver Island
Cape Scott Provincial Park
Cape Scott Provincial Park occupies the far northwest corner of Vancouver Island, with infinite explorations available to those who are up for a long drive on a gravel logging road (60 km or 38 miles).
The park is home to miles of beaches, ancient rainforest and many cultural sites.
Many visitors come here to backpack on the North Coast trail or the trail to the lighthouse. Neither of these are day hikes, so you'll need to plan ahead if you want to do a backpacking trip here.
Coal Harbour
Coal Harbour is about a 20 minute drive from Port Hardy, and is the shortest point to get between the two sides of Vancouver Island. Another beautiful inlet surrounded by evergreen forests, it is the site of the last whaling station on Vancouver Island, which only closed in the 1960s. There are also some interesting World War II era historic buildings from when the Royal Canadian Air Force had a seaplane base here.
Port Alice
About a 45 minute drive from Port Hardy, Port Alice is along another scenic inlet on the west coast of Vancouver Island. There's a wonderful coffee shop here that also has great sandwiches (breakfast and lunch), and opportunities to walk along the edge of the inlet.
Nimpkish Lake
Nimpkish Lake is oddly just outside of Nimpkish Lake Provincial Park, but provides an excellent opportunity for summer lake fun. Swimming and picnics are good activities here along with kayaking and canoeing. Like many lakes on Vancouver Island, when the wind comes up it's very popular with windsurfers.
Telegraph Cove
Telegraph Cove is about an hour's drive from Port Hardy and 30 minutes from Port McNeill. This detour of the main highway is well worth the effort either for a day trip or staying a few days. Here you can explore the historic buildings or take a whale watching or bear watching tour.
Where to stay in Port Hardy and Port McNeill
I love the Port Hardy RV Resort cabins. They are small, but beautiful and have everything you need, including a bed, a couch, a small table, a kitchenette and a bathroom. They also have covered porches with chairs for sitting and relaxing and the cabins are pet friendly for a small additional fee.
My other favorite place to stay on North Vancouver Island is Telegraph Cove with its unique historic cabins and rooms.
There are several other hotels and lots of camping options for both RVs and tents. Port Hardy RV Resort has separated camping for RVs and tents as well as restrooms, showers, firepits and a BBQ area.
Where to eat in Port Hardy and Port McNeill
You're in a rural area on Northern Vancouver Island, so there are not a ton of options and hours may be limited. That said, there are some great places to eat here!
In Port Hardy, the Nax'id Pub (in the hotel) is a go to for Canadian bar food (which is excellent). Sporty's Bar and Grill is a good option for fish and chips. Head to Cafe Guido for coffee and breakfast.
In Port McNeill, try Gus's pub for more delicious Canadian pub food with a few of the waterfront. Archipelagos Bistro is also super popular along with Mugz 2.0 for great coffee and pastries. Devil's Bath Brewing has great beer and food with a big patio.
The Foggy Mountain Coffee Company in Port Alice is a mandatory stop and totally worth the detour from the main road! Delicious coffee and sandwiches.