15 Best Things to do in Victoria, BC and 3 day itinerary
Posted On October 14, 2019
Last Updated on April 27, 2023
Victoria, BC is one of the most fun places to visit in the Pacific Northwest and there are so many fun and unique things to do in Victoria. Situated on Vancouver Island, northwest of Seattle and southwest of Vancouver, you have to fly or take a ferry to get there.
It's worth the effort to visit this vibrant and beautiful Canadian town. I have spent a lot of time in Victoria, it's a special place in my family as before we were Seattleites, we were residents of Victoria (4 generations ago). Follow along and I'll share all my favorite things to do in Victoria and how to make sure you make the most of everything this unique and super walkable city has to offer.
Some activities in Victoria are expensive, but not all. There are plenty of things to do that cost nothing at all, and others that are worth the splurge. All of these activities are good for kids, they are all things I enjoyed when I was a kid that I also love as an adult, and my nieces now enjoy them too!
For this list, I'm only including things that are walkable from the Inner Harbour except for Butchart Gardens, which is completely iconic and an absolutely must-do. You can get to the gardens easily on public transit, or book transportation on the Victoria Clipper if you're coming from Seattle (which I recommend as you get there faster).
Victoria is the land of Songhees and Esquimalt First Nations.
Related: Must do things in Vancouver BC, 10 amazing weekend getaways from Vancouver
How to get to Victoria
Before you can enjoy these Victoria activities, you need to get there! Victoria is on Vancouver Island so it takes a bit more of an effort to get there. The best ways to get to Victoria in my opinion are:
Take the Victoria Clipper: this is definitely the easiest and fastest way and for sure the best way to get to Victoria from Seattle if you're not bringing a car (which you don't need). The Victoria Clipper takes you directly from Seattle's waterfront to the inner harbor of Victoria in about 3 hours. It's more expensive during the summer than the winter, which is a good reason to consider a fall, winter or spring visit. You can also combine your clipper ticket with a hotel package, which will probably be less expensive than booking them separately. Another benefit of taking the clipper is that you don't have to wait in the border line driving to the ferry, you do customs and border control when arriving in Victoria (more like arriving in another country by air). If you take the clipper you also have the option of making it a day trip. This is the best option for people traveling from Seattle (unless they need a car there)
Take the BC Ferry from Tsawwassen (near Vancouver) to Swartz Bay (near Victoria): For this option, you drive to the Tsawwassen terminal or take the bus if you're in Vancouver. Take the BC ferry to Vancouver Island (an extremely gorgeous 90 minute crossing) and then drive about half an hour (possibly more, depending on traffic) to Victoria, or take the bus which takes a bit longer. This option makes more sense for people coming from Vancouver (or those coming from Seattle if they need their car)
Best free things to do in Victoria
These activities are completely free and super fun for all ages, whether you're on a day trip or staying several days.
Walk around the Inner Harbor
If you only do one thing in Victoria, make sure it's walking around the Inner Harbor. This free activity gives you the opportunity to get a feel for the heart of Victoria and it's very unique! This busy harbor has a marina, multiple ferries of all sizes and floatplanes buzzing around constantly. Gorgeous flowers line the harbor in summer, and there are often vendors selling arts and crafts. You'll also see the iconic Empress Hotel and the British Columbia parliament buildings. These grounds are free to walk around and beautiful (don't miss the Rose garden beside the Empress Hotel). Make sure that you do this both during the day and at night, so you don't miss the lit up parliament buildings. There are trails on both sides of the harbor that go for miles out so you can make this walk literally as long as you want.
Visit the lobby of the Empress Hotel
The Empress Hotel is a very expensive yet beautiful hotel, so if you don't want to spring for a room here or Afternoon Tea, don't miss the chance to walk through the lobby and take in this magnificent building.
The chandelier in the lobby is gorgeous and the decor throughout is beautiful and interesting. There are also some shops and a super secret place to charge your phone (under the stairs on the right side of the building as you face it – just inside the side entrance by the rose garden.
Walk along Dallas Road and the Breakwater
You can combine this with your walk around the inner harbor, or as a separate outing. Dallas Road takes you along the coast of the Strait of Juan de Fuca. When I was a kid, we always stayed in a hotel out here and I loved it. There are beaches and views across the water back to the Olympic mountains in Washington State. You can go for miles if you like, or you can just walk out and back. I highly recommend walking out on the breakwater on Ogden Point. Here you will see the unity wall showcasing beautiful First Nations art.
Beacon Hill Park
Another free activity is to enjoy beautiful Beacon Hill Park. The many miles of trails through forests and flower gardens are a way to do Victoria like a local. This place has great significance to the First Nations people of Vancouver Island, and features cultural as well as natural elements including the world's largest free standing totem pole at 127 feet! It also has playgrounds and a spray park that are great for kids.
Government Street
I hate shopping, I really do, but EVEN I enjoy shopping on Government street. At least take a stroll down the first few blocks (go left if you are facing the Empress Hotel at the inner harbor). I especially recommend checking out Roger's Chocolates (originally owned by a distant relative of mine), Munro's books (a large independent bookstore you can get lost in for a long time with a large Canadian authors section) and Murchie's tea (every kind of tea you can imagine and a cafe, more about that below under afternoon tea).
Of course it's not free if you buy things, but the window shopping is free!
Explore Fisherman's Wharf
A short distance from the Inner Harbour is Fisherman's Wharf, a collection of brightly colored houseboats and shops as well as a working commerical fishing pier. This is a good place to grab Fish and Chips from Barb's and stroll around the photogenic buildings.
If you time it right you can even buy some fish for dinner right off the dock.
Take the Birdcage Walk
Honestly, I've never been able to figure out why this walk is called the Birdcage Walk, but it's a fascinating walk around the James Bay Neighborhood featuring beautifully preserved Victorian houses built in 1859. It's a fun treasure hunt to look for these preserved buildings.
The Emily Carr house is in the same neighborhood, the house where the famous Canadian artist was born and lived most of her life.
Stroll Canada's Oldest Chinatown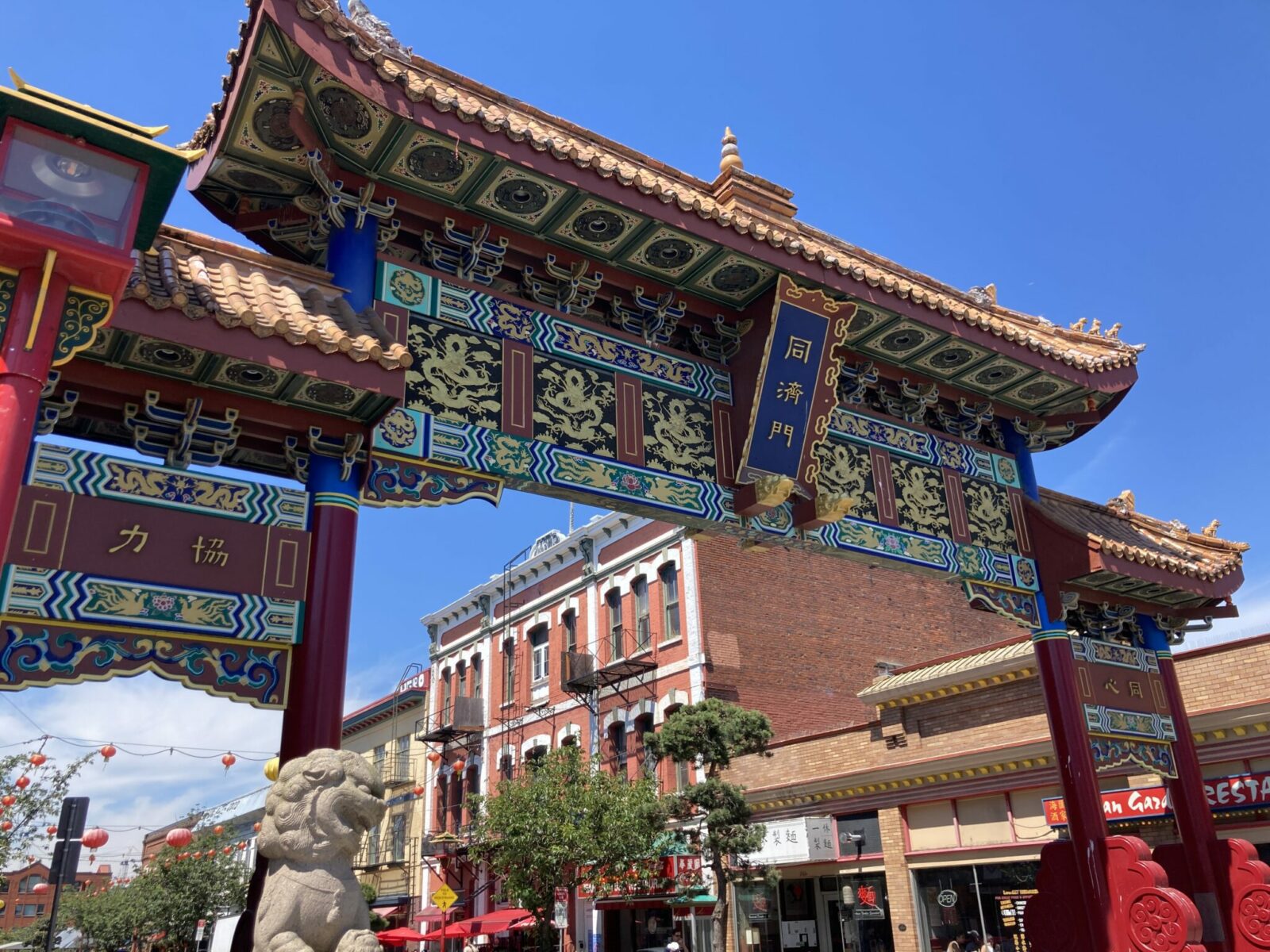 Victoria is home to Canada's oldest Chinatown which has existed since 1858. Around this time miners from California came north to what is now Canada to seek gold in the Fraser River Valley. Many of the miners were Chinese or of Chinese descent. Today, Chinatown remains vibrant with amazing food and plenty of shops.
The photogenic Gate of Harmonious Interest welcomes you to Chinatown at Government Street and Fisgard Street.
Things to do in Victoria that are not free but totally worth the money
Maritime Museum of British Columbia
This smaller and less heard of museum is the Maritime Museum, which is a must visit for anyone interested in martimy things! It's inexpensive at $10 for adults and $5 for teens. It's located on Wharf Street between Douglas and Government streets.
Royal BC Museum
I loved this museum as a kid and I still really enjoy it. It has both traveling and permanent exhibits focused on the natural and cultural history of British Columbia. Make sure to see the First Nations Gallery, with an extensive collection of First Nations art. This is also the BC archive so it is a working place actively interpreting British Columbia's past, present and future. There is also an IMAX theater.
Take a Tally-Ho Carriage Ride
It becomes normal to see horse drawn carriages on the streets of downtown Victoria as well as in Beacon Hill Park, right beside modern cars. This is a really unique way to see town with a knowledgeable and fun guide.
You can have up to 6 people in your carriage for different lengths of tours. Find them on the side street next to the Parliament buildings.
Have Afternoon Tea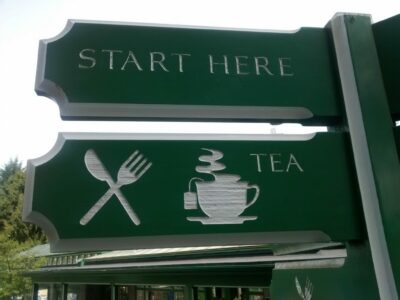 If you're planning a visit to Victoria, you probably already know that having afternoon tea is THE thing to do in Victoria, and that's true! It is pretty fantastic. Most people know about having tea at the Empress Hotel, which while iconic, is REALLY expensive and in my opinion not that great (my Mom and I have a long tradition that goes back at least a couple generations of evaluating afternoon tea options in Victoria).
My favorite tea in Victoria is at the restaurant at Butchart Gardens, but that only makes sense if you're already going to go there (you have to pay admission to the gardens to access the restaurant and have tea). If that's not in your plans, then I recommend having tea at Murchies! It's not an "official" tea, but you can order a pot of tea, a sandwich, soup and any treats you like and you actually get more food for way less money and you can pick exactly what you like.
Butchart Gardens
Butchart Gardens is also a must see. I have been there in almost every month of the year and it's wonderful all year. We have so many evergreen trees and plants in the northwest that even in the dead of winter it's beautiful. It also has wonderful spring and summer flowers as well as fall colors and flowers. Even for people who are not that into gardens, it's really impressive and you'll love it.
Most people spend an hour to an hour and a half exploring the gardens. There are wheelchair accessible paths that go around areas with stairs open to anyone who wants to take the gentler route.
It does get very crowded in the summer, but it's still worth it. For the holidays, they have lots of decorations and an ice rink. If you're here, I highly recommend getting a reservation and having afternoon tea. As mentioned above, I think this is the best afternoon tea in Victoria (and I've had a lot of tea in Victoria).
Butchart Gardens is a bit out of town, you can easily take the city bus there which takes about 45 minutes to an hour. There are also plenty of tours and charters you can book to go there if you don't mind paying a bit more and want to get there faster. If you brought your car over, then you can drive, it will take 30-45 minutes.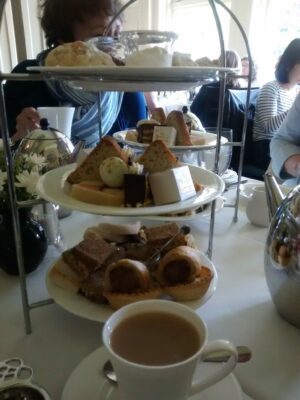 Go Whale watching
Whale watching tours go out from the Inner Harbour to look for Orca Whales in the waters around Vancouver Island. A variety of open air and enclosed boats of different sizes are available.
In addition to Orcas, you're likely to see Seals and other marine mammals as well as plenty of birds. Whale watching is usually a half day adventure.
Take a kayak tour of the city
Take a tour by kayak, a unique way to tour Victoria! You can do a tour around town or you can do a tour that goes outside the inner harbour for kayaking.
If you're a skilled paddler it's also an option to rent a kayak or stand up paddleboard to explore on your own.
Ride the harbor ferry
The Harbour ferry, or Pickle boat as it is often called, scurries around the Inner Harbour in their brightly colored fleet of boats. Travel from different parts of Victoria by boat, or take a tour to learn more about the city in another unique way.
Go to a Hockey Game (Late September-March)
Hockey is a big deal in Canada and while it might not be the first thing you think of when you think of the best things to do in Victoria, it totally is! Victoria has a WHL team and WHL games are totally affordable to attend with tickets starting at around $21 (Canadian). The season starts in late September and goes through March. Join the locals and get a feel for life in Canada! The arena is only about a mile from the inner harbor so it's easy to get to.
Where to Stay in Victoria
This post contains affiliate links, which means if you make a purchase I may receive a small commission at no additional cost to you.
I highly recommend staying walking distance to the Inner Harbour so that you can easily get around town without driving. If you prefer staying outside the hustle and bustle, try one of the neighborhoods with great bus service into Victoria. Click around the map below to find a place to stay that's convenient for you.
Where to eat in Victoria
Victoria is a great place for people who love food! And while covering all the wonderful food options in Victoria would take an entire website, here are a few of my favorites:
Chinatown – Victoria has the oldest Chinatown in Canada and it's full of amazing food. This is a great place for Dim Sum and almost anything else you can imagine
Sushi – Similar to Vancouver and Seattle, you can count on Sushi here to be absolutely amazing
Afternoon tea – we've discussed your tea options already, but the best food I've had at an afternoon tea is definitely Butchart Gardens.
Murchie's – this is my favorite place for lunch in Victoria, no question. They have amazing pastries, sandwiches, soups and salads and of course incredible tea. Get a sausage roll!
Gastropubs – British Columbia does pub food really well. Usually the bar staples are made in house and often with local ingredients. This is your best option for finding a patio as well. I particularly like the Sticky Wicket with it's rooftop patio and Milestones (a local chain) has an amazing patio on the inner harbour next to the Prince of Whales. Canoe is another favorite, also by the water but a bit further from the Inner Harbour.
Barb's Fish and Chips – located in Fisherman's Wharf, amazing fish and chips!
Beer – Victoria has a large number of amazing breweries! If you like beer, get whatever is local on tap or head to one of Victoria's craft breweries.
Honestly, I could go on for days with all the great food in Victoria, but those are a few favorites.
3 Day itinerary for Victoria, BC
Day 1 in Victoria
Arrive in Victoria and explore the Inner Harbour. If you're arriving on the Victoria Clipper or the Coho, you'll already be in the Inner Harbour. If you arrive on the BC ferry, you'll need to drive or take the bus about 45 minutes to an hour from the ferry terminal in Swartz Bay to the Inner Harbour.
Make sure to walk around the lower level close the boats, and the upper level along the street by the Empress Hotel and the Houses of Parliament.
After your walk, head to Government Street and have lunch at Murchie's. Murchie's is a wonderful tea shop, but they also have amazing food. You can have a wonderful pot of tea, a full meal and a treat for an affordable price here. If you want to have the famous tea at the Empress Hotel, this is a good day to do that. I recommend doing Afternoon Tea at Butchart Gardens instead and just taking a stroll through the magnificent Empress Hotel.
In the afternoon, explore the shops along Government Street, make sure not to miss Roger's Chocolates and Munro Books. Take in at least one of Victoria's excellent museums, especially the Royal BC Museum and the Maritime Museum.
Have dinner on the Inner Harbour and watch all the boat and float plane activity while you enjoy your meal.
Day 2 in Victoria
Head to Butchart Gardens in the morning and then have afternoon tea at the Gardens as your lunch. The gardens are beautiful any time of year and the tea is the best in the city (except at Murchie's, but they do not serve a formal tea).
In the afternoon, take a walk in Beacon Park, or a Tally-ho carriage ride if you prefer to ride instead of walk. On the carriage ride they also give you a tour and lots of stories about Victoria.
For dinner, head to Barb's Fish and Chips at Fisherman's Wharf and then walk along Dallas Road or out on the breakwater for sunset.
Day 3 in Victoria
Victoria is an excellent place for whale watching, particularly for Orcas. You have the chance to see plenty of scenery and other marine mammals such as seals on the boat as well. Tours depart from the Inner Harbour so it's very convenient.
In the afternoon, take a kayak tour for a different view of the city, or explore the harbor on the Harbour ferry to get a different perspective on the city. Follow that up with a visit to the Victoria Craft Beer Market and enjoy dinner at one of Victoria's excellent pubs or try the excellent sushi here if you are not into pub food.