Best Things to do in Victoria, BC
Posted On October 14, 2019
Victoria, BC is one of the most fun places to visit in the Pacific Northwest. Uniquely situated on Vancouver Island, just northwest of Seattle, you have to fly or take a ferry to get there. There are a few different ways to get to Victoria by ferry, which will be discussed in this post.
It's worth the effort to visit this vibrant and beautiful Canadian town. I have spent a lot of time in Victoria, it's a special place in my family as before we were Seattleites, we were residents of Victoria (4 generations ago!). Some activities in Victoria are expensive, but not all! You can definitely have lots of fun on a budget. Similar to my Vancouver post, These are arranged in order of least to most expensive (starting with free things at the top!). All of these activities are good for kids too, they are all things I enjoyed when I was a kid that I also love as an adult, and my nieces now enjoy them too! Below is my list of the best things to do in Victoria.
Getting to Victoria
Before you can enjoy these Victoria activities, you need to get there! Victoria is quite close to us, but being on an island makes it a bit more of an effort to get there. You have several options, but these two ferry options are the ones that I have done the most often and make the most sense for a visitor from Seattle
Take the Victoria Clipper: this is definitely the easiest and fastest way and for sure the best way if you're not bringing a car (which you don't need). The Victoria Clipper takes you directly from Seattle's waterfront to the inner harbor of Victoria in about 3 hours. It's more expensive during the summer than the winter, which is a good reason to consider a fall, winter or spring visit! You can also combine your clipper ticket with a hotel package, which will probably be less expensive than booking them separately. Another benefit of taking the clipper is that you don't have to wait in the border line driving to the ferry, you do customs and border control when arriving in Victoria (more like arriving in another country by air). If you take the clipper you also have the option of making it a day trip.
Take the BC Ferry from Tsawassen (near Vancouver) to Swartz Bay (near Victoria): For this option, you drive to the Tsawassen terminal (usually a couple of hours but can be much more depending on the wait at the border crossing), take the BC ferry to Vancouver Island (and extremely gorgeous 90 minute crossing!) and then drive about half an hour (possibly more, depending on traffic) to Victoria. The benefit of this is that you have your car if you want to explore outside the town of Victoria, and especially in summer it will be less expensive, especially if you're traveling as a family or group.
Best things to do in Victoria!
Congratulations! You made it! However you got to Victoria, you're ready to explore.
Walk around the Inner Harbor
If you only do one thing in Victoria, make sure it's walking around the Inner Harbor. This free activity gives you the opportunity to get a feel for the heart of Victoria and it's very unique! This busy harbor has a marina, multiple ferries of all sizes and floatplanes buzzing around constantly. Gorgeous flowers line the harbor in summer, and there are often vendors selling arts and crafts. You'll also see the iconic Empress Hotel and the British Columbia parliament buildings. These grounds are free to walk around and beautiful (don't miss the Rose garden at the Empress!). Make sure that you do this both during the day and at night, so you don't miss the lit up parliament buildings! There are trails on both sides of the harbor that go for miles out so you can make this walk literally as long as you want.
Walk along Dallas Road and the Breakwater
You can combine this with your walk around the inner harbor, or as a separate outing. Dallas Road takes you along the coast of the Strait of Juan de Fuca. When I was a kid, we always stayed in a hotel out here and I loved it. There are beaches and views across the water back to the Olympic mountains in Washington State. You can go for miles if you like, or you can just walk out and back. I highly recommend walking out on the breakwater on Ogden Point. Here you will see the unity wall showcasing beautiful First Nations art.
Beacon Hill Park
Another free activity is to enjoy beautiful Beacon Hill Park. The many miles of trails through forests and flower gardens are a way to do Victoria like a local. This place has great significance to the First Nations people of Vancouver Island, and features cultural as well as natural elements. It also has playgrounds and a spray park that are great for kids.
Government Street
I hate shopping, I really do, but EVEN I enjoy shopping on Government street. At least take a stroll down the first few blocks (go left if you are facing the Empress Hotel at the inner harbor). I especially recommend checking out Roger's Chocolates (originally owned by a distant relative of mine), Munro's books (a large independent bookstore you can get lost in for a long time with a large Canadian authors section) and Murchie's tea (every kind of tea you can imagine and a cafe, more about that below under afternoon tea).
Maritime Museum of British Columbia
This smaller and less heard of museum is the Maritime Museum, which is a must visit for anyone interested in martimy things! It's inexpensive at $10 for adults and $5 for teens. It's located on Wharf Street between Douglas and Government streets.
Royal BC Museum
I loved this museum as a kid and I still really enjoy it. It has both traveling and permanent exhibits focused on the natural and cultural history of British Columbia. Make sure to see the First Nations Gallery, with an extensive collection of First Nations art. This is also the BC archive so it is a working place actively interpreting British Columbia's past, present and future. There is also an IMAX theater. The museum costs $27 (Canadian) for adults and $17 for youth (an additional $10 per ticket gets you an IMAX movie as well). The museum is in the inner harbor area, between the Empress Hotel and the parliaments buildings.
Have Afternoon Tea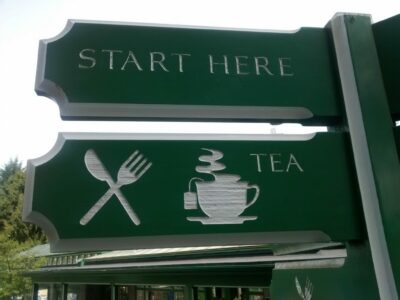 If you're planning a visit to Victoria, you probably already know that having afternoon tea is THE thing to do in Victoria, and that's true! It is pretty awesome. Most people know about having tea at the Empress Hotel, which while iconic, is REALLY expensive and in my opinion not that great (my Mom and I have a long tradition that goes back at least a couple generations of evaluating afternoon tea options).
My favorite tea in Victoria is at the restaurant at Butchart Gardens (see below), but that only makes sense if you're already going to go there (you have to pay admission to have tea). If that's not in your plans, then I recommend having tea at Murchies! It's not an "official" tea, but you can order a pot of tea, a sandwich, soup and any treats you like and you actually get more food and you can pick exactly what you like. This is the option we chose on my most recent visit with my family and I highly recommend it. Read more about my recommendations for afternoon tea in Victoria here.
Butchart Gardens
Butchart Gardens is also a must see! I have been there in almost every month of the year and it's wonderful all year! We have so many evergreen trees and plants in the northwest that even in the dead of winter it's beautiful. It also has wonderful spring and summer flowers as well as fall colors and flowers. Even for people who are not that into gardens, it's really impressive and you'll love it. It does get very crowded in the summer, but it's still worth it. For the holidays, they do lots of decorations and have an ice rink. If you're here, I highly recommend getting a reservation and having afternoon tea. As mentioned above, I think this is the best afternoon tea in Victoria (and I've had a lot!). Butchart Gardens is a bit out of town, you can easily take the city bus there which takes about 45 minutes to an hour. There are also plenty of tours and charters you can book to go there if you don't mind paying a bit more and want to get there faster. If you brought your car over, then you can drive, it will take 30-45 minutes. The cost of Butchart Gardens varies with the seasons, from $20 (Canadian) per person in January to $35 in peak summer season ($10-$17 respectively for youth). Afternoon tea is $42 per person (note: this is less than half the cost of the Empress and it's better!).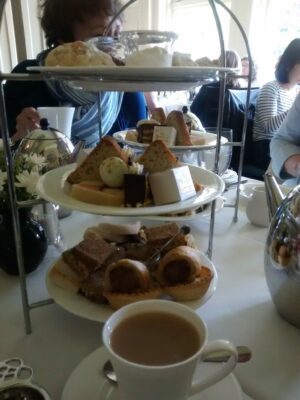 Go to a Hockey Game (Late September-March)
Hockey is a big deal in Canada and while it might not be the first thing you think of when you think of the best things to do in Victoria, it totally is! Victoria has a WHL team and WHL games are totally affordable to attend with tickets starting at around $21 (Canadian). The season starts in late September and goes through March. Join the locals and get a feel for life in Canada! The arena is only about a mile from the inner harbor so it's easy to get to.