Review of the Talkeetna Alaskan Lodge
Posted On May 25, 2023
The Talkeetna Alaskan Lodge is a wonderful place to stay near Talkeetna, with epic views of Denali and the rest of the Alaska range, delicious food and a shuttle that goes into town during the day. it's a great place to stay if you're in Talkeetna and makes a wonderful stop on the drive from Anchorage to Fairbanks if you want to break up the trip a bit.
I'm a former Alaskan and still spend a lot of time each year in Alaska as a guide as well as exploring with family and friends or on my own. This is one of my favorite properties in Alaska and the epic views from the deck and the great room in the lobby with a giant fireplace are the most special things about it to me. The food is also really good.
The Talkeetna Alaskan Lodge has wifi. However, like most hotels in Alaska the wifi is not strong enough for streaming. Make sure to download any audio books, podcasts, shows, movies, games or music before starting your trip if you'd like to enjoy them here.
The lodge is not in downtown Talkeetna, and though there is a shuttle, it's not really walking distance into town. Talkeetna has lots of small inns and rentals if you're looking for something small, unique and quirky here.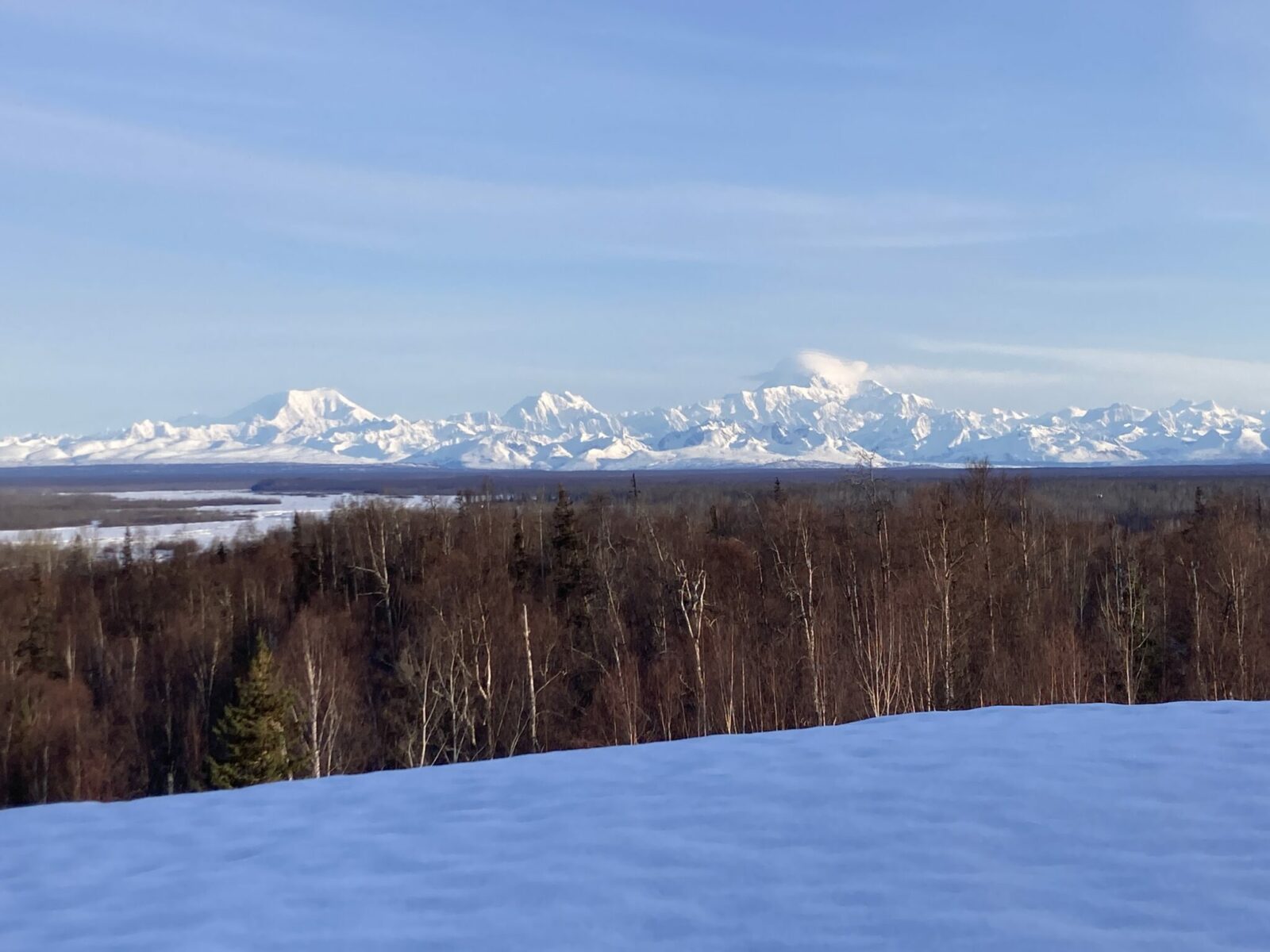 Talkeetna Alaskan Lodge Rooms
Where you sleep is of course the most important thing about any hotel, so let's start with that.
Like pretty much all hotels in Alaska, the room at the Talkeetna Alaskan Lodge are not fancy. They are, however, super clean with comfortable beds and have plenty of room to move around. I really appreciate the extra space to not bump into things and have room for my stuff as well as another person's stuff. Every room has a coffee maker and a mini fridge, both amenities that I value when I am traveling!
The biggest difference between the rooms is whether or not they have a view of Denali and the Alaska range. While this view is truly spectacular, it's even better when you enjoy it by the giant fireplace in the lobby or on the spacious deck outside. Don't sweat it if you're not in a view room! The public areas of the Talkeetna Alaskan Lodge are what really make it special.
If you do want to splurge on a view room king suite (one of the few locations in Alaska that have suites and king size beds), this is an excellent place to do it. These suites have amazing views, a separate sitting room, kitchenette, gas fireplace and a jacuzzi tub. If you're in one of these rooms you won't want to leave, but do it anyway because Talkeetna is such a wonderful place to get out and explore.
Common Spaces at the Talkeetna Alaskan Lodge
The common spaces at the lodge are what really makes this property special! If it's clear weather and a warm day, the deck sports one of the best views of Denali anywhere in Alaska that you can get to on the road system. It's a wonderful place to relax, take in your surroundings and enjoy a drink or a meal.
On colder days, the inviting lobby has an enormous stone fireplace with a roaring fire. This room has enormous windows looking out at the same view.
The lounges on the top floor of the lodge are hidden gems where the wifi is strong and the view amazing. They also have board games to play while hanging out.
Another thing that I love about the Talkeetna Alaskan Lodge is that it has coin operated laundry that guests can use! This may not matter for a lot of people but as a frequent traveler I love having access to this amenity on the road.
Talkeetna Alaskan Lodge Location
The Talkeetna Alaskan Lodge is located about two miles from downtown Talkeetna just off Talkeetna Spur road as you approach town. It is 113 miles from Anchorage, 154 miles from the entrance area of Denali National Park and 272 miles from Fairbanks.
Getting around Talkeetna from the lodge
If you drive to Talkeetna there is plenty of parking at the lodge and you can either take your car into town or take advantage of the shuttle.
If you're taking the Alaska Railroad to Talkeetna, they offer rides back and forth to the train depot.
The lodge is a couple miles from town and the lodge offers a shuttle into town from 10am-6pm, a good way to get around if you're not driving. If you're booking tours, they can pick you up here.
Food at the Talkeetna Alaskan Lodge
The food at the Talkeetna Alaskan Lodge is excellent. The Foraker Dining Room requires reservations, but if you don't manage to snag one, you can eat at the base camp bar and bistro instead and get most of the same delicious food.
The Base Camp Bar and the Base Camp Bistro are a good place to grab a more casual bite to eat.
For breakfast, the Foraker Restaurant has a breakfast buffet and the coffee stand in the lobby also has excellent coffee as well as breakfast burritos (they're delicious).
Though it was not open yet at the time of my most recent visit in May 2023, they are opening the raw oyster bar on the deck in June for the summer months which I'm sure will be incredible!
Wheelchair Accessibility at the Talkeetna Alaskan Lodge
Wheelchair users will be comfortable and have everything they need at the Talkeetna Alaskan Lodge. If you are a wheelchair user, make sure to contact them when booking to let them know, since not all rooms are wheelchair accessible and not all the buildings on the property have elevators. They have ADA accessible rooms in the main lodge as well as elevators.
If you have limited mobility but are not a wheelchair user, they also have golf carts to give guests rides around the property anytime you need them. Just call the front desk and they'll take care of you.
Final Thoughts
The Talkeetna Alaskan Lodge offers comfortable rooms, and incredible view from the lodge's public spaces such as the deck and lobby. It also has a convenient shuttle making it work if you're taking the Alaska Railroad and not driving. This is your best hotel option in the Talkeetna area, though there are many wonderful small properties offering a more rustic experience that might be more fun for some travelers.