Top 10 things to do in funky Talkeetna, Alaska
Posted On May 18, 2023
Last Updated on September 12, 2023
Talkeetna, Alaska is a small community with a super funky mountain vibe. It's one of the quirkiest and most unique places in Alaska and is absolutely worth a visit, especially if you're on a road trip from Anchorage to Fairbanks.
I'm a former Alaskan and I still spend many weeks a year in the state, and Talkeetna is a place I love to visit whenever I get the chance, especially for it's fun and tasty outdoor food options and it's epic views of Denali. These are my 10 favorite things to do there (well, 9 really, I'm counting a winter visit as #10 because it's such a unique experience).
Talkeetna, along with much of Southcentral Alaska, is the homeland of the Dena'ina Ełena People.
What is Talkeetna known for?
Talkeetna is known to Alaskans as a quirky town just ever-so-slightly off the beaten track with a funky mountain vibe. It's also known around the world as the starting point for climbing Denali – the highest peak in North America (formerly Mt McKinley).
Talkeetna has some of the best views of Denali from the road system and is also known for having elected a cat as it's unofficial mayor (Talkeetna is unincorporated).
Where is Talkeetna? How far is it from Denali National Park?
Talkeetna is 114 miles north of Anchorage along the Parks Highway and 155 miles south of the Denali National Park entrance and headquarters.
Talkeetna is about 14 miles off the Parks Highway on the Talkeetna Spur Road, so visiting Talkeetna by car is about a 30 mile detour. It is also a stop on the Alaska Railroad, approximately halfway between Anchorage and Denali National Park.
Despite being a three hour drive from the Denali National Park entrance area, Talkeetna is closer to the Denali (the mountain) than the Nenana Canyon entrance area. This makes it an excellent choice for a flightseeing trip to Denali.
How to get to Talkeetna
You can drive or take the Alaska Railroad to Talkeetna, or it may be included as part of a larger Alaska land tour package that includes transportation by motorcoach or train.
If you're driving from Anchorage to Fairbanks or Denali National Park, Talkeetna makes a perfect stop. It's 14 miles off the Parks Highway and it takes about two hours to drive from Anchorage if there's not any construction or winter weather.
The train is about a three hour ride from Anchorage. The Alaska Railroad depot in Talkeetna is close to town. Make sure you stay somewhere that offers a ride!
If you're doing a land tour with a cruise line before or after a cruise, it may include a stop in Talkeetna and if so you'll have some time to explore the town.
How much time should you spend in Talkeetna?
Talkeetna is absolutely worth visiting even if you only have an hour or so to take a break from your road trip on the Parks Highway. That gives you enough time to explore this funky and picturesque historic town and get some stunning views of Denali if Denali is visible.
If you have more time, Talkeetna is a wonderful place to spend a couple of days. Enjoy an evening down by the river or at one of the local drinking establishments like the Denali Brewpub or Fairview Inn. This would also give you the chance to go for a hike or do a flightseeing tour of Denali or a jetboat tour on the Sustina River.
Things to do in Summer in Talkeetna
Summer is a wonderful time to wander around the town of Talkeetna. Here are some things to make sure not to miss, as well as a couple of wonderful tours!
Explore downtown and learn about Talkeetna's history
The downtown area is super quaint and funky, with it's unpaved streets and historic buildings. There are plenty of place to grab a bite to eat and several shops featuring local artists. Make sure to go into Aurora Dora's shop which has wall to wall stunning photographs of the Aurora (Northern Lights) taken around Talkeetna. The museum is a good place to dive deeper into the history of this small but historically significant town.
Visit the Walter Harper Denali National Park Ranger station and learn about climbing Denali
Denali National Park bases their climbing program out of Talkeetna and the Walter Harper ranger station is always buzzing with activity. During the climbing season, you can see how many people are on the mountain and their status. You can also pick up brochures about the park and talk to the rangers.
The ranger station is named for Walter Harper, a Native Alaskan and the first person to ever climb Denali in 1913.
Walk along the Susitna River at waterfront park for an amazing view of Denali
I'll be honest, this beautiful little park along the banks of the Susitna River is my favorite place in Talkeetna. In any season, whether the river is flying by or completely frozen, it's truly magical. The view of Denali here is amazing. This is a good place to plan to spend a few minutes just taking in the enormous and unique landscape.
Grab a beer at the Denali Brewing Brewpub
The Denali Brewing Brewpub is an institution. They have a bigger taproom along Talkeetna Spur Road, so if you want to nerd out on beer big time you might want to stop there as well. You'll find Denali Brewing beers all over Interior and Southcentral Alaska and they have lots of delicious offerings.
The brewpub also has sandwiches and snacks and a large patio perfect for sharing the days adventures over a beer. If you time it right, you might even be enjoying your drink with climbers returning from or about to set out for their Denali climb!
Try Alaska Birch Syrup
Birch syrup is similar to maple syrup, though it does have a distinct flavor so you might want to try it before committing to slathering it all over your pancakes! Birch trees are plentiful in Alaska and Alaska Wild Harvest is a great place to give this local specialty a try.
It's close to the Parks Highway, not in the heart of Talkeetna, so it's definitely easier to visit if you're driving.
Go for a hike
There are lots of terrific hikes to do near Talkeetna in Denali State Park. You can go with a guide or go on your own if you are prepared and in a group for bear safety. Curry Ridge trail is a very popular backpacking trail, but you can also do a day hike for a portion of it to some incredible views.
The Talkeetna River Trail, the Byers Lake Loop and Otter Loop are also good day hikes near Talkeetna.
Do a flightseeing tour of Denali National Park – with a glacier landing!
A true once in a lifetime experience, if your budget can accommodate it, Talkeetna is the best place for flightseeing, especially if you want to do a glacier landing!
K2 Aviation and Talkeetna Air Taxi are both authorized to land on the Ruth Glacier in Denali National Park and this is a truly epic experience.
There are several different flightseeing options but I highly recommend spending just a little bit more for the glacier landing. So awesome and so worth it.
Go for a jetboat tour on the Susitna River
The Mahay's Jetboat tour is a fantastic way to get out on the water (with heat and covered…super comfy experience!) and experience what it's like to travel on Alaska's rivers. Rivers in Alaska are wide, braided and challenging to navigate as well as super fun to ride and the Susitna is no exception. This is a particularly wonderful evening activity on Alaska's long summer evenings.
Ride the Hurricane Turn Flagstop Train
There aren't many places you can still experience a true flagstop train, but this is a place you can! A flagstop train means there isn't a set schedule and the train will let people off and pick them up pretty much anywhere along the tracks.
Alaska's use this train to access remote cabins and camping locations way off the road system, and you can experience it as a visitor as well. If you choose this adventure, you need to be self sufficient as there are no concessions on this train and no services as it goes straight into a very remote area.
Things to do in Winter in Talkeetna
There is plenty of winter adventure to be had in Talkeetna, though many of the shops are closed there are plenty of fun winter tours and places to stay. Check with your host to find out what your food options are during the time of your visit as this varies throughout the winter.
If you'd rather not deal with winter driving, you can take the Aurora Winter Train up from Anchorage. It goes north on Saturdays and south on Sundays so you can do a fun car free overnight trip. It's not quite as convenient to come down from Fairbanks, that works better in February and March when the Alaska Railroad usually adds in some mid week trains.
Dog sledding
Dog sledding (dog mushing) is big in the Talkeetna area, and the best way to experience it is in winter! While you can do a kennel visit in summer as mentioned above, winter is the best time to truly experience this popular Alaskan sport.
Iditarod musher Dallas Seavey's kennel offers dog sledding in winter and transportation from Talkeetna.
By the way, you can visit the kennel and get to know the dogs during the summer so while it's true to really experience dog sledding you need to go in winter, you can get the idea and have a dog forward experience in summer too.
Try a new winter sport
Alaskans love their winter sports, especially in Talkeetna. In addition to trying out dog mushing, you can also try snowmachining (snowmobiling in other parts of the US), ice fishing, snowshoeing or cross country skiing. Your hotel or vacation rental host is a great resource for the specific tours and activities available during your visit. Winter hours often vary quite a bit from month to month and day to day, especially in this small community.
Chase the Northern Lights
Talkeetna is not quite as good as Fairbanks for chasing the Aurora, but it is still one of the best places in North America to look for them! Very dark nights far from city lights make Talkeetna perfect if the lights are out and the skies are clear.
You do not need to do anything special or go anywhere special to see them, just go outside and look up a lot when it's dark!
Where to stay in Talkeetna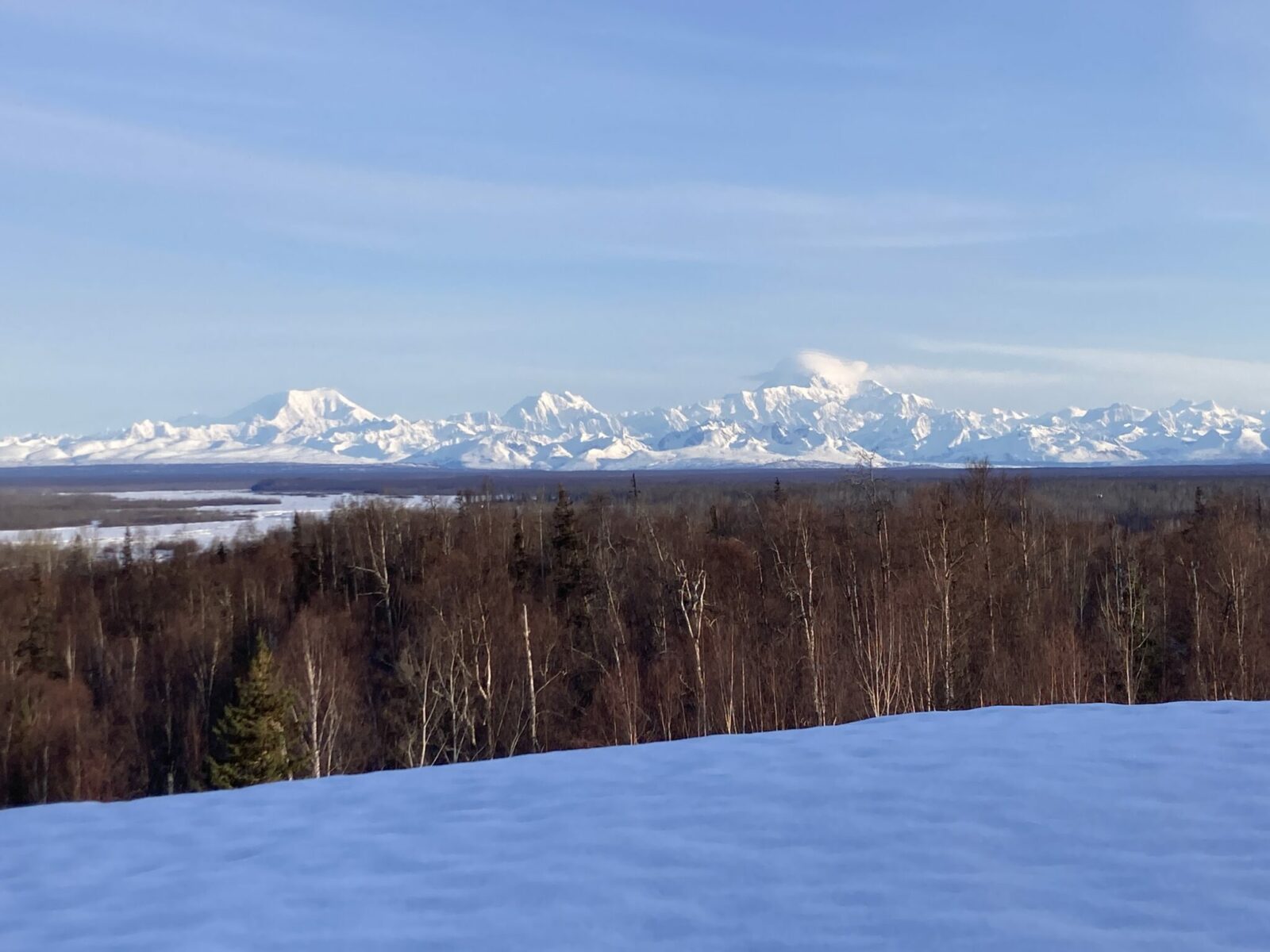 The Talkeetna Alaskan Lodge is an excellent option in Talkeetna for those looking for a hotel. It is a bit out of town, but they offer transportation back and forth to town during the day. What makes this hotel really special is the in your face views of Denali as well as the other mountains of the Alaska Range. The deck outside as well as the beautiful fireplace and comfy chairs in the common rooms make this a good place to spend some time.
There are many other small establishments and rentals available in the Talkeetna area so you have plenty of options! If you are traveling to Talkeetna on the Alaska Railroad make sure you are staying somewhere that offers rides back and forth to the train depot (don't assume they do).
Where to eat in Talkeetna
Talkeetna has a surprising amount of excellent food options for such a tiny town! The pie at the Talkeetna Roadhouse is legendary among Alaskans.
This is a climbing town, so you can count on the pizza and beer being phenomenal. Head to Mountain High Pizza Pie for amazing pizza and Denali Brewpub next door for wonderful beer and sandwiches with a large deck perfect for summer days.
Conscious Coffee is a great coffee spot and Talkeetna has several fantastic food trucks or more permanent order at a small building and eat outside places. A few favorites include: The Salmon Spot, Burger Barn and Talkeetna Tako. These are all fabulous quick bites if you're making a short road trip stop in Talkeetna, or a great lunch on the go if you're staying awhile.
The Talkeetna Alaskan Lodge is an amazing place to have dinner. The food is amazing and the view of Denali is so spectacular you may get very distracted from your meal! The outdoor deck is a particularly ideal place to hang out on nice days.
Final Thoughts
Talkeetna is a delightful and quirky town with a uniquely Alaskan vibe. It is absolutely worth a visit, particularly if you like small quirky towns and exceptional mountain views. If you have just an hour or a few days, you'll walk away with an unforgettable Alaskan memory.