11 Best Stops on a road trip from Anchorage to Fairbanks Alaska
Posted On February 8, 2022
Last Updated on October 28, 2023
A road trip from Anchorage to Fairbanks is one of the best road trips in Alaska! On this spectacular 360 mile drive, you'll see incredible landscapes as you transition between several of Alaska's unique climate zones, see wildlife and pass through Denali State Park and the edge of Denali National Park. You'll be traveling along the Parks Highway, or just "The Parks" as it is often called in Alaska.
Driving from Anchorage to Fairbanks will give you a feel for Alaska's vast landscapes and at stops along the way you can enjoy hikes, views, picnics and get to know what Alaska is like! I lived in Alaska for seven years and during that time (and many times a year since as a tour guide) I've done this road trip and I'm excited to tell you all about the best places to stop along the way.
This article is organized by stops starting in Anchorage and going north to Fairbanks. If you're doing a round trip drive (which is likely because one way car rental in Alaska is extremely expensive), consider mixing it up with different stops going north and south so you're finding something new to explore on both ends of your road trip.
You are very likely to see wildlife, especially moose, along the highway. Make sure to watch your speed and keep your eyes on the sides of the road in addition to what's right in front of you so you don't miss any wildlife sightings and also so you don't get into a collision with a moose or other animal.
The road trip from Anchorage to Fairbanks on the Parks Highway travels the homeland of many indigenous people, including the Dene Nation, Dena'ina Ełnena, Ahtna and Tanana People.
Related: Best Alaska Itinerary and Planning Guide
How long is the drive from Anchorage to Fairbanks?
The driving distance from Anchorage to Fairbanks is 360 miles. Plan on it taking at least 6.5 hours plus any stops you want to make.
Construction and RV traffic can cause significant delays in places during the summer and winter driving can make it slow in winter depending on the conditions.
Can I road trip from Anchorage to Fairbanks in winter?
Yes! The road is open year round.
If you intend to road trip from Anchorage to Fairbanks in the winter months, be prepared for slow driving and ice and snow in the road. Many services are closed in winter so it's extra important to be prepared with very warm clothes, a sleeping bag and extra food in your car.
Make sure your tires are in good condition and carry chains with you just in case.
In the summer, expect lots of RVs and probably some construction. Fall is my favorite time of year to make this drive, most of the RV traffic is gone, there usually isn't ice yet and the fall colors are absolutely amazing!
Some businesses close for winter, but you'll be able to get gas and groceries along the way all year.
What are the road conditions like between Anchorage and Fairbanks?
The Parks Highway is well maintained throughout the year. It is a paved two lane road.
Expect construction in the summer, summer and early fall and plenty of RV traffic in the summer. In winter expect plenty of snow and ice.
A road trip from Anchorage to Fairbanks includes driving through multiple weather regimes and climate areas, so expect the weather to change throughout your drive
Is there cell service on the road between Anchorage and Fairbanks?
Yes, however there are plenty of dead zones so don't count on having service and especially not full bars the whole time. Around three quarters of the Parks Highway is at least partially covered with various cell providers at the time of this writing (updated May 2023). If you are away from the road (such as in Denali National Park) then you will be mostly without service. Denali's entrance area has service.
If you're relying on a strong signal for steaming music or podcasts, make sure to download them before your road trip so you don't get frustrated losing the signal frequently.
Where are the gas stations and other services?
There are long stretches without towns and services, but there are also plenty of places to stop along the highway. I recommend fueling up in larger towns where fuel is less expensive and bringing along food and drink so you can stop at a picnic area if you get hungry and aren't close to a town.
Eagle River, Wasilla, Talkeetna, Denali National Park/Healy and Nenana all have plenty of services. In between there are additional gas stations and lodges.
Where to stay on the road trip from Anchorage to Fairbanks
Camping
My favorite camping locations on the road trip from Anchorage to Fairbanks are the Kesugi Ken Campground in Denali State Park as well as the Savage River Campground in Denali National Park. Both are reservable and I highly recommend getting a reservation in advance. Both are suitable for RVs as well as tents. Kesugi Ken also has cabins (which book up far ahead of time).
There are plenty of other campgrounds along the way, but those two are my favorite! Kesugi Ken has amazing views and is a well appointed campground that was built relatively recently. Savage River is much smaller and less busy than nearby Riley Creek and you can walk along the river there which is absolutely gorgeous.
Lodges and Hotels
Make sure to book lodges and hotels far in advance for this very popular area, especially in the Denali National Park area which has very limited options.
There are vacation rentals in Anchorage, Fairbanks, Healy and the Mat-Su Valley, but not many along the rest of the drive. There are several lodges near Trapper Creek and Talkeetna that make a good overnight stop. The Talkeetna Alaskan Lodge is a personal favorite (one of the best views of Denali from the road system!).
Best hikes on the drive from Anchorage to Fairbanks
If you're a hiker, there are plenty of wonderful hikes along the way, particularly near Anchorage and Palmer and Denali. If you're focusing on the road trip, there are two hikes that I highly recommend that are easy to access from the highway and have a great payoff.
Kesugi Ridge Trail (Denali State Park)
Kesugi Ridge is one of the best backpacking trails in Alaska, but if you're not up for the multiday challenging hike you can absolutely do a day hike here too! For a day hike, start at the Curry Ridge Trailhead across the road from the Denali South Viewpoint in Denali State Park. It is also inside the Kesugi Ken Campground. Note that the recommending starting point for doing this as a backpacking trip is at the other end but this is a good option for a day hike.
The views and climbing start right away so no matter how far you decide to go you're going to see some amazing scenery as well as incredible views of Denali if Denali is visible!
Triple Lakes Trail or Oxbow Trail (Denali National Park)
The Triple Lakes Trail or Oxbow Trail are both just south of the entrance area of Denali National Park. They do not have views of Denali but they are wonderful hikes that are not crowded and full of blueberries in August.
The Triple Lakes Trail goes for 10 miles, but you can do a much shorter adventure (3.5 miles round trip) to the first lake. If you're looking for a shorter leg stretch, go for the Oxbow Trail, a flat 1.6 mile loop along the Nenana River.
Mt Healy Overlook (Denali National Park)
Mt Healy is a great hike in Denali National Park near the entrance area that you can do without planning ahead or taking the bus. It also has amazing views of the entire area.
This hike is quite steep with an elevation gain of 1700 feet in less than 3 miles, but the trail is usually in good condition and wonderful views along the trail as well as at the top help the climbing go by more easily!
The round trip to the lookout is about 6.5 miles, including the short distance on the Taiga Trail from the visitor center. Those who want to go further can explore further up the ridges on Mt Healy. From here you can see the entire park entrance area.
To get started, head to the visitor center and start on the Taiga Trail for about half a mile until you reach the well signed Mt Healy overlook trail and head up from there.
Best stops on the drive from Anchorage to Fairbanks
The scenery provides plenty of reason to road trip from Anchorage to Fairbanks, but if you have time to make some stops, there are some great places to stretch your legs, learn about something new, see even more amazing scenery and wildlife and grab a bite to eat.
Eagle River Nature Center
The Eagle River Nature Center is a beautiful area just outside of Anchorage with beautiful landscapes, wildlife and hiking trails. You can even do a guided walk or hike here to learn even more about the natural history and beauty of Alaska.
This is a good moose viewing opportunity and some of the trails are closed in late summer due to bear activity. Eagle River Nature Center is a wonderful winter stop too.
Iditarod Sled dog headquarters (Wasilla)
Make a stop at the Iditarod Headquarters and check out the museum all about the epic dog sled race that travels 1000 miles across Alaska in March. While there are no dogs here, you can still learn all about the race and buy all kinds of dog and iditarod themed gifts.
Summer 2023 update: There WILL be dogs this summer at the Iditarod HQ! You can do a short cart ride with Iditarod musher Riley Dyche for $10.
Hatcher Pass
Hatcher Pass is one of the most popular recreation areas near Anchorage year round! In addition to incredible landscapes, you can visit the historic independence mine. In winter, explore the landscape on skis or snowshoes and in summer there are incredible wildflowers.
Hatcher Pass is a very worthwhile detour, but it does add some time. In the summer, this is a wonderful alternative to the Parks Highway, especially if you're making a round trip drive to change things up. To do this, leave the Parks Highway between Palmer and Wasilla, and head up steeply into the mountains before getting to Hatcher Pass and then continuing on to the other side and coming out in Willow. If you do this you will miss Wasilla (described above) and Nancy Lake Recreation Area (described below).
This road is VERY curvy and not recommended for longer RVs or trailers.
Taking this route will add about 20 miles and an hour of driving time to your road trip from Anchorage to Fairbanks. Totally worth it!
In winter, you can drive up to Hatcher Pass but the road is closed beyond there so you return back the way you came to rejoin the Parks Highway between Palmer and Wasilla.
Nancy Lake Recreation Area
The Nancy Lake Area is very popular with those who live in the Anchorage area, with plenty of cabins surrounding it. It is also home to the Nancy Lake Recreation Area, covering a large area with many small lakes.
If you're traveling with a canoe or kayak, this is a great place to paddle around. There are also hiking trails in the area for exploring. In winter, there is plenty of opportunity for cross country skiing.
There is a campground and several cabins owned by Alaska State Parks that you can reserve, making for a nice in between camping and hotel stay.
Talkeetna
Talkeetna is a delightfullly quirky small town, full of hopeful climbers getting ready to attempt a summit climb on Denali. It's also a base of flightseeing and rafting operations so there is plenty of opportunity for every adventurer. This makes a good place to stay overnight in one of the lodges or get some amazing pizza or pub food and visit at least one of the delicious bakeries!
Talkeetna is well worth the 30 mile detour round trip from the Parks Highway for all these delights.
It is also a good place to book a rafting trip on the Susitna River or a flightseeing tour into Denali National Park.
Mary's McKinley View Lodge
A unique family owned homestead turning cafe and lodge by Mary Carey, you don't want to miss this special stop. The coffee and pastries are delicious and the view of Denali is spectacular on a clear day!
It's open May – September.
Denali South viewpoint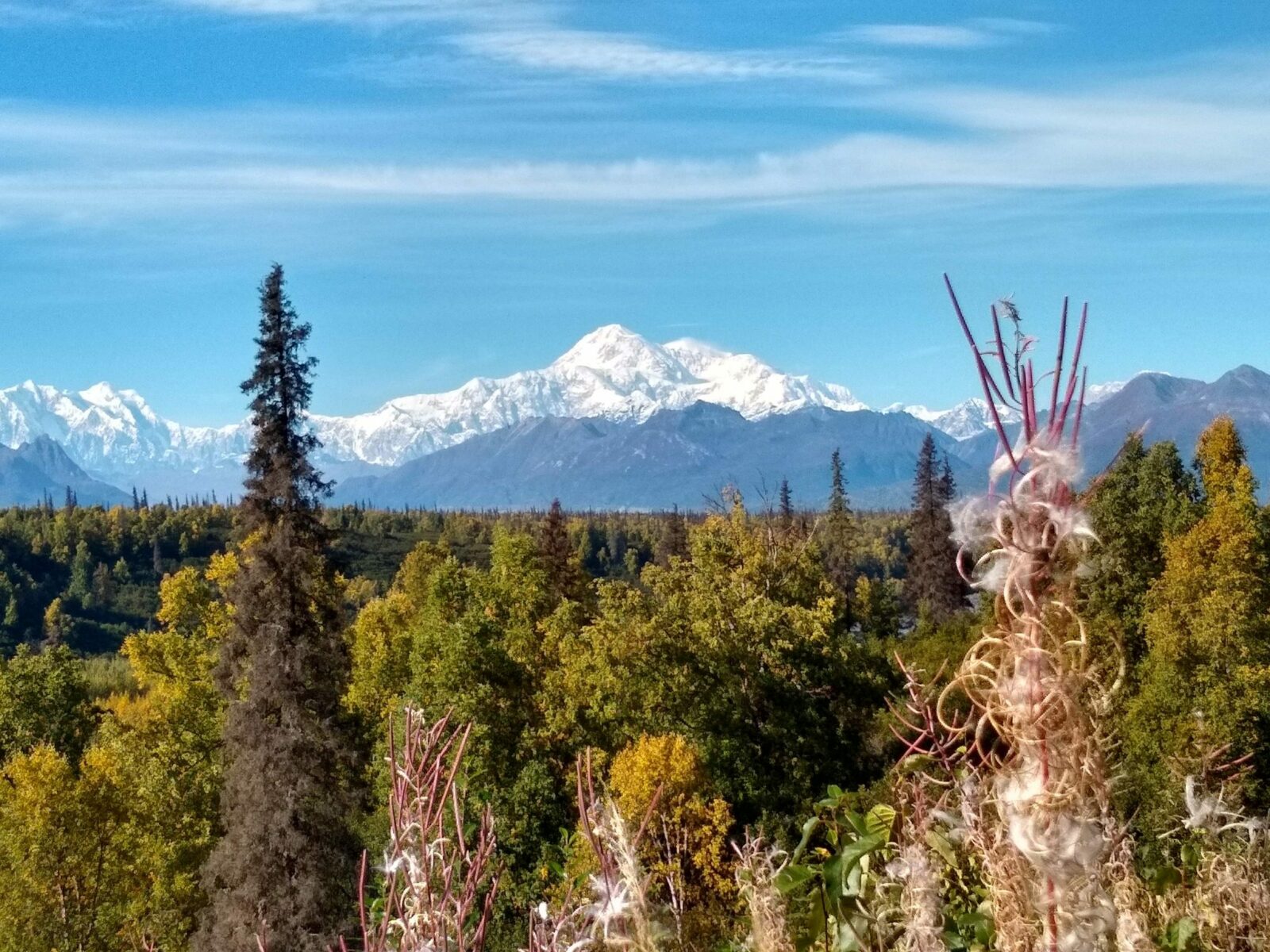 The Denali South (and North) viewpoint is one of the best places to see Denali, "the High One" anywhere in Alaska. Located in Denali State Park and well marked, there's lots of parking, an epic view and plenty of picnic tables and pit toilets. This makes an excellent rest stop along the way.
Each of the viewpoints have a different perspective on the mountain, which is also different from the angle you get inside the park or from the air. This is such a massive and impressive mountain, you want to see as many angles as possible.
Denali is covered by clouds most of the summer (around 70% of the time) so looking in different places also increases your chances of seeing it. The gate is locked at times in the winter, based on snowfall and state budgets.
Denali North viewpoint
Similar to the Denali South viewpoint, the North viewpoint is another excellent viewing location for Denali from a slightly different perspective. If the mountain is clear, it's absolutely mandatory to stop at both!
Denali National Park and Preserve
Denali National Park is an obvious highlight on your road trip from Anchorage to Fairbanks, and often is the reason people take this road trip in the first place!
I recommend spending two nights in Denali if possible because you then get the full day to take the bus trip into the park. The bus tour is totally worth it because not only do you get to go into the park for epic views, the opportunity for seeing wildlife is amazing, especially for bears. If you don't have time for that, you can still make a shorter stop in Denali. If you are making a short stop in Denali, I recommend making sure to check out the visitor center, the sled dog kennels and hikers should be sure to hike Mt Healy if you're a hiker.
Related: Denali National Park Planning Guide
Nenana
Nenana is a very small town in a beautiful setting along the Tanana River. It has a couple of surprisingly excellent museums for such a small town. Check out the log cabin visitor center with its sod roof (covered in gorgeous flowers in the summer) as well as the Cultural Center.
Railroad enthusiasts will appreciate the Alaska Railroad Museum located inside the historic train station from 1923. Nenana is somewhat famous for being the location where President Harding drove the golden spike for the completion of the Alaska Railroad the same year.
Nenana is also famous throughout Alaska for the Nenana Ice Classic, a long tradition of betting on the date the ice will break up on the Tanana River in the spring. If you're driving through in late winter or early spring, look for the black and white tripod set up on the river, which topples over and triggers a clock which marks the official time to declare a winner! Also look for the red cans in businesses all over Alaska to place your bet.
Final Thoughts
Taking a road trip from Anchorage to Fairbanks is a fun adventure that takes you through many different climates and landscapes across Alaska. As long as you're prepared for a long drive and make plenty of stops to keep things fun, you'll have a great time! Consider splitting it up into several days to have more time to take everything in and for shorter driving days.