Mt Rainier wildflower hikes with less crowds
Posted On August 11, 2017
Last Updated on August 2, 2021
The best time to see alpine wildflowers in Mt Rainier National Park is generally late July and early August, a short but spectacular season! Mt Rainier wildflower hikes are the best way to immerse yourself in this fleeting beauty. Mt Rainier's wildflowers are famous around the world and the park is extremely crowded and busy during wildflower season.
You have two main options for seeing Mt Rainier's wildflowers with less crowds:
Visit the park in the late afternoon or early evening (our long days in summer make an evening hike possible and the lighting is better for photography) or on a Tuesday, Wednesday or Thursday. Evenings are less crowded than weekdays during the day.
Hike a trail that isn't as well known.
Both of these strategies have some limitations. For the first one, you'll need to feel comfortable driving home in the dark and be prepared with a headlamp in case the hike takes longer than you planned. The upside of the evening hike is that the lighting is way better for photography and you don't have to wake up early! I've heard many people recommend arriving very early. This also works but it means getting up REALLY early. To beat the crowds in Mt Rainier, you really need to be there by 8 am and that means leaving Seattle or Tacoma at 5 which is EARLY especially if you're on vacation or it's your day off! Pro Tip: this evening strategy works really well in most National Parks.
The second strategy is getting harder to use because the truth is that there are plenty of people on most of Mt Rainier's wildflower trails. Unless you want to go a long distance, you will be dealing with other people. However, you can be in a situation with FAR LESS people on the trails I recommend below. You won't have complete solitude, but you will see less people than the trails at Paradise and Chinook Pass.
Mt Rainier Wildflower hikes to do in the late afternoon or evening
These are my two favorite wildflower hikes in Mt Rainier and both are extremely crowded during the day in wildflower season. Go in the late afternoon or evening though and you'll see few other people once you get on the trail!
Skyline Loop – Paradise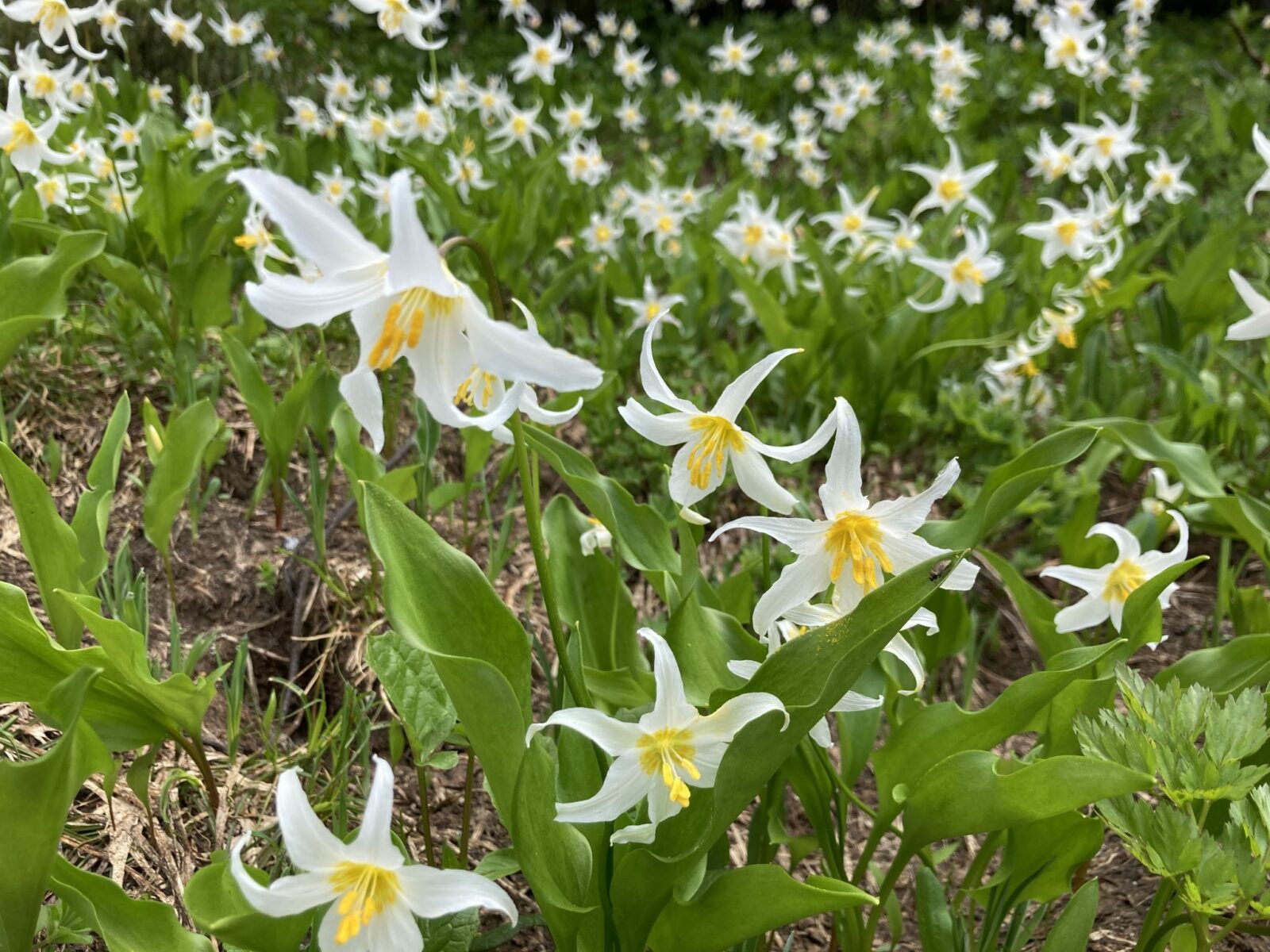 On summer weekends (including Fridays) parking is full at Paradise from 8 am till late afternoon and the trails are extremely busy! Arrive later in the day though and you can find parking and enjoy the area with just some of your fellow flower gawkers instead of thousands!
The Skyline Loop is 5 or 6 miles (depending on whether or not you take the shortcut) with 1500 feet of elevation gain. If that feels like more hiking than you want, you can also explore the trail as far as you like and turn around the way you came. This trail is a non stop celebration of wildflowers as well as an impressive volcanic landscape. You'll see amazing views of Mt Rainier pretty much the entire time too and there are also marmots all over the place! You may still encounter a bit of snow at the highest parts of this trail, even in July!
Naches Peak Loop – Chinook Pass
This breathtaking wildflower trail is the Naches Peak Loop trail, which is a beautiful 4 mile loop with 600 feet of elevation gain and amazing scenery. The flowers just add to it (go in a clockwise direction for the best views of Mt Rainier on the second half of the hike).
It is extremely busy here during the day, especially since people often stop here if they are driving to Yakima. In the late afternoon or evening though, you may even have the entire trail to yourself! I have hiked here on the first friday of August (peak wildflower season) starting at 6pm and only saw one other person. Make sure to have your headlamp with you, I finished that hike in the dark which was no problem with my headlamp handy.
Spray Park – A less crowded Mt Rainier wildflower hike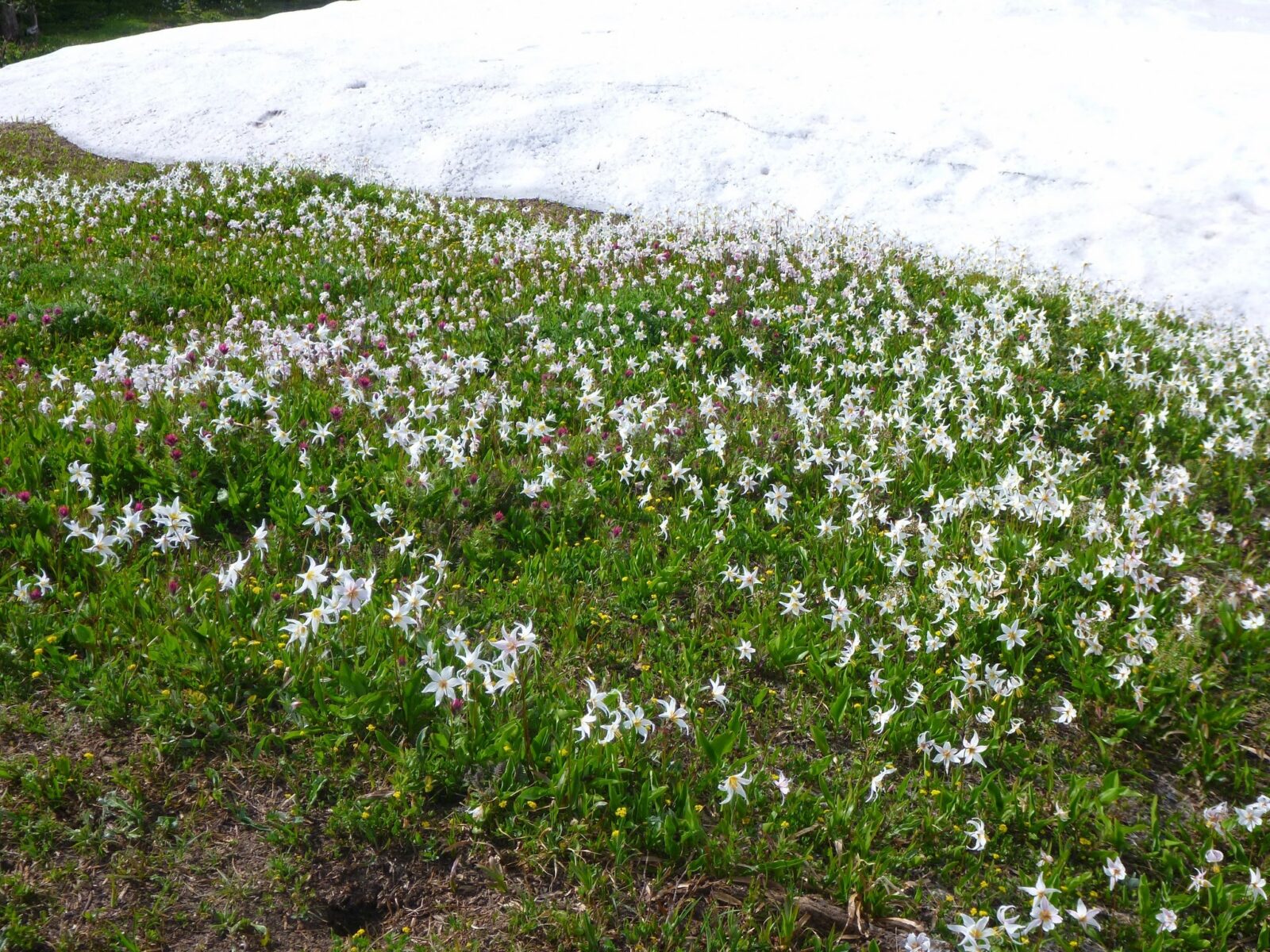 Before we go to far here, I want to prepare you that you will not find solitude in Spray Park during wildflower season! It is however MUCH less crowded than other parts of Mt Rainier, with only a fraction of the crowds you'll find at Paradise or Sunrise.
Spray Park is located in the much less visited northwest corner of Mt Rainier National Park and starts from Mowich Lake. The road here is only open from early July till early October. Another important thing to note is that you'll be driving on a gravel road the last 10 miles. You can make it in any car as long as you take it slow and keep the windows rolled up to keep the dust down. The parking area at Mowich Lake is tiny and you may need to park up to a mile or even two down the road which adds some mileage to your hike. This also makes the area seem much busier than it is when you're out on the trail.
The Spray Park hike is 8 miles round trip with 1700 feet of elevation gain. You can explore further up in Spray Park if you want to to see even more flowers and views of Mt Rainier!
If you want something a little shorter, you can head the other way from the same trailhead towards Tolmie Peak. About three miles up the trail to Tolmie, you'll come to Eunice Lake which also has amazing wildflowers (if you've gone that far though, you should head up Tolmie Peak for the amazing view).