Best Rainy Day Hikes in Mt Rainier National Park
Posted On October 29, 2018
Last Updated on May 5, 2022
When most people think of Mt Rainier, they think of going to the park for epic mountain views! The epic mountain views are AWESOME, but don't let cloudy or rainy weather stop you from visiting. Some of the most incredible experiences in Mt Rainier are just as good on a rainy day! While I love the gorgeous sunny days, there is something just as special and gorgeous about those drippy leaves and muddy trails. The waterfalls and forests are less crowded and even more beautiful. When the rainy season is upon us, get out and enjoy these places with far fewer people. Make sure that you have the right gear to stay dry and some hot food and beverages you'll have an amazing day! Here are my Mt Rainier Best Rainy Day Hikes:
Related: Complete Guide to hiking in the rain
Old Growth Forests
Mt Rainier National Park is home to some seriously ancient Douglas Fir, Western Red Cedar and Western Hemlock trees. Some are over a thousand years old! Good places to see old growth trees in the park include Grove of the Patriarchs and the Eastside Trail (note: check the road status for access to the trailhead as the roads on the east side of the park are closed from sometime in November until May) and the Twin Firs Trail near Longmire.
Another excellent place for old growth forest in Mt Rainier is the Carbon River Trail, which also includes some lovely waterfalls.
The road to Longmire and Paradise is open all year (unless a storm closes the road temporarily). The Twin Firs trail is less than a mile. If you want to do a bit more walking you can add another mile by going around the Trail of the Shadows trail at Longmire, or if you want even more walking you can walk either direction on the Wonderland Trail.
Waterfalls
Waterfalls are awesome in any weather and have a lot more water when it's rainy or in spring when snow is melting fast. Narada falls has a large parking lot about five miles before you get to Paradise. In winter, snow covers the short and steep trail but you can still check it out from the top! If it's snow free, walk down to the bottom to get the full view and a little waterfall spray!
The Eastside Trail mentioned above has lots of waterfalls too!
Another beautiful waterfall between Longmire and Narada Falls is Christine Falls, which can be viewed from another short trail (which will be snow covered as well in mid winter). Christine Falls passes under a picturesque bridge. If it's snow free and you'd like more of a hike, you can hike two miles to Comet Falls, another gorgeous waterfall winner!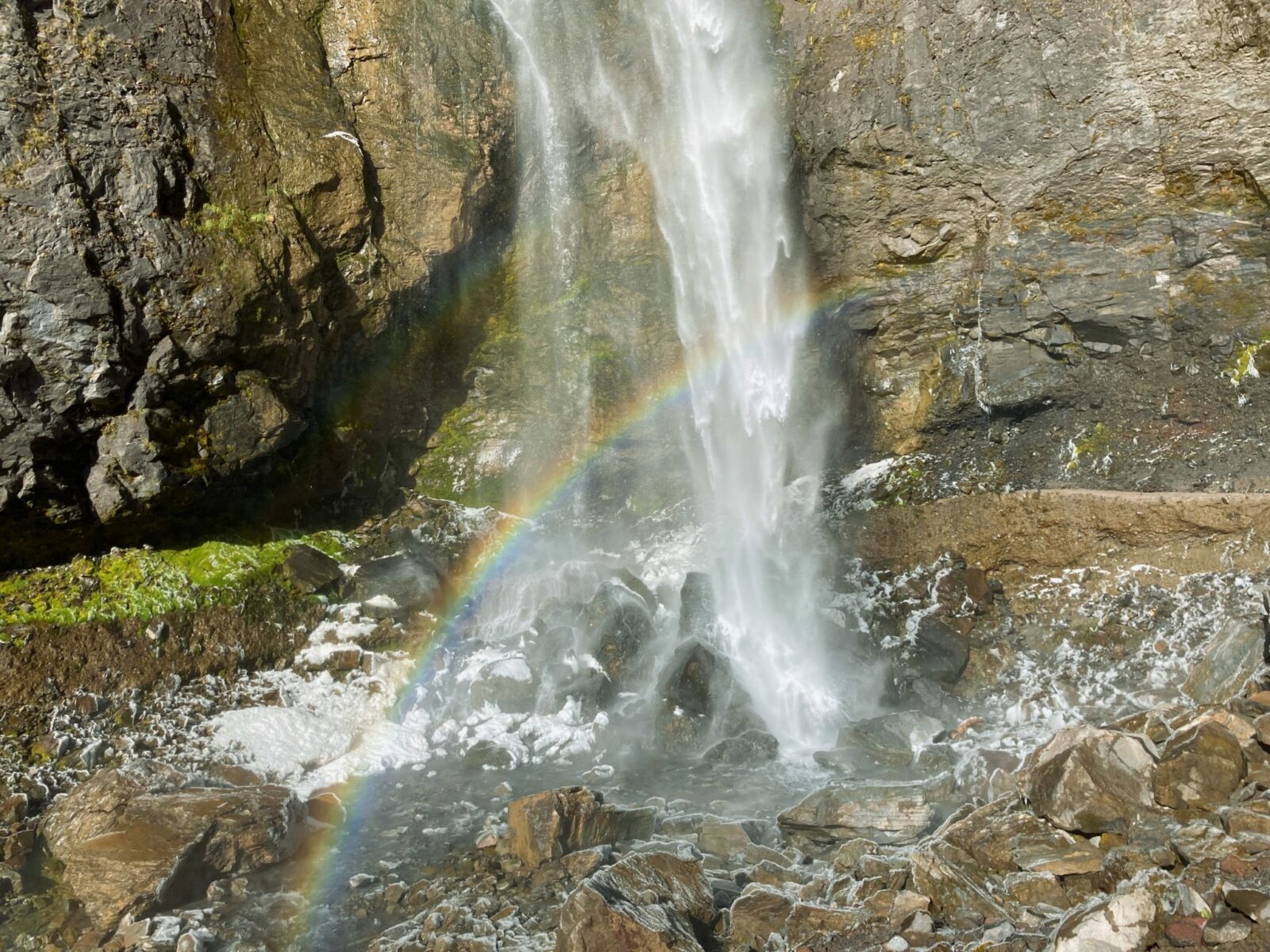 Wildflowers
Paradise is known for it's in-your-face views of Mt Rainier and it's stunning wildflowers. Don't let clouds, rain or fog stop you from a visit! In Late July and August, the wildflowers are amazing even if you can't see the mountain. In September and October, the fall colors are gorgeous. If it's snowy (all winter and often through June) you can enjoy some snowshoeing and getting out on the snow. I have had some super fun days in the fog up there!