Blue Lake Larch Hike in the North Cascades
Posted On October 8, 2017
Last Updated on January 13, 2022
Looking for one of the shorter trails to get to the gorgeous fall larches in the North Cascades? If you've already done Cutthroat Lake, or you just want a little more climbing then it's time for the Blue Lake Larch hike! This hike pairs well with a day or weekend trip to North Cascades National Park.
It's a long drive, but a fantastic hike and worth every minute (to make the drive easier you could stay in Mazama or Winthrop, or camp at Pearrygin Lake State Park, as we did on this trip). It's 4.5 miles round trip, with about 1000 feet of elevation gain, which is fairly steady along the trail, never extremely steep.
Blue Lake is on the homeland of the Nlaka'pamux and Okanagan people.
Parking Pass: Northwest Forest Pass
Dog Friendly: Yes, on leash
Cell phone coverage: None. There is no coverage on the highway either.
Restrooms: There is a pit toilet in the parking lot at the trailhead.
Accessibility and Mobility: This is a shorter hike, but there is a significant amount of climbing and some rocky and rooted sections.
Related: What to wear for a hike in the Pacific Northwest, what to bring on a hike in the Pacific Northwest
Is the Blue Lake Larch Hike right for me?
If you love larches, alpine lakes, mountain views and you appreciate shorter hikes, this hike is for you!
Even when the larches aren't changing, the summer views of the surrounding mountains are truly spectacular and the lake is beautiful. There are some rocky sections near the top, which is good to be aware of.
When is a good time for the Blue Lake Larch hike?
If you want to see the spectacular golden larch trees then the very end of September or first half of October is a good time for this hike. It could come with a dusting of snow so make sure you have everything you need for a day hike, especially warm clothes!
After mid October it will become more and more likely that this trail could be blocked by snow. When the North Cascades Highway opens in late May, this trail is still snow covered. July, August and September are also good times for this gorgeous hike, even without the larch colors.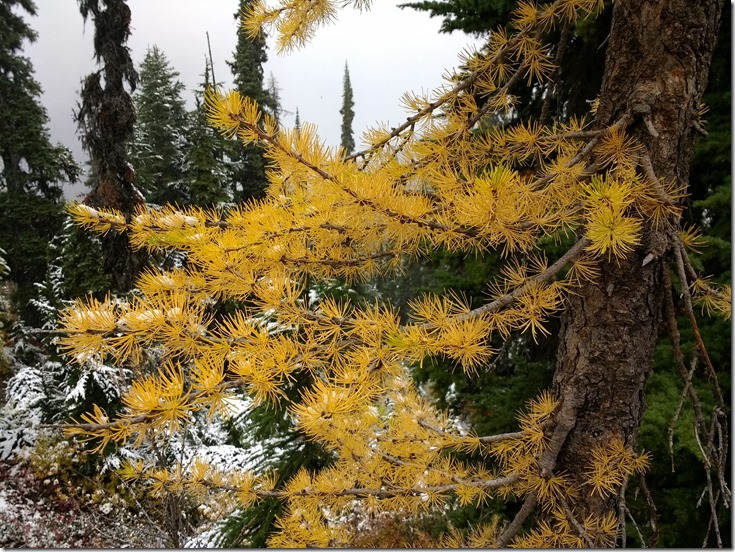 Where is it?
The Blue Lake Larch hike trailhead is located between Rainy Pass and Washington Pass on the North Cascades Highway. The trailhead is on the south side of the road and is well signed.
Trail Description
The hike starts in the forest and slowly climbs through it. Once you get about halfway up the views start to open up and you can see mountains above you as well as across the valley. Wildflowers are beautiful here if you are here earlier in the summer. At this point the larch trees start to mix into the evergreen trees, making a beautiful mix of colors.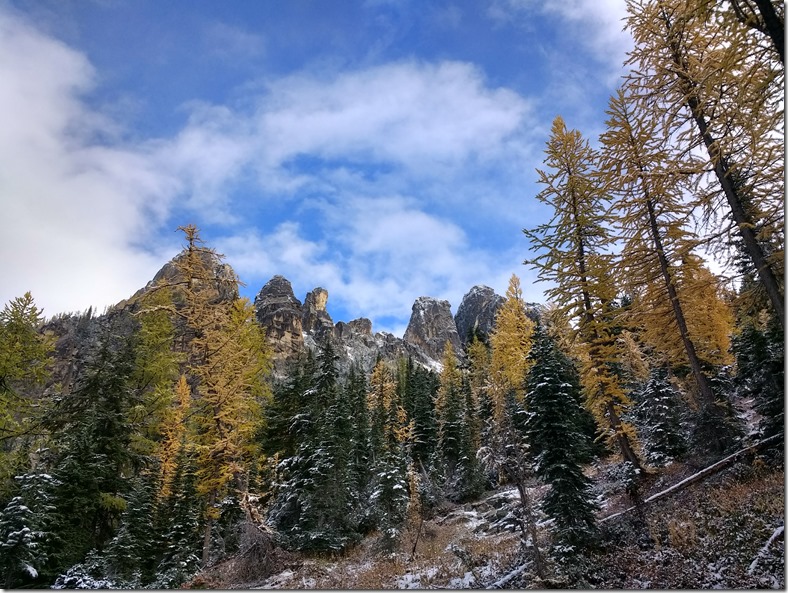 You'll be going slowly through this section taking pictures every few minutes of the amazing mountain views all around you! While you're taking in the view, make sure to watch where your feet are also as there are some rocks in this section. When you get close to the lake, you'll cross a wood bridge over the Blue Lake's outlet, and then you're there! There's a broken down cabin nearby and more gorgeous views. Even on a foggy day the lake is still gorgeous and so are the trees!

Once you've taken in the lake and the view as long as you like, head on back the way you came to your car.
Breweries and Bakeries near Blue Lake
There aren't any services of any kind near the trailhead. There are lots of great options in Winthrop, about 45 minutes away. In Winthrop, check out the Old Schoolhouse Brewery for beer and the Rocking Horse Bakery for coffee, soups and sandwiches! Looking for pizza? Check out East 20 Pizza.
Electric Vehicle Charging
The closest fast charging is 100 miles away in Burlington, which is too far for the range of my Nissan Leaf. If you have a vehicle with a much longer range then you might be able to do it!