Fall Backpacking Lake Ingalls and Headlight Basin
Posted On October 3, 2018
Last Updated on November 9, 2023
Fall backpacking Lake Ingalls in the Alpine Lakes Wilderness is an annual tradition for me. Late September or early October when the larches are turning golden is the perfect time. You can't actually camp at Lake Ingalls, but you can at Headlight Basin. You pass through Headlight Basin on the way to the lake and it's a better place to camp anyway. This is a magical place among the golden larches with expansive views of Mt Stuart across the valley and one of the best hikes in Washington and one of the best larch hikes in Washington. Sometimes I set up my camp and then go up to the lake and back before dinner. Other times I like to just relax at camp and soak in the fleeting magic of fall.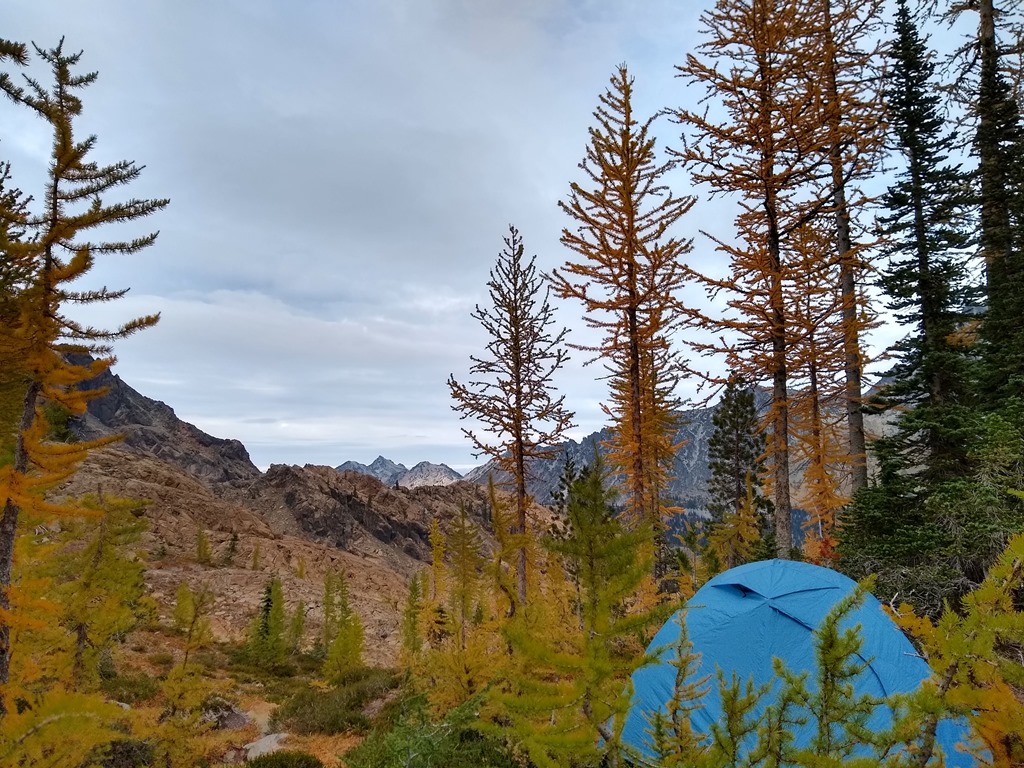 This is a challenging trail with 2500 feet of elevation gain over a bit over four miles (to Headlight basin). Make sure that you have lots of food and water for the trip (along with the other 10 essentials of course).
Lake Ingalls and Headlight Basin are gorgeous in the fall but are also extremely crowded. If you're looking for an alternative fall backpacking trip, try Lake Stuart. It has similar history and is a similar length with a bit less climbing and you need a permit for the Enchantments Lake Stuart zone. If you don't want to navigate the permit system and don't mind a longer drive to a more remote area, try a backpacking trip along the Pacific Crest Trail near Grasshopper Pass.
Headlight Basin and Lake Ingalls are on the homeland of the Yakama people.
Parking Pass: Northwest Forest Pass
Dog Friendly: No, dogs are not allowed on this trail
Cell phone coverage: None (also no coverage along the forest service road to get there
Restrooms: There is a pit toilet in the parking lot at the trailhead.
Accessibility and Mobility: The trail is in good condition though it is steep at times. There is a section where the narrow trail cuts across a steep slope, which may be uncomfortable for those afraid of heights. Between the pass into Headlight Basin and Lake Ingalls, the trail can be confusing to follow and involves some rock scrambling.
Is Fall Backpacking at Lake Ingalls right for me?
This is an amazing backpacking trip, although it is somewhat steep at times. If you're looking for a backpacking opportunity with amazing fall color and incredible mountain views this is for you!
This is also a great day hike, so if you're not a backpacker you can still have a great time (although you'll miss out on the spectacular sunrise from this location and the vast starry sky). If you're backpacking, make sure to bring clothes and gear for a variety of weather. In fall, I've encountered temperatures as high as 75 F during the day and as low as 15 F at night. Make sure to check the forecast and still be prepared with a variety of clothing options.
Headlight Creek goes through the basin, and I have never had trouble getting water there. I've heard in dry years it can be low on water but I have not personally encountered this problem in late September/early October. This is a very popular area, and you'll encounter lots of people on the trail on weekends. There are lots of people camping also but I haven't had any trouble finding a campsite with lots of solitude (I don't know what it's like midsummer, it could be more crowded). You'll see other people but you can find and set up your camp so you forget all about them!
When is a good time for Lake Ingalls?
I've already said that this is an amazing hike in fall when the larches are turning, which is between late September and mid October. This is also a beautiful summer hike although the snow doesn't melt out of headlight basin until late July.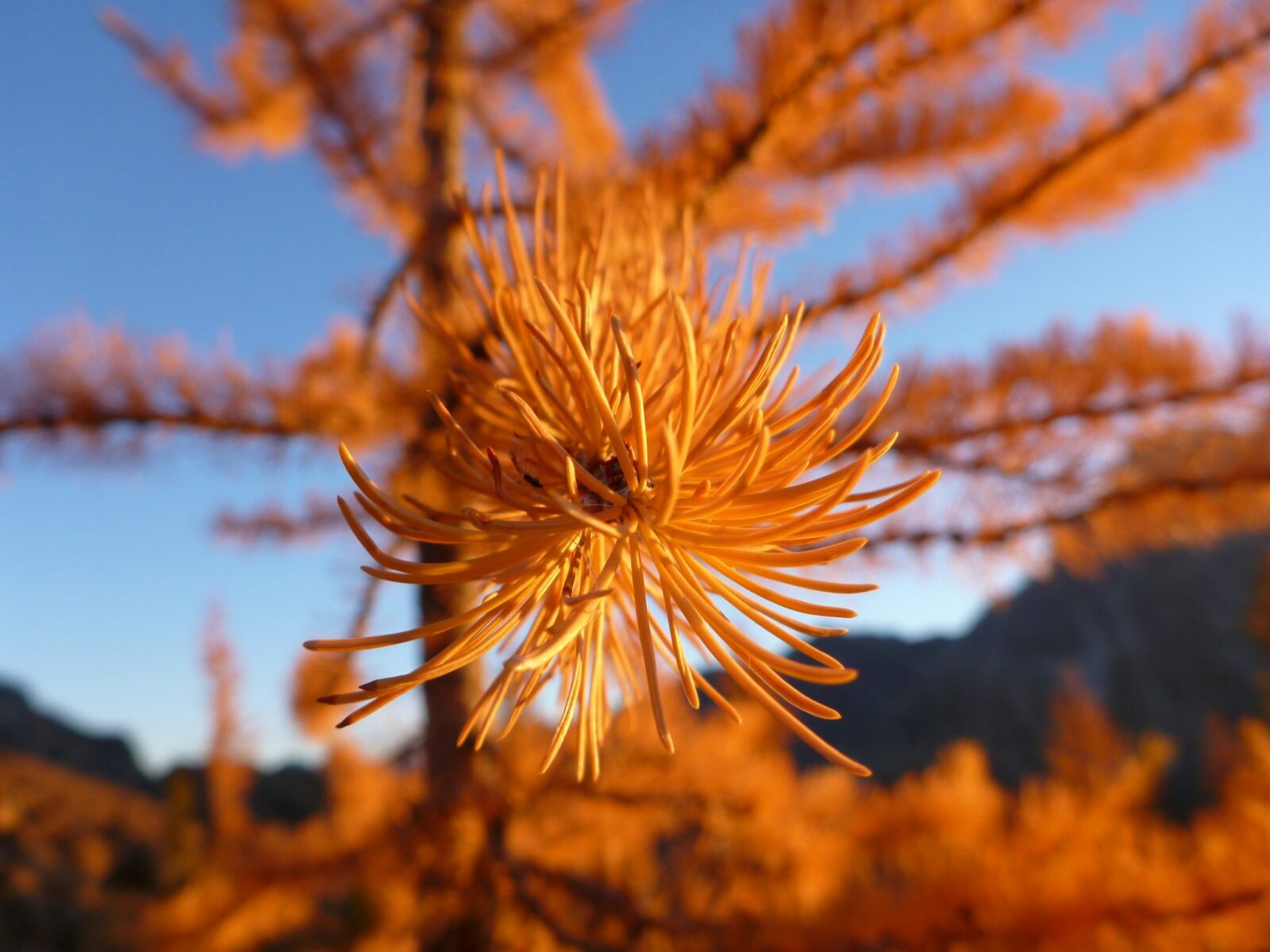 I would recommend this day hike or backpack from late July through mid October.
It is completely possible for snow to come early, even in late September, so keep an eye on the weather and trip reports if you don't want to encounter snow.
Where is it?
Lake Ingalls is located in the Teanaway Valley, near the town of Cle Elum. The trail starts at the end of FS Road 9737, which goes along the Teanaway river through farmland before entering the forest.
From I 90, take exit 85 and follow highway 970 to Teanaway Road where you turn left. Follow this road all the way to the end (it will become gravel and there is one fork where you go right). The trailhead parking lot is tiny and on weekends the trail is very busy so you may need to park along the road (possibly adding a half mile or so onto the hike).
You'll need a Northwest Forest Pass or if you have the National Park Service annual pass that works too.
Trail Description
At the trailhead, register for the Alpine Lakes Wilderness trail permit (free) and start up the trail. The first bit follows Esmeralda Creek and quickly you'll come to a junction with a sign for Esmeralda Basin. That trail goes straight ahead. A right turn leads you towards Lake Ingalls.
You'll climb a couple miles through switchbacks in the forest (lovely fall color on the bushes and shrubs too) and then reach a junction with the Longs Pass trail (it goes right, you'll continue straight/left). This junction has some big rocks and is a nice opportunity to stop for a snack and take your pack off for a few minutes.
On the trail again, you'll pass through a rocky area with lots of pikas! Listen for their loud "MEEP!" sound to keep your eyes out for them. Next you'll traverse a couple of steep and exposed sections so use extra caution and pay attention to people coming the other way. Move to the side where you can. Views start to really open up here as you climb through more open areas. The trail steepens and gets rockier with increasing views of distance mountains and near the top, Mt Rainier.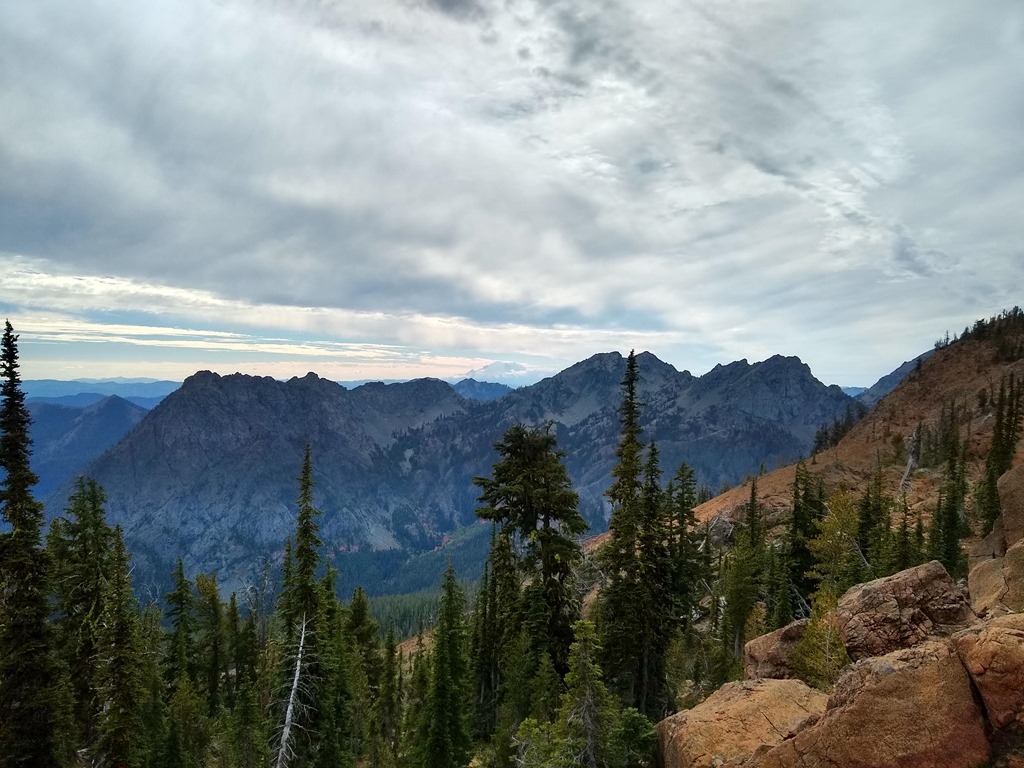 In just under four miles, you'll arrive at Ingalls Pass. Here you'll start to see larches all around you and now views open up to Mt Stuart and the Stuart range on the other side of the ridge. This is another good place to stop for a break and take in the view! Starting in this area you will likely see goats so stay alert and avoid getting too close and certainly don't feed them (or any wildlife!).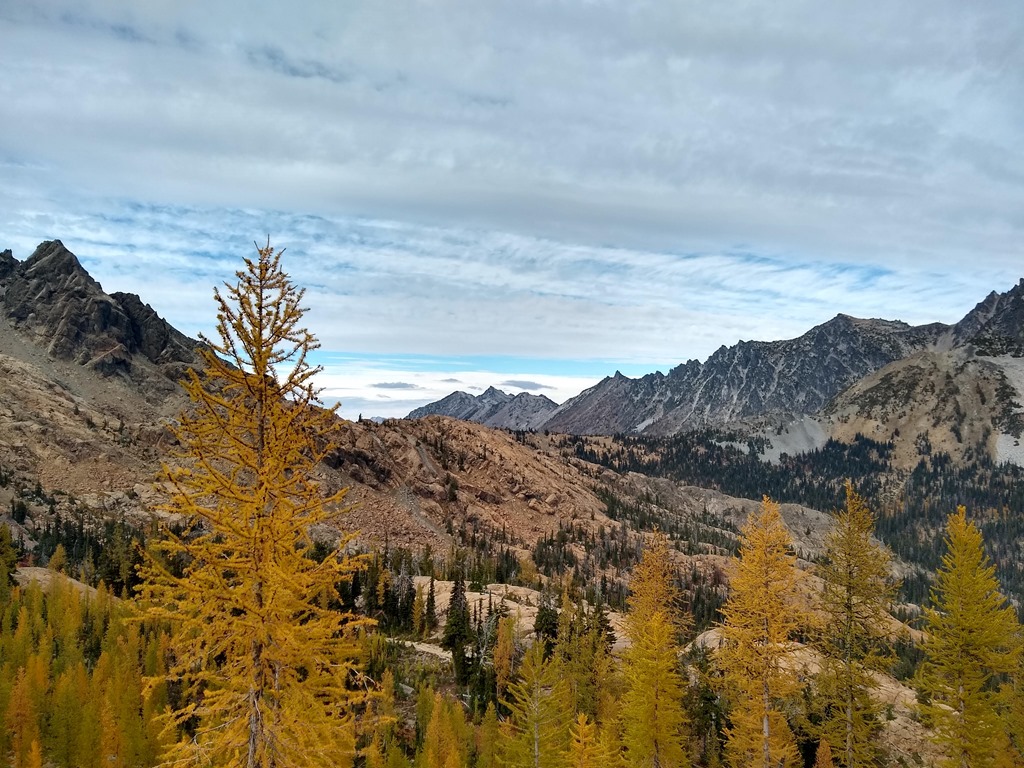 The next mile will take you across and through Headlight Basin, with mountains, rocks, pikas, goats and golden larches all around you! There is a high trail and a low trail. Take your pick which route or camping area looks best to you when you're on the pass. Find a spot to set up your tent and get oriented to the creek where you can get water and the location of the backcountry toilet. The toilet is like an outhouse without walls or a ceiling that has a terrific view as well. There's a sign on the trail pointing to it. Bring your own toilet paper!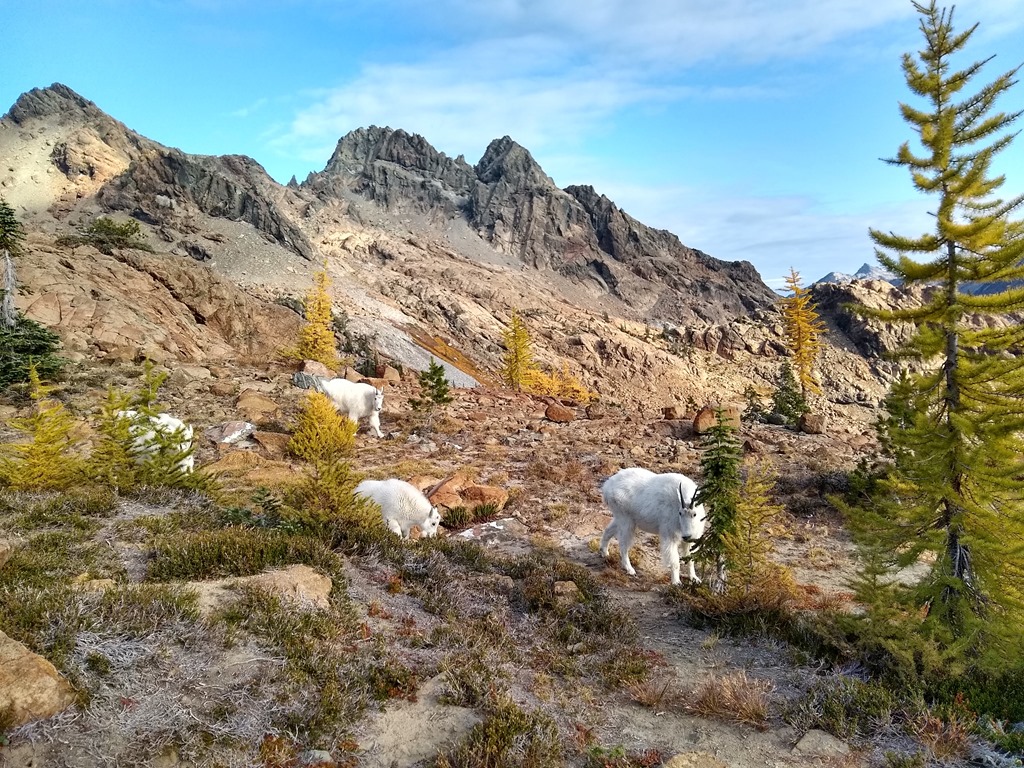 You can head on up to the lake and check out one of the prettiest lakes in the Cascades, or you can just get your novel or sketch book out and take it all in. If it's a clear night, this is a spectacular sky watching location so don't hesitate to bring out your pad and sleeping bag (a great way to stay warm star watching on a cold night!).
The sunrise from this location is amazing and worth setting an alarm for if the sky is clear. When you're ready to pack up your camp, head back down to your car the way you came.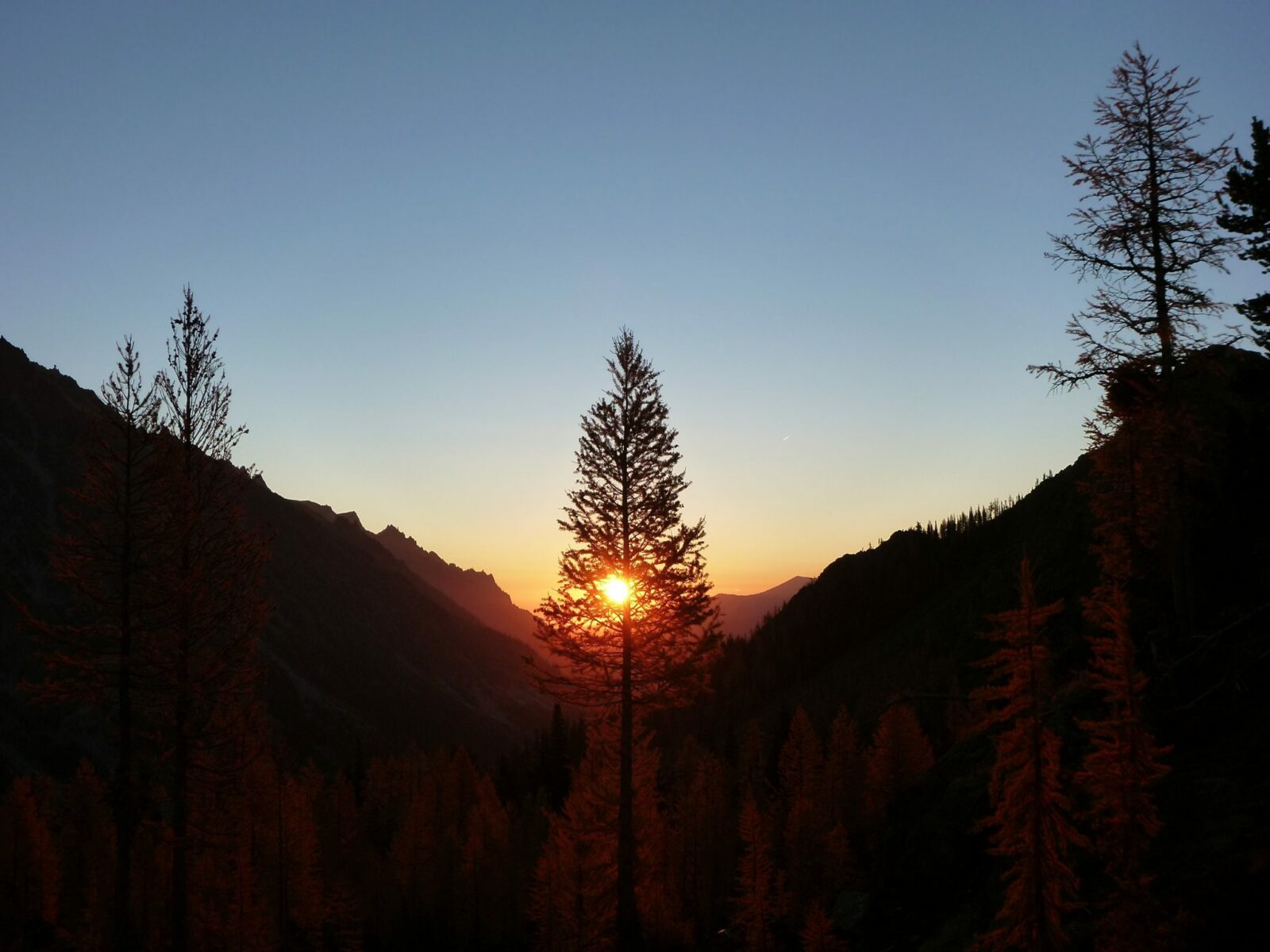 Breweries and Bakeries near Lake Ingalls
Fabulous coffee, pastries and breakfast sandwiches await you at Pioneer Coffee Company in Cle Elum. If you're looking for a post-hike beer, grab one at Dru Bru along with a pizza from the amazing pizza truck out front. Grab your burger at the insanely popular Twin Pines Drive In on the edge of Cle Elum.
Electric Vehicle Charging
The nearest fast charging for (CHAdeMO and Tesla) is at Suncadia Resort just west of Cle Elum.