Comet Falls: Dramatic Waterfall Hike in Mt Rainier National Park
Posted On November 2, 2020
Last Updated on January 13, 2022
Comet Falls is one of the most dramatic and beautiful waterfalls in Mt Rainier National Park. It's also on a trail with multiple waterfalls to see along the way, not just one! You can extend the hike further to a wildflower meadow. A steep hike with up to 1500 feet of elevation gain in four miles round trip, this hike has big rewards!
Mt Rainier National Park is famous for it's volcanic peak, Tahoma, or Mt Rainier, but there's so much more to see in this park! Mt Rainier National Park has incredible old growth forests, waterfalls and wildflowers in late July and early August.
Mt Rainier National Park is the homeland of the Yakama, Puyallup and other Coast Salish people.
Parking Pass: Mt Rainier National Park entrance fee, $30. There is not a fee booth but you can pay at the machine at the Paul Peak Trailhead along the Mowich Lake Road. If you have an America the Beautiful Pass, display it instead.
Dog Friendly: NO. Dogs are not allowed on trails in Mt Rainier National Park.
Cell phone coverage: None.
Restrooms: None
Accessibility and Mobility: The trail is overall in good condition. There are stairs at the beginning of the hike and a couple of single log bridges without handrails. There are also some roots in parts of the trail.
Related: What to wear for a day hike in the Pacific Northwest, What to pack for a day hike in the Pacific Northwest
Is the Comet Falls hike right for me?
Don't let the relatively short distance of this hike fool you. This hike is definitely challenging. It has some very steep sections and it has some sections of stairs, rocks and a few rooted parts. Some of the steps are really high and can be difficult to climb up. If you're short like me, hiking poles are a big help! Use your hands if needed to help you up these sections.
That said, the shorter distance means you can take your time and there are lots of things to see along the way, including a gorgeous forest, multiple other smaller waterfalls and a view of Mt Rainier.
I recommend checking the trail conditions at Mt Rainier or the Washington Trails Association trip reports to learn when the trail becomes snow free (often late July) and if any of the log bridges are out or damaged.
If you love waterfalls then you don't want to miss Comet Falls!
When is a good time to hike to Comet Falls?
Comet Falls is not normally accessible until the end of July due to the heavy amount of snow on this trail. August and September are the best months for this trail, although if the snow doesn't come early to the high elevations this can be a spectacular October hike.
If you are considering continuing up the trail beyond Comet Falls to Van Trump Park (which has excellent wildflowers in season), plan on the end of July or early August.
This is a trail that can be enjoyed in any weather, although Comet Falls is extra gorgeous when you see the top of it against the blue sky between evergreen trees! There is also a view of Mt Rainier in one spot along the trail when it's clear.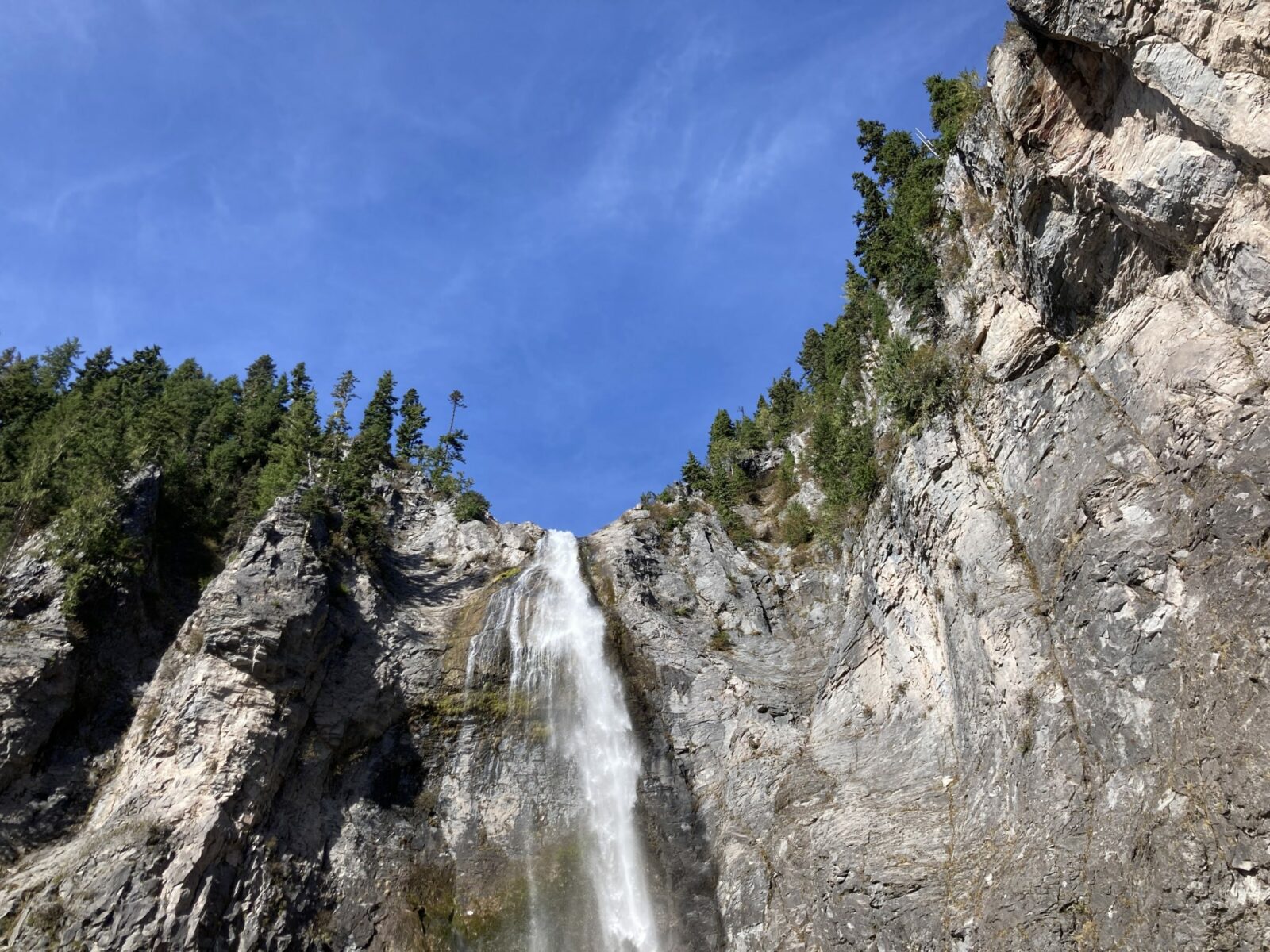 One note about crowds. Mt Rainier National Park is extremely crowded in July and August, especially Friday through Sunday. The area where the Comet Falls trailhead is located, along the road to Paradise, is particularly busy. On top of that, there is only room for about 15 cars in the parking lot and a few more along the opposite side of the road in a couple of places. If you are here on a weekend in July, August or September parking may be impossible.
My recommendation for this is to go for a late afternoon or evening hike (depending on when you come and how much daylight we have). Another option is to come on a weekday, which will still be busy but not quite so intense. You can also go for a weekend later in the fall if the snow holds off.
Where is Comet Falls?
Comet Falls is located in Mt Rainier National Park, near Longmire. To get there, head to the Nisqually Entrance of Mt Rainier National Park (the southwest side, near the town of Ashford).
After paying the entrance fee, drive through Longmire and the National Park Inn. About 4 miles beyond Longmire, look for a parking area on the left. It's more like a large pullout than a trailhead parking lot. There is a seasonal trailhead sign near the wooden stairs at the start of the trail.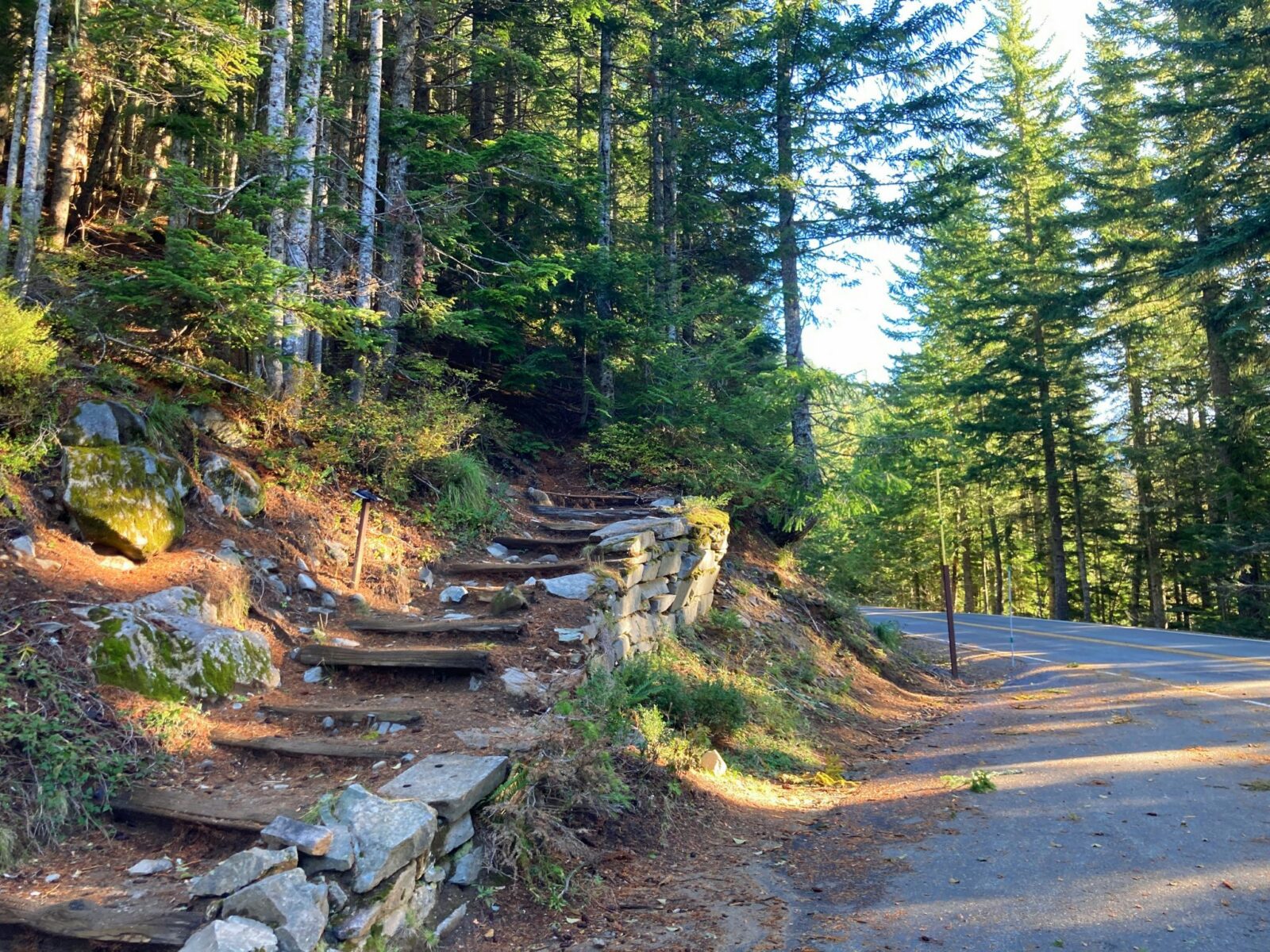 There is not a pit toilet or any facilities at the trailhead, so stop for the restroom at either Kautz Creek Trailhead or Longmire!
Drive time from Seattle is between 2 and 2.5 hours.
Comet Falls Trail Description
The Comet Falls trail starts climbing right away through a gorgeous forest. You'll hear the roaring of Van Trump Creek throughout most of your hike. The roar of the creek gets louder and quieter depending on how close you are to it or many of it's smaller waterfalls. In less than half a mile, you'll cross an impressive and solid log bridge over Christine Falls.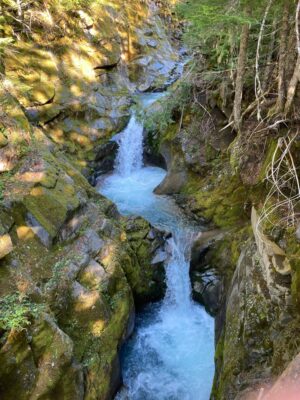 If you look below, you'll see the road and likely people looking at Christine Falls from below. There is a viewpoint of Christine Falls from below which you can check out before or after your hike.
Continuing on, you'll continue to hike through the forest with Van Trump Creek now on your left. You will also pass through some talus (rock) slopes, with beautiful vine maples in October. About a mile, approximately halfway, you will have a view of Mt Rainier ahead of you if the mountain is "out" as you cross a rocky slope.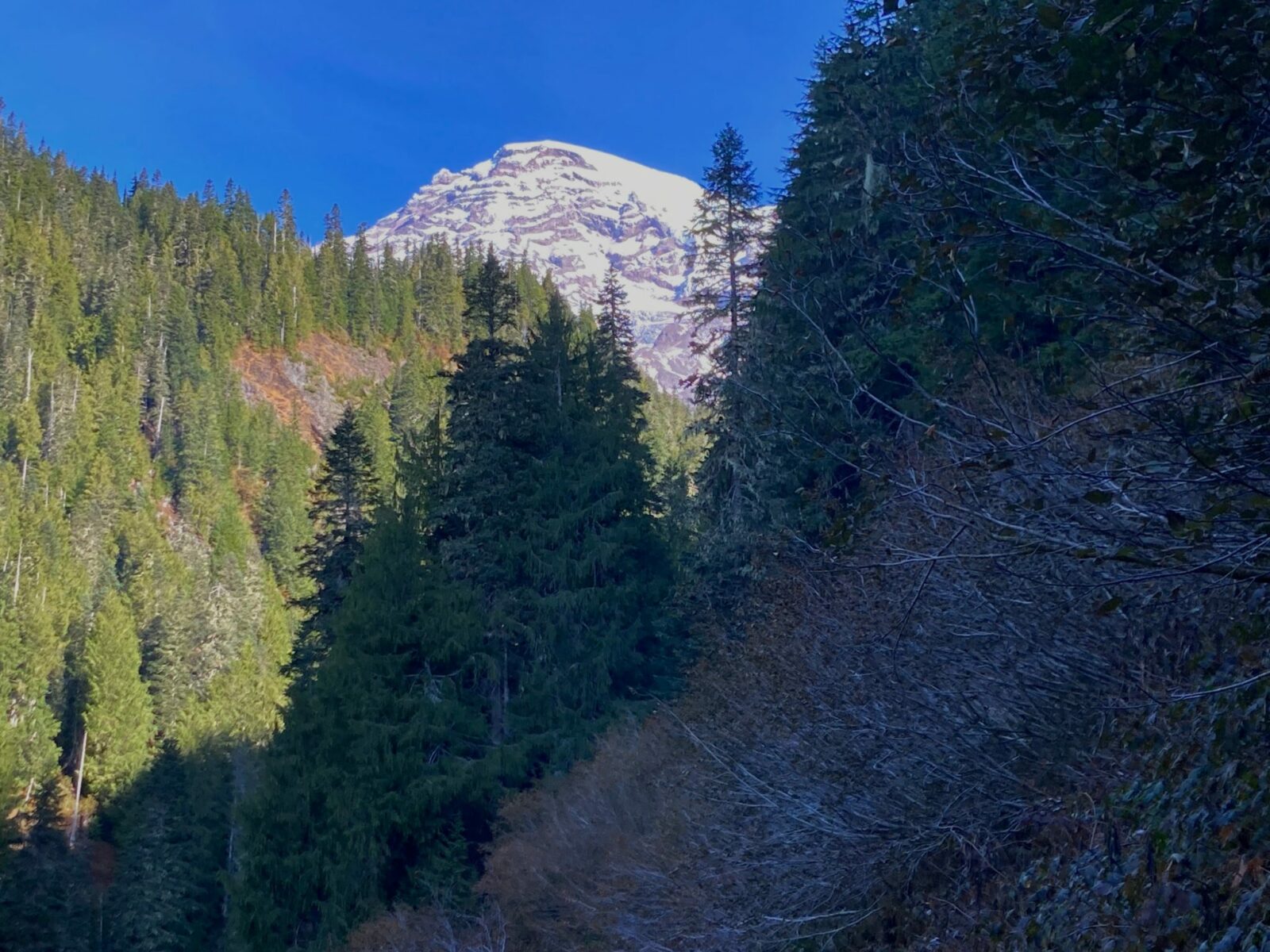 Just after this, you'll come to a steep spot that is something between stairs and a ladder. Take a moment to be impressed by the construction which allows you to safely get over a particularly steep section.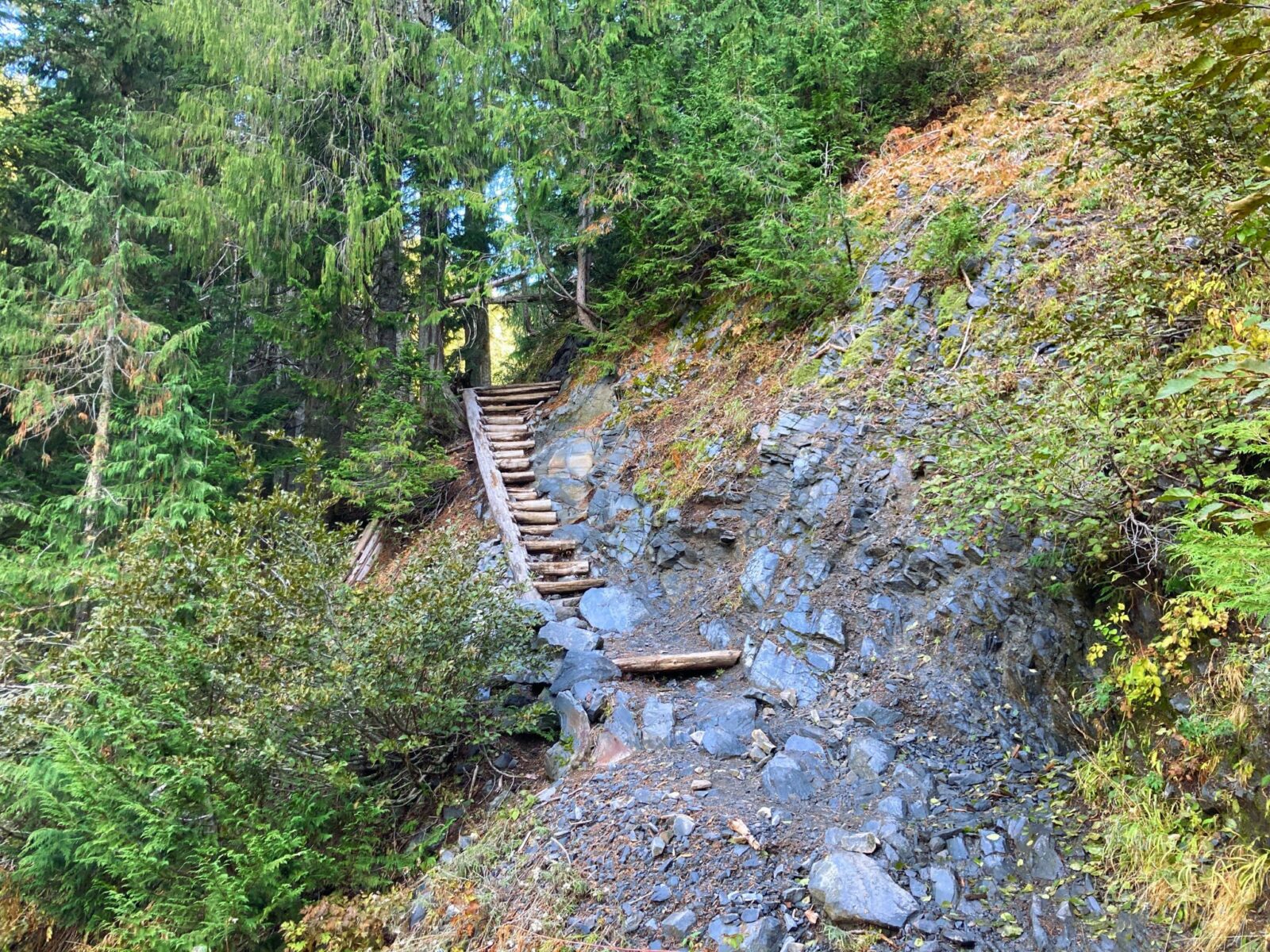 Just beyond that, you'll see yet another beautiful waterfall and then just under a half mile later you'll cross another creek flowing into the creek on your left. Look right here for a view of gorgeous Bloucher Falls.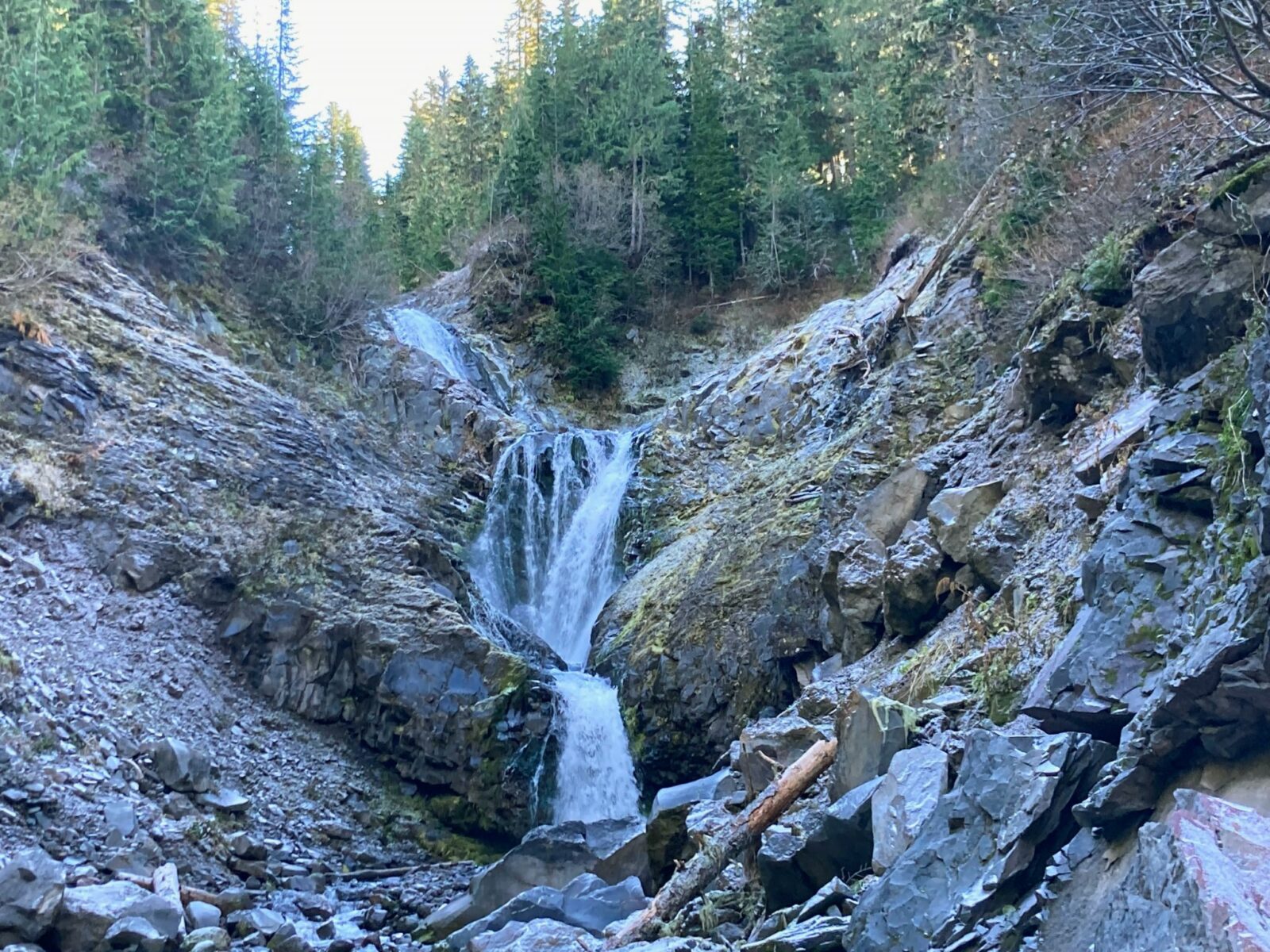 Here you'll cross the creek on a single log bridge. This bridge is not high, but it is narrow and goes over rushing water. There's a single log handrail you can use to help you across. If it's icy, use extreme caution!
Just after the bridge you'll get your first view of the spectacular 320 foot drop of Comet Falls. There are some wide picnic spots here and you can turn around at this point if you like, just under 2 miles from your car.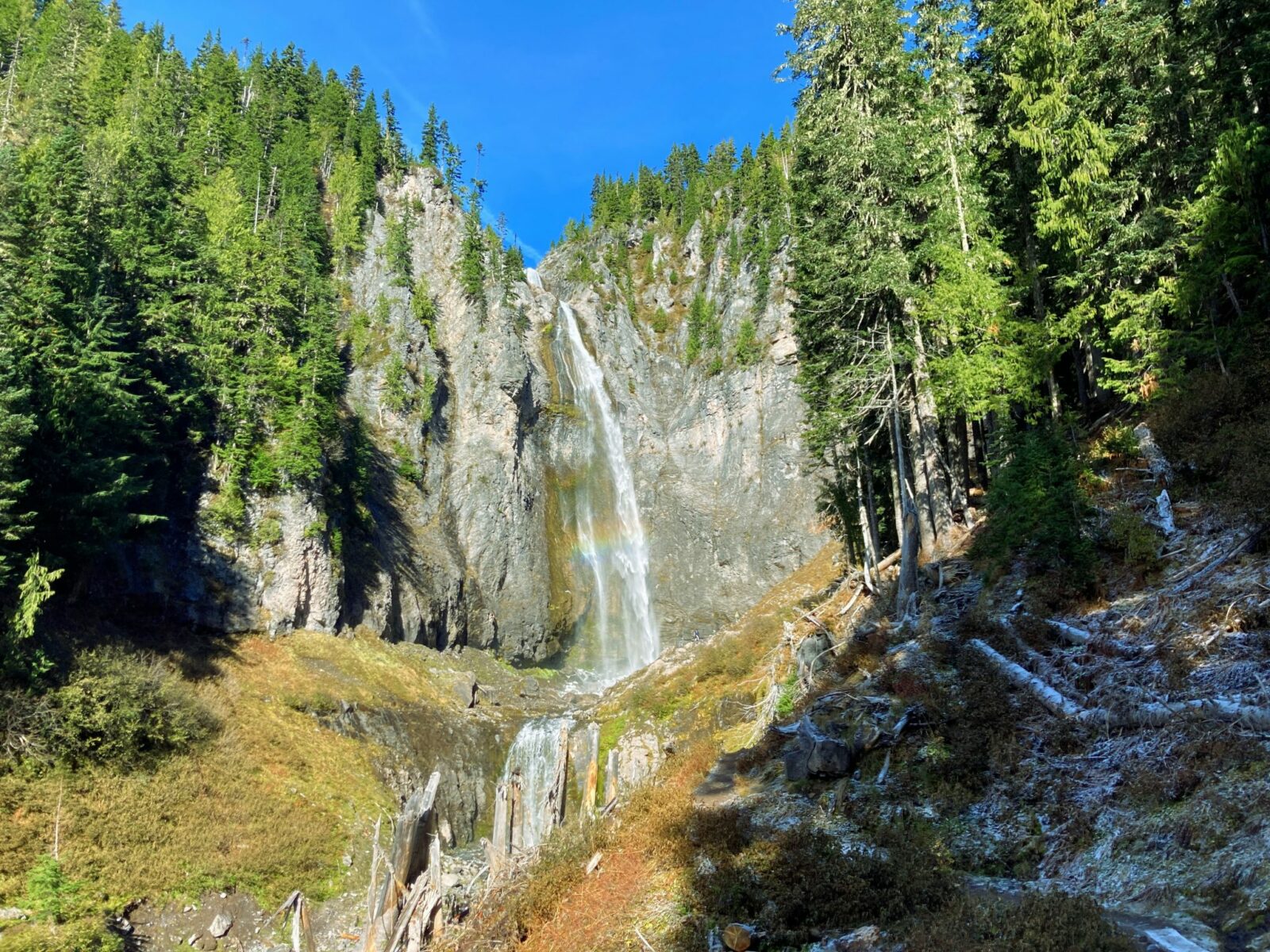 If you're up for going half a mile further, an even more dramatic view directly under Comet Falls awaits. You'll climb a bit more and cross another single log bridge (this one does not have a handrail). At the point of a switchback you'll be at the base of Comet Falls!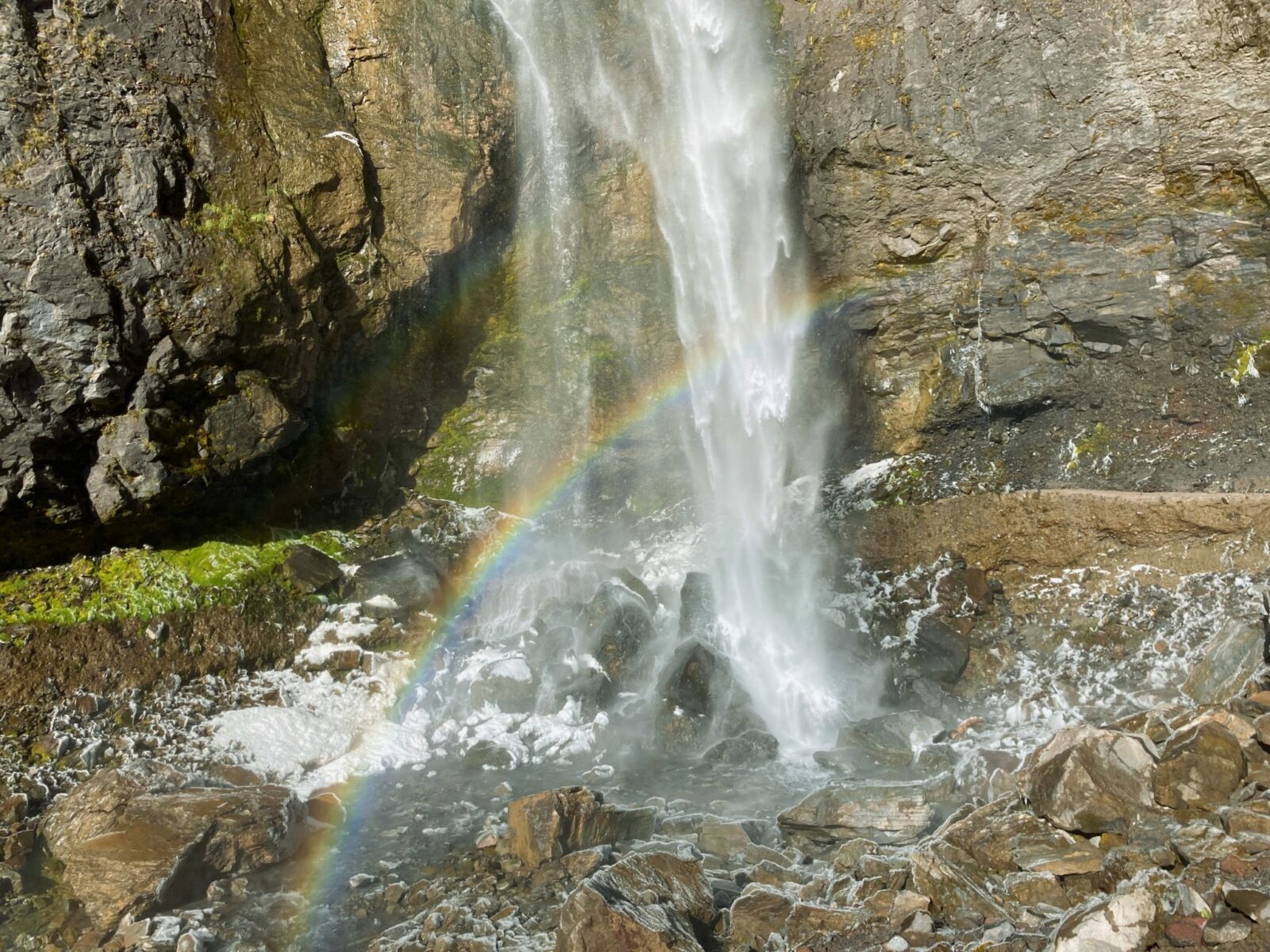 There are several good lunch rocks here. Stay awhile and soak up this amazing waterfall and possibly some of it's spray. Midday sun often creates lovely rainbows across the base of the falls. Do not attempt to climb down to the base of the falls, there is a significant rockfall hazard in addition to the crashing water and slippery rocks.
This makes an excellent turnaround point if your destination is Comet Falls. If you want to go farther, you can continue up the trail to Van Trump Park. From here, the trail is goes up very steep terrain, gaining another 1100 feet in one steep mile. Van Trump Park is filled with wildflowers in late July and early August. Just before Van Trump Park there is a trail junction with the Rampart Ridge Trail, which goes to Longmire.
Bakeries and Breweries nearby
You can grab a meal on the deck (or inside) at the National Park Inn at Longmire. If you're a fan of pie, don't miss out on the Wildberry Restaurant (they also have beer and wine and a full menu) between the park entrance and Ashford.
Looking for that classic post hike burger or pizza with beer? Find it at the Rainier Basecamp Bar and Grill in Ashford.
Another popular post hike stop is Scaleburgers in Elbe, which is a walk up window with really good burgers! There is a semi-permanent fruit stand in the summer in Elbe too. Grab all your fresh local (from Yakima, just over the mountain) peaches, apples, nectarines, cherries and more.
Electric Vehicle Charging
I am SO ready for Mt Rainier National Park to install EV chargers! Until that happens, the closest fast charging is in Puyallup, almost 70 miles away. That's outside the range of my Nissan Leaf, but if your EV has a longer range you can figure out on Plugshare if you can make it.