Snowshoe Pacific Crest Trail North from Snoqualmie Pass
Posted On February 20, 2019
Last Updated on December 7, 2020
If you're looking for a close to Seattle, no trail pass needed, relatively safe from avalanches winter snowshoe, snowshoe Pacific Crest Trail north from Snoqualmie Pass! This trail is also known as the longer outing to Commonwealth Basin though I have never gone beyond the first couple miles. I am super conservative about avalanche danger and about two miles up it crosses a more open area that I'm not comfortable with. It's always important to be aware of avalanche danger as well as weather and road conditions when snowshoeing, but the first couple miles along this trail are relatively safe winding up a forested hillside. There are lots of advantages on this trail, but it does NOT have views (at least in the first two miles which is as far as I've gone). If you're looking for more views, check out one of these other beginner snowshoe outings.
To get started, drive to Snoqualmie Pass and park anywhere you can at Summit West. Parking is free, but you may have to walk a little bit. Cross under I90 and then you'll see a trail along the road on the right. After a short distance, you'll see an unplowed road on the right, go up the road to the summer trailhead to snowshoe the Pacific Crest Trail north from Snoqualmie Pass. Directly across the street is another closed road which goes down to Franklin Falls.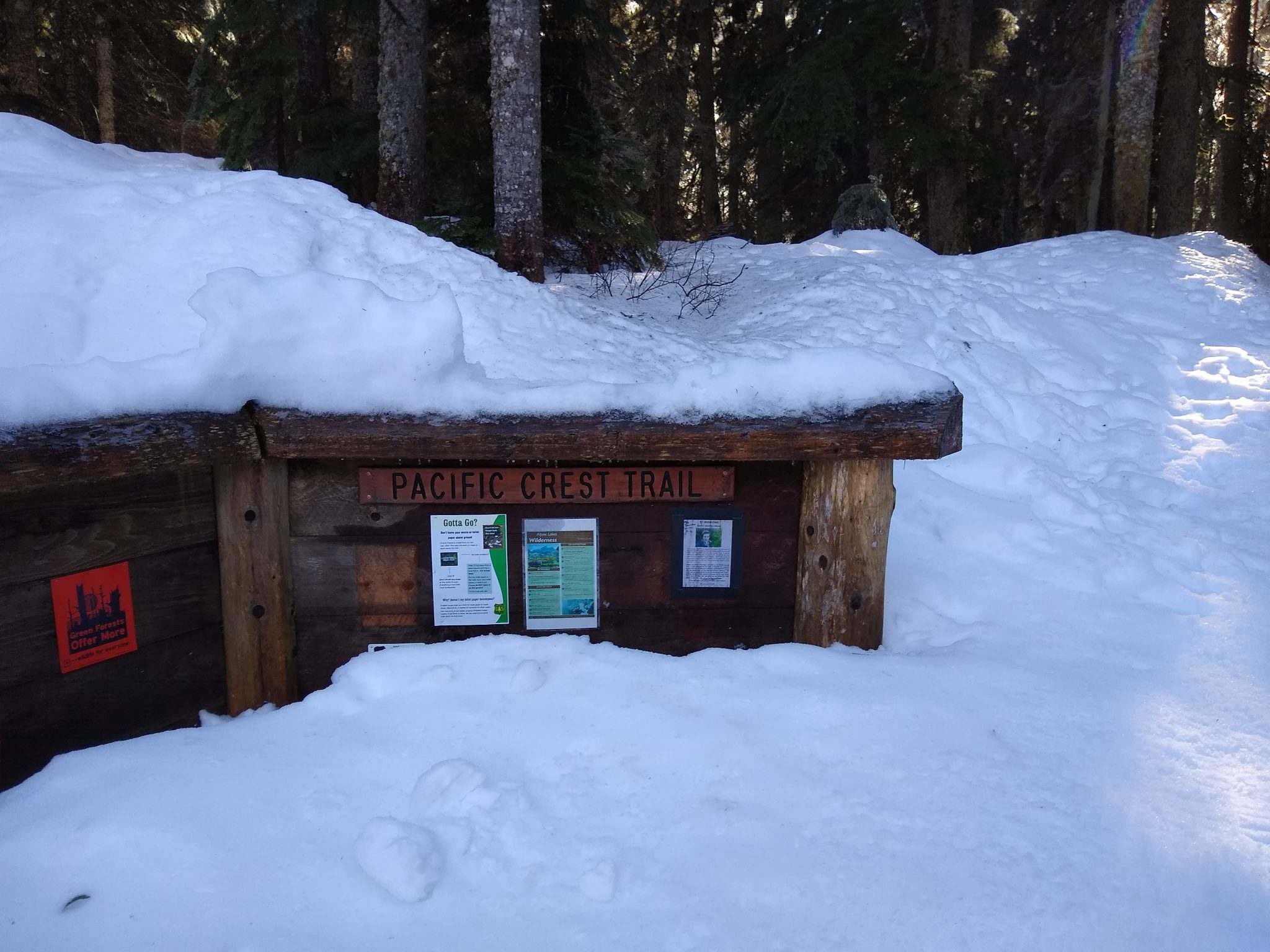 Be aware that the summer outhouse at the trailhead is closed (and mostly buried) so you don't count on being able to use it (there is WSDOT rest area at Snoqualmie Pass so you can use before you park).
Once on the trail, the trail climbs steadily but not too steeply up the hillside. There are several stream crossings, depending on the conditions you may need to walk a few feet across the stream either with or without your snowshoes on (keeping them on is a little sketchy but doable if you're very careful). About two miles in you'll approach a slope which is where I turn around (you can also turn around sooner if you're ready). This makes for an out and back outing of approximately 4 miles with about 800 feet of elevation gain.