Oyster Dome Loop Hike near Bellingham
Posted On May 29, 2019
Last Updated on April 17, 2023
Oyster Dome is a fantastic view hike near Bellingham through a peaceful forest to a spectacular view of the San Juan Islands. There are a few ways to do this hike, I like to do a loop from the Samish Bay Overlook that is about 6 miles with 1300 feet of elevation gain. The route I'll describe here is a bit longer at 6 miles to do the loop.
Oyster Dome is on the lands of the Lummi, Skagit and other Coast Salish people.
Parking Pass: Washington State Discover Pass
Dog Friendly: yes, on leash (watch out close to the edge when you're on top!)
Cell phone coverage: There is some cell service on most of this hike, however there are some dead spots in the back half of the loop near Lily Lake and on Max's shortcut in the route described here.
Restrooms: Pit toilets at trailhead.
Accessibility and Mobility: This hike has some significant roots and rocks, especially on the first part of the loop as I describe it. Some sections are steep while others are a more mellow grade. There is usually some mud to navigate along this trail.
Related: What to wear on a day hike in the Pacific Northwest, what to bring on a day hike in the Pacific Northwest
Is the Oyster Dome Loop Hike right for me?
If you like loops, awesome views, walking through the forest and want some climbing without too much climbing, this hike is for you! It's near Bellingham, so you can enjoy some time there too! This does involve a few miles of driving on a gravel road, so if you're not comfortable with that you might want to choose a different hike. This is a great early season hike since it's a big view but snow free!
When is a good time for the Oyster Dome loop hike?
You want to do this hike on a day that's clear when you can see the view! Otherwise, this is a good year round hike, as it generally stays snow free all year, or almost all year.
Where is Oyster Dome?
Oyster Dome is near Bellingham, north of Seattle. I'll be describing the drive and the hike starting at the Samish Bay Overlook trailhead. There is another trailhead for this hike on Chuckanut drive, but I think this one is much better! Getting to the trailhead takes about two hours from Seattle if there's not any traffic (don't attempt this on a Friday evening or Sunday afternoon!). Start heading north on I-5, taking Exit 240 signed Alger. Turn left from the off ramp and then left again on Barrell Springs Road. Follow this to Blanchard Hill road and turn right. Follow this road till it dead ends in the parking lot, after turning to gravel (you will also pass, and ignore, a couple other trailheads along the way). You'll need a Discover Pass to park here. Right in the parking lot there are already some great views (which you won't see along the way in the forest until you get to the top) as well as the chance to see paragliders taking off!
Trail Description
To do the loop hike, start off to the left of the restrooms by the horse corral on the Larry Reid Trail. it's a good idea to have a map for this trail so that you know which trail you want at the different intersections. If you don't have a map, don't forget to take a picture of the one at the trailhead! I referred to the map multiple times.
You will cross the road on this trail, and later a clearcut, and then you'll be back in the forest. It's a shady forest trail and after about a mile, the trail splits. Take the left split on the Max's shortcut trail.
You'll continue to climb steadily. After about a mile and a half (2.5 miles from the trailhead), you'll reach another junction near a small pond called Lily Lake.
Here you will go left towards Oyster Dome (signs for Oyster Dome and the Samish Overlook). You'll soon reach another well signed junction where you turn right to climb steeply a short distance to the "dome" which is a big rock with an AMAZING view! Make sure to spend some time here with your lunch and/or snacks and soak up the view. There is even shade from the surrounding trees! Be extremely careful at the edge of Oyster Dome, especially with children and pets as it is a very, very long way to fall. Don't get close to the edge!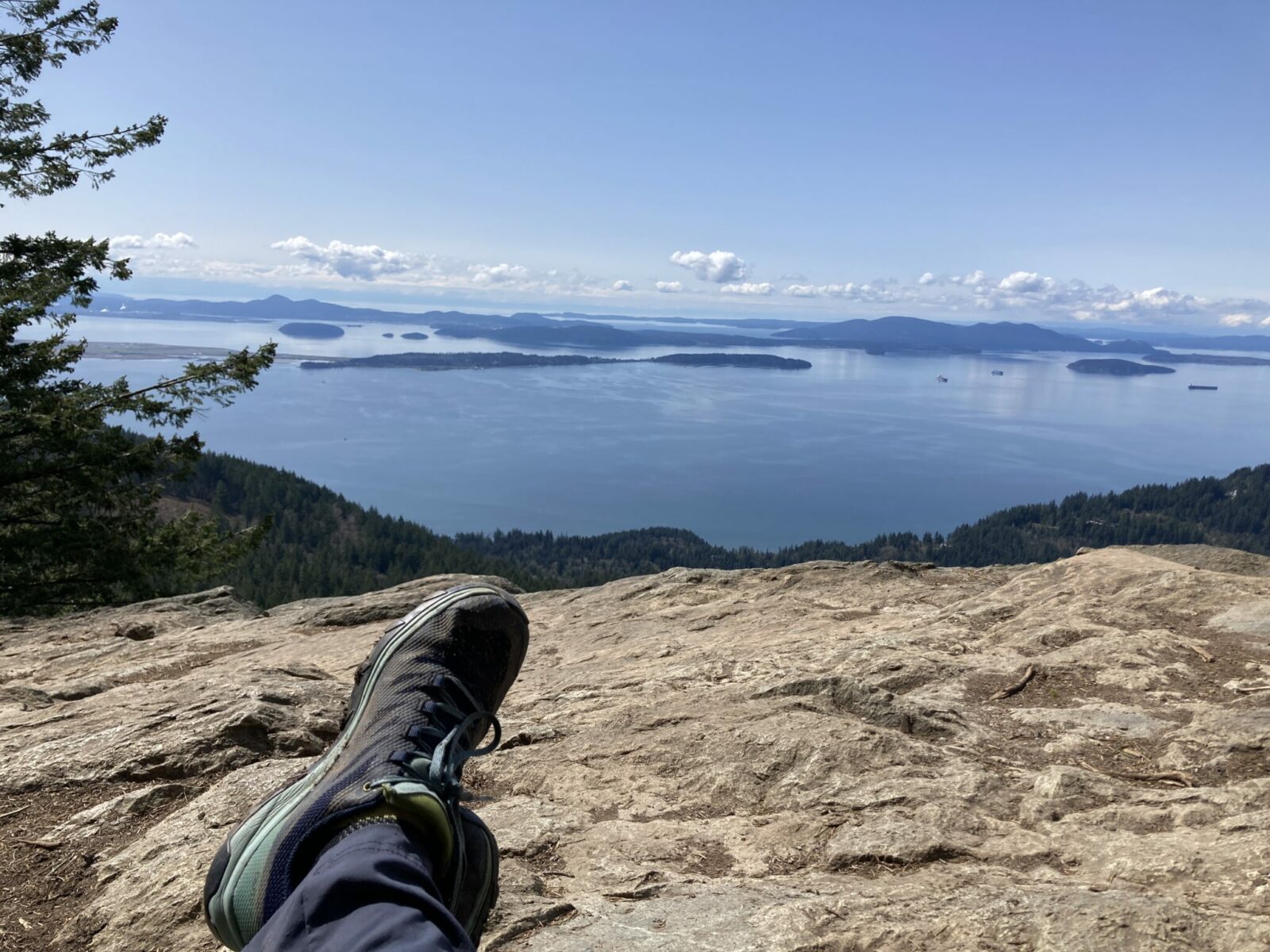 When you're ready to head back down, return down the spur trail, but to do the loop, go right this time (following signs to the Samish Overlook on the Samish Bay trail). This is a steep, switchback downhill through the forest. Just over a mile from that junction, there's another branch and you will go left to complete the short distance back to the parking lot!
If you don't want to do the loop, you can follow the signs to Oyster Dome from the parking lot and go up the way I described to go down here. This would only be about 5 miles and is a bit steeper. You could also return the slightly longer (and slightly less steep way).