Naches Peak Loop Hike: Summer wildflowers, fall colors, epic views
Posted On August 14, 2019
Last Updated on October 2, 2023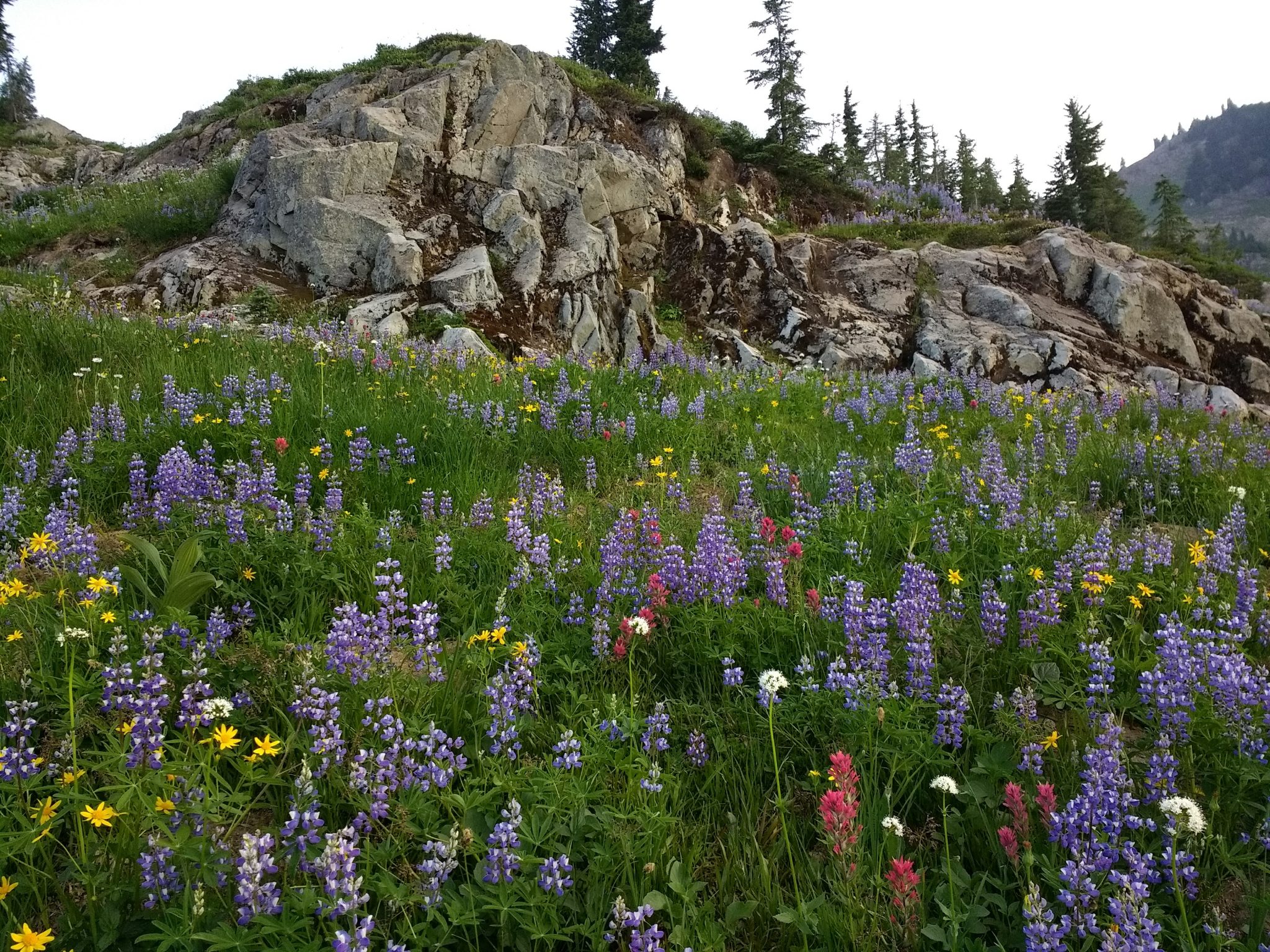 The Naches Peak Loop hike is one of my favorite hikes in Mt Rainier National Park and even in all of Washington State! I've written about it before, including in my post about Mt Rainier wildflower hikes and my post for a day trip to Mt Rainier. This hike is amazing and deserves it's own, dedicated post. It's a 4 mile loop (loop hikes are the best) with about 600 feet of elevation gain.
It has nonstop views of Mt Rainier as well as the surrounding mountains, and wildflowers or fall color that is absolutely incredible! When the wildflowers are out, you may see people walking in the fields for photos, but please don't do this. Staying on the trail is extremely important to protect these fragile and exquisite meadows. You can get amazing photos from the trail.
The Naches Peak Loop is on the homeland of the Yakama people.
Parking Pass: None
Dog Friendly: partially yes, on leash, partially no (see trail description for details). Dogs are allowed on the PCT portion of the trail only.
Cell Phone Coverage: None
Restrooms: There are pit toilets in the parking area at Chinook Pass. On weekends there is often a very long line for them.
Mobility and Accessibility: This trail doesn't have steep climbs, although the last bit of the loop coming down to the car is a bit steep downhill. It is at 5000 feet of elevation which makes it feel a little harder than it is. There are quite a few rocks and roots on the trail in most places.
Related: What to wear for a hike in the Pacific Northwest, what to bring on a hike in the Pacific Northwest
Is the Naches Peak Loop Trail right for me?
If you enjoy a loop trail and amazing scenery then you'll love this hike! If you're looking for something with a lot of climbing or a lot of solitude, this won't be it. You can also do it in just a couple of hours (realistically probably three given how many photo stops you'll be making!) so it will leave you time to do more exploring in other parts of the park.
When is a good time for the Naches Peak Loop Trail?
Chinook Pass is open from late May through late October or early November when the snow closes it. Outside of those times you can't access the trailhead. This hike keeps it's snow till fairly late so generally speaking I would not try to do this before late July (unless you don't mind snow). This is also when the wildflower show starts! Late July and into August is prime wildflower season and an awesome time for this trail (bring bug spray and long sleeves and pants as there can be a lot of bugs here).
As the flowers start to fade, the fall colors start to come up, featuring lots of reds and oranges in the shrubs. This trail is also beautiful with a dusting of snow, although once the snow starts piling up it can be a bit of a slog. Most years, if you don't mind a bit of snow, you can do this hike through mid October! If it's possible to go on a weekday, it will be much less crowded. If that isn't an option, try going late in the day for better photography lighting as less crowds.
Where is the Naches Peak Loop hike?
The Naches Peak Loop hike trailhead is located at Chinook Pass on Highway 410. This highway is open seasonally and goes to Yakima. The big parking lot at Tipsoo Lake is very busy on weekends. You can also park along the road and there are also two other parking lots around the corner just outside the park. You can park at any of these locations (if it's a weekend, consider a late afternoon/evening hike to make parking easier). The trail description below starts at Tipsoo Lake, but if you park in one of the other lots you'll pick it up at the bridge (described below). It's about a 2 hour drive from Seattle.
Trail Description
Starting from the Tipsoo Lake parking area, there are several pit toilets (there is often a line) and several picnic tables. Tipsoo lake is very busy and beautiful with lots of wildflowers. For the loop hike, stay to the left of the lake, and you'll climb up a bit through trees and another wildflower meadow. In a short distance you'll come to the road again (which wraps around at Chinook pass).
There's a picturesque bridge over the highway here, which you pass on the trail (here you will see two other parking lots). You'll continue as you go around the side of Naches Peak. Here the wildflowers continue to be spectacular and there's a gorgeous little pond as well.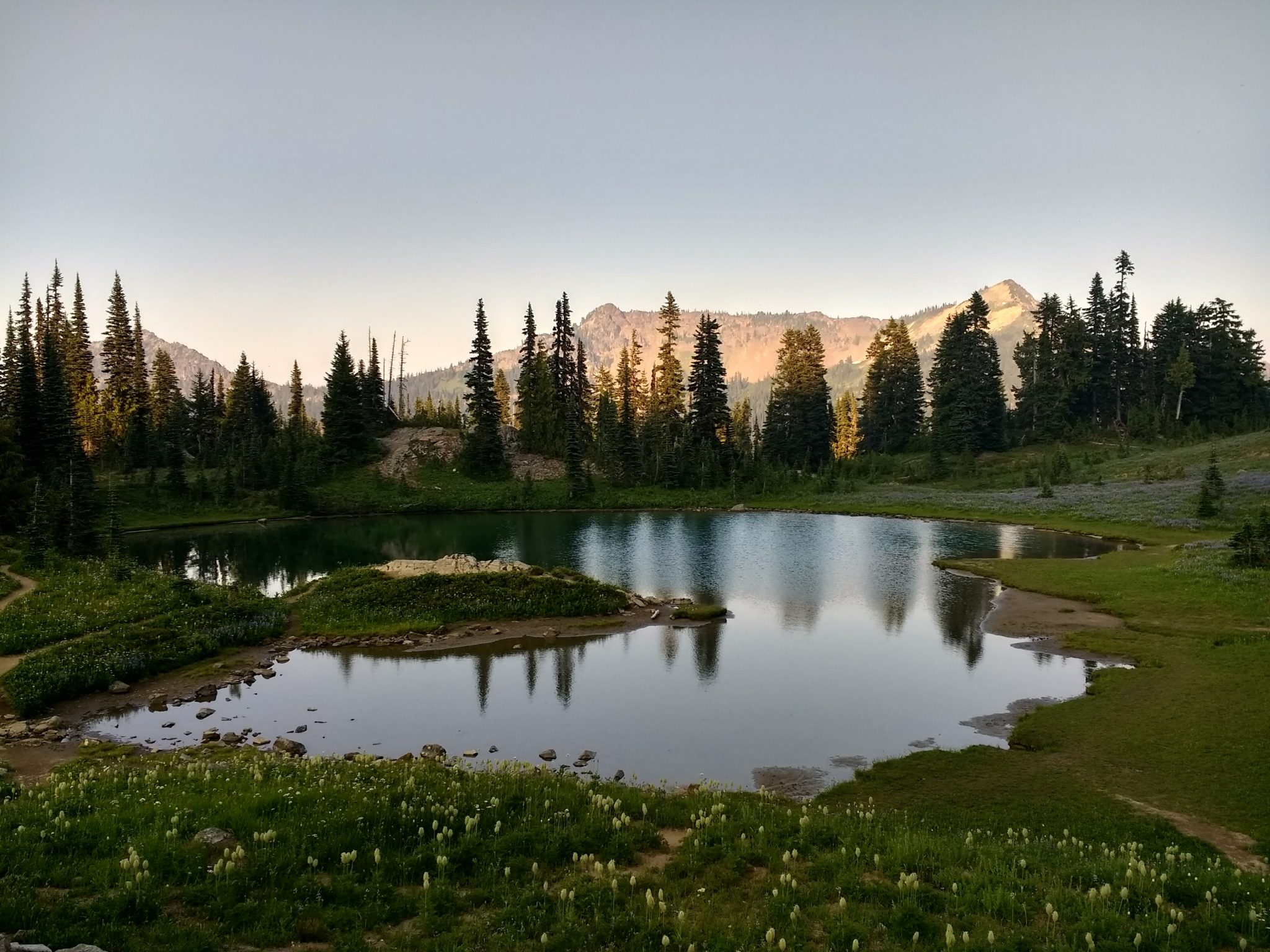 Continuing on, approximately halfway around the loop, you'll see down to Dewey Lake below and an incredible view of the surrounding area.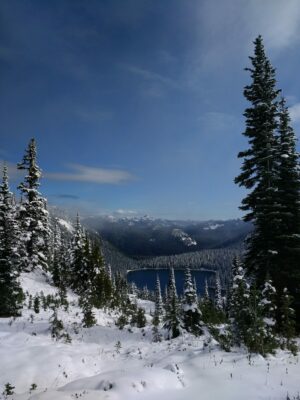 Soon you'll reach a junction, with the Pacific Crest Trail (which you've been on up till this point) going left and the Naches Peak loop continuing to the right and here you re-enter Mt Rainier National Park. Dogs are allowed on the PCT portion of the hike but not the Mt Rainier National Park piece. As you continue on, you'll see more flowers (or fall color), more trees and then you'll enter an open meadow with a little lake and a spectacular view of Mt Rainier!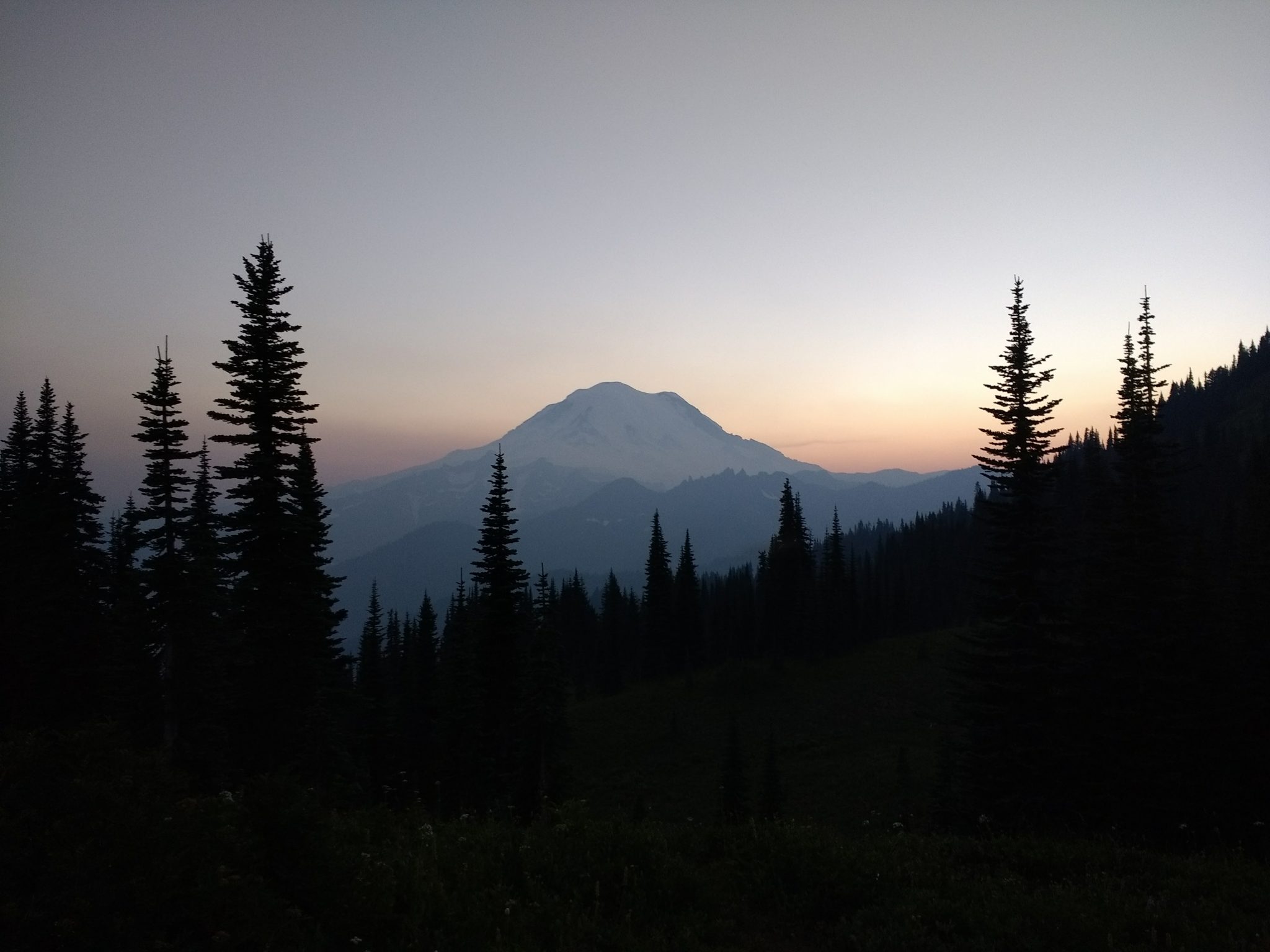 After this point, the trail reenters the forest and goes downhill back to the road. Then you'll walk a couple hundred yards next to the road to get back to your car.
Breweries and Bakeries near the Naches Peak Loop
There are no concessions or services in this part of Mt Rainier National Park, but there are a number of roadside places along highway 410. If you want even more epic views, ride up the Crystal Mountain Gondola and grab a beer on their patio overlooking the amazing view!
There are also lots of breweries and the legendary Los Hernandez Tamales and amazing tacos at the Fiesta Foods in Yakima.
If you're going back towards Seattle, stop at the Pie Goddess!
Electric Vehicle Charging
There is not any fast charging near the Naches Peak Loop. The nearest fast charging is in Yakima or Puyallup, way too far for my Nissan Leaf!