Tolmie Peak Lookout Hike: Big Views of Mt Rainier
Posted On September 11, 2019
Last Updated on January 13, 2022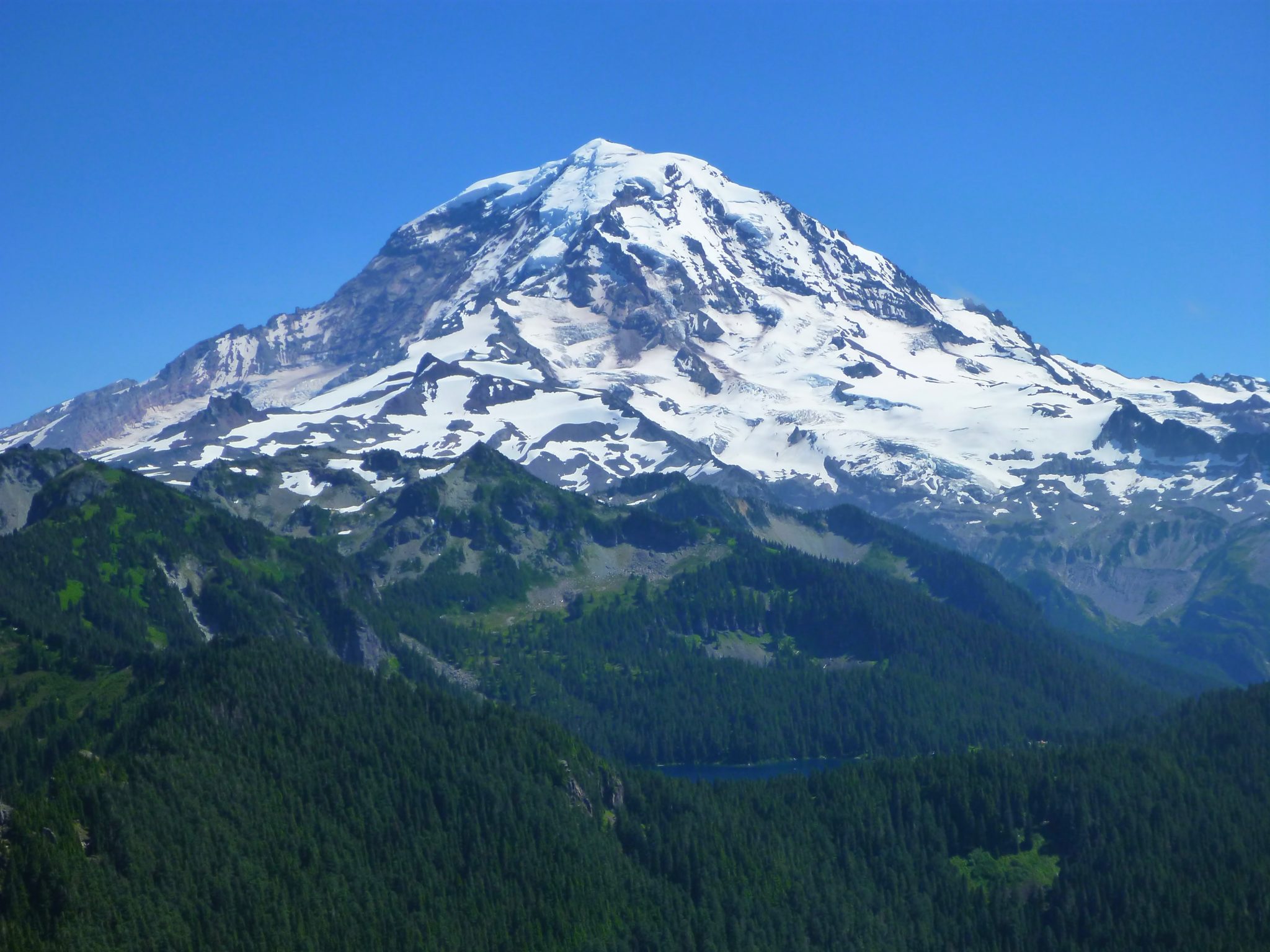 Imagine the best views around of Mt Rainier, two alpine lakes and incredible wildflowers and you've got the Tolmie Peak Lookout hike. At close to 8 miles round trip and 1100 feet of elevation gain, it's a moderate day hike. A long gravel road and being located on the northwest side of the park keeps the biggest crowds away and the scenery is as good as any in Mt Rainier. By the way, if you're looking for a multi day adventure, this is also the starting point for the Mother Mountain Loop backpacking trip.
Mt Rainier National Park is on the homeland of the Puyallup and other Coast Salish people.
Parking Pass: Mt Rainier National Park entrance fee, $30. There is not a fee both but you can pay at the machine at the Paul Peak Trailhead along the Mowich Lake Road. If you have an America the Beautiful Pass, display it instead.
Dog Friendly: NO. Dogs are not allowed on trails in Mt Rainier National Park.
Cell phone coverage: None. There is no coverage along the road either or at Mowich Lake.
Restrooms: There is a pit toilet in the parking lot at the trailhead.
Accessibility and Mobility: This hike has some steep sections and some sections with roots on the trail. It can also be very muddy around Eunice Lake.
Related: What to wear for a hike in the Pacific Northwest, what to bring on a hike in the Pacific Northwest
Is the Tolmie Peak Lookout Hike right for me?
If you're up for 8 miles with a bit of climbing then physically this is a good hike for you. The first half is forested and the second half is exposed, so there is some shade but also lots of sun. You'll need to be comfortable driving on a gravel road without a cell phone signal (it's not a big deal but make sure you have tire changing equipment just in case). The Tolmie Peak lookout hike is on a MUCH less visited side of Mt Rainier National Park, but you'll still see quite a few people if it's a sunny July or August weekend day and you may need to park a ways down the road.
When is a good time for Tolmie Peak?
The most important thing is to make sure road is open! Generally speaking, the road to Mowich Lake on the northwest side of the park is open from late June or early July until sometime in October. You can check the road status here, which is important before planning this trip! Snow persists late around Eunice lake, but it should be snow free by late July. Mosquitoes around Eunice Lake are really bad in July and August, so my favorite time to go is September and October, after the bugs die down but before the snow flies. Late July and August have fantastic wildflowers, so if it's your first time, you might want to seek bug protection and get out there for the fantastic flowers!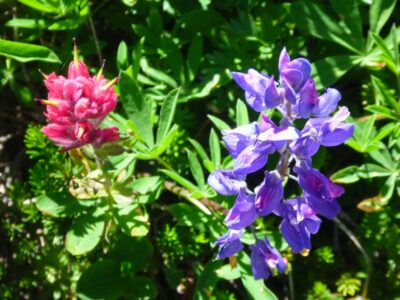 Where is the Tolmie Peak Lookout hike?
Tolmie Peak is located on the northwest side of Mt Rainier National Park, in a much less busy part of the park. To get there, you'll need to drive quite a ways on a gravel road, but don't let that stop you from visiting this amazing place! You can use google maps to get you to Mowich Lake, which is where the trailhead is located. This is also the trailhead for the equally awesome Spray Park hike.
You'll be on highway 165, passing a series of small towns and then you'll keep right at the junction where left goes to the Carbon River ranger station. This road becomes gravel, passes through a large clearcut and then enters the park.
The road dead ends at Mowich lake, which has a small parking lot and a small walk in campground next to the large alpine lake. You'll likely need to park along the road if it's a sunny weekend day. You need to pay the park entrance fee and display your receipt (unless you have purchased a pass, then you can display that). There's a machine you can pay at the Paul Peak trailhead, which you pass on the way to Mowich Lake. You could also take a detour over to the Carbon River Ranger station.
Mowich Lake is also a terrific winter destination (which involves the lake being the destination rather than the starting point).
Trail Description
To get started, make sure to go to the left as you're facing the lake. There's also a trail that goes down to the right from the campground, that's not your trail for this adventure (although it's also a good one!). You'll be passing along the west side of the lake, which is absolutely beautiful.
Once on the trail, you'll see a few views of Mt Rainier across the lake. Soon, you'll head away from the lake and be traveling through the shady forest climbing up towards Isput Pass. At about two miles into your hike, you'll approach Isput Pass (which provides a gorgeous view down to a very steep section of the Wonderland Trail), and here you will stay to the left to head towards Eunice Lake and Tolmie Peak.
After almost another mile of climbing, you'll approach Eunice Lake and it's epic wildflowers (and mosquitoes).
Continue around the left side of the lake on the trail, which will now climb up another steep mile to the lookout. This part is more exposed to the sun and provides great views in multiple directions. When you arrive at the fire lookout, you'll have an in your face view of Mt Rainier! Take your time soaking up the big views and refueling for the return trip.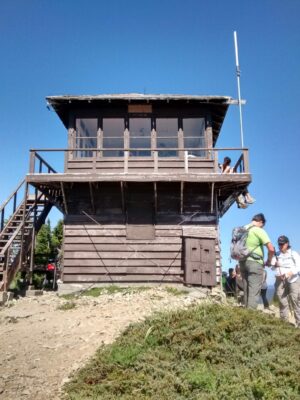 Fuel up after the Spray Park Hike
There are no services at Mowich Lake, but it is a great place to have a picnic if you brought your own food (an excellent idea).
Otherwise head 20 miles down the mountain back to the town of Carbonado and pick up some delicious pizza or ice cream to finish off your hike. The pizza place is quite spectacular and you can never go wrong with ice cream!
Electric Vehicle Charging
The Spray Park trailhead is 130 miles round trip from where I live in Seattle. My EV's range is about 90 miles. The closest fast chargers to the trailhead are in Puyallup or Auburn, which are still a bit too far for my EV, especially with the steep climb up to the trailhead. If you have a longer range you could make it no problem. Keep in mind that the last 15 miles are very steep climbing, as this effects an EVs range.