The best way to day trip to Victoria BC
Posted On July 3, 2022
Last Updated on April 27, 2023
Victoria, BC is one of the most unique and picturesque towns in the Pacific Northwest. Despite its importance as the capital of British Columbia, Victoria's location on Vancouver Island makes it a little more work to get to since you can only get there by boat or by plane! A day trip to Victoria is totally doable from Seattle or Vancouver and I'll tell you how to do it and what to do to make the most of your day.
I've been going to Victoria for decades with several generations of my family and I'm glad you'll get to see for yourself how special it is.
Victoria is the land of Songhees and Esquimalt First Nations.
Related: Top three things to do in a short evening port call in Victoria on an Alaska cruise
Is a day trip to Victoria worth it?
Victoria is an absolutely delightful and super walkable town and I really believe you need more than one day to visit Victoria (three days in my opinion is ideal), but if a day is all you have, you should still do it!
A day trip to Victoria is absolutely worth it if that's what you have to work with and you make the right transportation plans and know what you want to do. I'll show you how to make the most of your day trip to Victoria so you know you're having the best day possible.
Do I need a passport to go to Victoria?
Yes. If you are going to Victoria from Seattle or Port Angeles.
You are crossing an international border and a passport is required. US and Canadian Citizens can also use an alternate form of ID that is acceptable for crossing the border to Canada, such as a NEXUS card or Passport Card.
If you're doing your day trip to Victoria from Vancouver BC then you do not need a passport since you're not crossing a border from Vancouver.
Does the Victoria Clipper have wifi?
No. On some of the trip you will have a cell signal from either Victoria or Seattle, but some portions of the trip do not have service.
There is wifi available in the terminal, but not at sea.
How to do a day trip to Victoria from Seattle
Even though Seattle is in a different country from Victoria, the easiest way to do a day trip to Victoria (unless you're already on the Olympic Peninsula in Washington State, see below) is on the Victoria Clipper! The Victoria Clipper is a passenger only fast ferry from the Seattle waterfront to Victoria's Inner Harbour in less than 3 hours that has operated since 1986.
The Clipper is a wonderful part of the experience, this is not just transportation! There are several class options on board, ranging from airplane style economy seats on the first floor, to more spacious seats upstairs in Vista class and Comfort Class for even more perks and the very best seats on the boat.
The 2 hour and 45 minute journey from Seattle's waterfront to Victoria's Inner Harbour is scenic the entire way. It's one of the best views of Seattle you can get as you sail away, then you head along Bainbridge Island and Whidbey Island and across the Strait of Juan de Fuca to Victoria on Vancouver Island. You'll see islands and mountains the entire way and even Orca whales if you're lucky!
The Clipper has assigned seating so you can settle in and not have to worry about having a spot. They also have some food on board as well as coffee, beer and wine.
If you really want to make your day trip special, and give yourself more time in Victoria, then consider booking one of the Clipper's Sea and Sky packages. The Sea to Sky package takes you one way by boat on the Clipper and the other way by seaplane on Kenmore Air. This is a truly unique Pacific Northwest experience if you can swing the extra cost.
If you take the Victoria Clipper, you'll end up with about 5 hours in Victoria (I'm taking away an hour to account for passing through customs). If you take the seaplane back, you can have more time.
Check the Victoria Clipper schedule and fares from Seattle to Victoria here.
How to do a day trip to Victoria from Vancouver
Doing a day trip to Victoria from Vancouver is less convenient than Seattle or Port Angeles, which is ironic since Vancouver is in Canada and the largest city in British Columbia.
You can definitely still do it. There are two options. The first option is to take the bus from Vancouver to the Tsawwassen ferry terminal, then the ferry to Swartz Bay and then the city bus again from Swartz Bay to downtown Victoria. I have done this multiple times so you can absolutely make it work if you're a transit rider. Using the transit feature on Google maps works great.
If you want to avoid the hassle of transferring, you can also take the BC Connector, which costs more but there's less for you to figure out. The BC connector gives you about 4 hours in Victoria.
Check the BC Connector schedule and fares from Vancouver to Victoria here.
If you want to do a faster and awesome (but much more expensive) day trip to Victoria from Vancouver you can also do it on a seaplane on Harbour Air.
How to do a day trip to Victoria from Port Angeles
If you're already on the Olympic Peninsula or want to add a day in Victoria on your Olympic National Park itinerary, you can take the Coho Black Ball Ferry from downtown Port Angeles to downtown Victoria. It's a car ferry but for a day trip you definitely want to leave your car in Port Angeles and walk on.
If you take the Coho on the earliest sailing and return on the latest sailing, you'll have about 8 hours in Victoria (I'm subtracting an hour to account for customs when you arrive).
Keep in mind that you need to already be in Port Angeles the night before and probably also staying that night to make this a reasonable day trip. The crossing time between Port Angeles and Victoria is about 90 minutes.
The Coho has a coffee shop on board so you can get food and they also sell tours on board for when you arrive in Victoria. If you're doing a day trip to Victoria I highly recommend booking on board
Check the Coho ferry schedule and fares from Port Angeles to Victoria here.
What to do on your day trip to Victoria
Now that you've made it to Victoria, how to make the most of a short, one day visit? I've got you.
I recommend that you choose one of the two options below, either plan to maximize your time enjoying Butchart Gardens or explore the town, but not both. If you pay attention to the bus schedule and get back with a little time to spare, then you might be able to squeeze in a walk around the Inner Harbour before getting back to your boat or bus.
If you have a longer day, then absolutely do both of these!
One note – I don't recommend doing whale watching if you only have a day trip to Victoria, because you're already spending a lot of time on boats in your day and because there are many places around the Pacific Northwest you can do whale watching.
Whale watching in Victoria is absolutely fantastic, but if you only have a few hours I would recommend spending it seeing things you won't see anywhere else.
Another important note: there are no ride shares (Uber/Lyft) in Victoria and taxis are often in high demand. Plan to book transportation on board your ferry, take public transit or walk around town.
Option #1 – Butchart Gardens and Afternoon Tea
For anyone who loves flowers, Butchart Gardens is an absolutely must see. I'm pretty sure I've been to Butchart Gardens in every month of the year and it's always completely stunning. If you're there in spring or summer, of course you'll see the maximium number of blooms of every imaginable flower from tulips to roses so that makes it even better.
Butchart Gardens is also completely magical during the holidays, if you happen to be there then.
They also have the best Afternoon Tea in Victoria in my opinion – a combination of the food, the setting and the price. If you're going to be in the gardens I highly recommend afternoon tea here.
Once you've spent as much time as you like exploring, head back to town on the bus and if you have time, take a walk around the Inner Harbour and at least sea the Empress Hotel and Houses of Parliament from the outside.
I highly recommend booking your trip to Butchart Gardens on board the Victoria Clipper or Coho Ferry, because this gets you a bit closer to the front of the line for customs and it also makes everything easier and more convenient on a short trip. You can take the city bus to the gardens but it takes longer and you want to maximize your time.
Option #2 – Exploring Victoria and Afternoon Tea
If you decide you would prefer to explore the town and skip going to the gardens, start off by taking a walk around the Inner Harbour to get a feel for town. The distances are short, and you'll see some of the iconic sights of Victoria such as the Empress Hotel and the British Columbia Parliament building.
Afternoon Tea
I recommend taking afternoon tea for lunch and you have a few options. The Empress Hotel is the iconic place for tea, so if you're all about tradition make it the Empress. For something a bit more low key, but still a perfect tea experience, try the Pendray Tea house that's right across from the Clipper and Coho ferry dock.
If you want a less formal experience, but some delicious food and wonderful tea, head to Murchie's. You'll have lots of amazing food options and it's much less expensive. It's not and "official" tea, so if you're looking for a tiered tea stand with treats and sandwiches, this isn't it, but it's a really good alternative.
Book your tea time on board the Clipper or Coho ferry if that's how you're arriving (if you're on the bus from Vancouver you'll need to book on your own). They can make sure you get a reservation and you don't have to spend time figuring that out when you get there.
Getting a ride around Victoria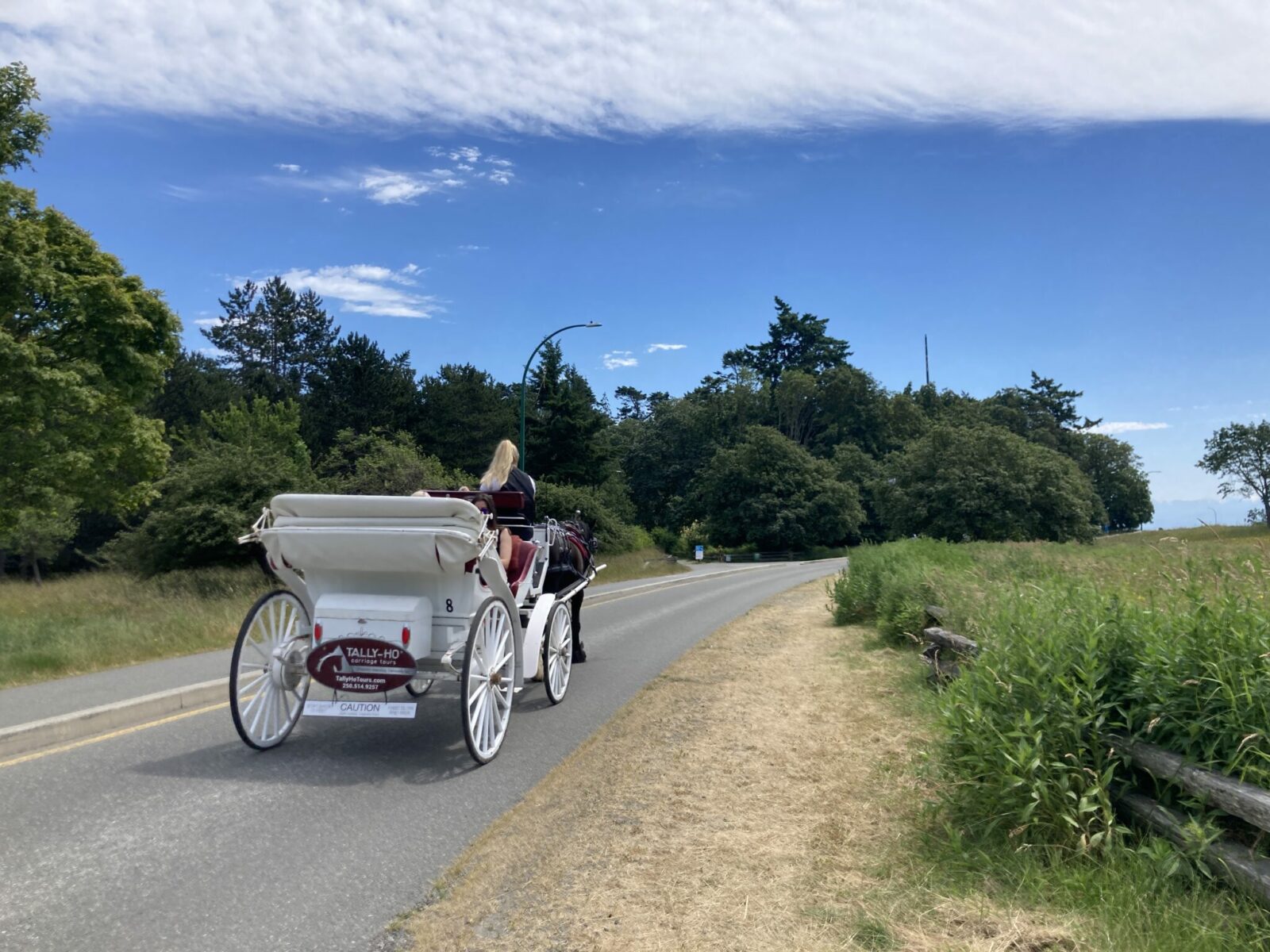 After tea, try a Tally-Ho carriage ride around town or the Hop on Hop off bus (tickets are available for both on the Clipper too). The Harbour ferry is another unique way to explore Victoria, start at the dock in the Inner Harbour near Milestones and the Prince of Whales.
Exploring Victoria on foot or by bike
If you're wanting to get some exercise in during your day trip to Victoria, instead of catching a ride or a tour, you can walk or bike all over the place!
One of my favorite walks around Victoria is to walk from behind the Parliament Building to Beacon Hill Park, and then down to Dallas Road, along the trail to the Ogden Point Breakwater, then to Fisherman's Wharf (get ice cream or fish and chips here) and back to the Parliament buildings. That walk is a little over 6km (about 4 miles) and is mostly flat, with a few inclines here and there around Beacon Hill Park.
If you'd rather cover more ground, rent a bike from The Pedaler, located across the street from the Victoria Clipper and Coho ferry terminal. You can rent ebikes or regular bikes for more exploring.
Shopping or Museums
If time and energy permit, make some time for window shopping (or real shopping) on Government Street. You'll find everything from local art, to clothing to tea, to a wonderful independent bookstore (Munro's), an incredible chocolate shop (Roger's) and more.
Museums more your thing that shopping? Check out the wonderful Royal BC Museum between the Empress Hotel and the Parliament Building, or the Maritime Museum for boat enthusiasts.
I enjoy grabbing a drink and a snack at Milestones in the Inner Harbour because of the great view and the opportunity to watch all the boats, ferries, tours, bikes and seaplanes going in and out of Victoria.
Final thoughts
Even though there's much more to see and do, a day trip to Victoria is totally worth it! Just make sure you plan wisely and book any tours or tea reservations on board the Victoria Clipper or Coho ferry so you can make the most of your time and not have to worry about logistics.
If you're coming from Vancouver or you just enjoy exploring on your own, walking and biking around Victoria will give you plenty to do for your day trip.
Victoria is a special place that I'm certain you'll want to come back to!