How to Start Snowshoeing for the First Time
Posted On November 11, 2019
Last Updated on November 4, 2022
Snowshoeing is an excellent way to enjoy getting outside all winter and a fun progression for anyone who enjoys hiking or walking outdoors. It is also a way to enjoy the outdoors in the winter that requires minimal gear and no specialized skills (unlike skiing!). Snowshoeing is taking one step beyond in adventure, fun and challenge so read ahead to learn how to start snowshoeing for the first time for absolute beginners!
This post contains affiliate links, which means if you make a purchase I may receive a small commission at no additional cost to you. As an Amazon Associate, I earn from qualifying purchases
What is Snowshoeing?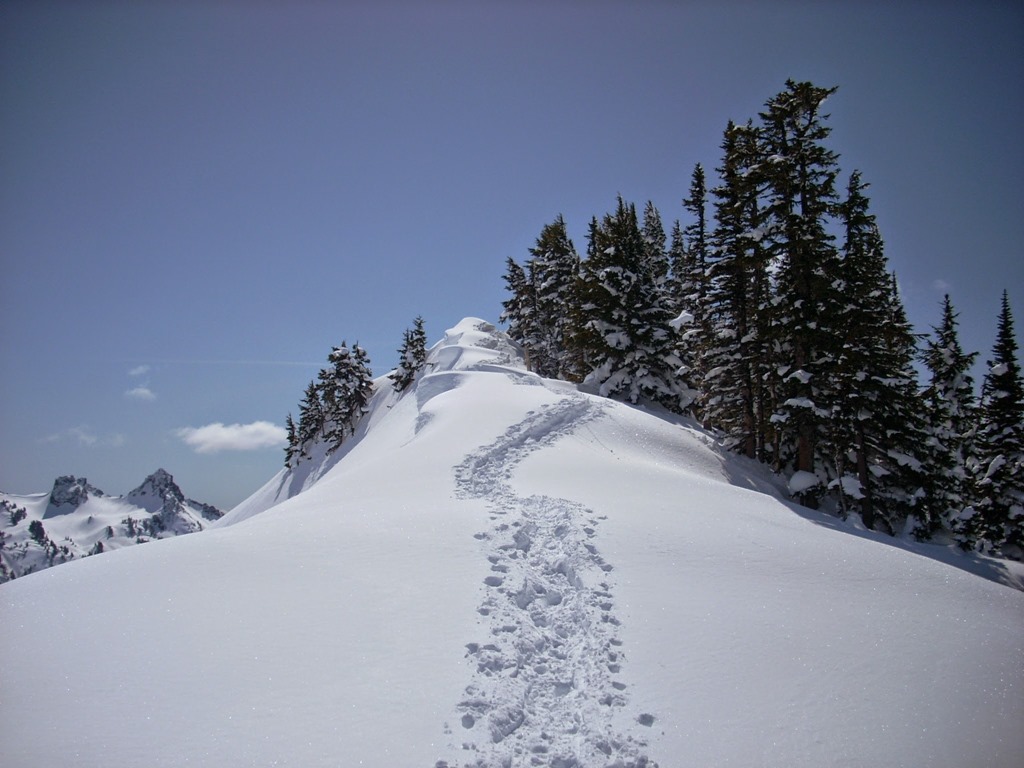 Snowshoeing is walking or hiking with two differences. The first is that you're hiking on snow and the second is that you're wearing snowshoes. Snowshoes are devices that you strap to your shoes or boots which distribute your weight over a larger area, therefore allowing you to stay on top of the snow instead of sinking in up to your knees/waist/armpits!
In addition they have some type of traction on the bottom (usually metal spikes of some sort) to help keep from sliding on ice. There are times when you can hike or walk on snow without snowshoes, if it's not very deep or if it's very packed down and solid on top. In the Pacific Northwest, if there's been a recent snowfall, you definitely need snowshoes to keep from sinking in deeply (and becoming completely exhausted in five minutes).
Why Start Snowshoeing?
There are several reasons why snowshoeing is a fantastic winter activity to try:
Snowshoeing is excellent exercise – you'll burn extra calories than you would walking or hiking since you're on the snow and have the snowshoes on your feet!
Snowshoeing is a great way to get outside in winter – the mental and physical benefits of getting outside in winter are numerous and this is a wonderful way to do it
Snowshoeing requires minimal additional gear and skills. If you already hike or walk outside all year, all you need to add is snowshoes!
Snowshoeing Tips and Safety
Here are a few tips for how to start snowshoeing in the Pacific Northwest:
Snowshoeing is much more tiring and slower than hiking or walking. How tiring and slow it is does depend a lot on the conditions. For example, an uphill trail with two feet of new snow on it will be much slower and MUCH harder than a more packed trail or one that's on a flatter trail. I would recommend cutting your distance and elevation gain AT LEAST in half for what would feel comfortable hiking and definitely more if there's a lot of new snow. Once you get used to it, you can take on steeper and longer snowshoe adventures if you want more challenge.
Check out this helpful resource for disabled people to start snowshoeing
Snowshoeing around here is WET. Our mountain temperatures often hover right around freezing and above during the day, so it can be very, very wet. Waterproof footwear really is a must.
Snowshoeing is HOT. I know that sounds crazy, because hello?!? it's winter and you're on snow. However, you will get really hot snowshoeing because your body is working extra hard (extra weight of the snowshoes, extra effort to walk/hike in snow). Wear layers so that you can wear a lighter layer while moving and make sure to bring warm layers for stops and in case of emergency.
Be aware of the avalanche forecast and do not go into avalanche areas when there is avalanche danger. REI also hosts avalanche awareness classes for free, which I highly recommend.
WSDOT has important information about the road conditions, always check this before heading out
SNOWSHOEING INSPIRES SILLINESS!!! EMBRACE IT! It's hard not to feel a little bit silly wearing snowshoes, so embrace it and have fun out there! Focus on silliness and fun and be less destination oriented and you'll have the best time!
What if I don't have a car? Or I don't want to drive in the snow?
If you don't drive, or don't want to drive in the snow, or if you want to find a group to snowshoe with, you can look for a meet up group for snowshoeing, or you can join the Mountaineers and their outings include carpooling (you can also take classes there in how to start snowshoeing, avalanche awareness and more).
Another option is to do a snowshoeing tour or trip with REI, where you'll have a guide and someone else to do the driving. These can be great ways to build confidence in how to start snowshoeing!
Ranger Led Snowshoe Outings
Both Mt Rainier National Park and Olympic National Park offer ranger programs in winter with snowshoeing! This is a great way to start snowshoeing because someone else will figure out where to go and help you get used to wearing them. Both parks have snowshoes you can borrow for a small donation.
Rangers in Mt Baker Snoqualmie National Forest also offers ranger led snowshoe walks around Snoqualmie Pass and Stevens Pass. They also provide snowshoes to borrow.
Where to Start Snowshoeing near Seattle
Check out this post for my favorite beginner snowshoe trips near Seattle. Once you've tackled some beginner options, if you're ready for more challenge, give Skyline Lake a try! You will need a Federal lands pass to park at Forest service trailheads and in National Parks, and for the Washington State Sno parks, you'll need a pass for those as well.
If you're looking for other ideas, head over to the Washington Trails Association hiking guide and search for "snowshoe". You can find options in every corner of Washington State that has snow during the winter!
What to Wear Snowshoeing
One of the best things about getting your start snowshoeing is that you don't need a lot of special gear! For the most part, you will want to wear the same things that you would wear on a winter hike. Being ready to get wet is critical as well as having layers for getting hot while you're moving and getting cold quickly when you stop. A few specific items I recommend for snowshoeing:
Waterproof Boots or Shoes: I prefer to wear waterproof shoes for hiking and snowshoeing (get them here on Amazon or here at REI). If you already have hiking boots or shoes that you love, then wear those! If you're looking for a new pair of waterproof hiking boots, I recommend Merrell Moabs (here on Amazon or here at REI) or Zamberlans.
Wool Socks: Nothing beats wool for warmth as well as comfort in the snow!
Gaiters: These are not necessary, but they can help keep snow out of your boots or shoes (I wear them because I wear hiking shoes). They are waterproof covers that you wrap around the top of your boots or shoes and around your lower leg. Get them here on Amazon or here at REI.
Rain Pants: I have a hard time wearing rain pants because they get so hot for me. If you don't wear rain pants you'll want to wear something that is comfortable when wet (like leggings). Rain pants are super helpful for most people snowshoeing, since they help keep your legs dry as you're exploring in the snow! I recommend these REI brand ones, which also come in plus sizes (as well as tall and petite).
Base Layer: A long sleeve wool or synthetic shirt is important and you might find yourself just wearing that when you're moving, especially uphill.
Warm mid layer: A warm insulating layer is an absolute must! Any warm layer you already have that will fit over your base layer and under your rain jacket is perfect.
Rain Jacket: This is the most important thing for keeping you dry. I recommend either this Marmot rain jacket from Amazon or this REI Co-op brand rain jacket, also available in plus sizes.
Hat: A warm hat is important, especially for stops! Any warm hat you already have will be great. A headband can be a helpful way to keep your ears warm if you also tend to get hot while exercising (like me!).
Gloves: Any gloves you already love will be great for snowshoeing.
Snowshoeing Equipment
Best Snowshoes for Beginners
If you want to try out snowshoes before you commit to buying them, you can do rent them at REI. If you do this I recommend getting a reservation. You can also borrow snowshoes from the rangers if you try one of the rangers snowshoe programs mentioned above.
If you're ready to buy a pair of snowshoes to start snowshoeing, there are many different options. To keep things simple, there are two specific models I recommend for beginners. Snowshoes are not super technical and most people do not need expensive mountaineering ones.
I have had snowshoes for 20 years and I have also led tours on snowshoes and these are the ones I recommend:
Atlas Snowshoes (get them here at REI): The Atlas ones are the style that has a metal tub and crampons (metal ice grippers) on the heel and toe. They are pretty easy to put on over any footwear. I have had Atlas snowshoes personally for 20 years and they've been used a lot! Last year the bindings finally came apart (after 19 years of heavy use) and since they have a lifetime guarantee, Atlas sent me a new pair!
MSR Snowshoes (get them here at REI or here on Amazon): These are the most common snowshoes you see as rentals (this is what you will get if you rent from REI) and the ones I used as a tour guide. They are a slightly different style and have a metal piece that goes along both sides. They are also pretty easy to put on and work great!
The most important thing to pay attention to for size is your weight (your body weight plus the weight of your pack). It doesn't matter what your shoe size is and it doesn't really matter if they are women's or men's snowshoes. Your weight will determine how much "float" you'll get. It's also flexible because if you float less or more, it's not the end of the world. A lot of this depends on the snow conditions also, so some you can't control. If there's a foot of new snow, you're going to sink into it a bit even if your snowshoes are the right size. Don't worry about it!
Other Helpful Snowshoeing Equipment