Best Rainy Day Hikes in Olympic National Park
Posted On December 16, 2019
Last Updated on May 5, 2022
Don't let the rain keep you away from Olympic National Park! This is a place world famous for it's rain, it's lush green forests, rushing waterfalls and remote beaches! Olympic National Park also has hikes with sweeping mountain views, but those are not as good for rainy days. In addition to seeing Olympic National Park in it's element, rainy days also mean less crowds, especially on trails.
An important note about Olympic National Park: dogs are not allowed on most trails. Exceptions to this rule are noted below. These hikes all fit in well with a mulit day trip to Olympic National Park or as an add on to a visit to the Long Beach Peninsula. If you find yourself in Olympic National Park in the rain, try one of these best rainy day hikes in Olympic National Park.
Related: What to wear for a hike in the Pacific Northwest, what to bring on a hike in the Pacific Northwest
Barnes Creek and Marymere Falls
The Barnes Creek Trail starts by the Storm King Ranger Station west of the town of Port Angeles on Highway 101. There are signs for the ranger station as well as the Lake Crescent Lodge. Follow the signs to Marymere Falls and you'll find yourself in a parking lot with flushing restrooms and a trailhead near the Ranger Station. The hike is about 2 miles round trip with 500 feet of elevation gain. One thing to note is that most of the elevation is gained in the last half mile, making that portion quite steep while the rest is quite flat. The first three quarters of a mile is on a wide and very smooth trail. It passes under highway 101 and then through a fern filled second growth forest to some spectacular old growth trees! The final half mile is narrower and muddier, with the last section to the waterfall being quite steep. The waterfall is beautiful, but the forest walk, especially in places where you travel next to Barnes Creek in the rainforest past ancient trees is just as worthwhile.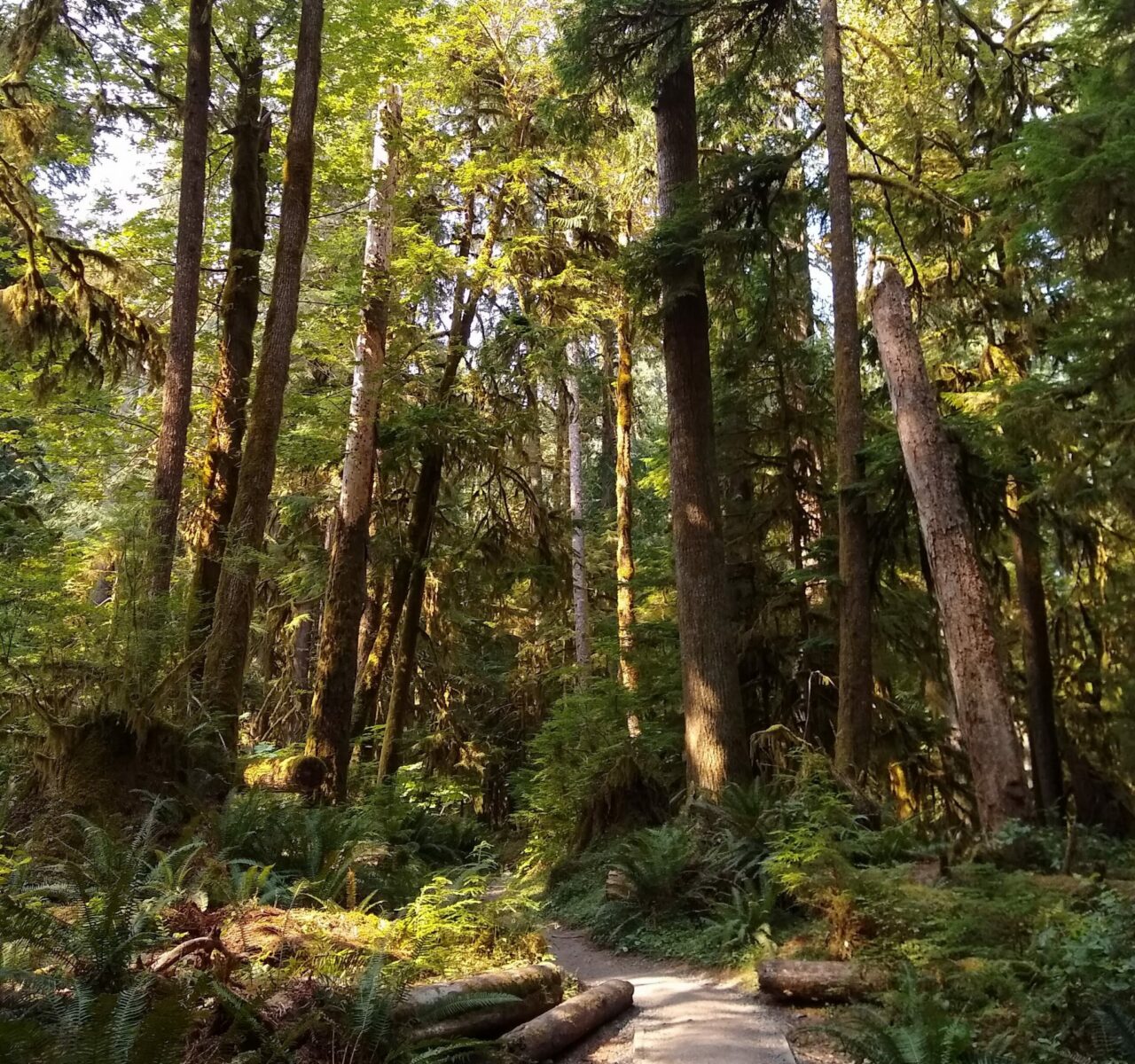 Madison Falls and the Elwha River
This beautiful area has a short (0.1 mile) paved trail to lovely Madison Falls, also near Port Angeles. As of this writing, Olympic Hot Springs road is closed beyond Madison Falls, but you can walk or bike on it and enjoy the Elwha River, which is in the process of being restored after two dams were removed. This project was a joint effort of the Lower Elwha Klallam tribe, who fought for years to restore their traditional land and the National Park service. This closed road provides an opportunity to see this river which is becoming wild again. The gate closing the road has a path to the right that you can walk around. Due to the work and advocacy of Disabled Hikers, there is a wheelchair accessible path around the gate now! I would encourage you to read Disabled Hikers thorough guide to this area. Since this is a road, you can also hike with your pet here as well as on the Madison Falls trail.
Kalaloch Beach and Ruby Beach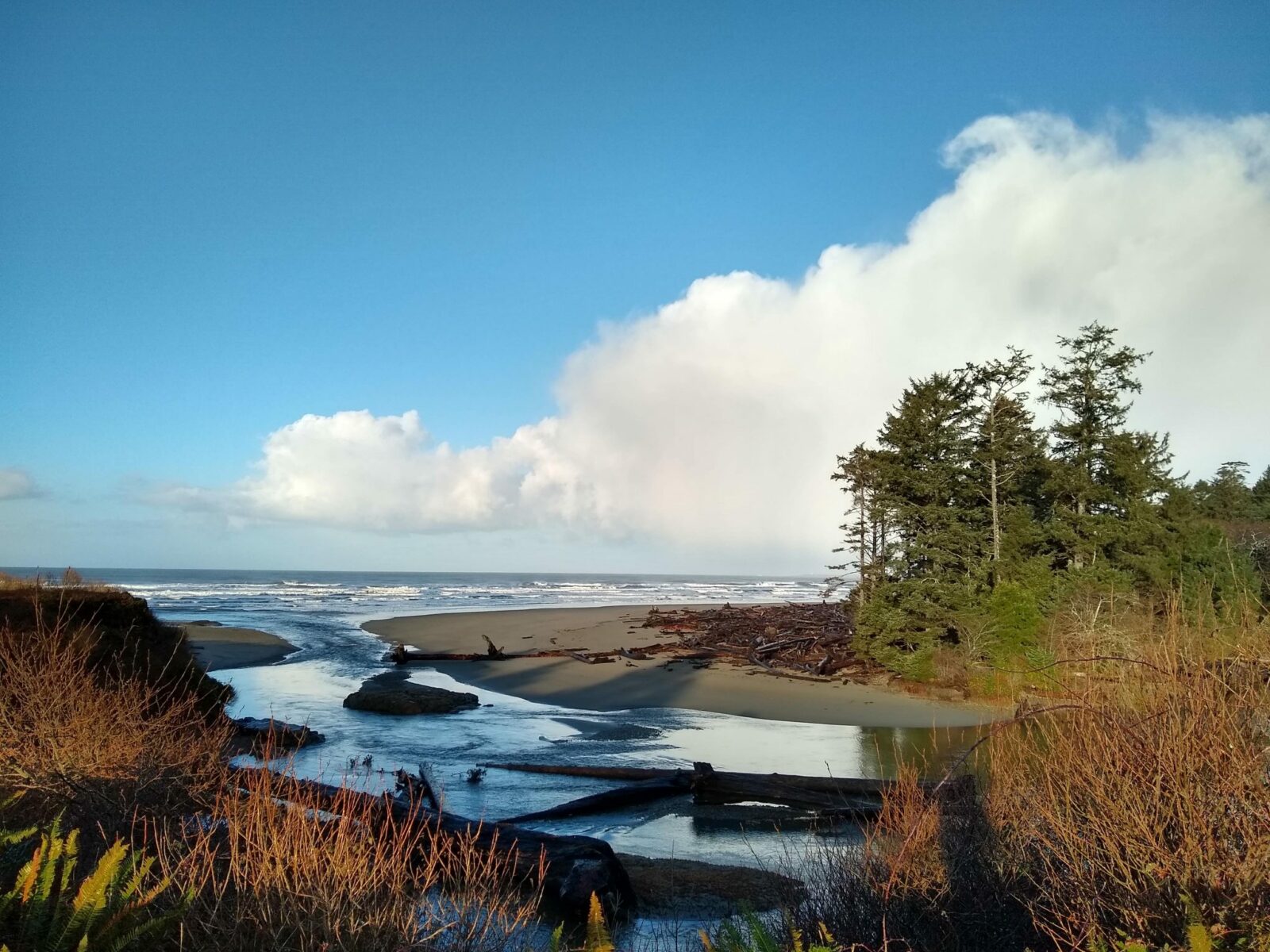 Kalaloch Beach is another pet friendly place in Olympic National Park (and the lodge has pet friendly cabins) and your leashed pet is welcome on the sandy beach here. There are actually a number of excellent access points to the beach between Kalaloch and Ruby Beach, though Kalaloch is the only one where pets are allowed. If you're looking for tidepools, head to Ruby Beach since there are lots of rocks and stacks hosting tidepool creatures. This is a particularly good place to go with kids. I also recommend Disabled Hikers guide to this area, specifically for details about access to the beach in different locations along this 8 mile stretch of the Olympic Coast. This area is north of the town of Aberdeen.
Hoh Rainforest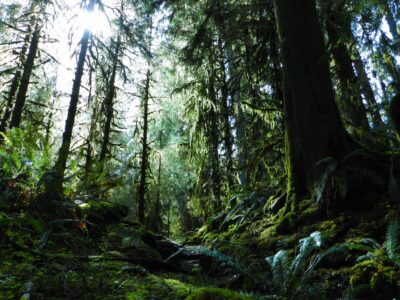 The Hoh Rainforest is one of the great treasures of this area and certainly one of the best rainy day hikes in Olympic National Park! If it's raining, why not go to the rainforest?? It only makes sense! There are a few options for hikes here. There is a flat, paved, short trail near the visitor center that will give you a taste of the ancient forest and thick green mosses. If you'd like to go further, you can head out on the Hoh River Trail deeper into the Hoh Rainforest along the Hoh River. This trail rolls up and down some but it is mostly flat. It does have a lot of roots and mud to navigate along the way. You can go as far as you like, just make sure you set a turnaround time and stick to it. The trail goes for 18 miles so you won't get to the end on a day hike. The Hoh Rainforest is located east of the town of Forks.
Second Beach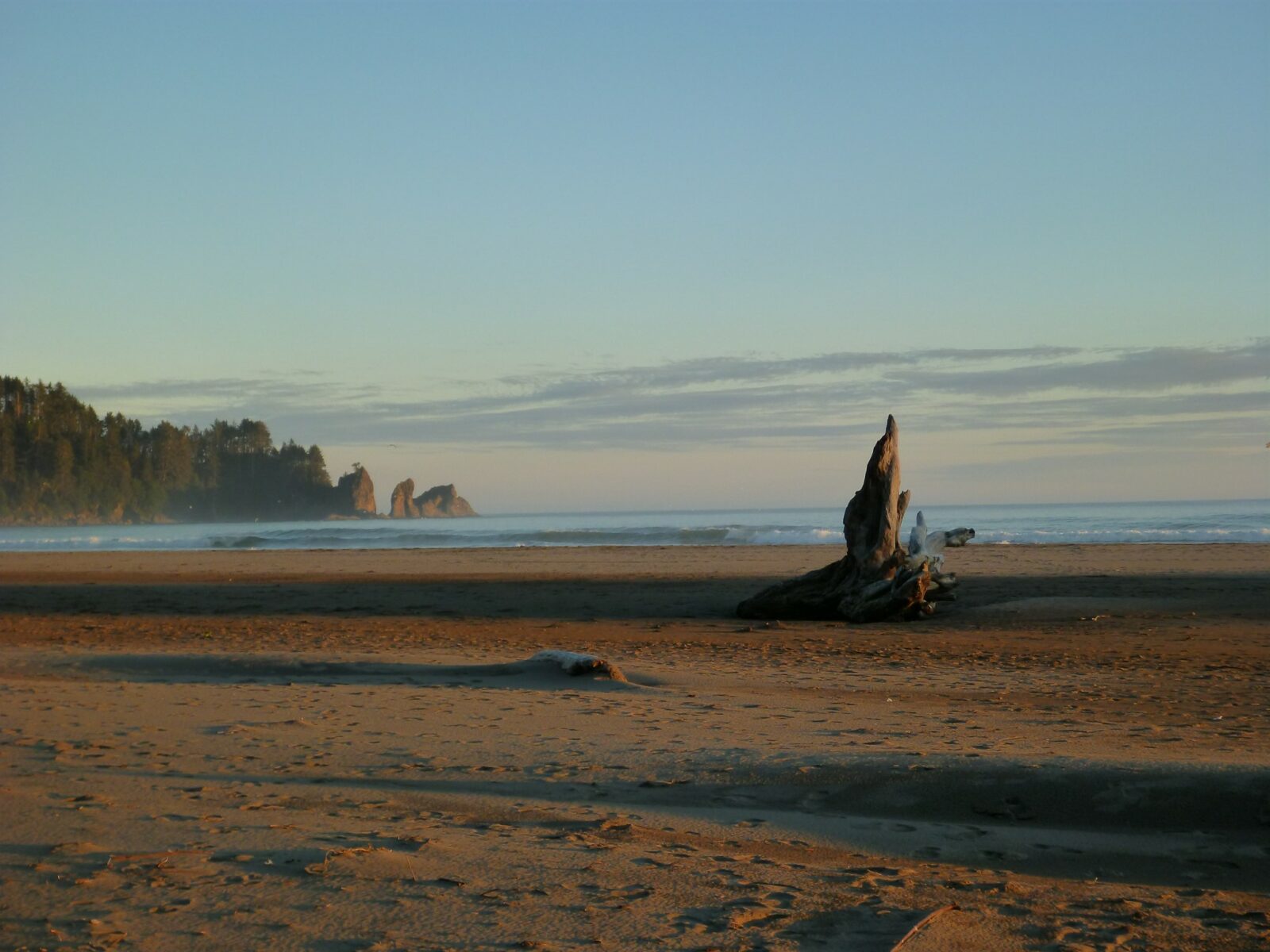 Second Beach is a two mile hike (plus up to another two miles on the beach) through the forest that is flat except for the VERY steep section getting down to the beach and back up again. This is another great hike with kids because of the huge trees in the forest and the beach and tidepools. It's also a great backpacking destination! The sunsets aren't as good when it's raining, but the forest and tidepools are just as amazing.
Sol Duc Falls – Spring, Summer, Fall only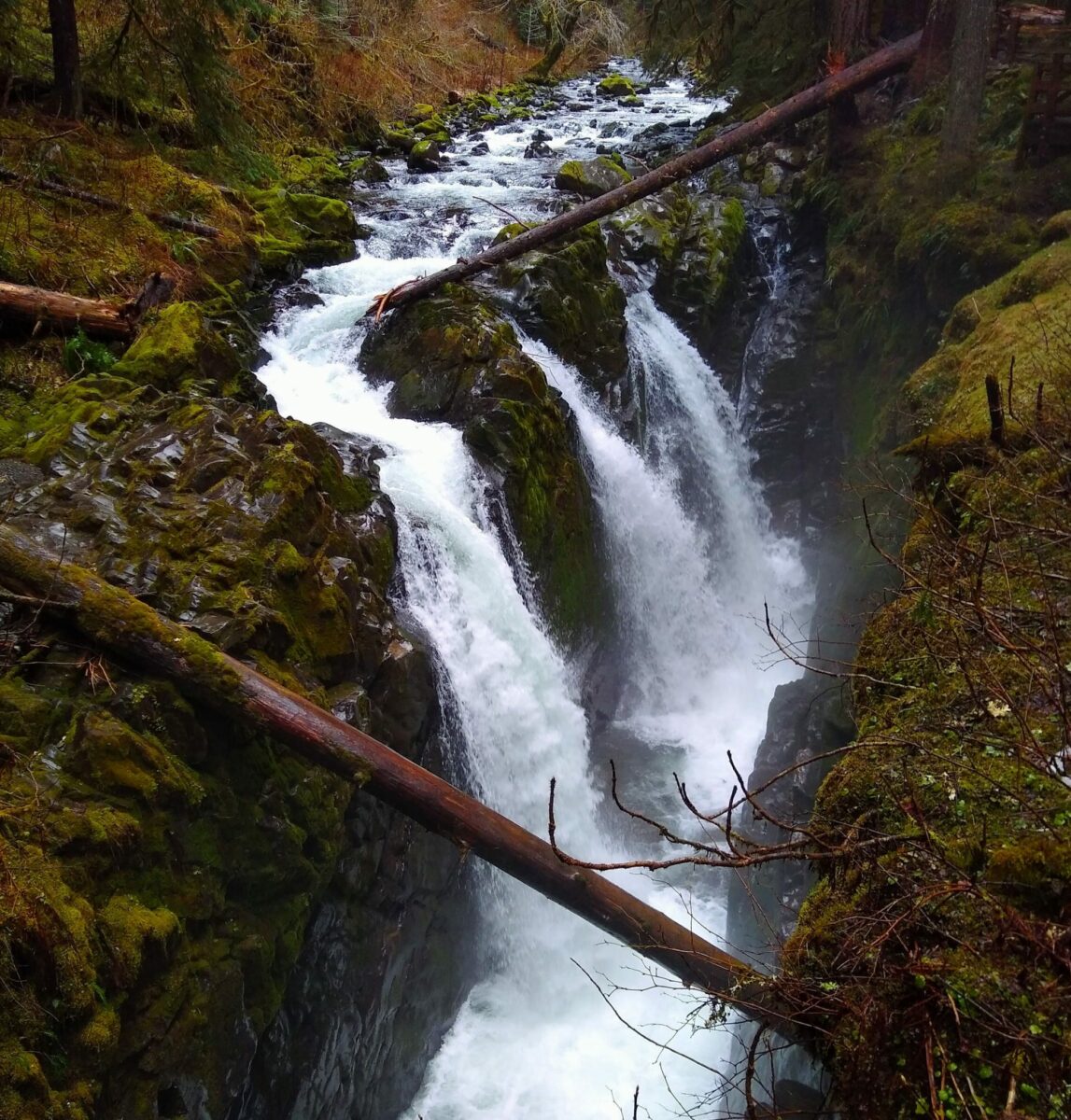 Sol Duc Falls is a beautiful hike that can be longer or shorter, giving you some different options depending on what sort of hike you're interested in. One option involves walking from Sol Duc Hot Springs (either the hot springs resort or the campground) up to the falls and back. This is about 6 miles round trip with about 500 feet of elevation gain. The other option is to drive to the end of the road (past the hot springs) and then the hike is 1.6 miles with 200 feet of elevation gain. Either way you get a spectacular waterfall view and you can end your hike at the hot springs! This hot springs is a pool with admission, which means you can also get towels and take a shower. This also makes it more accessible. This is definitely one of the best rainy day hikes in Olympic National Park. The only bummer about this one is that Sol Duc Hot Springs road is closed from late October until late March, which means you cannot access area during the winter.
Lena Lake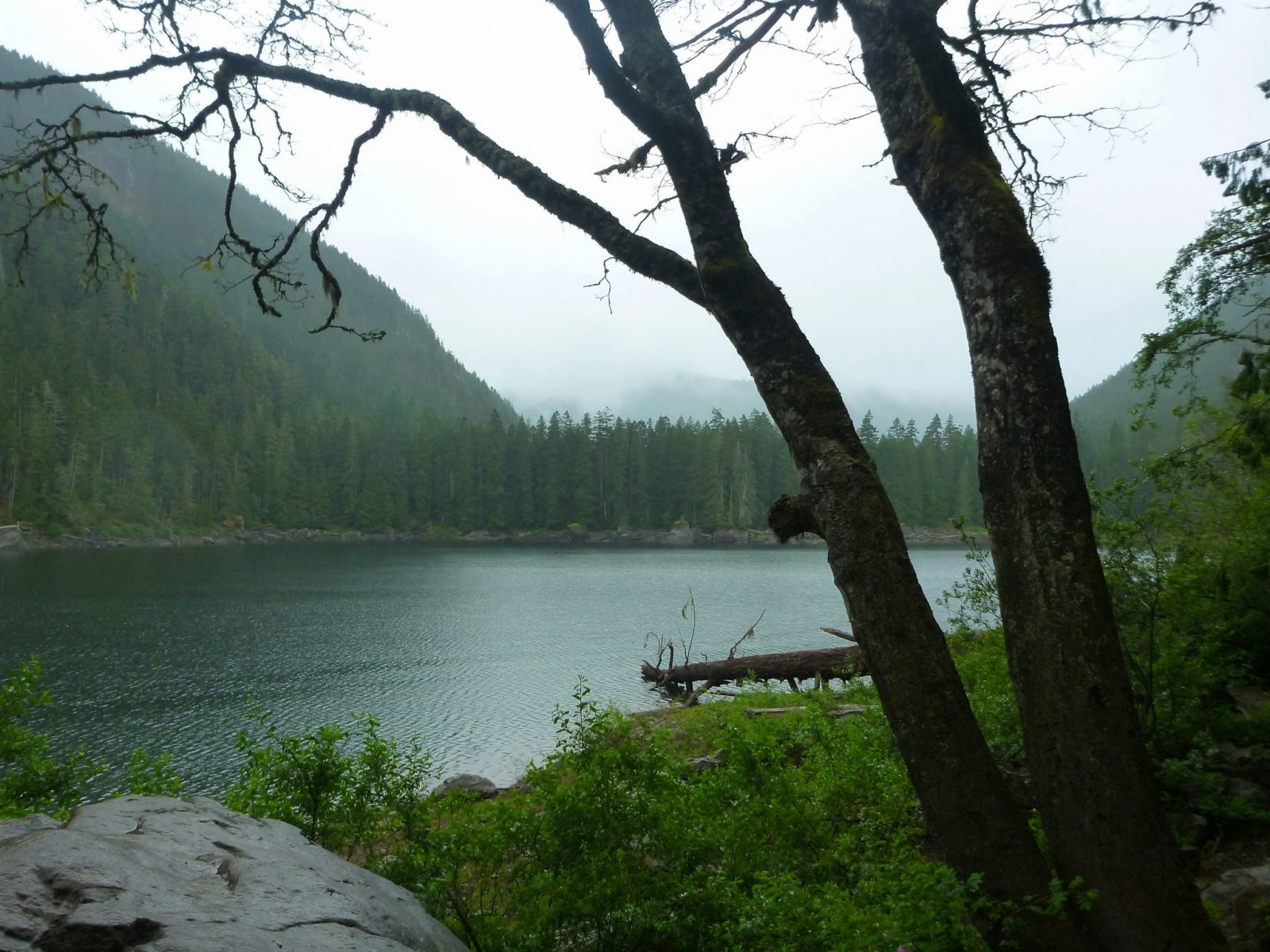 Lena Lake is just outside the park boundary in Olympic National Forest. It's located on the Southeastern side of the park along Hood Canal. Lena Lake is an excellent year round lovely alpine lake destination for day hikes or overnight trips!
At 7 miles and 1300 feet of elevation gain, it's a beautiful forest hike to a gorgeous lake that you can visit pretty much all year and in any weather. Use caution on rainy days and after rainy days as there tends to be a lot of water and mud on the trail. Make sure to have your waterproof footwear!
What to wear for Rainy Day Hikes in Olympic National Park
This post contains affiliate links, which means if you make a purchase I may receive a small commission at no additional cost to you. As an Amazon Associate, I earn from qualifying purchases.
Most of these hikes are in remote areas with iffy or no cell phone service at all. It's important to carry the 10 essentials and make sure someone knows where you are. For hiking on rainy days, it's important to be able to stay dry, warm and comfortable. Here's what I wear for rainy day hikes in Olympic National Park:
Related: Complete Guide to hiking in the rain