How to See the Northern Lights in Alaska
Posted On January 28, 2020
Last Updated on May 4, 2022
I can think of a handful of experiences that just can't be captured in a photo, video or writing. One of those is seeing the Northern Lights. No matter how many photos you've seen, or even videos, this is not even close to the experience of seeing and feeling them! Seeing the Northern Lights for yourself is an experience absolutely worth the effort required to make it happen and is totally worth making a winter trip to Alaska. Add to that the unpredictability and changing nature of them, and seeing the northern lights in Alaska is the adventure and experience of a lifetime!
I was lucky enough to live in Fairbanks, Alaska for four years, one of the best places to see the Northern Lights in the world. During that time I got to experience them routinely and my sense of awe only increased, I never took it for granted. I don't know anyone who has lived in Alaska for a lifetime whose appreciation for the lights ever diminished.
This article will talk about what the northern lights are, why Fairbanks is the best place to see them, how to improve your chances of seeing them and what to wear to stay warm. My husband, Jay Flaming, a twelve year resident of Fairbanks and experienced photographer, collaborated with me on this post and provided the photography tips. Read on to learn how to plan your own quest to see the Northern Lights in Alaska!
What are the Northern Lights?
Before going any farther, it's important to know what we are even talking about when talking about the Northern Lights! The Northern Lights are technically called the Aurora Borealis and in Alaska they are generally referred to as the "Aurora" or "the lights". The magical colors we see flashing and rolling across the sky are caused by the interaction of the gases in the earth's atmosphere protecting us from the solar wind, harmful radiation that is constantly flying at the earth across the solar system. When the gases in our atmosphere get charged up by this radiation they start to glow, which causes the northern lights. Why does this happen in Alaska and other parts of the north (and south), you might be wondering?
The answer has to do with the earth's magnetic field, which protects us by deflecting the solar wind around the earth. If you remember bar magnets from elementary school, the iron filings get caught up in a loop around the north and south pole of the magnet, and that's just what happens with the aurora! There's a concentration of radiation around the poles called the aurora oval. The aurora oval (not the north pole) is the part of the earth where the northern lights are most often visible. The same thing happens in the southern hemisphere, but there isn't much land around the southern aurora oval except Antarctica so it's much harder to get to a place to see them. If you have no idea what I'm talking about with the bar magnets, check out this short and awesome video that visually explains how the northern lights work.
The different colors visible in the Northern Lights are caused by the solar wind interacting with different gases at different altitudes in our atmosphere. The most common color is green, but you can also see red and purple colors in an active display!
Sometimes when there's a very active Aurora, it can feel like it's coming down and almost like you can touch it! I know I have instinctively backed away against the side my car or a tree or rock but rest assured that the northern lights are happening at least 50 miles above the earth (at least five times as high as an airplane flies) and up to 200 miles above the earth so it's not actually going to reach you even though it REALLY feels like it might.
How can I make sure I will see the Northern Lights?
You can't. This is just the truth. In the same way you can not guarantee good weather for your outdoor wedding or great snow conditions on a ski trip, the Northern Lights can never be guaranteed. However, by knowing what it takes to see the Northern Lights, you can improve your chances massively! The different parts of the Aurora Formula will be covered throughout this post.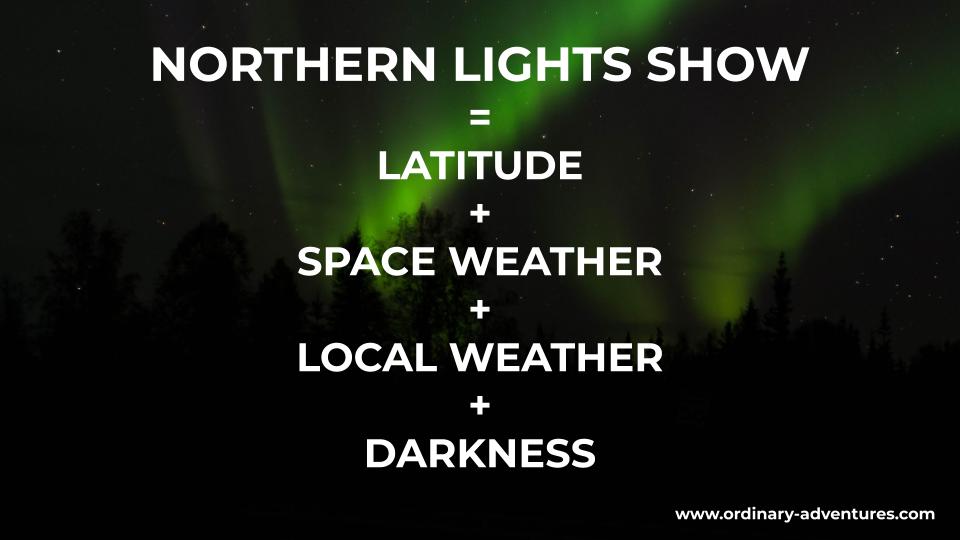 Why is Fairbanks the best place to see the Northern Lights?
It's true that I'm biased, but this is not just an opinion! Here are nine fact based reasons why Fairbanks is the best place to see the northern lights, not just in Alaska but arguably in the world!
Fairbanks lies directly beneath the aurora oval in the northern hemisphere, making the LATITUDE optimal for the northern lights overhead. If you've seen the lights from the lower 48 states, they were probably hovering low on the horizon. That's not how it is in Fairbanks, where they look like columns of lights descending from directly above.
Fairbanks has better LOCAL WEATHER (less clouds) than many other locations near or under the auroral oval (such as Iceland, Scandinavia and Anchorage, Alaska).
Fairbanks has it's very own SPACE WEATHER forecast at the University of Alaska Fairbanks, giving you everything you need to know to give yourself the best possible chance of seeing the Aurora
Fairbanks has DARKNESS (but only some of the year)
You can fly to Fairbanks on a commercial flight non stop from Seattle (3.5-4 hours), making it less of a hassle to get there than some other places under the Aurora oval with similar weather (such as Dawson City in the Yukon Territory of Canada).
Fairbanks has year round infrastructure for visitors, including hotels, restaurants, grocery stores, rental cars and activities, it's a town that doesn't exist exclusively or mainly for tourism.
Fairbanks is set up to support your Aurora quest! There are tours available and most hotels provide a wake up call if the northern lights are visible upon request.
Fairbanks is a fun place to visit! It's important to have other reasons besides the Northern Lights for your trip, because never know when they're going to come out and you want to be able to have other adventures while you're waiting (like going in a hot springs!!)
For United States residents, it simplifies things that Fairbanks is in the US – no passport required!
BUT ISN'T IT COLD???? yes, it is! But you got this! More about managing the cold below!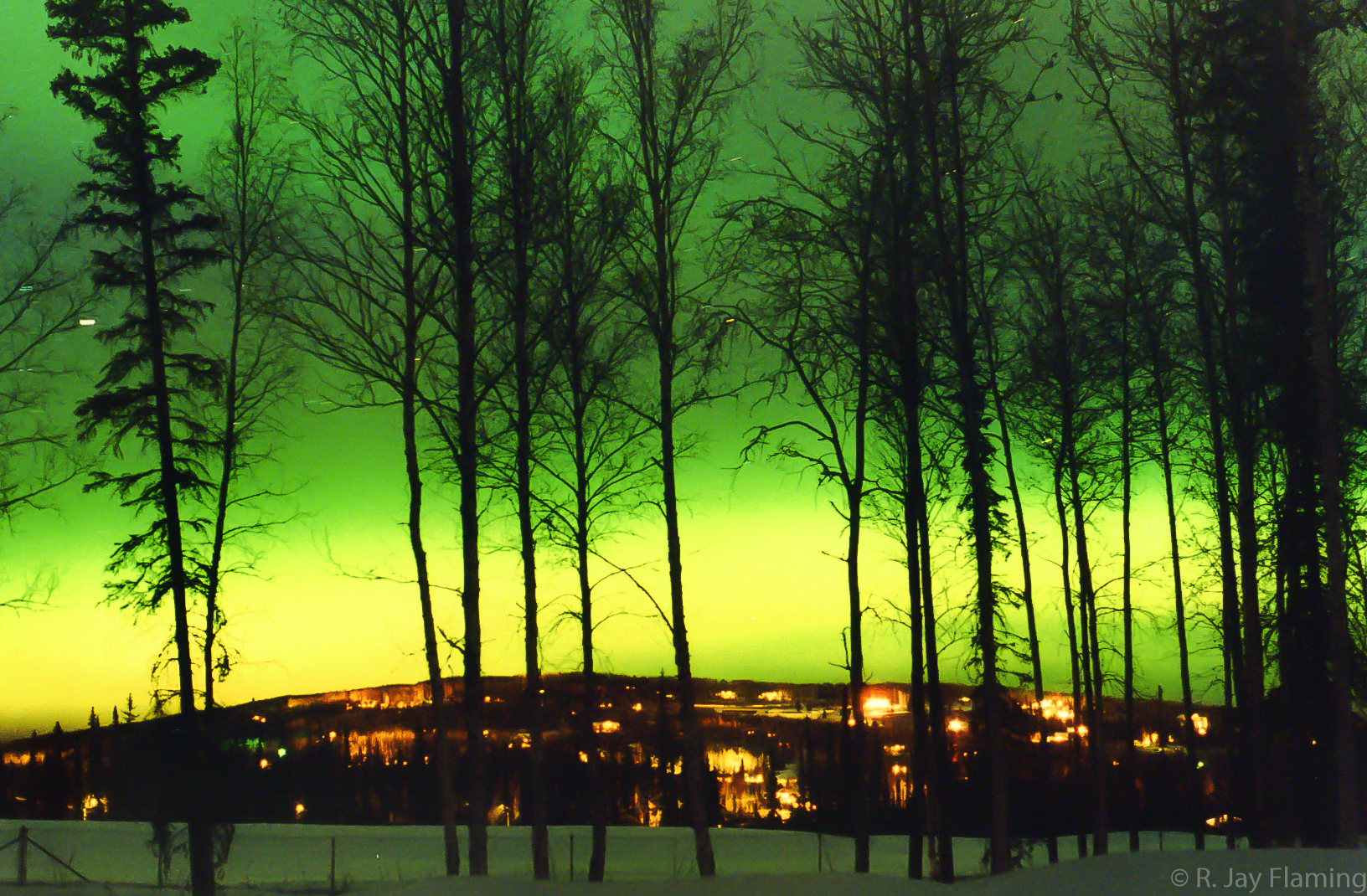 When should I plan my trip to see the Northern Lights?
Now you know what the Northern Lights are, what conditions you need to see them and why Fairbanks is the best place to see them. So, when should you plan your trip? I recommend planning your northern lights trip to Fairbanks in March or the end of February because
It's dark at night: September through March it's dark enough to see the Northern Lights at reasonable hours
It's close to the equinox: According to the University of Alaska Fairbanks, the northern lights are out more frequently near the equinox (March 21 and September 21) than they are near the solstice (December 21)
March statistically has clearer weather than fall
March is not as cold as December, January and February (though it's still cold, see below for how to stay warm)
There are lots of other activities to enjoy in Fairbanks in March, such as cross country skiing (multiple fantastic trail systems), visiting Chena Hot Springs and the ice museum and the world ice art championships! Lots of fun to be had while you're waiting for the northern lights to come out.
How to improve your chances of seeing the Northern Lights during your visit
Look up at the sky as much as possible when it's dark and clear– this simple, low tech method is really the most important. When the northern lights are out, you'll be able to see them from anywhere. Forecasts, tours and getting out of town are all helpful tools, but none are a substitute for just looking up, a LOT, from wherever you are.
Stay as long as possible: Fairbanks is an excellent place to see an Aurora, but it's not out every night. Improve your chances by staying as many nights as you can
Try to plan your trip around a new moon, or at least not a full moon: I've seen plenty of Aurora on full moon nights but if you have the option of being there when there's less than a full moon you'll improve your chances of seeing the Northern lights, especially if it's a quiet display
Rent a car or take a tour that will get you away from town and away from light pollution: Fairbanks is a medium size town and has some light pollution, so driving a bit out of town (or taking a tour) will improve your chances.
Plan to be outside around midnight: while the Northern Lights can be out anytime and can come and go throughout the night. Statistically, your best chance will be between 10pm and 2am, with a peak around midnight (set your alarm for midnight if you're going to take a nap first or ask your hotel if they do Aurora wake up calls)
Keep your daytime plans as flexible as possible: You never know when the Northern lights will be out, so make sure you keep your daytime plans mellow and flexible enough to make the most of the dark hours.
Review the Aurora forecast and other helpful Aurora tools such as the Explore Fairbanks Aurora Tracker
If you want to go to a place that is specifically designed to help you see the Aurora, with extremely knowledgeable guides in a dark open area with an amazing view of the sky, but you don't want to commit to a tour (or they're all sold out), I recommend going to the Aurora Pointe Activity Center. Aurora Point is close enough to town that you can take a ride share or taxi if you don't want to drive, and they have a perfect warm facility with bathrooms, hot drinks and cookies! And knowledgeable guides to answer your questions, help you set up your camera (even a smartphone) and they even include complimentary aurora portraits of your travel group if the aurora come out for you.
What to Wear to Stay Warm
This post contains affiliate links, which means if you make a purchase I may receive a small commission at no additional cost to you. As an Amazon Associate, I earn from qualifying purchases
Related: Best boots for Alaska
My standard packing list for Alaska, covering both winter and summer, will cover you for this trip, but here are a few key items to keep you warm and happy and improve your Northern Lights viewing experience. The temperature can vary a lot at this time of year, so pay close attention to the forecast as you approach your trip. In general expect the temperature to be around 0 degrees Fahrenheit (although it could be well into the negative temps or up to the teens Fahrenheit during the day).
The warmest boots you have – I wear these
The warmest socks you have – I wear these
Snow pants – the cheap bib kind will work great. I recently upgraded to these awesome Columbia ones and I highly recommend them!
The warmest coat you have (you can layer if you don't have a really warm coat and don't want to buy it but a big warm coat is easier to manage) – I love this one from REI as it's warm, long and packs into it's pocket which is wonderful for travel.
Long underwear top and leggings to go under the snow pants and jacket – I am a huge fan of this top and these leggings for this purpose
A very warm wool hat – I love this super warm one and I also like to have a headband like this one can be really good for something active like cross country skiing since it keeps your ears warm but doesn't get too hot
Mittens (which are warmer than gloves) and lightweight touchscreen gloves to go under them for when you need to use your fingers (especially if you're doing aurora photography). I recommend these mittens to put over them (but any mittens you already have and love will be great).
A buff (a balaclava works too) so you have something you can pull up over your nose and mouth
A headlamp with a red light setting, so your night vision doesn't get ruined if you need a light. This is especially important if you're doing photography.
Sunglasses – 12 hours of sun on snow requires sunglasses!
Lip balm and lotion – Fairbanks is REALLY dry in the winter
A thermos for hot drinks – you'll need an actually thermos to keep a hot drink hot for more than 10 minutes if it's zero degrees outside!
Swimsuit for hot springs!
Photography Tips for the Northern Lights
It's difficult to get a good photograph of the aurora with a mobile phone. But with a good camera and tripod the shots can be spectacular.
Don't get so carried away shooting pictures that you miss having the experience in person.
Look for a place with interesting foreground silhouettes. Trees, equipment, or mountains all work well.
Let your equipment settle a few minutes after bringing it out or in of warm spaces. Fog forms on the glass very easily and will make your images very soft. The battery life will be reduced in the cold. Bring extra batteries and keep them in an inside pocket.
Don't think that if the display isn't very impressive it won't make a good photo. I got some pictures of an aurora from Seattle Washington that was too dim to really be seen with the naked eye a few years ago!
Review your shots as you take them. If the lights are blurry (and the camera isn't moving) try shortening the exposure. If they are too dim, lengthen it or crank up the sensitivity and try again. You'll need to experiment.
Depending on your equipment and the way the lights are moving (they can be very active, flickering back and forth across the entire sky in seconds) it can be best to take a number of single images and stack them with astrophotography software. This can help avoid star trails and reduce noise, but is much more complicated.
I recommend using an intervalometer so you can set up your camera to take a long series of shots, leaving you to watch (or go sit in your car with a hot drink!). I personally use these inexpensive ones for both my Pentax pro dslr, and they also work with Canon or any camera using the fairly standard jack 1/8″ stereo jack.
Seeing the Northern Lights in one of the best things you can do on a trip to Alaska, and avoid the summer crowds in the process! It will be an adventure of a lifetime so get started with planning your trip!