How to Visit Glacier Bay National Park in Alaska: Ultimate Guide
Posted On June 24, 2019
Last Updated on September 27, 2023
Glacier Bay National Park is a place of incredible beauty in a remote wilderness with glaciers, mountains and wildlife. It is truly unforgettable. It's a place that can be quickly visited on a cruise ship, which is how 95% of visitors experience its beauty.
If you visit Glacier Bay National Park on your own you gain the opportunity to go deeper with this unique place. You can go deeper into this gorgeous wilderness, meet the people, the wildlife, the glaciers, the very land itself. Make sure you give yourself enough time to spend a few hours just experiencing it. Possibly walking along the beach, or sitting on the beach, or taking some deep breaths next to a giant tree, or sitting on covered deck of the lodge enjoying a beer or a cup of coffee while the rain falls around you. Expect to be changed.
Related: How to visit Alaska without a car
How to get to Glacier Bay National Park from Juneau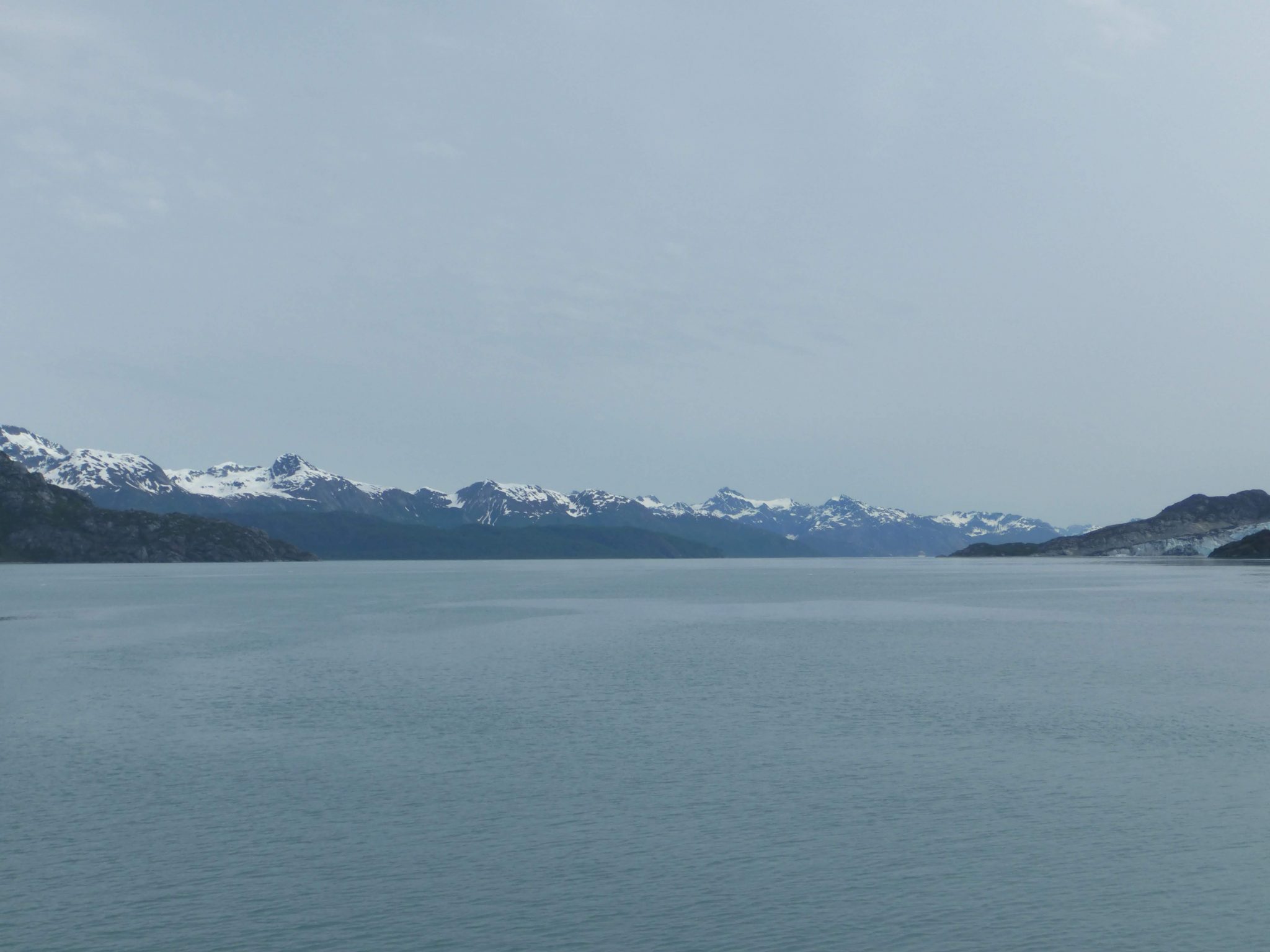 Glacier Bay is located west of Juneau, Alaska. You'll need to get to Juneau first in order to get to the park. Glacier Bay National Park is located on a peninsula that is surrounded by water and icefields and there are no roads in or out. You can only access Glacier Bay National Park by boat or by plane from Juneau. You can NOT drive to Glacier Bay! We'll discuss both options. The vast majority of visitors to Glacier Bay visit on a cruise ship, this post focuses on how to get there if you're traveling on your own.
How to get to Glacier Bay National Park by Boat from Juneau
This is the least expensive, slowest and most complicated way to get to Glacier Bay National Park. It's awesome, super scenic and relaxing, as long as you can handle a few logistics and have more time for travel. You can fly to Juneau from Seattle (2 hours) and then take the Alaska ferry from Juneau to Gustavus and then take a taxi or the Glacier Bay lodge shuttle from the ferry dock to Bartlett Cove in Glacier Bay National Park (the cost of both is about $30 round trip). The ferry schedule varies from year and is generally released in February for the coming summer season. Usually the ferry goes to Glacier Bay about three days a week.
I previously wrote about taking the ferry all the way from Bellingham, WA. In that post I also talk about how to read the ferry schedule and what's available on board the ferry. The ferry from Juneau to Gustavus takes 4-6 hours depending on whether or not it stops in another port on the way. If you fly to Juneau and then take the ferry, you'll need to take a taxi or rideshare from the airport to the ferry terminal. This costs around $20 each way.
One reason to consider the ferry is that you can bring bear spray (discussed below) and cooking fuel for your campstove (though you cannot use the campstove on the ferry). Getting supplies in Gustavus is challenging so this is something worth considering. You can always leave those items there and fly back. This is discussed in more detail below under "food and supplies".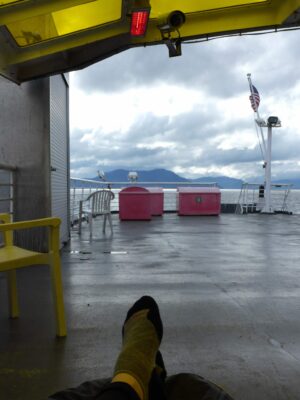 How to get to Glacier Bay National Park by Plane from Juneau
This is the faster and more expensive way to go. It's also less complicated as there are more flight options and you don't need to get between the airport and ferry terminal in Juneau. You'll already be at the airport. The first step is to fly to Juneau and the second step is to book a flight from Juneau to Gustavus. The flight between Juneau and Gustavus will be on a small plane, which is a fun addition to your adventure!
Keep in mind that the flights on small planes in Alaska are subject to delays and cancellations based on weather. It's important to stay flexible and give yourself a good amount of time between flights in Juneau (especially on the way back). Alaska Airlines does operate one flight a day on a jet between Gustavus and Juneau from early June through late August.
How Much Does it Cost to go to Glacier Bay National Park?
The cost of a trip to Glacier Bay can vary widely. Glacier Bay National Park does not charge an entrance fee. You can visit it almost for free (once you get there) if you:
Stay in the free Bartlett Cove Campground
Skip any tours in favor of hiking and beachwalking out of Bartlett Cove
Bring all your own camp food with you
I recommend building a budget so you can see some of the highlights, since you'll need to invest some money to travel to Alaska in the first place! Read all my tips for saving money on your trip to Alaska here.
Below is a sample of some of the things you should plan to budget for to visit Glacier Bay National Park:
| | |
| --- | --- |
| Activity | Approximate Cost |
| Travel to Juneau from your location | Varies |
| Travel from Juneau to Gustavus by Ferry (round trip) | $110/person |
| Travel from Juneau to Gustavus by Air (round trip) | $300/person |
| Taxi or shuttle from Gustavus to Bartlett Cove (round trip) | $30/person |
| Glacier Bay Lodge Room | $250-$300/night |
| Camping | Free |
| Dinner at the Glacier Bay Lodge | $20-$50/person |
| Breakfast at the Glacier Bay Lodge | $10-$20/person |
| Showers and laundry for campers | $5/each |
| Day Boat Tour | $230/person |
| Half Day Kayak Tour | $100 |
| Tips for Tour Guides | 15- 20% of the cost of the tour |
When should I visit Glacier Bay National Park?
The Glacier Bay Lodge and the Glacier Bay Day Boat Tour (both discussed below) are open from Memorial day weekend (late May) until Labor Day (early September). This is the time that you want to visit! Outside of this time, a visit to Glacier Bay as an independent traveler isn't a realistic option.
I recommend visiting in the earlier part of the season (late May and early June) because it's less crowded. It is also statistically less rainy than later in August and September. It's important to keep in mind that Glacier Bay National Park is RAINY and CHILLY at any time in the summer. Typical summer temperatures are in the 50s and 60s, though you could experience warmer weather at times. It is imperative that if you plan a visit to Glacier Bay National Park that you are prepared for and expecting rain.
Where to Stay in Glacier Bay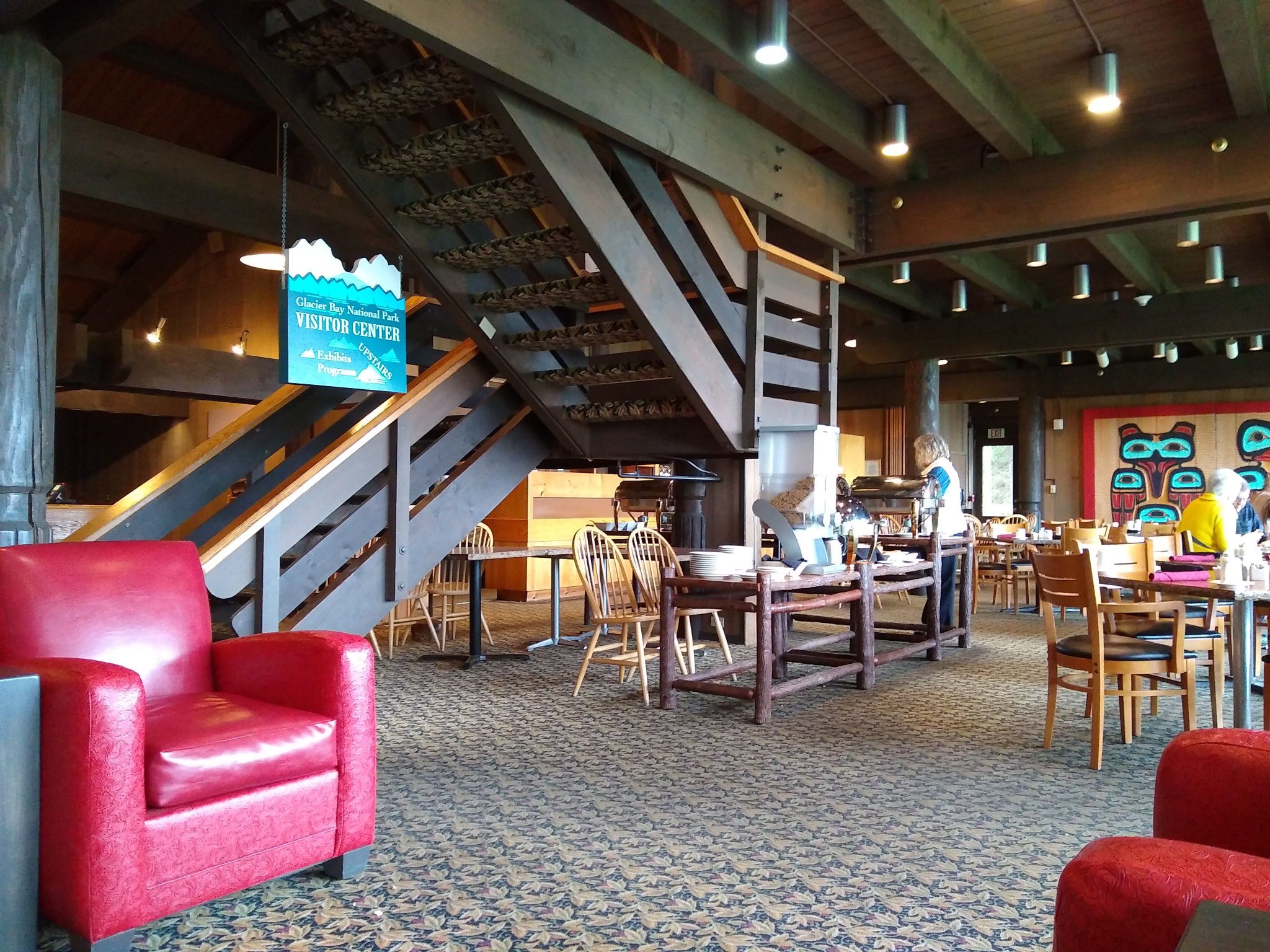 There are vacation rentals available in Gustavus, but here I will focus on your two options for staying in the park, since the town is 10 miles away. Definitely stay in Bartlett Cove if you are coming to visit Glacier Bay National Park as an independent traveler. You have two options, the Glacier Bay Lodge and the Bartlett Cove Campground.
The Glacier Bay Lodge is expensive, starting at around $250 per night for a solid, comfortable, though basic room. Rooms are situated around the lodge in cabins. There are no TVs and NO CELL SERVICE. Wifi is available in the lodge lobby, but not in the rooms. The other option is to camp in the Bartlett Cove Campground, which I highly recommend as long as you have a tent with a SOLID rainfly. Read my guide to camping in Alaska here!
Camping at Bartlett Cove Campground in Glacier Bay National Park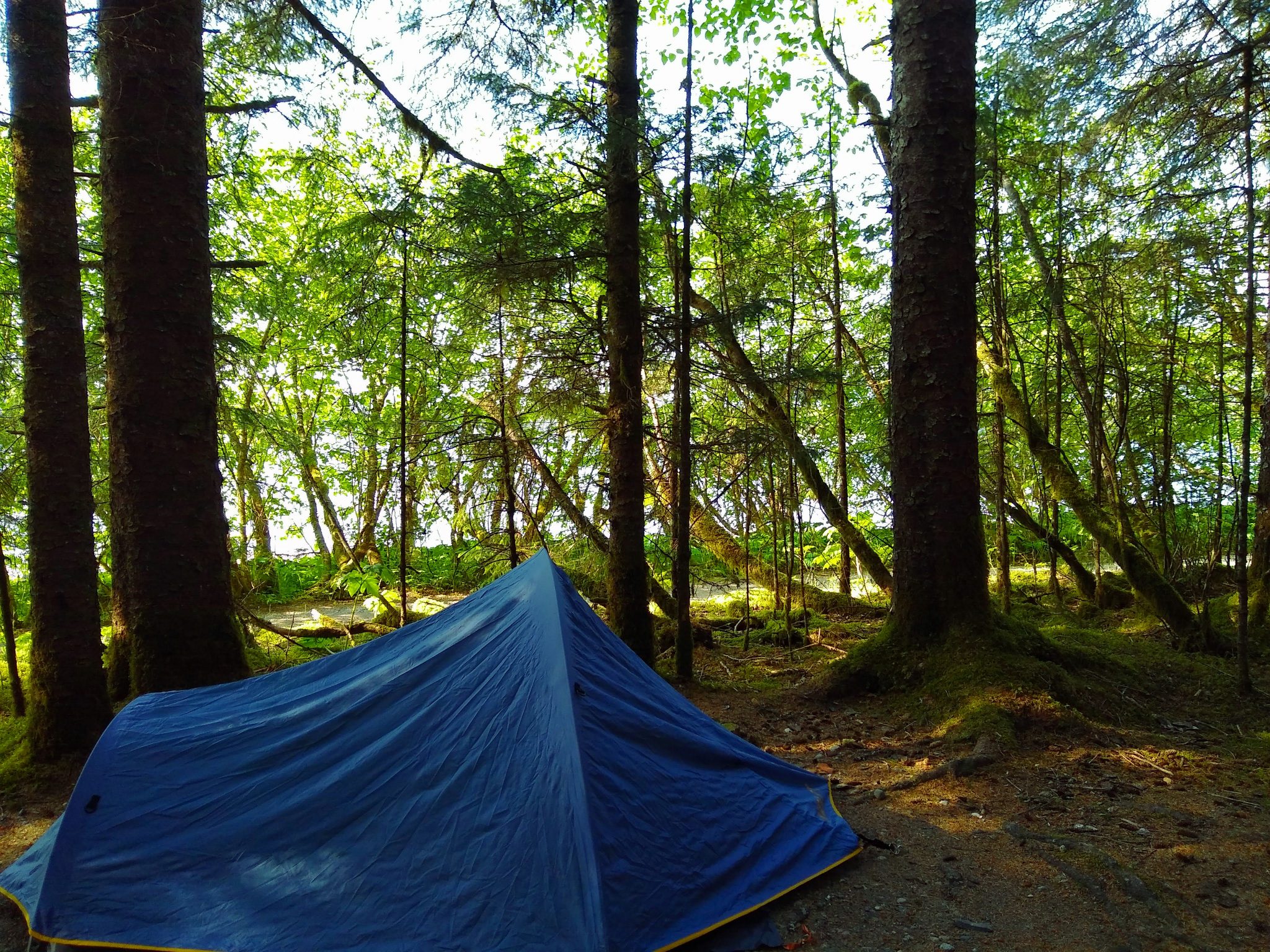 This campground is absolutely fantastic. I cannot say enough wonderful things about it. There are only two downsides to it: it's in a very rainy place and it's remote, so if you forgot something you'll have to improvise. This is bear country, and the park service has strict rules for the campground to ensure safety of bears and people.
When you arrive, you'll go to the Visitor Information station that's near the dock (and a 5 minute walk from the lodge). They'll issue your free permit and give you an orientation. It's important to pay attention to the rules and follow them. The big ones are no food, cooking materials or toiletries in the tent area (they have food caches that are like sheds that you keep these things in, there are several in the campground). The other big rule is no cooking by your tent. The sites are in the trees, and you can cook and eat anywhere on the beach in the intertidal zone (so that the smells wash away when the tide comes in). Here are the reasons why the campground is awesome:
It's FREE
It's BEAUTIFUL
New (in 2019) composting toilets
There are showers (they aren't in the campground, they are a the lodge which is a 5 minute walk away), you go to the gift shop and pay $5 and they give you a key to the shower for half an hour. They also provide a towel, soap, shampoo and conditioner!
Laundry is available (again, it's at the lodge). It's coin operated $2 for wash, $2 for dry
Covered set of picnic tables near the dock (this is not right in the campground but it's very close, 5 minute walk)
Flush restrooms in that same location (near the dock)
There is a filtered water bottle filling station by the dock
There is a hose and wash station for gear by the dock
Trash AND RECYCLING are available near the dock
If you forgot food, didn't bring enough food, don't want to cook or if you change your mind about cooking in bad weather there's a lodge (5 minute walk) where you can just go and have your meals, or a meal, or a drink!).
The lodge also has a lobby with chairs where you can sit and read a book, there's also a small LIBRARY upstairs where you can do the same.
Did I mention it's beautiful? And remote? And awesome?
Things to do in Glacier Bay National Park
1. Glacier Bay Day Boat Tour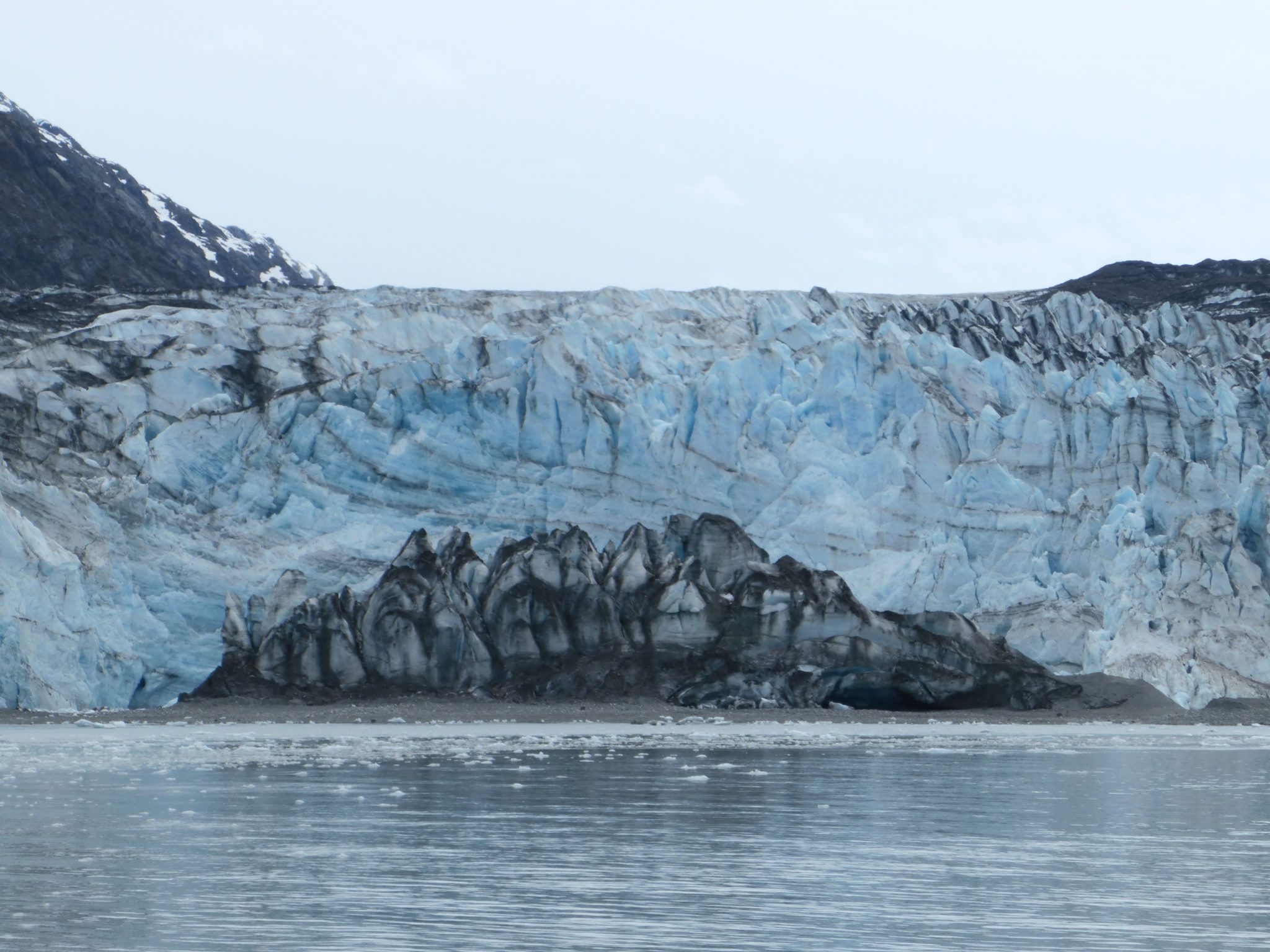 In my opinion, the Day Boat Tour is a MUST do. I'm telling you this because it's expensive ($240/person) and you might be tempted not to do it, but really, it's absolutely incredible! I've never been on a day boat tour anywhere in Alaska that wasn't awesome, but this one is really incredible! I highly recommend it. One of the best day tours you can do in Alaska. This is also the only way to see the glaciers in Glacier Bay, as they are not viewable from Bartlett Cove where you'll be staying.
Glacier Bay is absolutely beautiful without seeing the Glaciers, but you don't want to miss this!! If it's good weather, you'll be able to see mountains all around as well, but if if it's rainy, foggy or cloudy you'll still be able to see the glaciers at the head of the bay and lots of wildlife! I saw many whales (including some breaching, which is when they jump out of the water and I had never seen that before, so cool!), two bears, many sea lions, sea otters, seals and lots and lots of birds of all kinds. Amazing!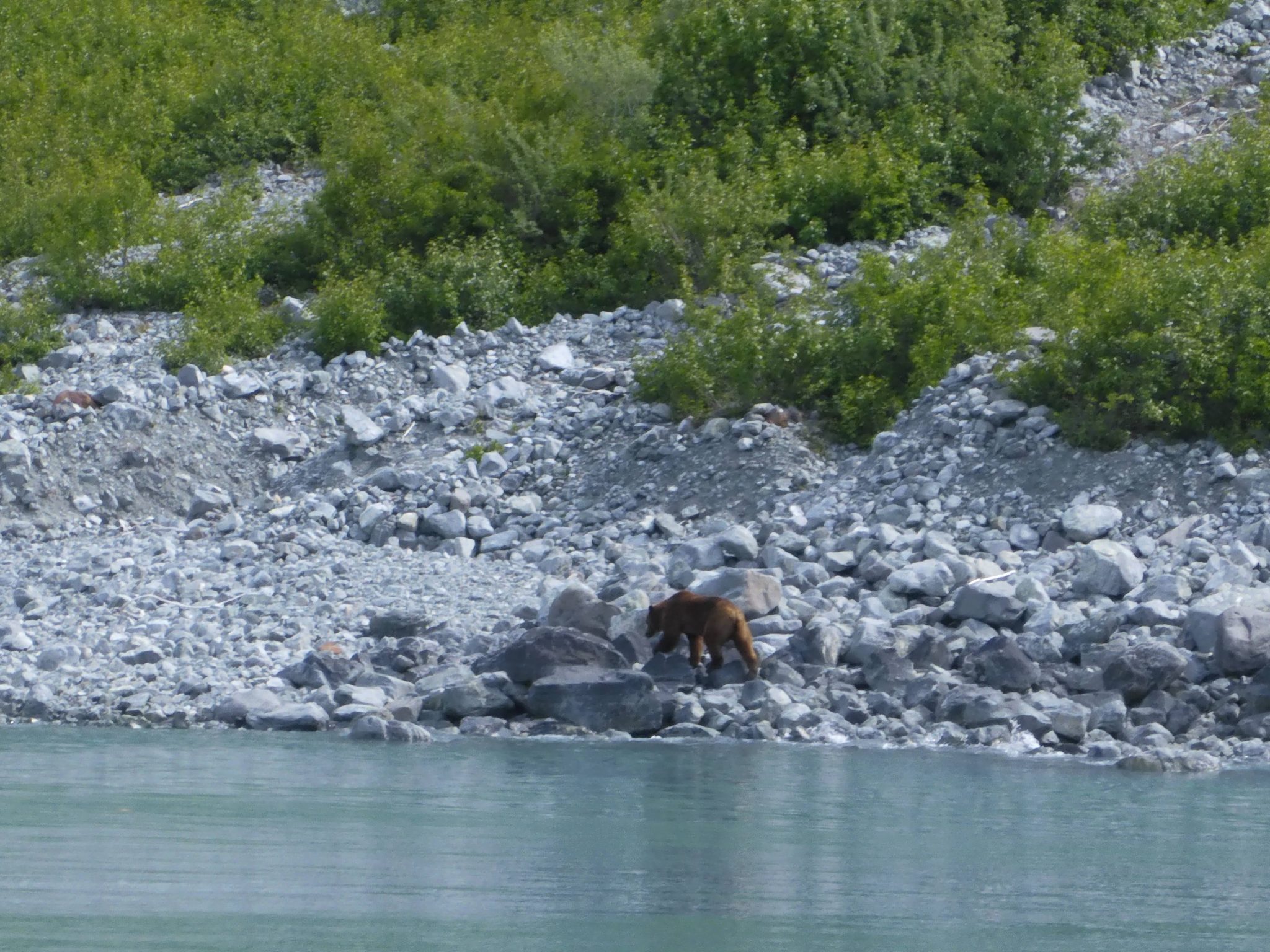 You'll want to book the boat ahead of time, you can do that here. It's operated by the lodge. The boat is a full day, it departs at 7:30 am from the dock in Bartlett Cove and you return about 3:30. They provide hot drinks, a clam chowder snack, and lunch (a sandwich and chips). There are additional snacks as well as beer and wine available for purchase on board.
Make sure to dress warmly for this trip so you can be outside on deck as much as you want. When you're at the head of the bay near the glaciers, it will be colder, and the boat is fast so it's very windy on deck even in warm and clear weather. They also provide maps, binoculars and there will be a park ranger on board to tell you everything you want to know about what you're seeing! They also love your questions!
Related: Best places to see wildlife in Alaska
2. Visit the Huna Tribal House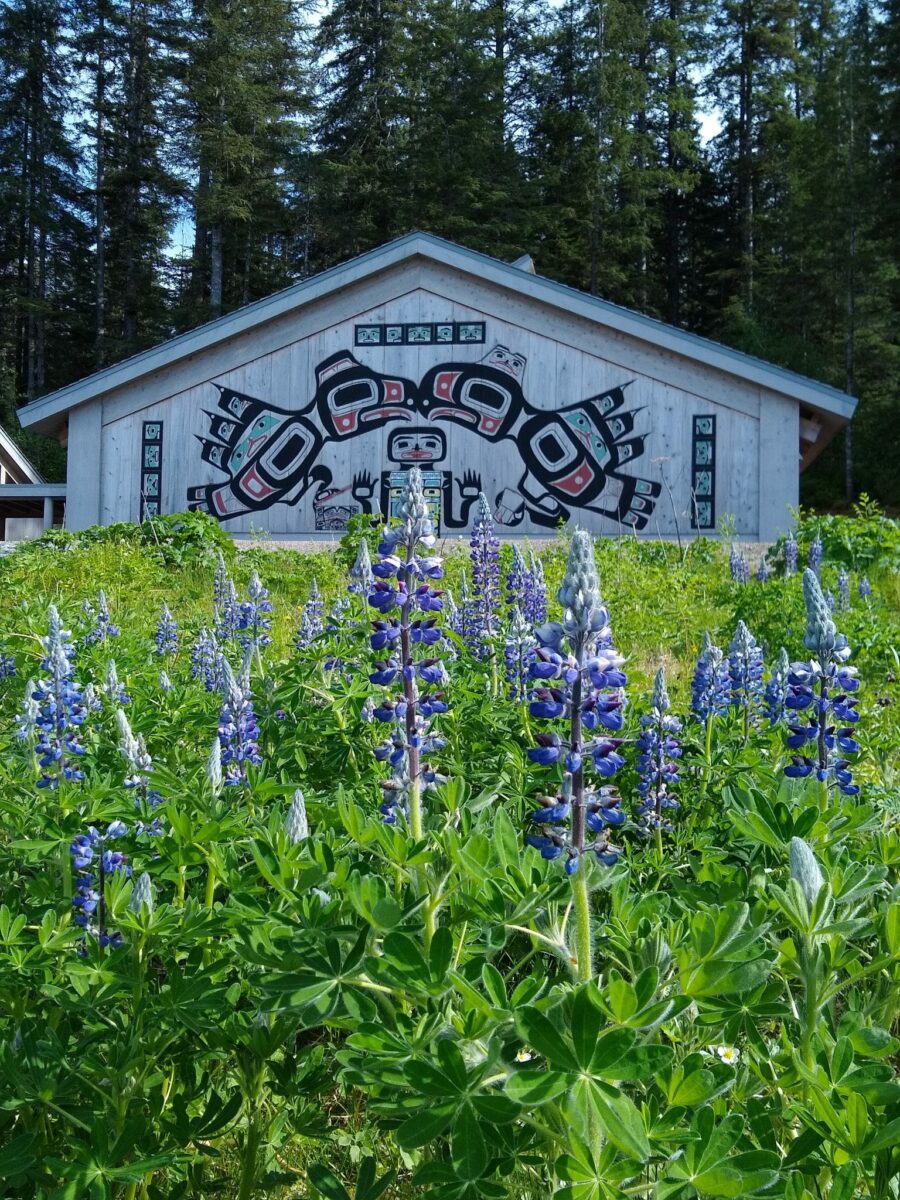 The Huna Tribal House is the most unique and important element of a visit to Glacier Bay. It is a place where the story of reconcilation is being played out right now. In Glacier Bay, the Huna Tlingit are collaborating with the park service to build opportunity for Huna Tlingit people on their land. This is a unique and collaborative effort, and while certainly not complete, it's movement in the right direction and incredibly hopeful and beautiful.
There are regular interpretive programs (check the schedule in the visitor center at the lodge) led by Huna Tlingit Cultural Interpreters. Even with all of Glacier Bay's natural beauty, wildlife and solitude, this is one of the biggest highlights of a visit to Glacier Bay National Park. I was so grateful for the opportunity to learn about Huna Tlingit culture and witness this breathtaking art, both in and on the Tribal House as well as the totem poles.
3. Kayaking around the Beardslee Islands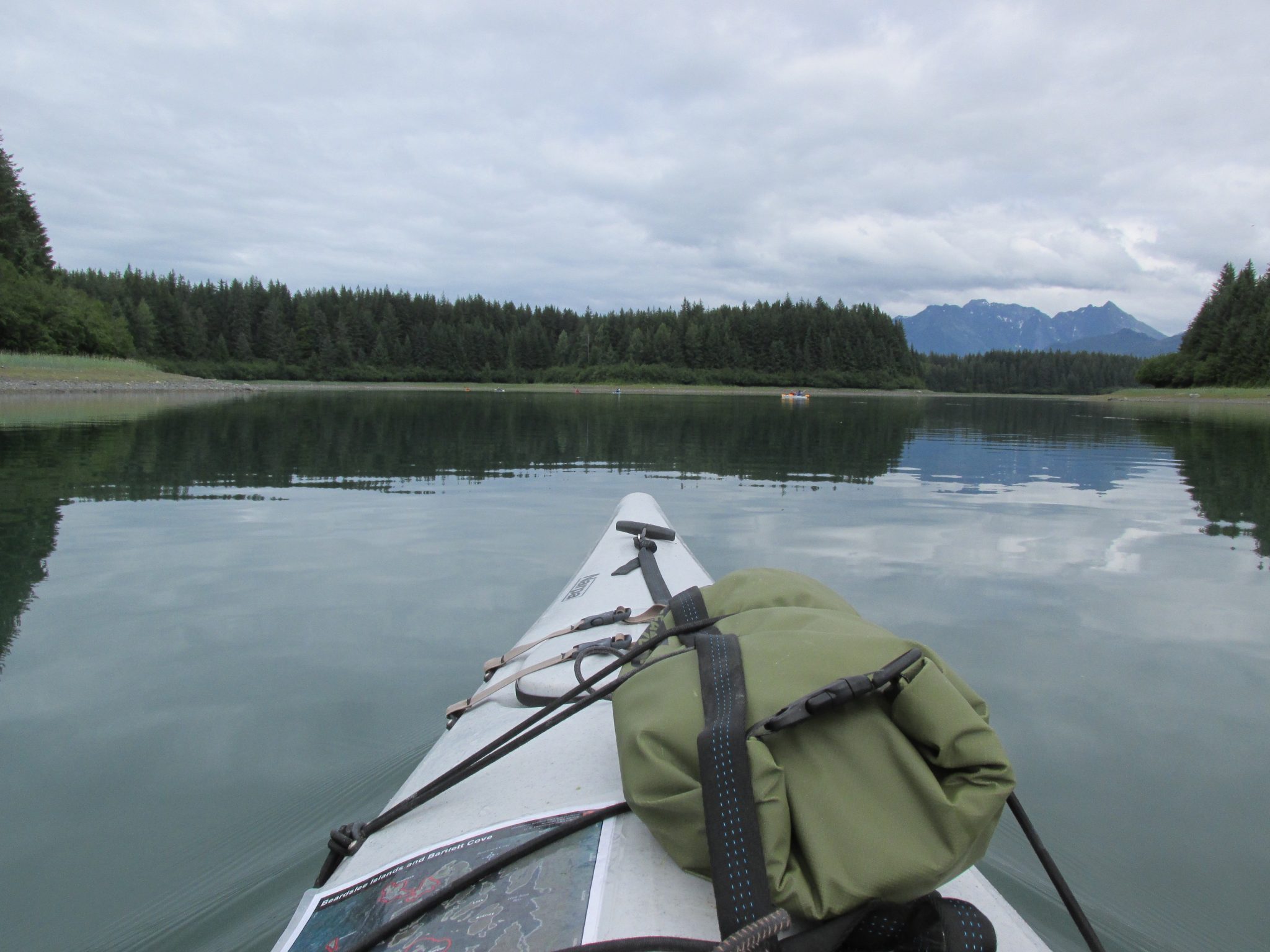 Glacier Bay Sea Kayaks offers half day and full day kayak rentals or tours around Bartlett Cove. They do not allow you to rent and kayak alone, so if you are a solo traveler you'll need to join a tour. You don't need any previous experience to take part in this! They will provide all the gear you need and teach you what you need to know. The full day tour includes lunch.
Paddling gives a different perspective on the water and is a wonderful way to see wildlife. If you're wanting to plan a multi day backcountry kayaking adventure, they can help you with that too!
4. Hiking in Bartlett Cove
There are a number of trails near Bartlett Cove, the park service has an excellent trail guide here.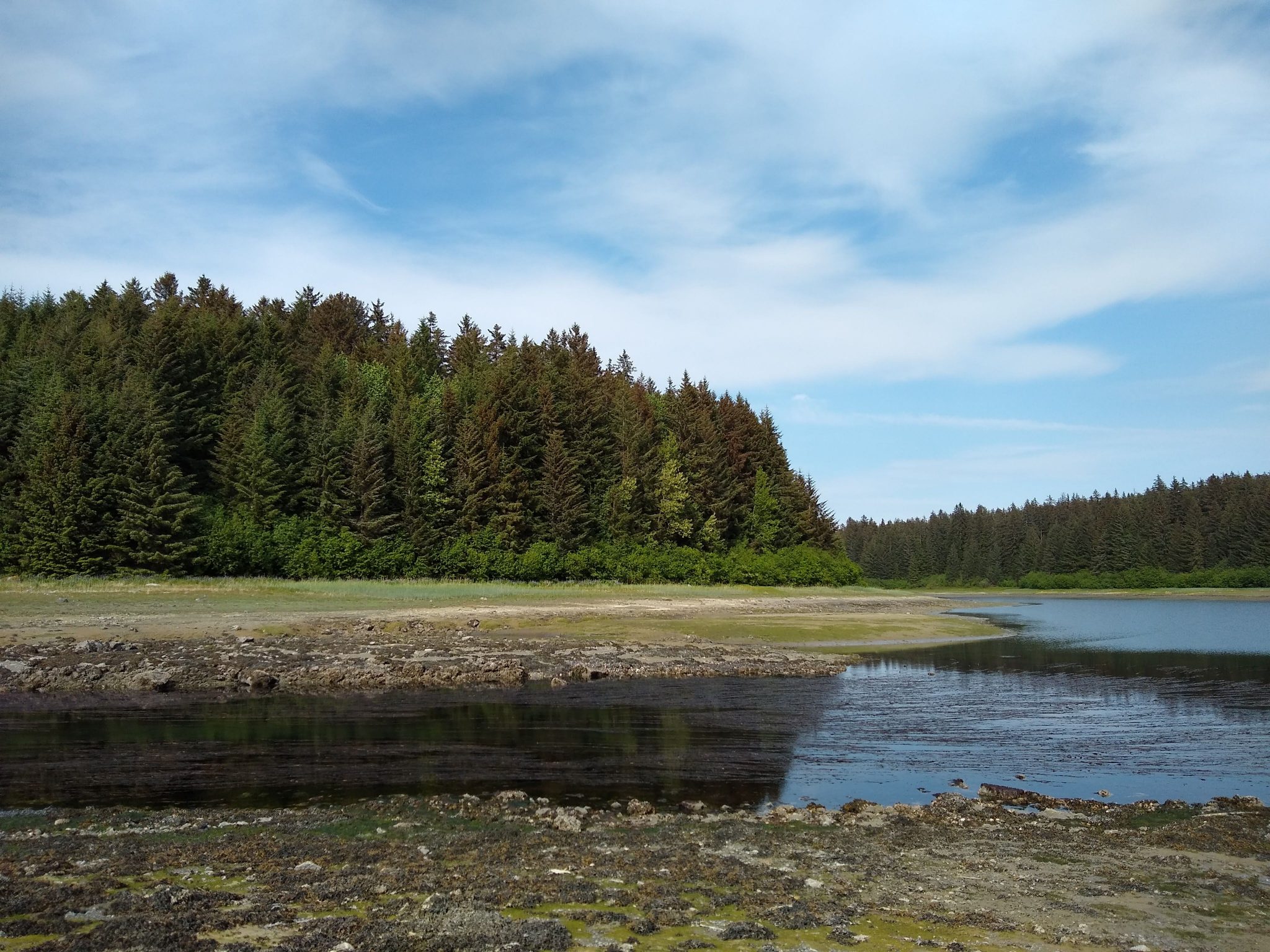 The Forest Trail is a short, 1 mile, minimal elevation gain loop through the forest and along the beach. This is a good trail for getting oriented when you arrive, or to stretch your legs after the day boat tour.
The Bartlett River Trail is a mellow four mile round trip, minimal elevation gain hike through the forest to the estuary at the mouth of the Bartlett River. This is a good half day hike option.
If you want a longer, more remote adventure, you could go for the Bartlett Lake Trail (10 miles round trip).
5. Tidepooling and Exploring the Beach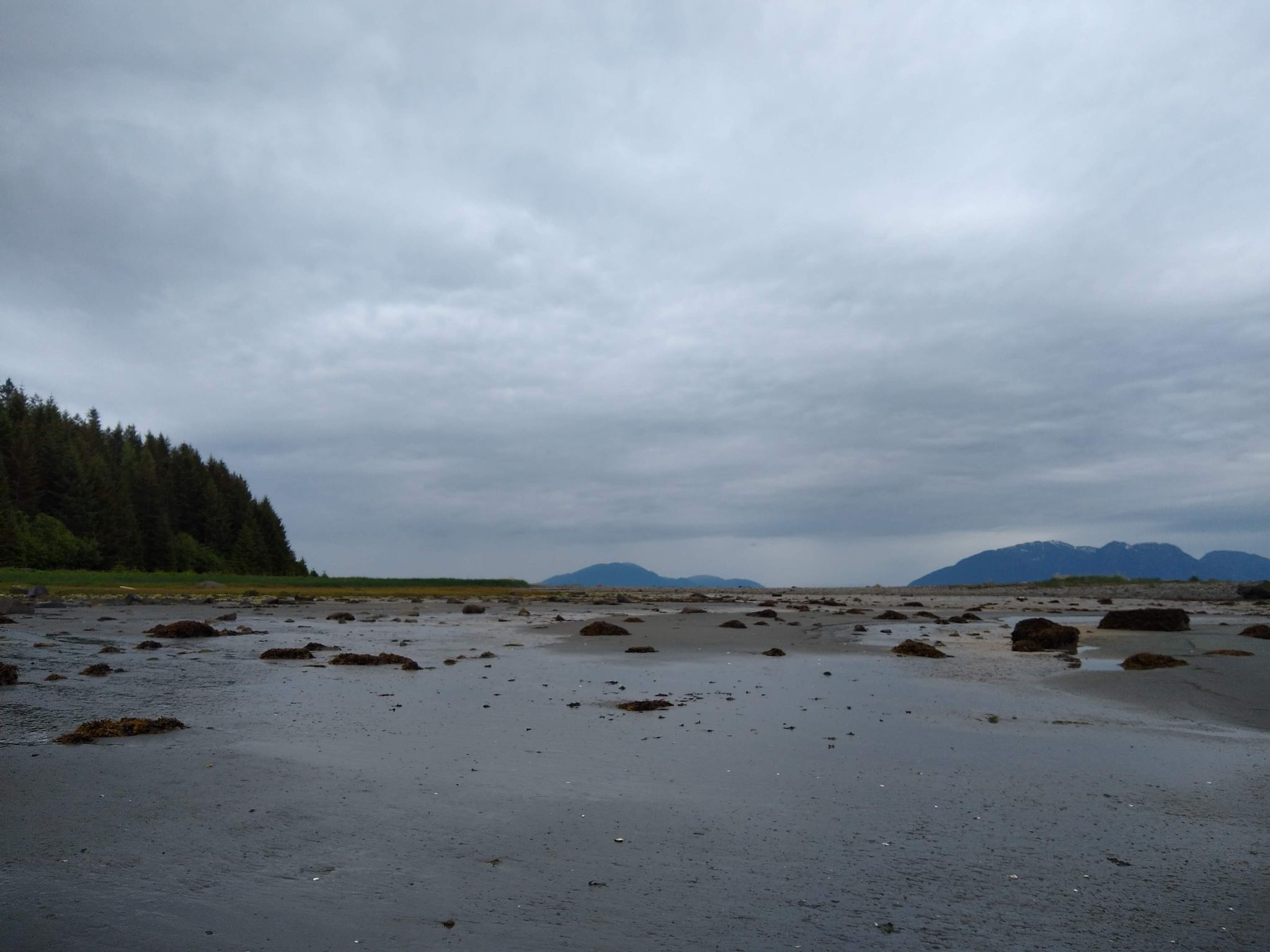 Exploring the beach is an excellent any type of weather activity! It's especially fun at low tide (check the tides at the visitor center in the lodge or the visitor information center near the dock). You can explore the beach in both directions from the campground and dock area for many miles. Just make sure to pay attention to time and how far you've walked.
4 Day Itinerary to Visit Glacier Bay National Park
Now that we've talked about how to get there, when to get there and what to do, it's time to put it all together! You could make it shorter by doing more in a shorter time or skipping some of the activities listed above. For example, you could decide not to do a longer hike, or you could decide to fly out from Gustavus the same day as you do the day boat or a kayak trip. Here's a suggested leisurely 4 day itinerary (including travel from Juneau):
Day 1: Ferry or Fly from Juneau to Gustavus. Get settled in the campground or lodge. Take a walk on the beach and/or along the Forest trail
Day 2: Day Boat Tour, visit the Huna Tribal House
Day 3: Half or full day kayak trip
Day 4: Hike Bartlett River Trail or the beach, ferry or fly back to Juneau in the afternoon
Food and Supplies in Glacier Bay
The part of your trip that is going to require the most planning is food and supplies. Once you reach Gustavus, you are in rural, remote Alaska and finding things is difficult and they will be very expensive. If you can afford the time, I recommend taking the ferry from Juneau so that you can get your supplies together (including fuel and bear spray, discussed below). You can then travel with them by ferry (you can't bring cooking fuel or bear spray on airplanes).
One option is to take the ferry to Gustavus, but fly on the way back. You can leave your cooking fuel and bear spray in the camper exchange at the visitor information center near the dock.
Another option is to bring freeze dried food and shelf stable snacks with you from home. If you're not going to be cooking your own food, you don't have to worry about this so much, you can just bring a few snacks and be good to go.
If you plan on doing any hiking or camping having bear spray is a good idea. Bear spray is essentially pepper spray in a larger container. The idea is that you carry it and if you encounter a bear you get ready to spray if it charges you. It's a personal decision whether or not to carry it, but this is a place you definitely want to consider it. If you're wanting to fly and try to buy it once you arrive, try calling the park service to see if they have any bear spray in the exchange. In the exchange, campers leave things like bear spray and cooking fuel and you can take it when you arrive.
At the gift shop in the lodge you can get a few things, and there are a couple of stores in Gustavus (keep in mind that this is 10 miles from Bartlett Cove, where you'll be staying), but in general it's a good idea to bring what you need with you in terms of food and supplies.
There is NO CELL SERVICE in Bartlett Cove or anywhere in the park. Wifi IS available in the lodge lobby and at the dock, but not in the campground or lodge rooms. If you're camping, charging devices is also a challenge (there are a couple outlets in the lodge). See the section below for my solution to this.
What should I pack to visit Glacier Bay National Park?
This post contains affiliate links, which means if you make a purchase I may receive a small commission at no additional cost to you. As an Amazon Associate, I earn from qualifying purchases
This is a trip where being organized about what you pack and not forgetting anything is important. Check out this post for my general packing list for Alaska, which is a great checklist for Glacier Bay.
Because of the likelihood of lots of rain and the remote location, a few things to call out as especially important here:
Rain gear: This is absolutely essential. Plan on it raining the whole time and if it doesn't you can be pleasantly surprised! I recommend either this rain jacket from REI (which comes in plus sizes) or this Marmot one you can get on Amazon (unfortunately no plus sizes). Both are very similar and are excellent, waterproof and durable. I also recommend rain pants because even if you're like me and hate wearing them hiking, you'll still want them for sitting on wet things and bug protection. These REI ones are the most comfortable ones I've found.
Boots: Waterproof boots are a necessity. For wet places, I prefer to use rubber boots like these, which are totally waterproof, comfortable to walk in, durable and warm. Hiking boots would also work well.
Warm clothes, including a hat and gloves: temperatures are chilly compared to most of the US during the summer, you don't want to be cold!
Lighter weight clothes: it is possible for it to be sunny! If this happens, you'll want some lighter layers
A hat with a brim: this is for sun protection, but also so that you can use a bug net with it (there are mosquitoes in Glacier Bay!)
Bug Spray
Sunscreen, sunglasses and lip protection: If the sun comes out, it's intense! And, if you're on the water, even more intense.
If you're going hiking, the 10 essentials. This is particularly important here as you're in a very remote area.
Binoculars (the day boat provides ones you can use, but you may want them for hikes and looking at the water for whales as well)
Phone Accessories for photography Glacier Bay is a remote location and finding places to charge your phone is a challenge, especially if you're camping. I highly recommend bringing a back up power source like this one, which has three full chargers for my iphone. Another fun accessory for phone photography is a tripod like this one (better than a selfie stick and more versatile). I also recommend these waterproof pouches for your phone where you can use the touch screen even when the phone is protected in the pouch.
Bear Spray: This is the one I use, and it's cool because it has a training can that doesn't actually put out pepper spray! Keep in mind you cannot bring this on any type of airplane so don't buy it ahead of time if you're flying to Juneau or Gustavus!
A lightweight travel mug: even if you're not camping, this is awesome for enjoying your hot drinks on the ferry, or taking it from the lodge for a walk outside. You can also fill it on the day boat. This is the one I use and love, it's lightweight, affordable, durable, keeps things hot for a long time, and can attach to the outside of a backpack.
One or two waterbottles for hikes and day trips. I use Hydroflask insulated metal ones because they keep water hot or cold, depending on what you need. Get one here at REI or here on Amazon.
A pack cover or garbage bag to put over your backpack (or whatever you are carrying your gear in) if it's not waterproof
Analog entertainment such as a Kindle in airplane mode with books already on it, other reading material, sketchbook, portable games, etc. Make sure everything is downloaded so you don't need to connect to wifi or a phone signal to get it. I also recommend a backup battery for your phone (and keep your phone in airplane mode which saves a lot of battery power in remote locations).
Any toiletries or personal items you need, prescriptions
If you're camping: Headlamp, camp stove and fuel (no fuel on airplanes), any cooking utensils you use, tent with a REAL rainfly and stakes, camping pad and sleeping bag. Read all my advice for camping in Alaska here.
If you're planning a trip to Alaska, check out this post about the best things to do all across the state! If you're planning to visit other national parks in Alaska, read my guide for that here.