How to visit Alaska without a car
Posted On December 20, 2021
Last Updated on July 6, 2023
Are you planning a trip to Alaska and just realized how expensive rental cars are? Are you wanting to visit this vast state but don't want to drive? Do you just like to understand all your options before you make decisions? If any of those sound like you, and you're wondering if you can visit Alaska without a car and without renting a car, then this article is for you! You can totally do it and I'll show you how!
Yes, you can absolutely visit Alaska without renting a car. You'll enjoy it more by understanding all your car free options and also building your itinerary around places that are easy to visit car free.
If you're reading this because you're moving to Alaska for summer work and are trying to determine if you'll be ok without your car or you don't have one, you can do it! I did this for several summers and I highly recommend getting a bike.
Related: Alaska Trip Planning Guide, Alaska on a budget
Can you get around Alaska without a car?
Yes. You totally can!
The key to planning a trip to Alaska without a car is to understand your other options for getting around. It's also important to plan your trip to places you can get to without a car and choose your lodging based on places you can get to without a car.
I would even say the key is to plan your trip to places where you not only don't need a car, but where having a car might not even be helpful (like Glacier Bay National Park).
Options for getting around Alaska without a car
Before we get into the best and most convenient places to visit in Alaska without a car, we're first going to dive into the different options you have for getting around between different communities in Alaska.
Alaska Railroad
The Alaska Railroad is a super scenic and unique way to see Alaska! There are a variety of options for where to go in Alaska by train:
Regular service between Anchorage, Talkeetna, Denali National Park and Fairbanks (once a day in each direction in summer, less frequent in winter)
Regular service between Anchorage and Whittier or Seward, including day trips
Spencer Glacier Whistlestop – a unique glacier experience you can only get to by train! Hiking, kayaking and incredible beauty wait for you on this unique excursion.
Park Connection Motorcoach
The Park Connection offers motorcoach bus service between Anchorage, Talkeetna and Denali National Park giving you a less expensive way to get between Anchorage and Denali while still seeing all the amazing scenery.
You can also go from Anchorage to Seward or Whittier. One very convenient thing about the Park Connection is you can go between Denali and either Seward or Whittier in the same day.
They also offer combos with the train so you can go one way by train and one way by bus if you're doing a round trip, which can offer an ideal combination of adventure and affordability as well as maximizing your time.
Alaska Marine Highway (ferry)
The Alaska Marine Highway is a really fun way to travel around Alaska! It takes a spirit of adventure and lots of flexibility to do a longer ferry trip, but if you want a taste of the ferry there are a few options that take less than a day:
Juneau to Gustavus (Glacier Bay) – 6 hours
Juneau to Haines – 4.5 hours
Juneau to Skagway – 6.5 hours
Wrangell to Petersburg – 3.5 hours
I've found that a one way ferry trip combined with a flight is a great way to visit any of these Southeast Alaska towns. The ferry only goes once or twice a week so going round trip on the ferry doesn't always work out for scheduling.
If you're interested in a longer ferry trip, you can ride the ferry from Bellingham, WA to Alaska in a few days. You can also go across Prince William Sound and into the Aleutian Islands in a few days also.
Flights between Alaska communities
Depending on your overall itinerary, it might make sense to fly between different communities in Alaska. Alaska Airlines flies to many towns across Alaska (including some that seem to small for jet service!). There are also small air carriers that have scheduled as well as charter service to small communities, villages and even remote lakes and wilderness areas.
I recommend researching the flight options available in the communities you're interested in visiting.
Best places to go in Alaska without a car
There are plenty of places to go in Alaska without a car, but these are my top recommendations for where to go! Each of these is just as good (maybe better) if you don't have a car with you.
Related: 8 Perfect weekend trips in Alaska
Denali National Park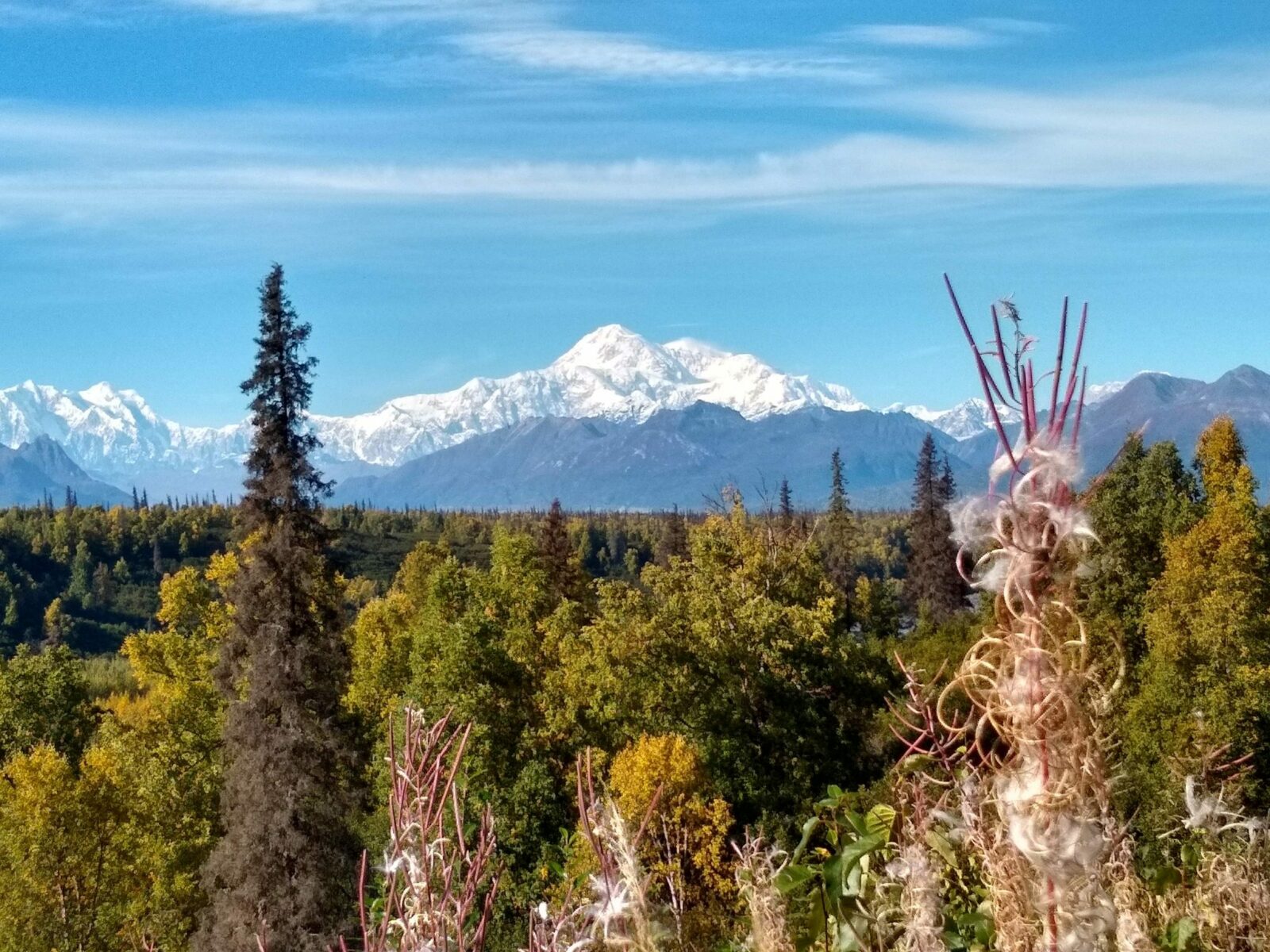 You can't drive into Denali National Park anyway, so why bring a car! Most of Denali is only accessible by the bus system that takes you all over the park. The first 15 miles of the park road are accessible by private vehicle, but you can also take the shuttle around that area so you don't need a car to get around.
One thing to keep in mind at Denali if you don't have a car is where you are staying and how far you are from the park entrance. Some hotels offer shuttles to the park entrance or will pick you up there for the bus trip but make sure to determine this if you are going to be there without a car. You want to make sure you can get to the entrance area! If you're camping, the shuttle goes around to the campgrounds so you'll be all set.
As far as getting to Denali, if you don't rent a car and drive there you have two options. First, you can take the Alaska Railroad from either Anchorage or Fairbanks. The train is expensive but also absolutely amazing (and renting a car is also super expensive!). It stops right by the park entrance so it's super convenient. If you're looking to save money, start in Fairbanks as it's a much shorter train ride than the ride from Anchorage.
A less expensive option is the Park Connection Motorcoach, which gives you a comfortable bus ride from Anchorage to Denali National Park.
Related: Planning Guide and things to do in Denali National Park
Seward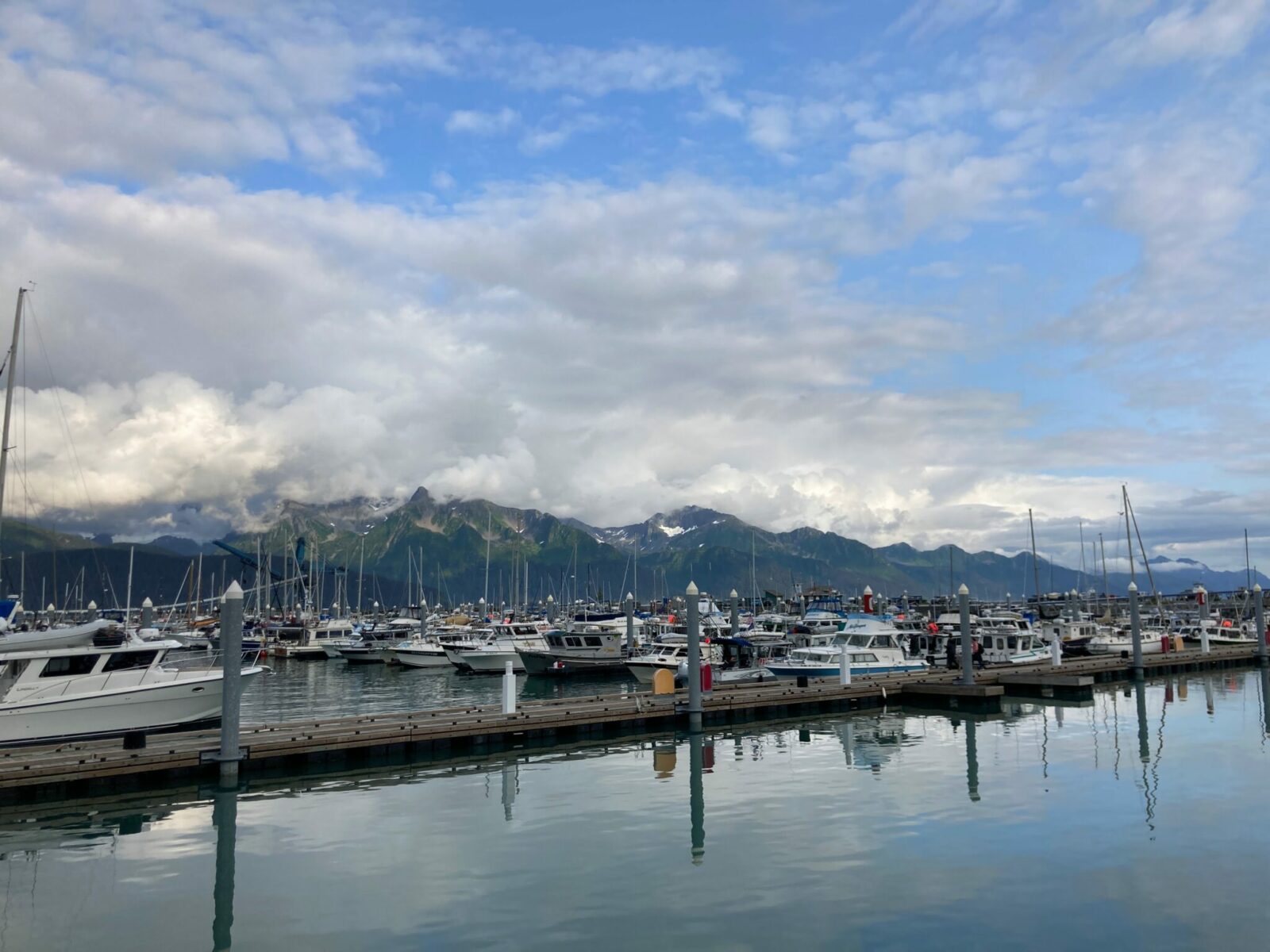 Seward is a delightful and bustling harbor town on Alaska's Kenai Peninsula at the edge of Prince William Sound. While the drive there from Anchorage is beautiful, the train ride there is every bit as beautiful.
The Alaska Railroad offers day trips from Anchorage to Seward as well as the option to stay for several days (do it!). Seward is a wonderful base camp for exploring Kenai Fjords National Park as well as fun town to walk around and a great location for a fishing charter.
Related: 13 Incredible things to do in Seward, Alaska
Southeast Alaska/Inside Passage
Most of Southeast Alaska isn't accessible by road, so what better way to see it than without a car! Skagway and Haines are the only Southeast towns with road access, the rest you have to fly or ferry to anyway.
If you are traveling to Southeast Alaska I highly recommend going to only one or two places. If you try to see it all on your own it gets overwhelming fast. If you want to explore the entire Inside Passage, a cruise is the best way to do this (see below).
The specific areas of Southeast Alaska that are best for a car free visit in my opinion are below.
Glacier Bay National Park
Glacier Bay National Park is the perfect destination in Alaska without a car because you can't get a car there anyway! That's not entirely true, you can bring a vehicle over once a week on the Alaska ferry, but realistically as a visitor you want to get there by ferry or flight from Juneau.
Once you arrive in Gustavus, you're about 10 miles from Bartlett Cove, the location of the Glacier Bay Lodge and the campground. You can take the shuttle there from the airport or ferry dock for about $10 each way. The lodge has a shuttle and there are also taxis that are about the same price.
Once you're in Glacier Bay, you'll be getting around on foot or by boat! No car needed.
Related: How to visit Glacier Bay National Park
Juneau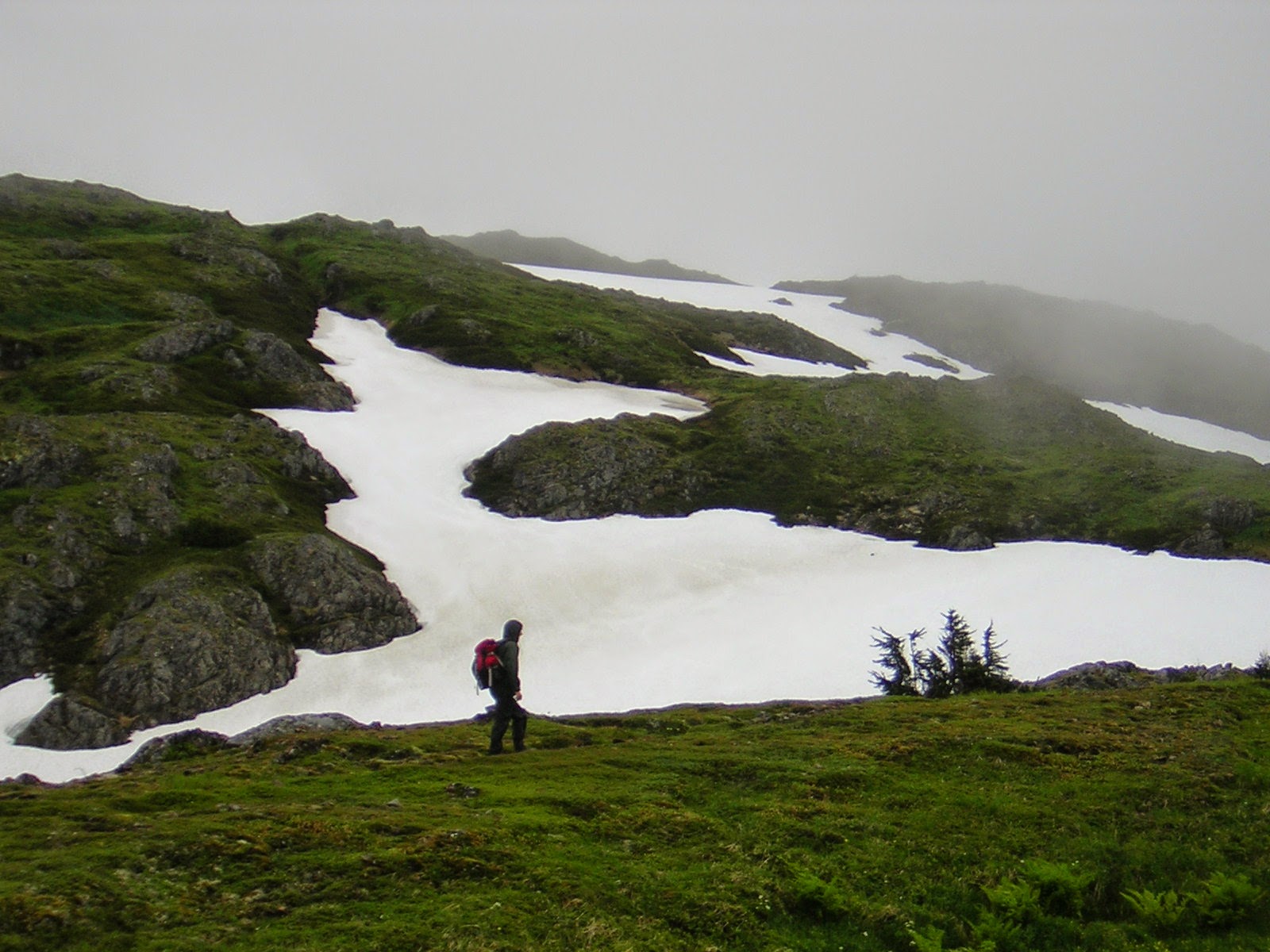 Juneau is Alaska's State Capitol, and it's the only capitol in the US you can't drive to! Juneau is surrounded by water on three sides and a massive ice field on the other.
Juneau's residents drive on the roads but you don't have to! Juneau has a bus system that takes you most places around town. It also takes you to the airport and Douglas Island. If you're going car free I recommend staying downtown. If you're staying downtown, you can take the bus (or a shuttle if your hotel provides it) to the airport or ferry terminal and you can easily walk everywhere downtown.
You can explore the shops and take in several hikes from downtown, as well as the trail along the water that passes the amazing whale sculpture fountain. If you don't want to hike, you can still get an amazing view from the Mt Roberts Tram.
I recommend taking a tour to take you out to the Mendenhall Glacier. You can also take a taxi (there's a special fee) or ride the bus (if you're ok walking a mile to get to the visitor center).
Ketchikan
Ketchikan is another delightful town in Southeast Alaska, with lots of things to do walking distance from downtown or using their excellent bus system. Like other towns off the road system, many hotels will give rides to and from the airport or ferry.
You can also take the bus out to Totem Bight State Historical Park with its incredible totem poles as well as the amazing totems at Saxman (opposite side of town).
If you stay in or close to downtown, you can go straight to some wonderful hiking trails (the bus will take you to others) as well as explore the wonderful shops of Creek Street. Restaurants are right there and if you want to do a fishing trip or boat trip to Misty Fjords National Monument, it's all right there.
Related: Best things to do in Ketchikan, Alaska
Sitka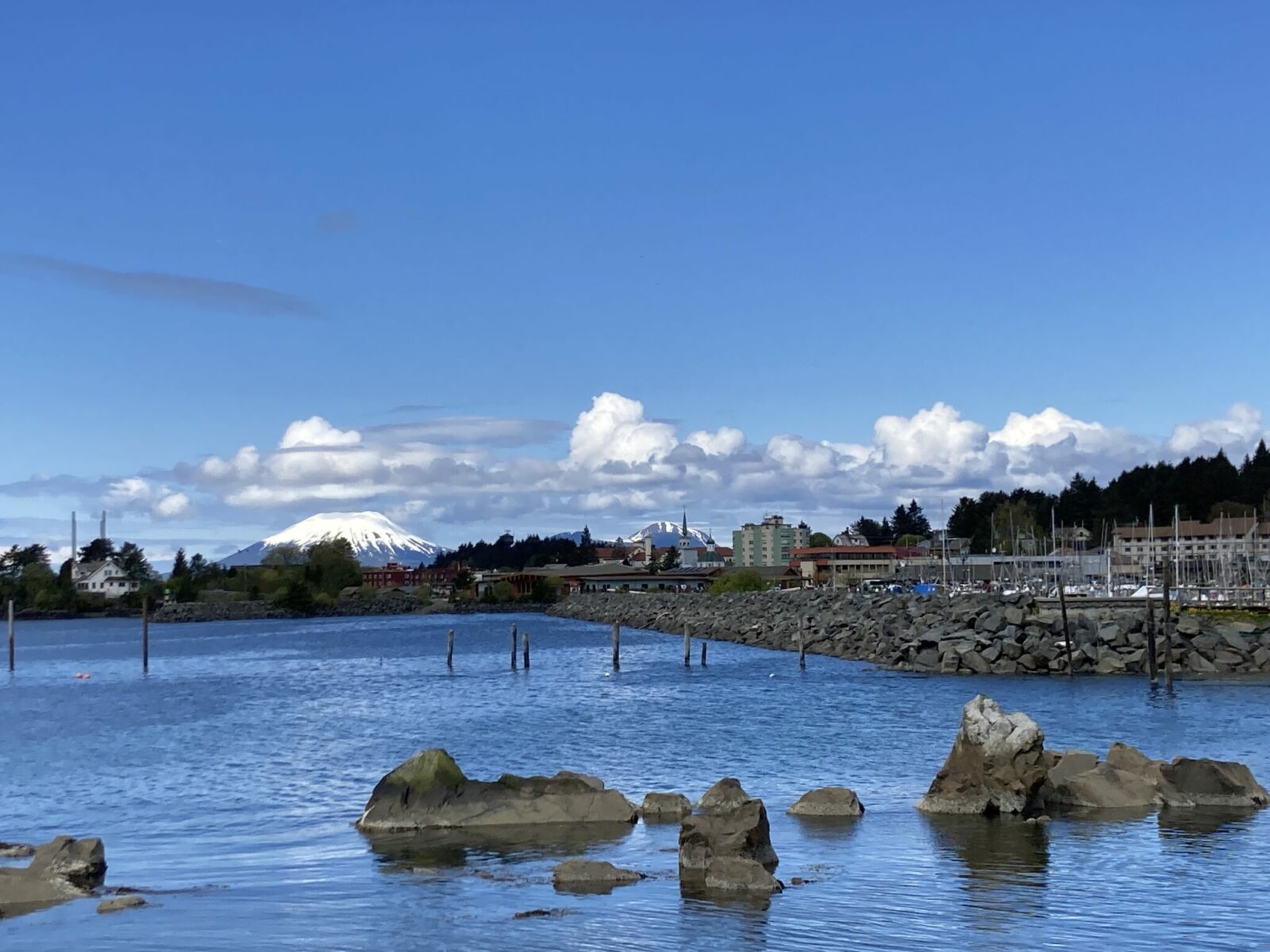 Sitka is a favorite town in Southeast Alaska among Alaskans and has a much more independent vibe than some of the other cruise ship ports.
Sitka does have large cruise ships, though not as many as Juneau and Ketchikan, and the cruise ship dock is away from downtown. There are still plenty of visitors, but lots of independent shops and activities.
Sitka has a bus service that operates on weekdays, but most of the town is very walkable. There are some hiking trails that are harder to get to without a car, but plenty that are walkable from town.
Make sure to visit the incredible Sitka National Historical Park and it's wonderful forested trails and beaches with Totem poles at every turn.
This is also a great town for a kayaking, whale watching or fishing trips.
Related: Unforgettable things to do in Sitka
Wrangell
If you're looking for a place to visit away from busy tourist summer crowds, Wrangell might just be for you! You can get here by ferry or plane and spend some time in a more laid back town.
Wrangell doesn't have a bus system, but there are trails and parks to explore on foot, as well as more than one harbor. You can find tours to see wildlife and go fishing and see glaciers, so you can easily get out of town!
It is also possible to take a taxi to explore more trails outside of town.
If you like to get off the beaten track when traveling, you will love visiting Wrangell.
You can combine a visit to Wrangell with nearby Petersburg for even more adventure. Petersburg is a little more challenging to navigate on your own, but there are taxis to take you around to different places. If you stay in downtown you'll be able to walk many places (including the airport!) too. If you go, don't miss taking an excursion out to stunning LeConte Glacier!
Related: 14 Reasons to visit Wrangell, Alaska
Alaskan cruises
One excellent way to see Southeast Alaska and the Inside Passage is to take an Alaskan cruise from either Seattle or Vancouver BC. This is a great option because you can see a lot without a car or without having to pack and unpack!
If you don't like the idea of tours in port, you can easily entertain yourself in each port completely on your own, either exploring the town which will be walkable from where you dock or tender on the ship. Most ports, especially Juneau and Skagway have excellent hiking that you can get to by walking straight from the cruise ship dock!
The large cruise ship companies also offer additional land excursions in Alaska if you want to try to see even more of Alaska in one trip.
This is definitely something to consider if you want to go to different areas of Alaska without a car.
Related: The Best Alaska cruise ports and choosing the right itinerary for you
Navigating Anchorage and Fairbanks without a car
Anchorage and Fairbanks are not quite as easy to navigate without a car as the locations I mentioned above. I still want to address them here because many visitors fly through one or both cities at some point and you can absolutely get around without a car.
Anchorage
If you're just in Anchorage for a day or two to transition to the rest of your trip, it's probably easiest to use ride share services to get back and forth to the airport or the airport and the train depot. This is easy to do just like any other city. Many hotels in Anchorage offer shuttles to the airport and train depot so I recommend asking about this feature when booking your lodging if you prefer that option.
If you're spending more time in Anchorage you can still use the ride share option, or you can take the bus! I recommend staying somewhere along the bus line if you are going to ride the bus around.
If you're staying downtown, you can easily access the Coastal Trail, which is a great car free activity and a wonderful walk or bike ride. Bike rentals are available downtown near the start of the trail.
Related: 14 Interesting things to do in Anchorage Alaska
Fairbanks
Fairbanks is another town that visitors often fly in to, out of our both! Fairbanks is the closest place to fly into Alaska if you're heading to Denali National Park (it's much closer to Denali than Anchorage is).
Similar to Anchorage, many hotels offer shuttles to the airport and train depot (find out if they do before booking). You can also use Uber and Lyft to get around town.
Fairbanks also has a surprisingly good bus system for such a small community. It's super affordable and takes you most places you want to go in town.
Many tour operators offer hotel pick up in Fairbanks as well.
Related: 20 Unique things to do in Fairbanks, Alaska
Final Thoughts
You can absolutely plan a trip to Alaska without a car! If you are a bit thoughtful about where you go you can make sure to have an amazing car free adventure. In some parts of the state, like Denali and most of Southeast Alaska, you're going to be happier without a car than with one.