Skyline Lake Snowshoe: Steep, Short and Spectacular
Posted On February 18, 2020
A Skyline Lake snowshoe outing is a spectacular trip at Stevens Pass with spectacular views and winter beauty! While short it is STEEP and therefore can't be considered easy (3 miles round trip and 1100 feet of elevation gain). I wouldn't recommend it for your first time on snowshoes but if you already know you love it then make sure to have some light layers for the climb and get up there on a gorgeous winter day.
Skyline Lake is the homeland of the Wenatchi, Snoqualmie and Snohomish people.
Parking Pass Needed: None
Dog Friendly: yes, on leash
Is the Skyline Lake Snowshoe right for me?
In my opinion this is not a great option for a person's first time on snowshoes because it's really steep. Snowshoeing takes a bit of getting used to so I would recommend trying a couple of my favorite beginner snowshoe hikes first. However, this trail is appropriate for beginners as long as it isn't your very first time. The big thing is that it's really steep, but it's also short, so it's a good option if you're ready for more of a challenge. This trail shares a parking lot with the Stevens Pass ski area, so if you have a skiing friend, you could ride along with them!
This is also a good option if you don't have a snopark pass, because no passes are required to park here. Dogs are also allowed on leash.
When is a good time for the Skyline Lake Snowshoe?
In my opinion, this snowshoe outing should only be done on a spectacular sunny day, when the winter wonderland can be enjoyed with abundant alpine sunshine (don't forget your sunscreen!). This trail is steep and would just feel like a slog if you couldn't see anything, especially the surrounding mountains which are gorgeous.
Another word of caution is that you'll be parking at the Stevens Pass ski area, where parking fills up on weekends and holidays before 9 am. You can check their website and social media to stay informed about the parking situation before you arrive. To avoid this challenge, arrive early or later in the day as people are leaving. You could also do this in early winter before the ski area opens or in spring after it close while there is still plenty of snow around.
Snow should be adequate for this trip most years from December through April or May (depending on the snowpack).
Where is the Skyline Lake Snowshoe?
As mentioned before, it's located at Stevens Pass on the north side of the highway (opposite side of the highway from the chair lifts). This is the homeland of the Snoqualmie and Wenatchi people.
Once you park (there are porta potties in the parking lot), there are a couple of ways to access it. One way is by the pedestrian overpass to the ski area and the other is underneath the power lines between a couple of residential buildings. These two access points meet up quickly. You'll see snowshoe tracks heading up in both locations.
Trail Description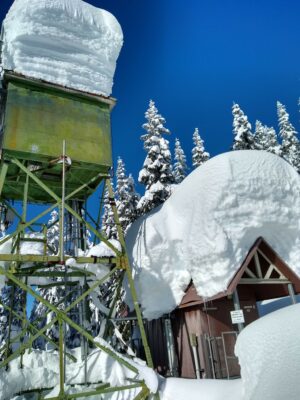 I think I mentioned it's steep and beautiful, which sums it up well! You'll start climbing on a service road that makes it wider than a normal trail. You'll be climbing up in the forest and as you climb you'll see more openings with views across to the ski area and other surrounding mountains.
The trails has many wide switchbacks, keep heading up for a bit over a mile until you arrive at a shed and a greenish communications tower. At this point you are close to the point where the Skyline Trail snowshoe trail separates from the main trail. Go up just a bit further and then you'll see the trail heading off to the left towards Skyline Lake. The trail you've been on continues to climb straight ahead of you.
Once you take the trail to the left, you'll go through more trails and the trail becomes flat (hooray!) there's a gorgeous meadow and then you come out at the lake, which will most likely be frozen and snow covered. You can walk around it if you like, and even explore the ridge for even more views on the opposite side of the lake.
This is a great place for a picnic and soaking up sun before returning the way you came.
Where to stop after Skyline Lake Snowshoeing
My favorite stop on the way back from Stevens Pass is the Sultan Bakery, which features bakery items but also delicious hot food (try the turkey dinner available all year).
If you're heading back to Seattle, you'll be going through Woodinville with its many wineries so it might be a good time to stop in for some wine tasting!
Electric Vehicle Charging
The closest fast (ChadeMO) charger to Stevens Pass is in Skykomish, in the historic town center (well marked from the highway), 16 miles from Stevens Pass. There is also one at the Chamber of Commerce in Sultan (one third of a mile to the bakery!) and at Walmart in Monroe (pro tip: in my experience, Walmart is an excellent place to charge when traveling).