How to Visit Denali National Park
Posted On June 1, 2020
Last Updated on October 19, 2023
Are you planning to visit Denali on your trip to Alaska but getting overwhelmed figuring out how everything works? Should you book through a tour group? How can I visit on my own? Do I really need to ride a bus to get into the park?
Visiting Denali is unforgettable and most people who are planning to visit Alaska consider it a must-do. If you're feeling confused about how to make it all work, you're not alone. Visiting Denali is very different from many other National Parks in the US, but after reading this article you'll know everything you need to plan your own trip to Denali.
I lived in Alaska for 7 years and four of those years I lived in Fairbanks which is just two hours away from the park so explored all over the park on my own. These days I spent a lot of time there each summer working part time as a tour director. Once I even got to do the Denali Road Lottery.
Denali National Park is on the homeland of the Dene Nation and the Tanana People.
2023 Note: The Denali Park Road closed at Milepost 42 (Polychrome Pass) in August 2021. The park service has announced that the road will remain closed at this point at least through the 2024 season. A permanent fix to this section of road is currently being built. Bus tours will still operate up to that point. Eielson Visitor Center and Wonder Lake will not be accessible until the road reopens. Don't skip Denali for this reason – it's still an incredible experience!
Visit Denali on your own or book a cruise tour?
The first decision you'll need to make is if you're going to visit Denali on your own or as part of a cruise tour. If you're taking a cruise and want to add a visit to Denali, I encourage you to at least consider booking through your cruise line, especially if your land trip is going to be less than five days.
Why? Because in a short time covering large distances, wrangling luggage and figuring out logistics in Denali is a lot of work. It costs about the same booking through the cruise line (for hotels and transportation), so it doesn't save money to do it on your own.
If you're not taking a cruise, or you are taking a cruise but you have more time for the land portion and hope to see some other parts of Alaska then visiting on your own is the way to go. You'll have enough time and thefreedom to explore off the beaten track.
This article is primarily for those visiting on their own who need help figuring out how to plan their dream Denali trip. If you're booking through the cruise line all these details will be taken care of for you.
If you are visiting on your own, it's good to be aware that the vast majority (nearly 90%) of Denali visitors are on a cruise tour. Don't be put off by this, just like in Glacier Bay you can get off the beaten track once you get out on the trail or on the bus into the interior of the park.
When is the best time to visit Denali National Park?
In my opinion either mid to late May or early September are the best times to visit Denali National Park. Early season is fun because it's not too crowded yet and September (which is fall) has gorgeous colors. It's definitely colder in May and September so be ready with super warm clothes.
Denali National Park is fully open and all the things to do in Denali are available from mid May through mid September.
According to the park service, the wettest month is July, followed by August and June. You need to be prepared for rain no matter when you go, unless it's winter (then be ready for snow and COLD). There are also lots of mosquitoes in summer.
If you're wanting to see Mt Denali during your visit (who wouldn't?!?) it's important to know that it's very often clouded over during the summer. You definitely get to see it more in the winter. Be prepared to NOT see it and then if you do that will be a wonderful surprise. Even if you don't see Denali there are still many wonderful things to do and experience in Denali National Park.
Much of Denali National Park is closed during the winter. If you do a winter visit to Denali (or anything outside of the summer season) you need to know that your access to the park will be very limited and all services and businesses in the park and the entrance area will be closed. A winter visit can be amazing for the right kind of traveler, if you're very self sufficient.
How many days do you need to visit Denali National Park?
I recommend at least two nights giving you a full day in the middle. If you don't have a full day in the park, then you won't be able to take the bus into the park which is a must do in my opinion. You can stay one night and drive to Fairbanks (two hours) after the tour, but that's a really long day.
Two to three days is a good amount of time for Denali, in my opinion. If you are a hiker, you might want to consider an additional day to take advantage the many wonderful hikes. See below in the itinerary section for how to spend it.
How to Get to Denali National Park
Getting to Denali by Car from Anchorage or Fairbanks
If you'll be traveling to Alaska from elsewhere, you'll want to fly to Anchorage or Fairbanks, rent a vehicle and drive from there to Denali National Park. The advantage of flying to Fairbanks is that it's a much shorter drive (2-3 hours vs 4-5 hours from Anchorage). The advantage of flying to Anchorage is that you'll have more flight options, likely a cheaper flight and more car rental options.
Once you get your vehicle, load up on some food and head for the park. Depending on what time of day you arrive, you might consider overnighting in Anchorage or Fairbanks and then having the whole next day for the very scenic drive to keep things relaxed. If you're short on time you can fly in in the morning and get there that day, but make sure you arrive in the morning!
From either Anchorage or Fairbanks, you'll travel the Parks Highway to the park. The park entrance is well signed and there are a variety of hotels along the highway just outside the park.
How to get to Denali without a car from Anchorage or Fairbanks on the Train
Mid May through mid September you can get to Denali by train. The Alaska Railroad is a unique alternative to driving if you don't want to deal with the hassle of renting a car, or if you want to go one way from Anchorage to Fairbanks with a stop in Denali (one way car rental is prohibitively expensive in Alaska). Since you can't drive a car into the park and your rental car will sit parked, if you are going into the park for several days this might also make the train a better deal.
The train goes once a day in each direction during the summer and stops at the park. There is a shuttle bus that goes around the entrance area and connects to the bus that goes into the park.
Getting around in Denali National Park
Cars are only allowed on the first 15 miles of the park road, as far as the Savage River Campground (in red on the map). Beyond this point, to really get into the park, you'll need to take advantage of Denali's extensive bus system.
If you've taken park shuttles in other parks such as Yosemite or Zion, note that this is a completely different experience so I encourage you to carefully read all the details on the bus system on Denali National Park's website. A brief summary follows below.
Free Shuttle
The free buses take you from the main bus depot and the railroad station to the Visitor Center as well as to the sled dog kennels, the Riley Creek Campground and the Savage River Campground.
Do I really need to take a bus to go into Denali National Park? Can't I drive?
Yes, you need to take a bus to go beyond Mile 15 in Denali National Park.
There are three options for riding the bus into the park beyond Savage River (milepost 15). Important – food is not provided or available on most tours, make sure to bring food with you to eat during the day!.Some hotels provide sack lunches, this is a very convenient option (or buy food before you arrive in Denali). The Tundra Wilderness Tour provides a snack box and bottle of water.
Another important thing to know is that there are not restrooms on ANY buses. All buses make regular stops for restrooms along the way, approximately every hour to hour and a half. Many of the restroom stops along the way are pit toilet (non flushing) toilets only.
Narrated tours from 4.5 to 12 hours – this is a good option if you do NOT want to get off and hike. You will be on the same bus with the same driver and other visitors for the whole trip; Cost: $85-$225 depending on length of tour
Transit Bus – up to 12 hours – there is no narration, and you can get off and on anytime you want, or travel as far into the park as you want. This is a good option for those who want to hike at the park or want the flexibility to turn around anytime; Cost: $34-$64 depending on how far you want to go
Camper Bus – this is like the transit bus, except it is for those who are going to camp or backpack in the park and have more gear; Cost: $43
Personally, I'm a fan of the transit bus, because you can get off and on whenever you want and it's more casual. If you're not interested in hiking or exploring on your own (without cell service) then you will probably be happier on the tour bus.
Where to Stay in Denali National Park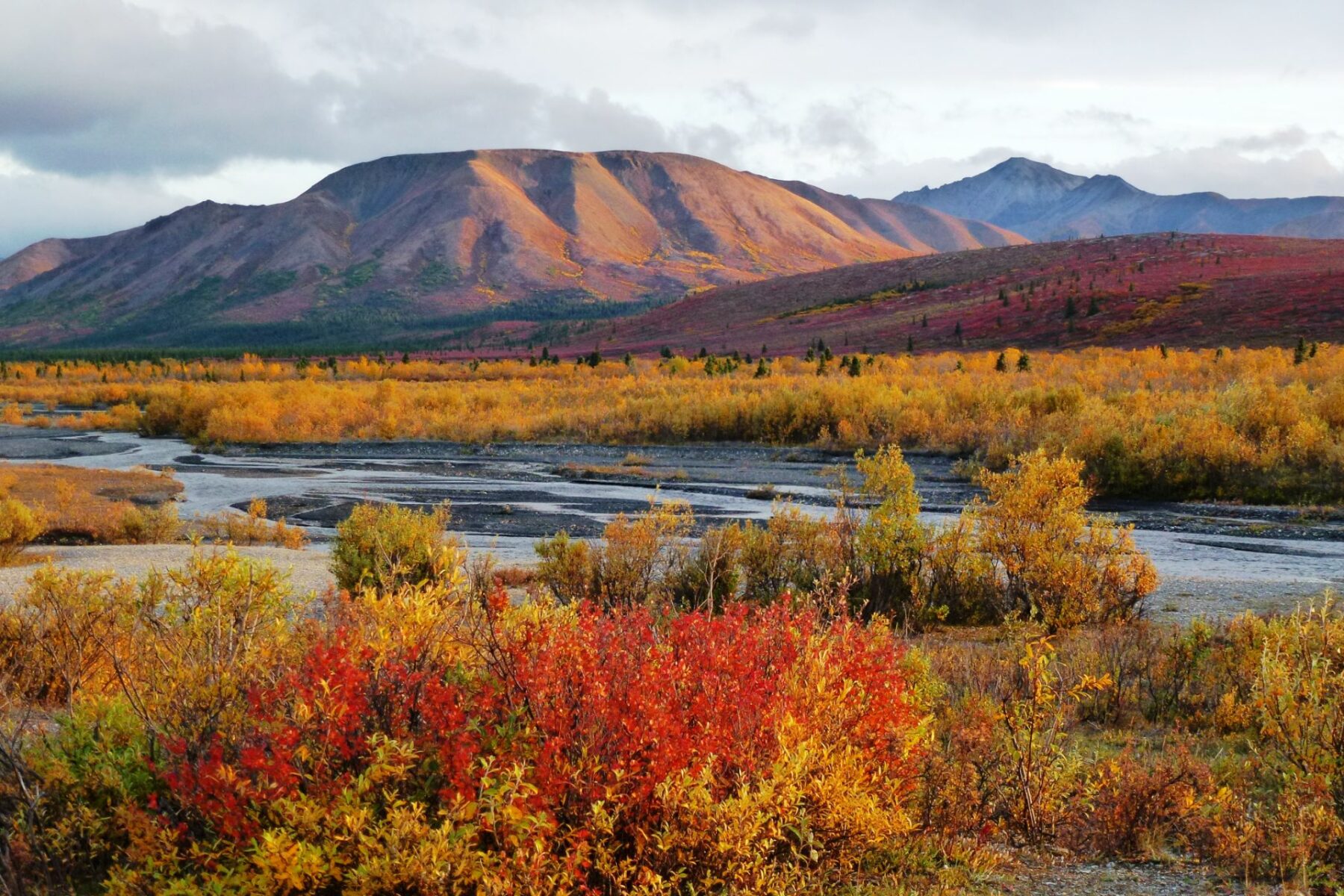 Camping
If you're car camping, there are two front country campgrounds that you can drive to, and four campgrounds that you can only get to on the camper bus. Regardless of where you camp, you are required to secure your food in a bear proof container (you can borrow one from the park service when you get your camping permit). It is extremely important to use them for all scented items and trash to protect yourself as well as the bears! Developed campgrounds have large metal cabinets you can put your food and toiletries in. Read my guide to camping in Alaska here!
Riley Creek is by far the largest and it is close to the visitor center at the entrance to the park. Savage River is smaller and quieter and my favorite because it's quieter and more peaceful. Both can be booked in advance starting December 1st of the previous year.
Wonder Lake is an absolutely gorgeous campground with an amazing view of Denali behind the lake (if you can see it!). It is worth the 5 hour ride on a school bus to camp here if you have some time to spend in the park!
There are three other campgrounds, Sanctuary River, Igloo Creek and Teklanika that are tent only and accessible by the camper bus.
Backpacking
Backpacking is a really unique thing to do in Denali National Park, because backpacking is off trail here. This is very different from backpacking in other places. It is imperative that you have a paper (not phone) map and know how to use it. You can generally get off the bus at any stop to start your trip, unless an area is closed for bear activity.
You are required to have a backpacking wilderness permit and to have a bear bin and use it. When you pick up your permit, the rangers can loan you a bear bin and also share their thoughts about places to go and any areas that are closed.
If you're hiking or backpacking off trail for the first time, an important thing to know is that your normal mileage should be cut in half or more. It is much slower going off trail!
Hotels and Cabins
This post contains affiliate links, which means if you make a purchase I may receive a small commission at no additional cost to you.
There are plenty of hotels, lodges and cabins around the Denali entrance area. Make sure to book them well in advance (don't show up without a reservation!) and expect high prices. Use this maps to find your options and compare prices. Make sure to check on transportation between your lodging and the park if you are not driving.
If you're looking for a budget friendly option, check out the beloved Denali Hostel and Cabins. You can also save some money by visiting in late May or early September, when prices are usually a bit lower at all the hotels. The Grand Denali, Denali Bluffs and Denali Park Village are all options that offer shuttles to the train depot and visitor center and offer box lunches to take into the park, so I recommend booking one of those if you are traveling to Denali without a car.
If you have a car and are ok being about a half hour drive from the park entrance, look for a vacation rental in Healy.
Where to Eat in and around Denali National Park
There is a small grocery store at the park entrance (that has really good coffee! Great morning stop), but other than that there are no food or drinks available in the park. It's important that you bring your own food and drinks for the day or multiple days if you're camping. This is especially important if you are on the all day bus trip, as there is no food available for purchase anywhere during the day.
All of these local favorites near Denali are near the park entrance. All except 229 Parks are in Healy, located about 10 miles north of the park. These are all seasonal except for Rose's, which has limited winter hours. There are other options in the area around the park entrance, but these are local favorites:
Things to do in Denali National Park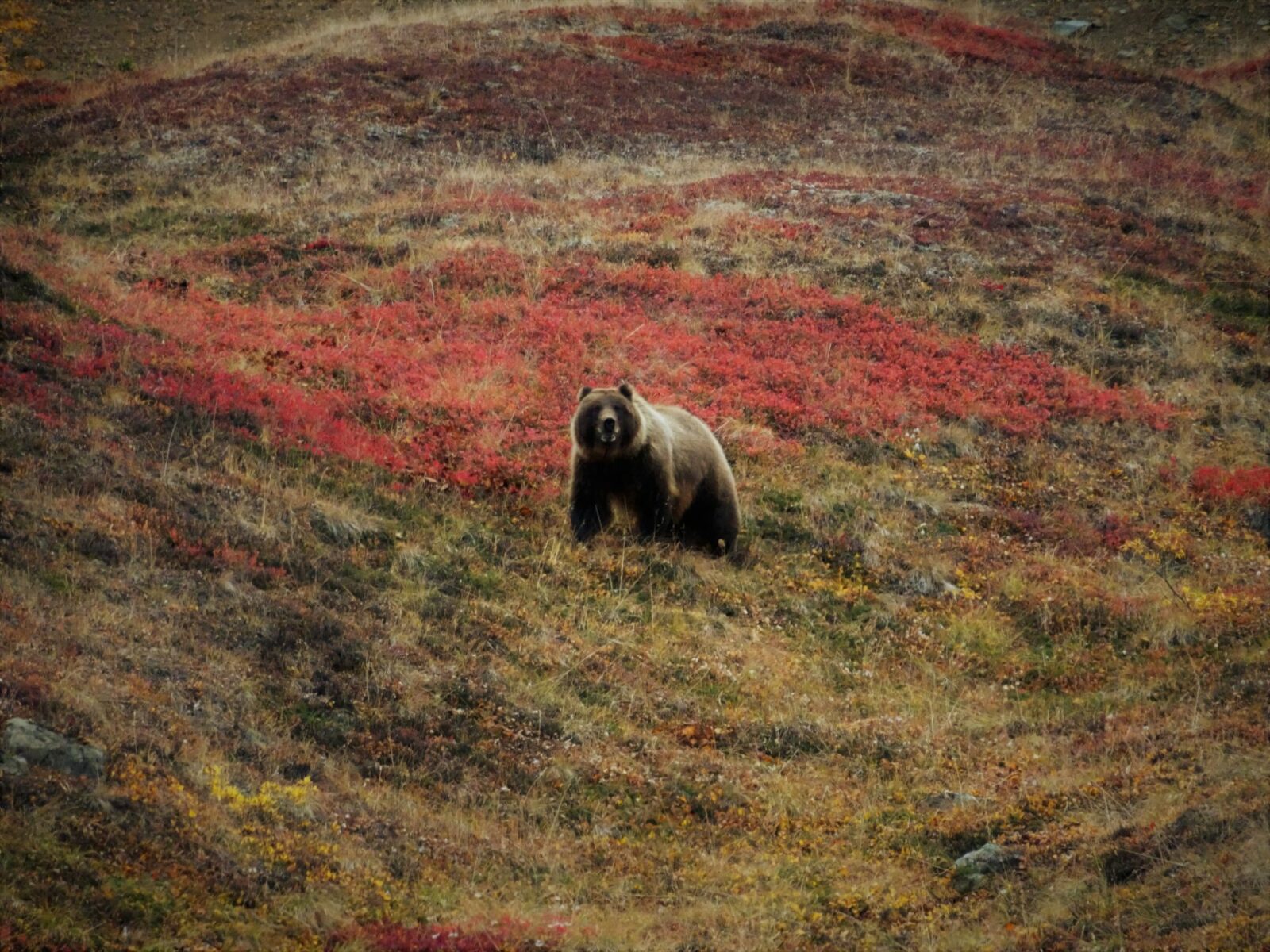 Visitor Center at Park Headquarters
A great starting point to see exhibits, the park movie and pick up maps before exploring further. Rangers can give you ideas about hiking and exploring. There are also lots of flat trails through the forest around the visitor center.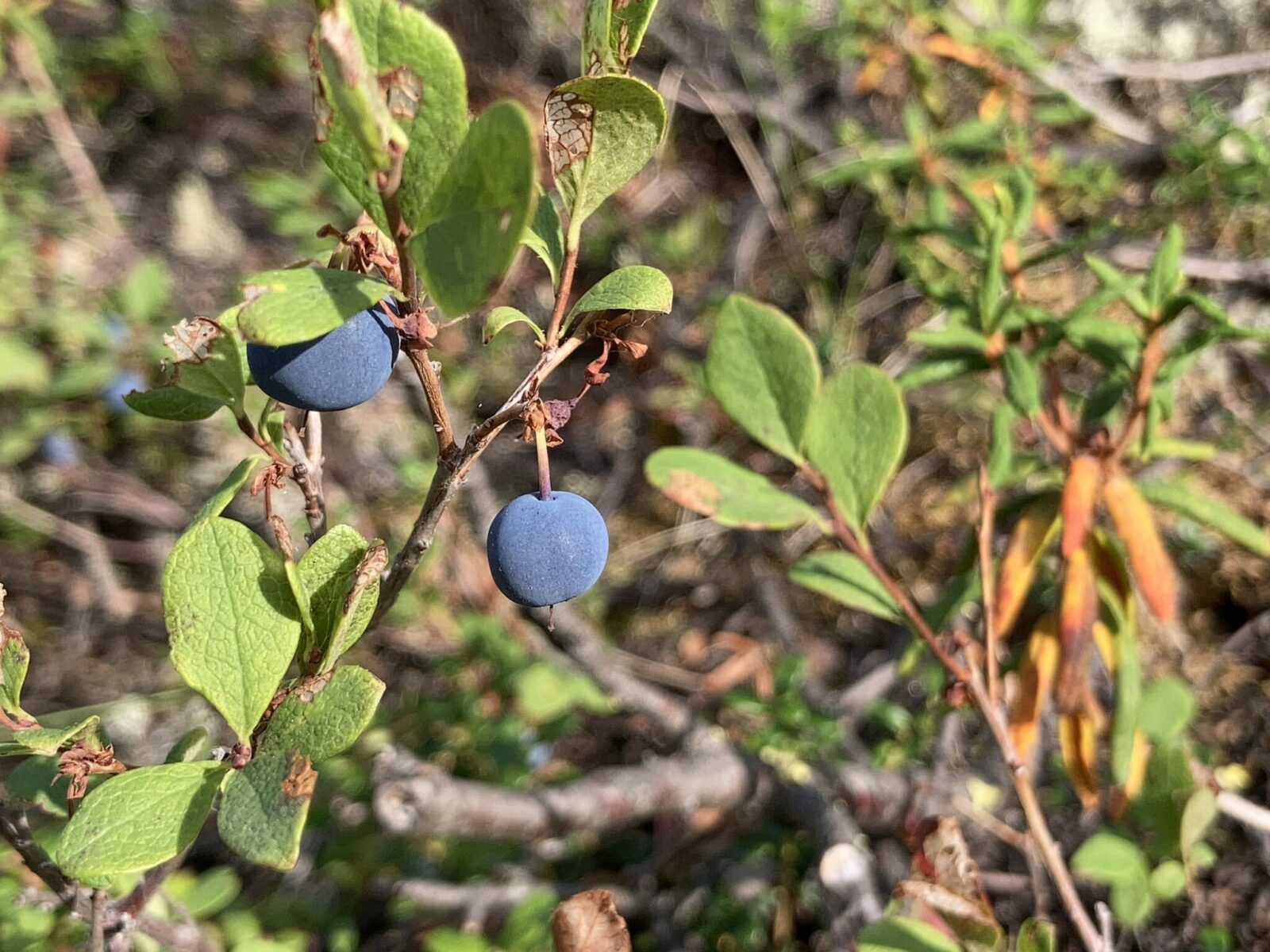 Ride the bus into the park
I recommend the transit bus, because you can get off and explore and it's much less expensive. I know it sounds like a long day on a school bus, but the experience of getting into the park and seeing the incredible scenery and wildlife (even in bad weather!) is an unforgettable experience. This is one of the best day trip tours in Alaska. BRING YOUR OWN FOOD!
Wildlife viewing
if you take the bus deep into the park, it's a near guarantee of seeing tons of wildlife! Denali is probably the best park I have ever been to (tied with Glacier Bay) for viewing wildlife. I have never gone without seeing several bears, arctic ground squirrels, dall's sheep and moose and have often seen caribou.
Backpacking
Most of this is covered above in the camping section. For backpackers willing to venture off trail, the experience of solitude and freedom here is just unmatched in any park!
You'll need to have bear bins and maps and I recommend connecting with the rangers at the visitor center to get advice on trip planning and where to go.
Off Trail Hiking
Denali has very few developed trails, but you can try an off trail hike (make sure you have a paper map and know how to use it)! The rangers offer regular hikes they lead in different parts of the park, which is a fantastic introduction to off trail hiking. Check in at the visitor center when you arrive to find out the options for the days you're visiting.
Trail hikes in Denali
If you want to stick with trail hiking, you still have options! Here are a few that make excellent day or half day hikes
Eielson Visitor Center (closed until Denali Park Road fully reopens)
66 miles into the park, this makes a good turn around point if you don't want to go as far as Wonder Lake. You can eat your picnic lunch inside here if it's raining. They even have an outline of Denali on the window in case it's covered in clouds (likely!). This is also a good place to stretch your legs on the nature trail that goes into the tundra environment. There is also a steep trail behind the visitor center for those who like to climb high things!
Visit the Sled Dog Kennels
Denali is home to working sled dogs who have supported the rangers in their winter work for a hundred years! Ranger led demonstrations are held several times a day during the summer.
Wonder Lake (not accessible until Denali Park road fully reopens)
I only recommend going this far if you're camping OR if it's a day trip and Denali is visible (otherwise, turn around at Eielson, see below).
The view of Denali here is absolutely spectacular. Wonder Lake is also beautiful.
Raft the Nenana River
For a truly unforgettable rafting experience, several tour companies operate rafting in the canyon on the Nenana River just outside the park. They will give you the gear you need to stay comfortable rafting on cold glacial water!
Visit Denali State Park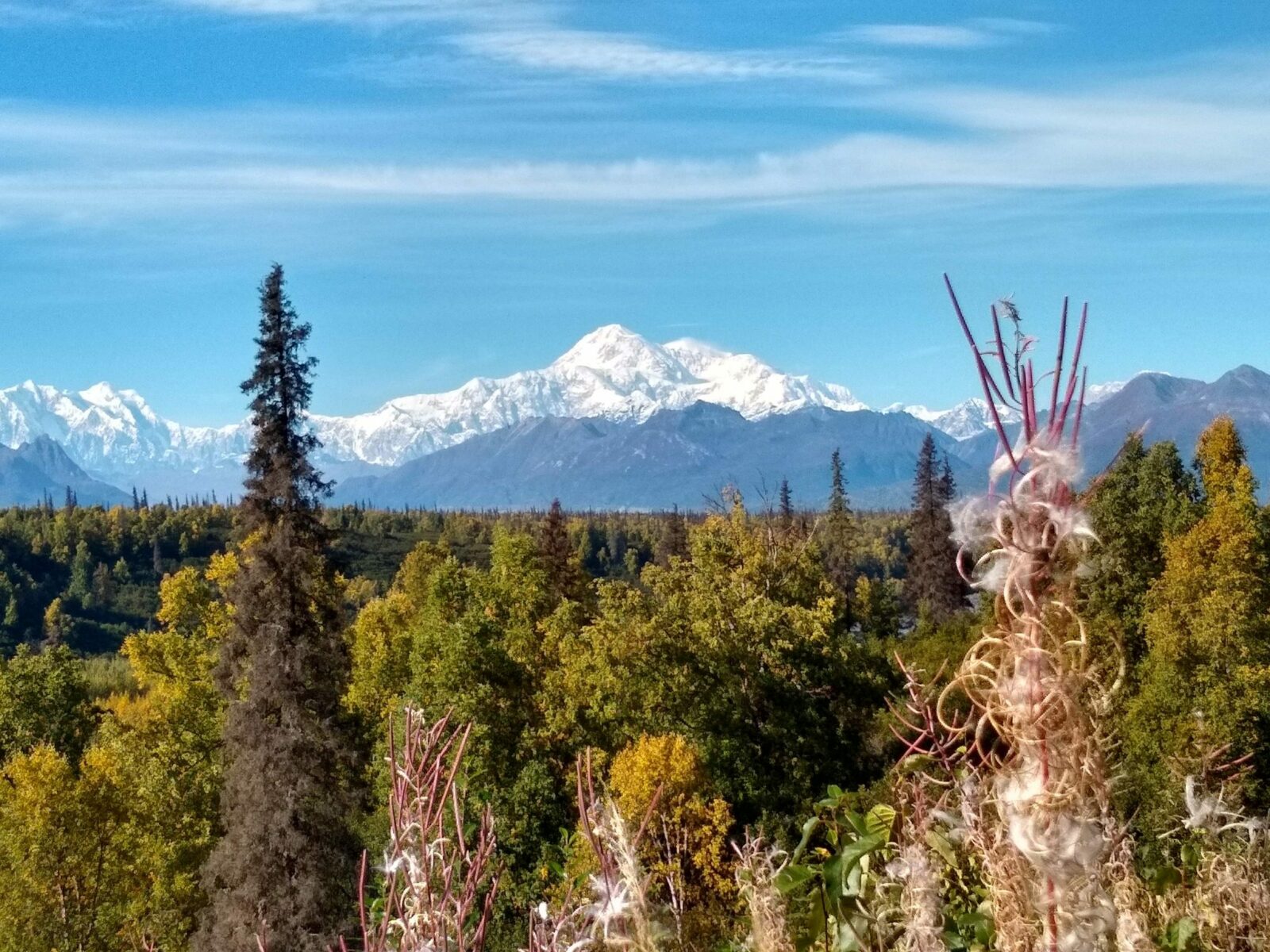 If you are road tripping from Anchorage to Denali, don't miss Denali State Park on your way. There are lots of hiking trails and beautiful viewpoints of Denali as well as the Susitna River and surrounding landscape.
This area is often overlooked by visitors in a rush to get to Denali and you don't want to miss this. The views of Denali (and other mountains) are every bit as good. If you're a hiker consider a hike at Kesugi Ridge.
Flightseeing with a Glacier Landing
Flightseeing over Denali National Park (especially with a glacier landing) is an incredible way to appreciate the absolute vast wilderness of this place. I recommend doing this in Talkeetna (which is three hours away) rather than in the Denali entrance area if you have Talkeetna on your itinerary. If not, then you can also do flightseeing from Healy. Inquire at your hotel about your options that will give you rides to the starting point for the tour.
Sample Itineraries for Denali National Park
I recommend spending two to three days in Denali for most visitors. If you only have one day, you'll spend most of it driving, for example if you're making a quick stop at Denali on the drive between Anchorage and Fairbanks. You need at least two days to take the bus tour into the park because it leaves early in the morning and takes the whole day. There are still things you can do if you don't have that much time! I'll also include what to do if you have more time.
How to spend one day in Denali National Park
If you really only have one day and can't spend a night in Denali, I recommend starting at the visitor center and learning about the park. Make sure to visit the sled dog kennels too!
If you're a hiker, I highly recommend the Mt Healy hike, which has incredible views of the entire area and is a good bet for a short visit.
If you're driving between Anchorage and Fairbanks, make sure to stop in Denali State Park for incredible views of Denali the mountain. They're well signed from the highway.
Two Day Itinerary for Denali National Park
Day 1
On your arrival day, get oriented by stopping at the visitor center and learning about the park. If you're a hiker, check in with the rangers about what they're currently recommending for the best hikes in the park. Make your way over to the sled dog kennels to meet the amazing dogs and take in this unique national park experience.
Find lunch in the entrance area if you didn't bring food with you and then head for the Mt Healy Overlook, which is a wonderful trail with incredible views of the entire area. There are also several other more mellow trails around the entrance area.
In the evening, don't miss the evening ranger programs in the campgrounds which are an excellent way to learn even more about the park!
Day 2
Today is your day to take the bus tour into the park! Make sure you have this reserved far ahead of time and bring all the food you need for the day with you. On the transit bus, you can get on and off and go for a hike in different places (ask rangers for current recommendations). If you're on a narrated tour, the day is a bit more structured.
No matter what, you have excellent chances of seeing wildlife, particularly bears, moose and caribou. The landscape is spectacular and you'll be blown away by the rugged beauty of this incredible place.
Three day itinerary for Denali National Park
If you have three days to spend in Denali, I recommend keeping Day 1 and Day 2 the same as above. You definitely want to do the bus tour on your middle day.
For Day 3, you have a few options. The adventurous can raft the Nenana River (and you can say you've been rafting in Alaska!) or try out the fun zipline near the park entrance. You can also take in another hike around the entrance area (such as Savage River) and take the free shuttle bus around the entrance area to explore more trails. You could also consider a flightseeing tour if the weather cooperates for flying.
If you have more time in Denali
If you have more time in Denali, consider doing some additional hiking. You could add in more hikes off the bus in the park, or spend a night camping at Wonder Lake (truly incredible!).
What to Pack for Denali National Park
Denali National Park is in a remote location and it's important to bring what you need with you! For things you can't fly with (camping stove fuel, bear spray) I highly recommend picking those up in Anchorage or Fairbanks, whichever town you fly into. You will also want to pick up your groceries for your trip in one of those towns.
Here is my advice about what to pack for Denali National Park:
Now you've got the things to do in Denali National Park and you have everything you need to plan your own Denali adventure!