Planning Guide and Things to do in Denali National Park
Posted On June 1, 2020
Denali National Park in Alaska is a place many people dream of visiting and it is an incredible place! It's a different experience from many other National Parks, but after reading this article you'll know everything you need to plan your own trip to Denali as well as all the best things to do in Denali National Park.
I lived in Alaska for 7 years and worked in tourism much of that time. For four years I lived in Fairbanks which is just two hours away from the park, so I've spent a lot of time there! I even got the chance to do the Denali Road Lottery once (which is amazing if you're lucky enough to win). Check out this post if you're looking for an Alaska itinerary that includes Denali.
When is the best time to visit Denali National Park?
Denali National Park is closed, except for the entrance area, during the winter. If you do a winter visit to Denali (or anything outside of the summer season) you need to know that your access to the park will be very limited and all services and businesses in the park and the entrance area will be closed.
Denali National Park is fully open and all the things to do in Denali are available from mid May through mid September.
If you're wanting to see the mountain Denali during your visit (who wouldn't?!?) it's important to know that it's very often clouded over during the summer. You definitely get to see it more in the winter. Be prepared to NOT see it and then if you do that will be a wonderful surprise. And don't worry! Even if you don't see Denali the mountain there are still many wonderful things to do in Denali National Park!
According to the park service, the wettest month is July, followed by August and June. You need to be prepared for rain no matter when you go, unless it's winter (then be ready for snow and COLD). There are also lots of mosquitoes in summer.
In my opinion either mid to late May or early September are the best times to visit Denali National Park. Early season is fun because it's not too crowded yet and September (which is fall) has gorgeous colors and also less people. It's definitely colder in May and September so be ready with super warm clothes.
How to Get to Denali National Park
By Car from Anchorage or Fairbanks
If you'll be traveling to Alaska from elsewhere, you'll want to fly to Anchorage or Fairbanks, rent a vehicle and drive from there to Denali National Park. The advantage of flying to Fairbanks is that it's a much shorter drive (2-3 hours vs 4-5 hours from Anchorage). The advantage of flying to Anchorage is that you'll have more flight options, likely a cheaper flight and more car rental options.
Once you get your vehicle, load up on some food and head for the park. Depending on what time of day you arrive, you might consider overnighting in Anchorage or Fairbanks and then having the whole next day for the (very scenic) drive to keep things relaxed. If you're short on time you can fly in in the morning and get there that day, but make sure you arrive in the morning!
From either Anchorage or Fairbanks, you'll travel the Parks Highway to the park. The park entrance is well signed and there are a variety of hotels along the highway just outside the park.
By train from Anchorage or Denali
Mid May through mid September you can get to Denali by train! The Alaska Railroad is expensive, but worth considering if you don't want to deal with the hassle of renting a car, or if you want to go one way from Anchorage to Fairbanks with a stop in Denali (one way car rental is prohibitively expensive in Alaska). Since you can't drive a car into the park and your rental car will sit parked, if you are going into the park for several days this might also make the train a better deal.
The train goes once a day in each direction and stops at the park. There is a shuttle bus that goes around the entrance area and connects to the bus that goes into the park.
Getting around in Denali National Park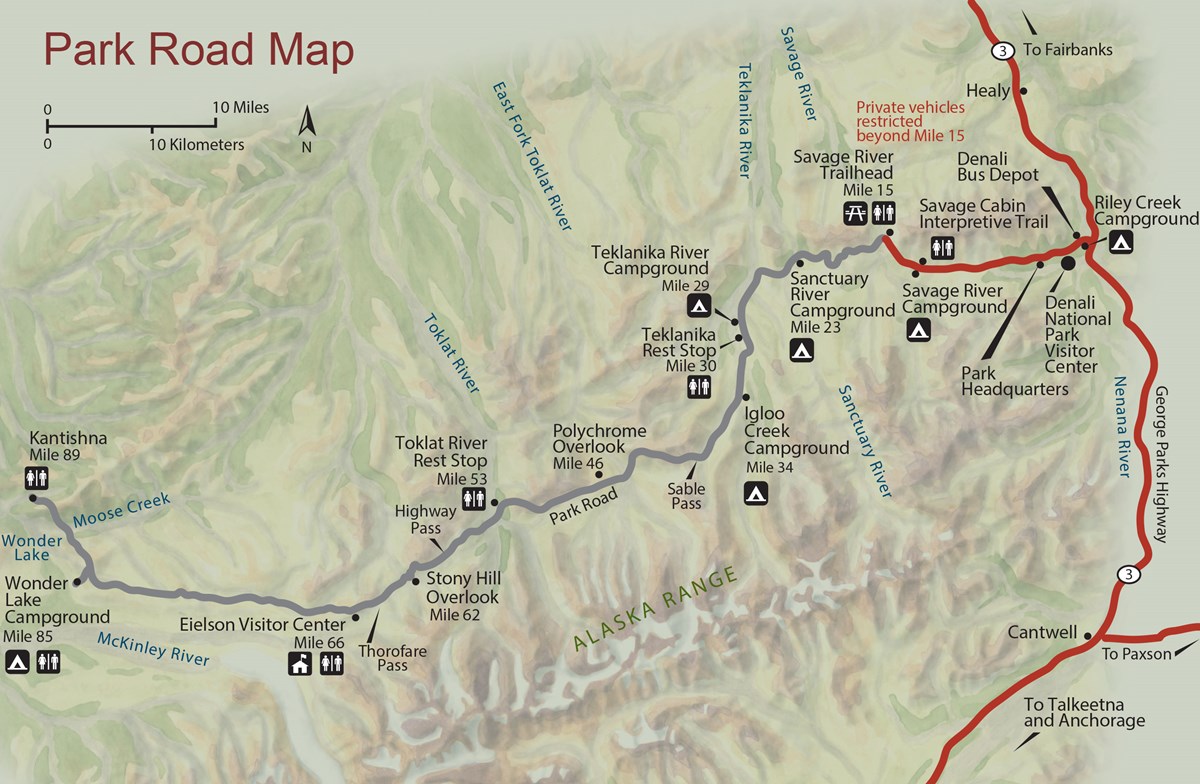 Cars are only allowed on the first 15 miles of the park road, as far as the Savage River Campground (in red on the map). Beyond this point, to really get into the park, you'll need to take advantage of Denali's extensive bus system.
If you've taken park shuttles in other parks such as Yosemite or Zion, note that this is a completely different experience so I encourage you to carefully read all the details on the bus system on Denali National Park's website. A brief summary follows below.
Free Shuttle
The free buses take you from the main bus depot and the railroad station to the Visitor Center as well as to the sled dog kennels, the Riley Creek Campground and the Savage River Campground.
Buses heading into the Park
There are three options for riding the bus into the park beyond Savage River (milepost 15)
Narrated tours from 4.5 to 12 hours – this is a good option if you do NOT want to get off and hike. You will be on the same bus with the same driver and other visitors for the whole trip; Cost: $85-$225 depending on length of tour
Transit Bus – up to 12 hours – there is no narration, and you can get off and on anytime you want, or travel as far into the park as you want. This is a good option for those who want to hike at the park or want the flexibility to turn around anytime; Cost: $34-$64 depending on how far you want to go
Camper Bus – this is like the transit bus, except it is for those who are going to camp or backpack in the park and have more gear; Cost: $43
Where to Stay in Denali National Park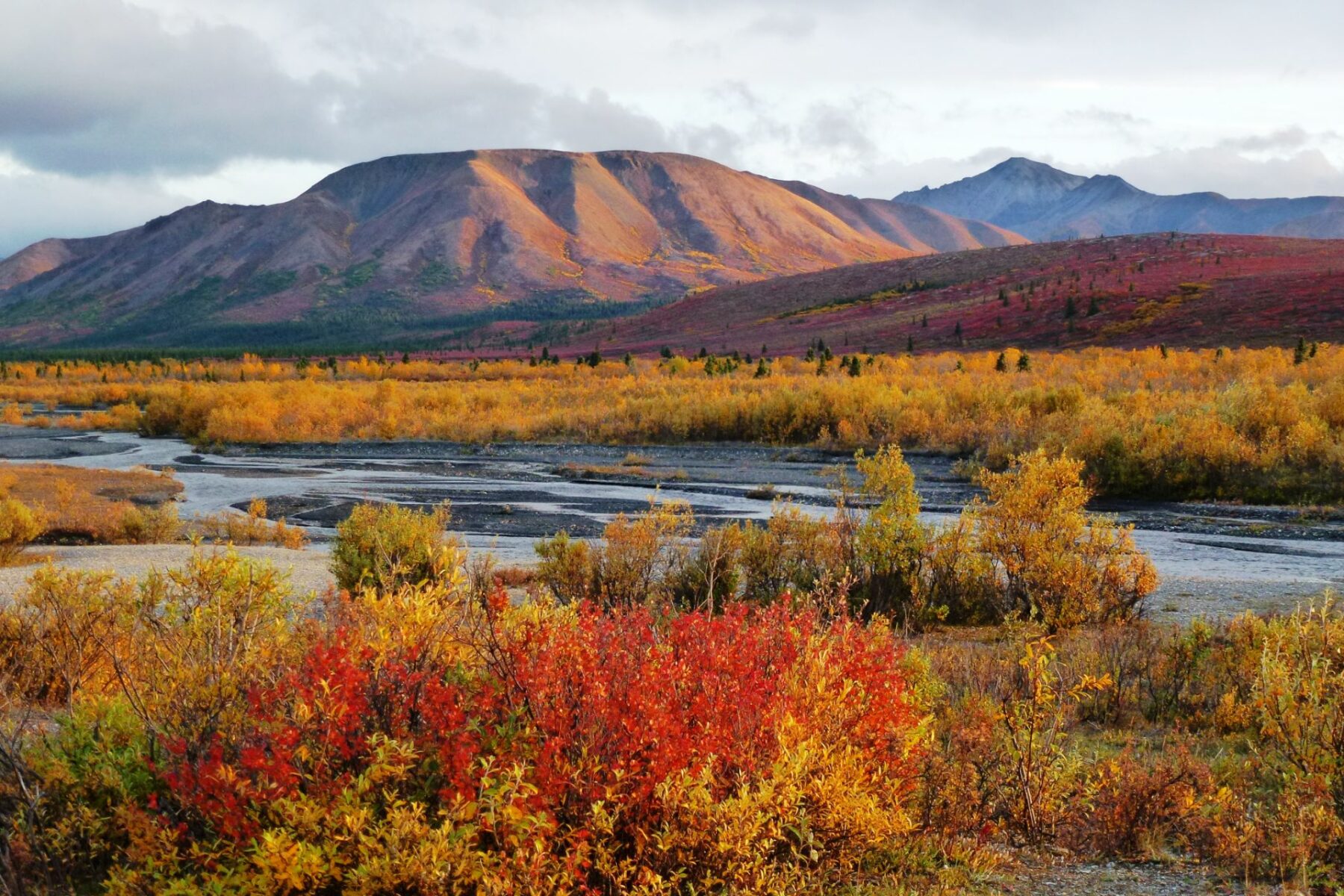 Camping
If you're car camping, there are two front country campgrounds that you can drive to, and four campgrounds that you can only get to on the camper bus. Regardless of where you camp, you are required to secure your food in a bear proof container (you can borrow one from the park service when you get your camping permit). It is extremely important to use them for all scented items and trash to protect yourself as well as the bears! Developed campgrounds have large metal cabinets you can put your food and toiletries in.
Riley Creek is by far the largest and it is close to the visitor center at the entrance to the park. Savage River is smaller and quieter and my favorite because it's quieter and more peaceful. Both can be booked in advance starting December 1st of the previous year.
Wonder Lake is an absolutely gorgeous campground with an amazing view of Denali behind the lake (if you can see it!). It is worth the 5 hour ride on a school bus to camp here if you have some time to spend in the park!
There are three other campgrounds, Sanctuary River, Igloo Creek and Teklanika that are tent only and accessible by the camper bus.
Backpacking
Backpacking is a really unique thing to do in Denali National Park, because backpacking is off trail here. This is very different from backpacking in other places. It is imperative that you have a paper (not phone) map and know how to use it. You can generally get off the bus at any stop to start your trip, unless an area is closed for bear activity.
You are required to have a backpacking wilderness permit and to have a bear bin and use it. When you pick up your permit, the rangers can loan you a bear bin and also share their thoughts about places to go and any areas that are closed.
If you're hiking or backpacking off trail for the first time, an important thing to know is that your normal mileage should be cut in half or more. It is much slower going off trail!
Hotels and Cabins
There are plenty of hotels, lodges and cabins around the Denali entrance area. Make sure to book them well in advance (don't show up without a reservation!) and expect high prices.
If you're looking for a budget friendly option, check out the beloved Denali Hostel and Cabins. You can also save some money by visiting in late May or early September, when prices are usually a bit lower at all the hotels.
Where to Eat in and around Denali National Park
There is a small grocery store at the park entrance (that has really good coffee! Great morning stop), but other than that there are no food or drinks available in the park. It's important that you bring your own food and drinks for the day or multiple days if you're camping. This is especially important if you are on the all day bus trip, as there is no food available for purchase anywhere during the day.
All of these local favorites near Denali are near the park entrance. All except 229 Parks are in Healy, located about 10 miles north of the park entrance. These are all seasonal except for Rose's, which has limited winter hours.
229 Parks: A favorite locals stop on the drive between Fairbanks and Anchorage, it's located just south of the Denali park entrance. Owned by Laura Cole (mentioned above), this is the place for local and seasonal ingredients made into amazing food.
49th State Brewing: Great pub food and beer, located in Healy. There is also a location in downtown Anchorage that is open all year.
Black Diamond Golf course and grill: Great food and affordable prices make this a good stop in Healy even if you're not a golfer!
Rose's cafe: Bakery with good breakfasts and burgers too
Things to do in Denali National Park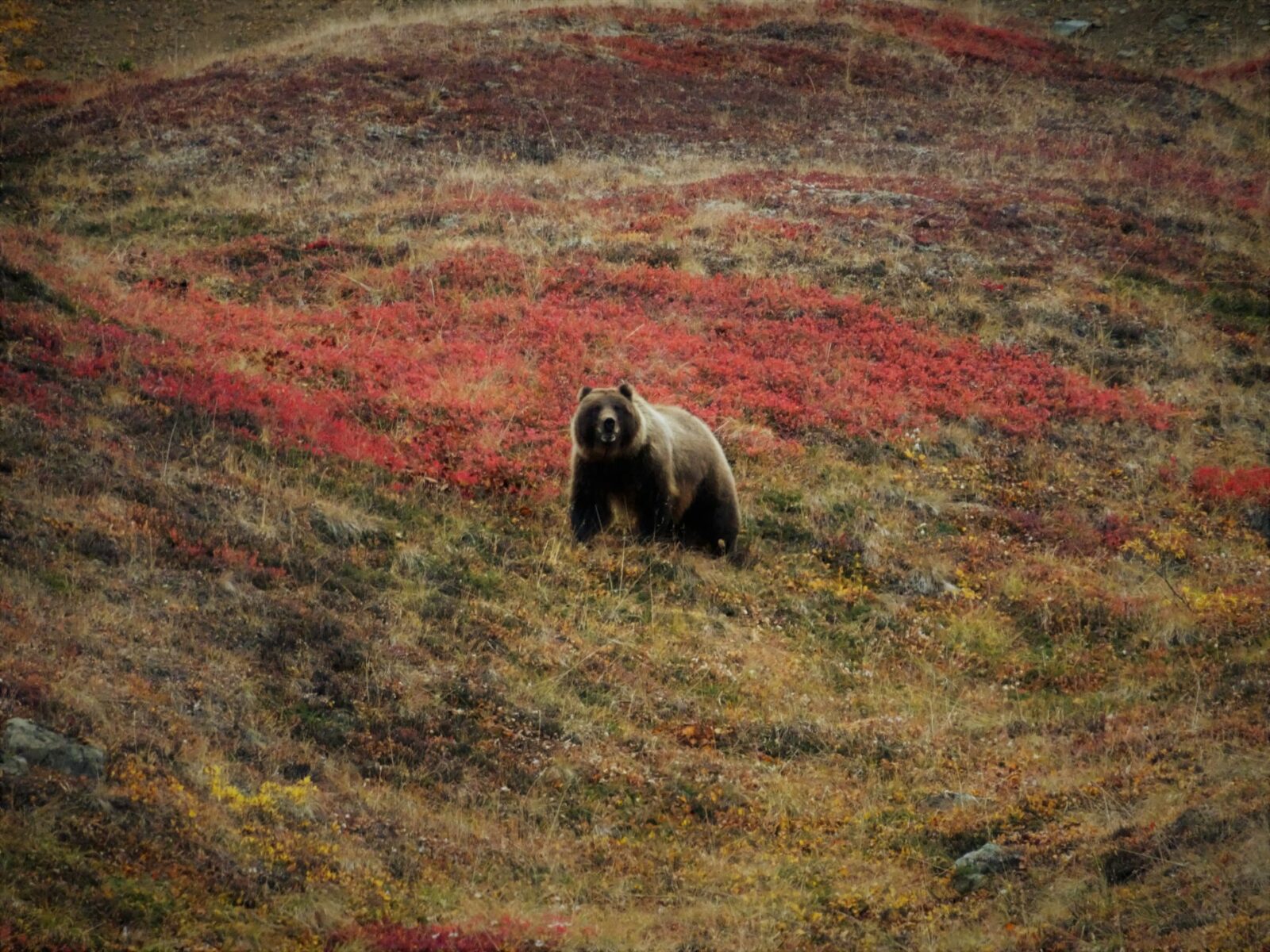 Ride the Bus into the park – I recommend the transit bus, because you can get off and explore and it's much less expensive. I know it sounds like a long day on a school bus, but the experience of getting into the park and seeing the incredible scenery and wildlife (even in bad weather!) is an unforgettable experience. BRING YOUR OWN FOOD!
Wildlife viewing – if you take the bus deep into the park, it's a near guarantee of seeing tons of wildlife! Denali is probably the best park I have ever been to (tied with Glacier Bay) for viewing wildlife. I have never gone without seeing several bears, arctic ground squirrels, dall's sheep and moose and have often seen caribou.
Backpacking – see above for details about this, but for backpackers willing to venture off trail, the experience of solitude here is amazing.
Off Trail Hiking – Denali has very few developed trails, but you can try an off trail hike (make sure you have a paper map and know how to use it)!
Wonder Lake – I only recommend going this far if you're camping or if it's a day hike and Denali is visible (otherwise, turn around at Eielson, see below). An incredible view of Denali and a beautiful lake
Eielson Visitor Center – 66 miles into the park, this makes a good turn around point if you don't want to go as far as Wonder Lake. You can eat your picnic lunch inside here if it's raining. They even have an outline of Denali on the window in case it's covered in clouds (likely!). This is also a good place to stretch your legs on the nature trail that goes into the tundra environment. There is also a steep trail behind the visitor center for those who like to climb high things!
Savage River Loop Trail – a two mile flat loop from the Savage River Campground, this beautiful trail goes along the river and is a good place for solitude on an established trail
Mt Healy Overlook Trail – a popular view hike, this one has the advantage of being at the entrance area so you don't need to take the bus to get to it. It's a steep climb for almost three miles with 1700 feet of elevation gain, leading to an incredible view.
Visit the Sled Dog Kennels – Denali is home to working sled dogs who have supported the rangers in their winter work for a hundred years! Ranger led demonstrations are held several times a day during the summer.
Raft the Nenana River – several tour companies operate rafting in the canyon on the Nenana River just outside the park. They will give you the gear you need to stay comfortable rafting on cold glacial water!
Visit Denali State Park – if you are road tripping from Anchorage to Denali, don't miss Denali State Park on your way. There are lots of hiking trails and beautiful viewpoints of Denali as well as the Susitna River and surrounding landscape.
What to Pack for Denali National Park
Denali National Park is in a remote location and it's important to bring what you need with you! For things you can't fly with (camping stove fuel, bear spray) I highly recommend picking those up in Anchorage or Fairbanks, whichever town you fly into. You will also want to pick up your groceries for your trip in one of those towns.
Here is my advice about what to pack for Denali National Park:
Everything on my packing list for Alaska
If camping, everything you need for camping
Everything you need for a day hike (especially trekking poles, headnet, bug spray, sunscreen, plenty of food and water, paper maps and rain gear)
You need to bring your own food and water into the park. Inside the park it is very remote and you can't buy food beyond the entrance area. There are water bottle filling stations in several locations, but not at all the bus stops
If you are backpacking, make sure to have a bear canister to secure your food and any other scented items in. You all need to secure all food and scented items at all times if car camping (keeping in your locked vehicle is fine). You can borrow a bear canister free from the park service when you get your backcountry permit.
Now you've got the things to do in Denali National Park and you have everything you need to plan your own Denali adventure!