Lussier Hot Springs Soaking Guide
Posted On June 22, 2020
Last Updated on April 2, 2022
Lussier Hot Springs is a natural hot springs located in Whiteswan Lake Provincial Park in Southeastern British Columbia. This beautiful hot springs is definitely discovered and can get quite busy year round. People are friendly and it's a gorgeous setting.
Lussier Hot Springs is a collection of three warm and hot pools surrounded by rocks next to a river. The cool water of the river mixes with the hot spring water to make it a comfortable soaking temperature. Read on to learn about how to get your own soak in at this beautiful and remote location.
Lussier Hot Springs does not allow dogs, alcohol or nudity at the hot springs. Rangers regularly patrol this popular area. Access to the hot springs is FREE.
Lussier Hot Springs is on the homeland of the Ktunaxa First Nations people.
Related: 7 Kootenay hot springs in 5 days – a dreamy Canadian road trip
Getting to Lussier Hot Springs
Lussier Hot Springs is located in Whiteswan Lake Provincial Park, which is in the East Kootenay region of southeastern British Columbia. It's about halfway between the town of Cranbrook and Radium Hot Springs in Kootenay National Park.
It's about a 10 hour drive from Vancouver and a 4 hour drive from Calgary.
Turn off Highway 93 just south of the town of Canal Flats. It is signed for Whiteswan Lake Provincial Park.
From here you will be driving on an unpaved logging road, which is in good condition and a normal car can make it no problem. Be ready for dust and to use extreme caution as there are logging trucks and other vehicles on the road. You'll drive on the gravel logging road for 18 km (12 miles) until you arrive at the parking area for Lussier Hot Springs.
When is the best time to visit?
Lussier Hot Springs is open and accessible all year. Many visitors to the area come in the summer to hike and camp and there are also lots of visitors in winter for skiing and other winter sports in the area. The hot springs can be quite busy year round.
If you're looking to visit the pools with less people around, plan your visit for spring or fall (in between summer and winter visitors) and on a weekday. It is also less busy in the morning and busier in the afternoon.
My visits have been in early September, and while there were definitely other people around, everyone was friendly and there was plenty of room for us all.
Facilities and Pools at Lussier Hot Springs
In the parking area there are two pit toilets that have hooks to put your towel and clothes on if you want to use them as a changing room. This is particularly helpful after your soak so you can put on dry clothes!
The trail from the parking area down to the river and the hot spring pools is about a third of a mile. It slopes down the whole way, but has a beautiful gravel trail that is very smooth and well maintained.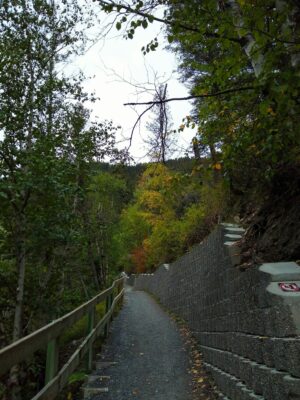 When you get to the pools, you can put your towel and shoes on the surrounding rocks for your soak.
The pools themselves are undeveloped and there are three distinct pools alongside the river. The pools are different temperatures, ranging form the coolest to the hottest. I found the middle one was just about perfect for me. The pools are surrounded by rocks and have gravel bottoms. You can sit up on a rock and just put your feet and legs in the water if you are getting too hot.
Use caution climbing between the pools as the rocks can get slippery. This is especially important in the winter when it can be icy.
There are also lots of places where you can see super hot water steaming and bubbling out between the rocks, which is pretty impressive.
Where to Sleep near Lussier Hot Springs
Camping
There is no camping right at Lussier Hot Springs but there's lots of camping nearby. There are several campgrounds located inside Whiteswan Lake Provincial park which are the closest to the hot springs.
Wasa Lake Provincial Park has a huge campground next to a lake that is just south of the road into Lussier Hot Springs.
My favorite place to camp in the area is the Redstreak Campground near Radium Hot Springs in Kootenay National Park! In fact, this is one of my favorite places to camp ANYWHERE. Here you can camp with a gorgeous valley and mountain view with amazing sunsets and take a mellow and beautiful two mile hike to Radium Hot Springs. You can even walk or drive to town if it's raining and you want a hot breakfast!
Hotels
The Fairmont Hot Springs hotel is the closest hotel, about 30 minutes away. Fairmont Hot Springs has the largest hot spring pools in Canada. Fairmont is a swimming pool, so it's kind of the opposite of Lussier, but it's pretty great! You can also swim even if you aren't staying at the hotel. There is also a restaurant here.
There are also many hotels in Cranbrook (an hour away) and Radium Hot Springs (an hour away in the other direction).
Where to Eat near Lussier Hot Springs
I highly recommend bringing a picnic with you as there aren't any food options available at or near the hot springs. There are a few food options (including Tim Horton's!) in nearby Invermere (30 minutes away).
The best places to buy groceries are in Radium Hot Springs or Cranbrook.
There are more restaurants and food options in Cranbrook and Radium Hot Springs. My favorite place to have breakfast is the Big Horn Cafe in Radium Hot Springs. They have delicious coffee and amazing breakfast sandwiches!
Things to do near Lussier Hot Springs
Lussier Hot Springs is a long trip for most travelers so why not spend a few days and explore more of this beautiful region? A few other things to check out while you're in the area include:
Kootenay National Park – hot springs, hiking, scenic driving, this park is a must see! Don't miss Marble Canyon, a mellow hike along some gorgeous rocks and waterfalls.
Other hot springs – Radium Hot Springs and Fairmont Hot Springs are both within an hour of Lussier and both are developed with showers and towels for rent and wonderful places to spend an afternoon or evening
Hiking – In addition to Kootenay National Park, there are lots of hiking trails in this area. The visitor center in Radium Hot Springs is a great place to get information
Cross Country Skiing – if you're visiting in winter, there are lots of cross country skiing opportunities between Cranbrook and Radium and all around the area
Scenic driving – the drive to Lussier Hot Springs is long, but it's incredibly scenic in any direction. Bring picnic food and your camera and spend some time checking out mountains, rivers, lakes and wildlife.
What to Bring to Lussier Hot Springs
Lussier hot springs is undeveloped so you'll need to bring everything you need for your soak. Make sure to bring
Swimsuit (required at this hot spring)
Towel
Shoes you can quickly put on and off (sandals for summer, boots for winter)
Waterbottle
If it's winter, something warm (like a parka) you can quickly pull on when you get out wet and need to walk up to your car
Electric Vehicle Charging
Fast chargers are available in Cranbrook (60 miles away) and Radium (50 miles away). Canada has a good network of EV charging stations, however Lussier Hot Springs is far from major cities like Vancouver and Seattle. Make sure to check the availability of chargers all along the route.