Dempster Highway Driving Guide to the Arctic Ocean in Tuktoyaktuk
Posted On September 20, 2023
Last Updated on September 27, 2023
The Dempster Highway is a truly unique road trip from already remote Dawson City into Canada's Arctic and the shore of the Arctic Ocean. There is stunning and unique scenery everywhere, crossing four mountain ranges, going back and forth across the Continental Divide, traversing the only never glaciated area in Canada and crossing two epic northern rivers.
This is truly one of the most incredible road trips I have ever done. Many thanks to Go North Rentals in Fairbanks for letting us take one of their Scout Campers on this adventure!
I've driven almost every mile of road in Alaska and the Yukon in addition to this remote road trip, so you can trust me to give you straight talk about this drive, how to determine if it's right for you and how to prepare for your trip.
"Highway" is a generous term for this narrow strip of gravel, which requires your complete focus and preparation. This is a journey for self sufficient adventurers with a good sense of humor. If that sounds like you, I can't wait to show you the way and help you prepare for your own unforgettable road trip.
The Dempster Highway takes you through the land of the Gwich'in, Tr'ondëk Hwëch'in and Inuvialuit First Nations People.
This article contains affiliate links, which means if you make a purchase I receive a small commission at no cost to you.
How long does it take to drive the Dempster Highway?
I recommend spending 5 days on the Dempster Highway, and more if you want to spent time hiking in the Tombstone Mountains or kayaking out to the Pingos in Tuktoyaktuk. It's about 1000 miles (1600km) of gravel and often mud.
To drive from Dawson City to Tuktoyaktuk at the Arctic Ocean and back took us 33 hours. That included quick bathroom stops but not meal stops, exploring or sleeping. We averaged around 45 mph, occasionally we went a bit faster and when it was raining it was slower.
Driving on the Dempster is a lot more tiring than highway driving and you won't want to do as many hours in a day as you might otherwise.
The highway is slow, and gets slower in wet weather. There are lots of unexpected potential delays (construction, ferries, hours of fuel stations) so you do not want to be rushing.
It can be done in as little as four days, but five is much more comfortable. That gives you two days to drive the Dempster, two days to drive back and a day to go up to Tuktoyaktuk and back.
What are the road conditions like on the Dempster Highway?
Is the Dempster Highway paved?
No. It's gravel. There is a short paved section just south of Inuvik.
How rough is the Dempster Highway?
Since the Dempster is in a remote area and subject to extreme weather, the road conditions can vary a lot. When I drove the highway the same stretch of road was different going north and south in the same section depending on if it was raining or not.
Overall I was impressed at the condition of the highway. There were potholes in places and the mud got very slippery when it was raining, but overall it was very well maintained.
This road requires your constant attention as a driver. There may suddenly be heavy equipment in your lane, including graders, without warning. There are potholes in places and other bumps.
The best way to stay safe on the road is to make sure your vehicle is well maintained and do not try to go fast. I always recommend checking Yukon road conditions and Northwest Territories road conditions any time you have cell service.
Timelapse Video of the Dempster Highway and Road to Tuktoyaktuk
Really want to see what every moment is like? Watch it at high speed here:
When is the best time of year to drive the Dempster Highway?
September. The first half of September is absolutely stunning with the fall color but (usually) there isn't snow yet. We did this drive the first week of September and I can't imagine a better time.
I'm sure many people would tell you that summer is better, but I am happy to trade colder weather, some rain, fall color and the potential for seeing an Aurora for the midnight sun and bugs.
The highway is open all year, and locals often say it's smoother in the winter. However, a winter drive here would require an even higher level of preparation, self sufficiency and experience with harsh winter weather.
What is the best vehicle to drive on the Dempster Highway?
We drove an F-150 pick up truck with a Scout Camper and it was absolutely ideal. Any pick up truck and camper combo would be great. A van camper would also work well as long as it had good clearance and tires.
Most of the highway you could drive in any well maintained car with excellent tires, though it would be slower in areas of rough road. There are areas where a high clearance vehicle is very helpful, but without one you could make it as long as you take it slow. Keep in mind if you drive a car that the options for staying in hotels along the way and tent camping can be hard if bugs or rain are intense. You also must have a full size spare tire, tire changing equipment and know how to change a tire.
I would not recommend this drive for trailers or larger RVs. I think in a smaller motorhome you would be ok as long as you didn't have anything hanging below (like a dump hose) and the tires are in good condition.
We saw quite a few motorcycles along this road and I am not an expert on motorcycles but people are definitely doing it. Understand that you will be absolutely coated in mud or dust depending on the weather. We also saw people on bicycles which I can't really imagine doing (bugs, dust, mud and vehicles passing slinging the same) but people are out there doing it!
How to get to the Dempster Highway
The Dempster Highway starts near Dawson City in Canada's Yukon Territory.
If you're driving to the Dempster to start the drive, you'll take the Klondike Highway north from Whitehorse or the Taylor Highway/Top of the World Highway from Tok, Alaska.
If you're flying in to rent a vehicle for the drive, plan on flying to Whitehorse, Yukon or Fairbanks, Alaska and renting a vehicle.
I recommend renting from Go North Rentals in Whitehorse or Fairbanks, they rent pick up campers that are perfect for this drive and allow you to drive on these unpaved roads (most rental companies do not).
Gas Stations and Fuel Availability
Gas stations are extremely limited along this highway, it's important to fill up at every opportunity.
There is a gas station where the Dempster Highway leaves the Klondike Highway, one in Eagle Plains, one in McPherson and a couple in Inuvik. There is also a fuel station in Tuktoyaktuk.
The longest distance between fuel stations is about 250 miles (about 400km). If your vehicle can go 250 miles between fuel stops, there is no reason to carry a gas can. We did not carry a gas can and did just fine.
Most gas stations are not open 24 hours, another reason to not be rushing on this drive.
Hotel Accommodations along the Dempster Highway
Hotel options are limited and very basic along the Dempster. There are plenty of hotels in Dawson City. After that, there is a hotel in Eagle Plains and one in Fort McPherson. There are a few options in Inuvik.
It is important to make a plan and reserve hotels in advance if you are relying on them for your trip.
Camping along the Dempster Highway
Camping in a pick up camper is an ideal way to experience the Dempster Highway. You have flexibility in where you stop for the night but the protection from weather and bugs that an RV provides.
You can also tent camp and lots of people do this. Make sure your tent has a full rain fly and no leaks or holes to protect you from weather and bugs. You also need a tent that can stand up to the wind.
There are lots of pullouts where you can disperse camp. The Milepost tells you the location of every pullout as well as campgrounds. We found a great spot with a view our first night, and there were lots of beautiful pullouts. We found that there were more options before the Mackenzie River, and after the Mackenzie River there were not as many pullouts.
There are three Yukon Government campgrounds and five Northwest Territories Campground along the Dempster Highway. There is also the campground in Tuktoyaktuk next to the beach at the Arctic Ocean.
Most campgrounds do not have running water, although the two in Inuvik as well as the Nataiinlaii Campground near the Peel River ferry did have flushing toilets and showers. Some campgrounds have drinking water but not all.
Most campgrounds have big firewood piles that you can help yourself to, at a few you pay extra for firewood.
We were warned by locals that some campgrounds are VERY buggy in summer and some are almost unbearably windy. For example we learned that Rock River Campground is protected from the wind, but bugs can be terrible, meanwhile nearby James Creek Campground is extremely windy, too windy for tent camping (but good for keeping bugs away!).
I loved the Tombstone campground. It's the busiest one we encountered, it does sometimes fill up in summer. It has several developed trails and is surrounded by the gorgeous Tombstone mountains.
My favorite campground overall that we stayed at was the Jak Territorial Park Campground just outside Inuvik. It had a gorgeous view of the Mackenzie Delta and running water. They also have the only playground we saw along the Dempster Highway. It was full of golden birch trees in early September.
Make sure to bring cash for camping, the only place we could pay with a credit card was at Jak. Everywhere else was $20-$25 Canadian cash for camping.
Groceries and Restaurants along the Dempster Highway
Your food options are extremely limited along the Dempster Highway. They are open limited and not always published hours.
I strongly urge you to bring all the food and snacks you need for your trip and enjoy a restaurant meal if one becomes available.
Stocking up on food in Whitehorse, Dawson City or Fairbanks are your best options. Keep in mind for Fairbanks you'll be crossing the border into Canada and cannot bring fresh meat, fruits or vegetables. I bought everything except those items in Fairbanks and got vegetables in Dawson.
We enjoyed having lunch at the restaurant in Eagle Plains and the breakfast sandwich I had at the News Stand (like a convenience store) in Inuvik. Those were the only restaurants that were open at the times I was passing through. Everything else I ate for five days we brought with us.
If you have any restrictions on what you eat, you definitely need to bring your own food.
What wildlife might I see along the Dempster Highway?
At times in spring and fall, you might see caribou migrating along the highway. There are also bears along the route (I saw one!).
The big wildlife highlight of this trip is the migratory birds throughout the Mackenzie River Delta. Millions of birds nest here during the summer.
What to pack
The weather is unpredictable in the Arctic and there are no emergency services. You need to be as self sufficient as possible. Make sure you have some warm clothes and rain gear in addition to long sleeve lighter layers and long sleeve pants.
Bugs can be fierce in summer, make sure you have long pants, boots or shoes, long sleeve shirt, rain gear and a hat and headnet to protect yourself. You'll also need sun protection.
It's important to carry plenty of drinking water and cooking water as well as your own food. Water is very difficult to get along the Dempster.
You will want to have a copy of the Milepost, it will tell you where fuel, campgrounds, hotels and food are as well as toilets and trash cans and pullouts. It also has a map. These things are all important without cell service.
As far as your vehicle, make sure it's in good repair and has excellent tires. You'll need a full size spare tire and all the changing equipment. If you have a flat, you'll need to be able to change it and drive over 100 miles before you can get it fixed.
Finally, I recommend bringing an emergency communications device, such as a satellite phone or satellite communicator. Make sure to tell friends and family back how how long you expect to be out of service and how they can contact you if you have an emergency device. Test it before you leave home!
I travel with a Garmin inReach Mini anytime I'm away from cell service. It has an emergency button to contact Search and Rescue and I can send short texts to family using it.
Dempster Guide: Dawson City to Tombstone Territorial Park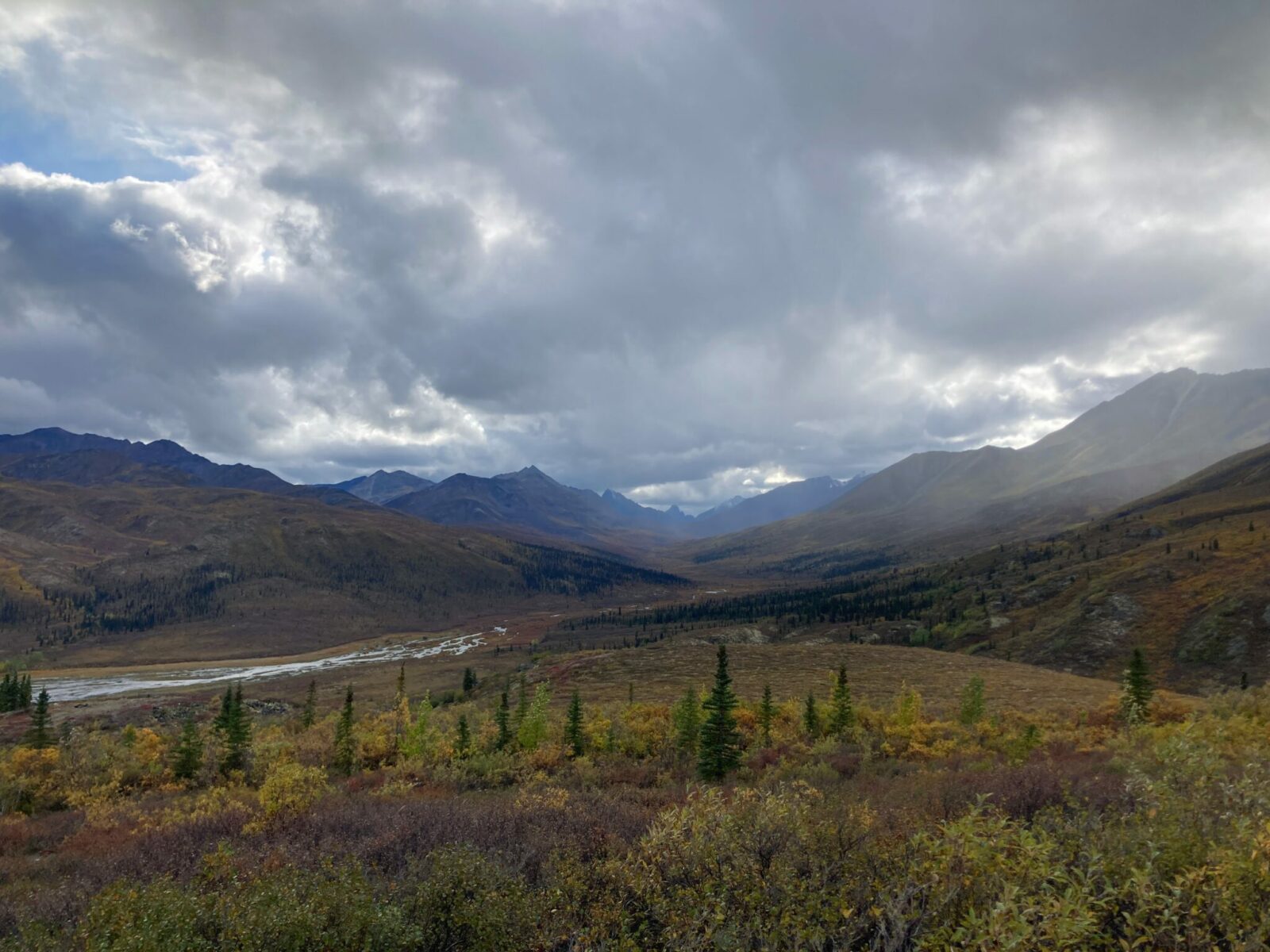 Once you get onto the Dempster Highway, it's only 44 miles (70km) to the Interpretive Centre at Tombstone Territorial Park.
The Tombstone Mountains are a true gem and I highly encourage you to spend some time here.
There are numerous hiking trails as well as epic views and a wonderful campground.
This is also the busiest stretch of the Dempster, lots of people go to Tombstone who don't travel further up the highway.
Dempster Guide: Tombstone Territorial Park to Eagle Plains
Leaving Tombstone, you quickly come to North Pass, the highest elevation spot along the Dempster Highway at 4600 feet/1400 m. You'll then be leaving the Tombstone Mountains and driving along the Blackstone River to Chapman Lake.
After cresting Windy Pass, you'll descend into a canyon among the Northern Ogilvie Mountains to Engineer Creek. This area is one of the very few places in Canada that has never been under ice and glaciers!
You'll slowly leave this set of mountains behind as you get closer to Eagle Plains.
A mandatory stop, Eagle Plains was built to provide services to travelers on the highway between Dawson City and Inuvik. You'll need to get gas here and if the restaurant is open, grab a meal. Be ready to encounter many friendly dogs in Eagle Plains!
Dempster Guide: Eagle Plains to the Arctic Circle and Inuvik
Leaving Eagle Plains, you drive through a wide valley with the Richardson Mountains in the distance. This stunning vista provides the backdrop when you arrive at the Arctic Circle. Spend some time here to take in the incredible view. There's even a picnic table perfect for having some lunch.
After leaving the Arctic Circle you'll slowly climb to Wright Pass, which marks the border between the Yukon and Northwest Territories. There is a one hour time change here in the summer with Northwest Territories being an hour ahead of the Yukon. The ridgeline makes for a wonderful hike if it's a nice day.
As you continue into the Northwest Territories, you'll descend to the Peel River and then the Mackenzie River. Each river requires a ferry crossing so expect to wait a bit for your turn on the ferry.
If the timing works out, the Nataiinlaii Campground just on the north side of the ferry is lovely campground with flushing toilets and a short, flat and beautiful trail to a viewpoint over the Peel River.
Continuing on the highway, the village of Fort McPherson is a short distance off the highway and has gas, a restaurant and a hotel.
The next river you'll come to is the mighty Mackenzie River, the second longest river in North America. The Nagwichoonjik/Kuukpak/Mackenzie River is an unexpected highlight of this entire trip. You cross it on the ferry and then drive near it the rest of the way to Inuvik and Tuktoyaktuk along and through its delta, which is immense and an important nesting area to millions of birds. It is large enough to moderate the climate in its basin creating a unique and vast ecosystem. The river basin formed about 13000 years ago by glacial lake outburst floods and drains much all of the Northwest Territories and much of the Yukon, British Columbia, Alberta and Saskatchewan.
People have lived along this river and its delta for at least centuries and probably thousands of years in permanent and seasonal homes.
The Gwich'in Community of Tsiigehtchic is also served by the ferry crossing and has been a community in this location for about 1400 years. The Gwich'in name for the river is Nagwichoonjik (river flowing through a big country).
The river is called Kuukpak (Great River) by Inuvialuit. The Inuvialuit have lived near the mouth of the Kuukpak and it's delta for about 1000 years.
Settling into the Mackenzie Delta, we found the rest of the road to Inuvik the roughest stretch of road with the least pullouts and viewpoints.
Even if you don't stay at Jak Territorial Park Campground, definitely go into the park to check out the observation tower with its incredible view over the Mackenzie Delta.
When you arrive in Inuvik, be prepared that this is a community that exists to serve as a commercial hub and health care hub for Northwest Territories residents.
There are limited visitor services in Inuvik but you can definitely get gas. I recommend asking at the gas station if any restaurants or stores are open. There are only a couple and they have limited hours, but locals will know where to send you!
We got a great breakfast sandwich from Mac's News Stand that we never would have found without a local directing us there.
Dempster Guide: Inuvik to Tuktoyaktuk and the Arctic Ocean
I recommend doing this section of the drive as a day trip from Inuvik so you can enjoy the drive and have some time at the Arctic Ocean. Plan on this 90 mile drive taking 2.5 to 3 hours in each direction.
The road from Inuvik to Tuktoyaktuk was completed in 2018. Before that, you had to fly to Tuk unless it was winter when the ice road was stable. The road is much like the Dempster, though there were a few more potholes and washboard.
It starts in the forest around Inuvik and slowly becomes less trees and more tundra as you approach the Arctic Ocean. There are lots of tiny lakes and you are along the Mackenzie Delta. The tundra is bright red in early September.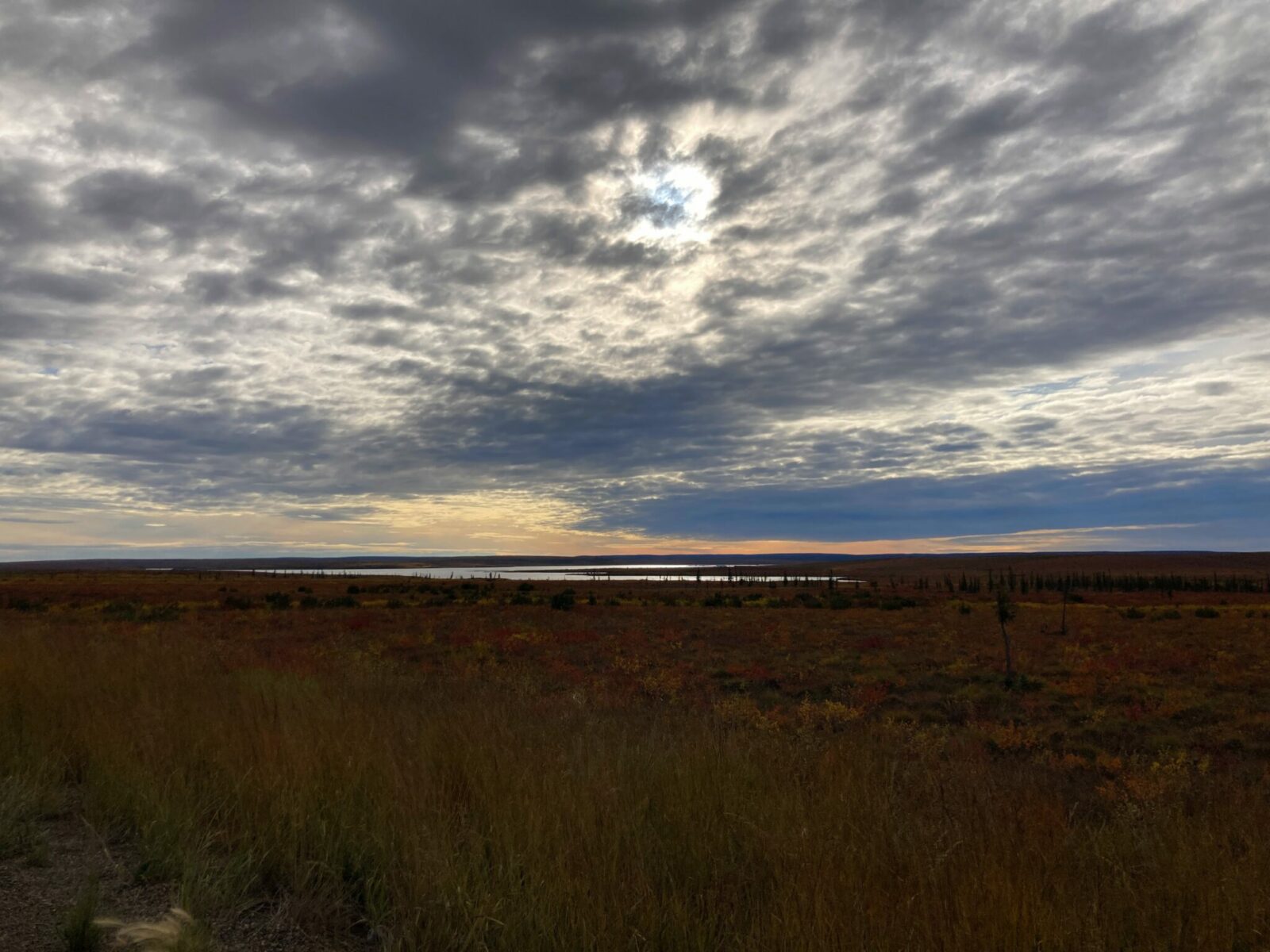 When you get close to Tuk, make sure to stop at the Pingo Canadian Landmark to see the impressive ice mounds that stick up from the otherwise pancake flat tundra. If you have time, you can rent kayaks here to get closer to them.
When you get to Tuktoyaktuk, you'll drive through the village to the end of Beaufort Drive to get to the Arctic Ocean. There's a sign and some beach area (obey all access signs) along with outhouses and picnic tables. You can camp here and there are several firepits.
Is the Dempster Highway or the Dalton Highway better for crossing the Arctic Circle and going to the Arctic Ocean?
If you're considering the Dempster Highway drive as a way to drive across the Arctic Circle, you might be wondering if this is the best way to do it compared to the Dalton Highway in Alaska.
I like the Dempster Highway drive better, but it is definitely farther from Fairbanks or Whitehorse, so if your only goal is to just cross the Arctic Circle, it will be shorter on the Dalton. The Dalton Highway also has more truck traffic.
If you choose the Dalton Highway, you can't drive your personal vehicle to the Arctic Ocean since it's part of the Prudhoe Bay oil field. You have to take a bus to get there, so if you have your heart set on driving your own vehicle to the Arctic Ocean, the Dempster is where it's at!
Final thoughts and Advice for driving the Dempster Highway
Driving the Dempster Highway to Canada's Arctic is a challenging and remote adventure, and travelers should prioritize preparation and planning as well as being as self sufficient as possible. A few other final thoughts:
A pick up camper was the ideal vehicle for this drive. With high clearance and excellent tires, we were able to navigate random construction and potholes no problem. The camper was great since there aren't many hotels.
There was no cell phone service for nearly all of this drive. We had a Garmin inReach for emergencies. I would encourage other drivers to have a satellite phone or a satellite communicator like a Garmin.
There were limited places to get food, either groceries or restaurants. We were very glad we had plenty of provisions that we had bought in Fairbanks and Dawson.