Spray Park Hike in Mt Rainier National Park
Posted On June 29, 2020
Last Updated on May 4, 2022
Wildflowers? Mountain views? A dazzling waterfall? YES. This is Spray Park!
The hike to Spray Park in Mt Rainier National Park has it all. It is a challenging 6-8 mile hike with up to 2000 feet of elevation gain. There's variation because of the options for turning around (see below). Add that to the long drive on a gravel road to get to the trailhead and you have an adventurous outing that will get you away from the massive crowds at Mt Rainier in the summer, especially at Paradise.
This is still a national park in the summer, so you won't find solitude on a summer weekend, but you will find crowds much more manageable and wildflowers and a waterfall just as spectacular as anywhere in the park!
Read on for how to get to this gorgeous trail and what to expect.
Mt Rainier National Park is the homeland of the Yakama, Puyallup and other Coast Salish people.
Parking Pass: Mt Rainier National Park entrance fee, $30. There is not a fee booth but you can pay at the machine at the Paul Peak Trailhead along the Mowich Lake Road. If you have an America the Beautiful Pass, display it instead.
Dog Friendly: NO. Dogs are not allowed on trails in Mt Rainier National Park.
Cell phone coverage: None
Restrooms: Pit toilet at trailhead.
Accessibility and Mobility: The trail is well maintained. There are some steep sections and some areas with a lot of roots.
Related: What to wear for a day hike in the Pacific Northwest, What to pack for a day hike in the Pacific Northwest
Is the Spray Park Hike right for me?
This is a challenging hike at 6- 8 miles and up to 1700 feet of elevation gain. There is also some uphill at the end of the return, so keep that in mind! It also is accessed by several miles of gravel road. While the road is usually accessible for most cars, it requires slow and careful driving. It can also be very dusty. Take it slow to avoid hitting any of the massive potholes too hard.
The trailhead is located in a remote area with no cell phone service along the road or at the trailhead. There are no services, though there is a pit toilet.
If you are up for these challenges, this is one of the best hikes in Mt Rainier National Park, and much less crowded than others!
If you're looking for an easier hike with great views and wildflowers, I recommend the Naches Peak Loop, near Chinook Pass on the other side of the park.
When is a good time for the Spray Park Hike?
The Spray Park trailhead is only accessible when the road to Mowich Lake is open, which is usually early July through mid October.
Spray Park has snow well into July and can start having snow again anytime in September.
Mt Rainier's wildflowers are at their peak in late July and early August and this is a spectacular wildflower hike. Later in the summer and into September, you'll see lots of blueberries in Spray Park and in September the blueberry bushes start to turn a bright red!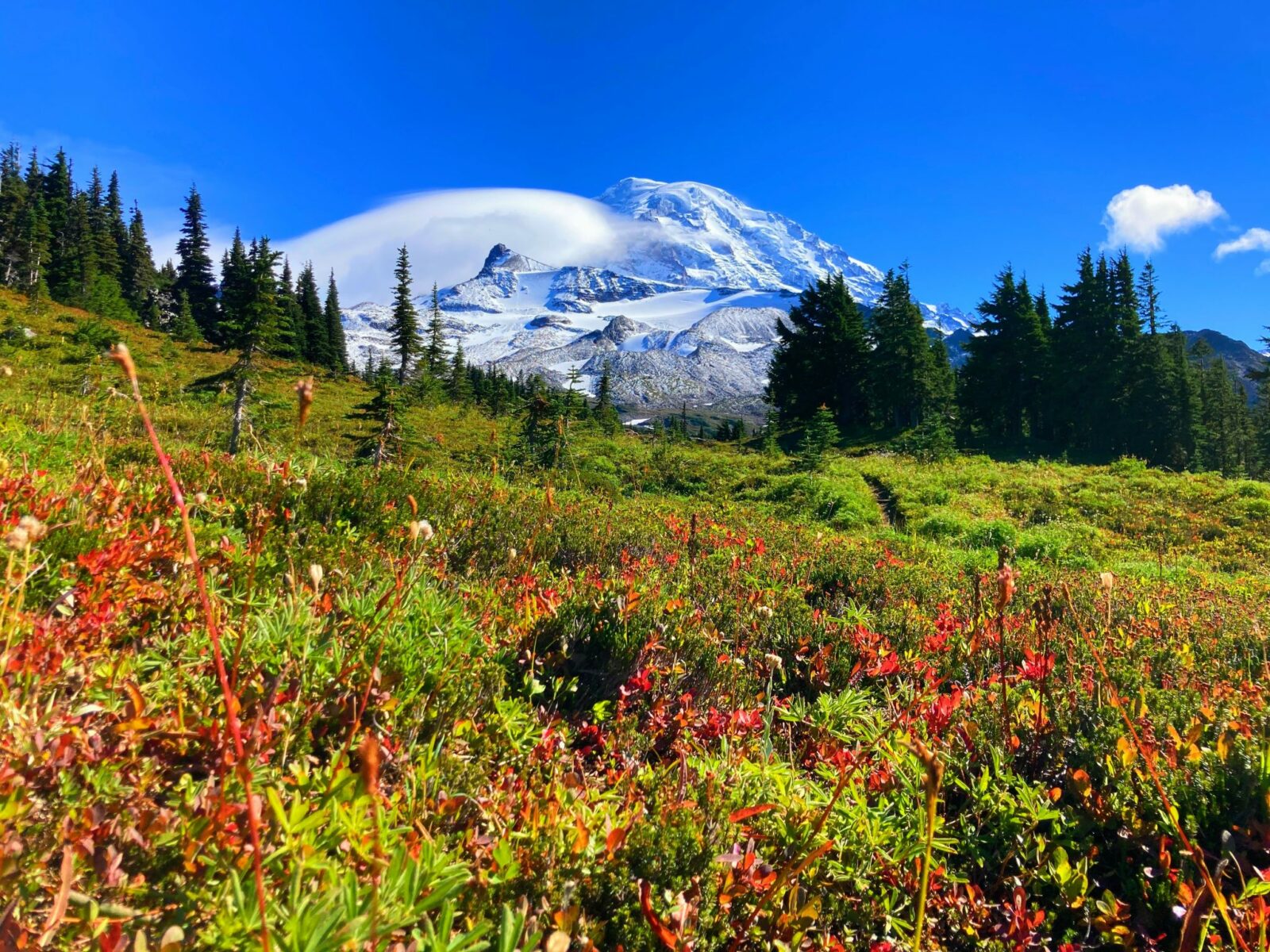 The parking lot at Spray Park is small, and you can park along one side of the road. On weekends expect to have to do a bit of a road walk, unless you arrive very early in the day or late afternoon. If you have the opportunity to go here on a weekday it will definitely be less busy.
In July and August Spray Park can be quite buggy, so make sure to prepare to protect your self from mosquitoes!
Where is it?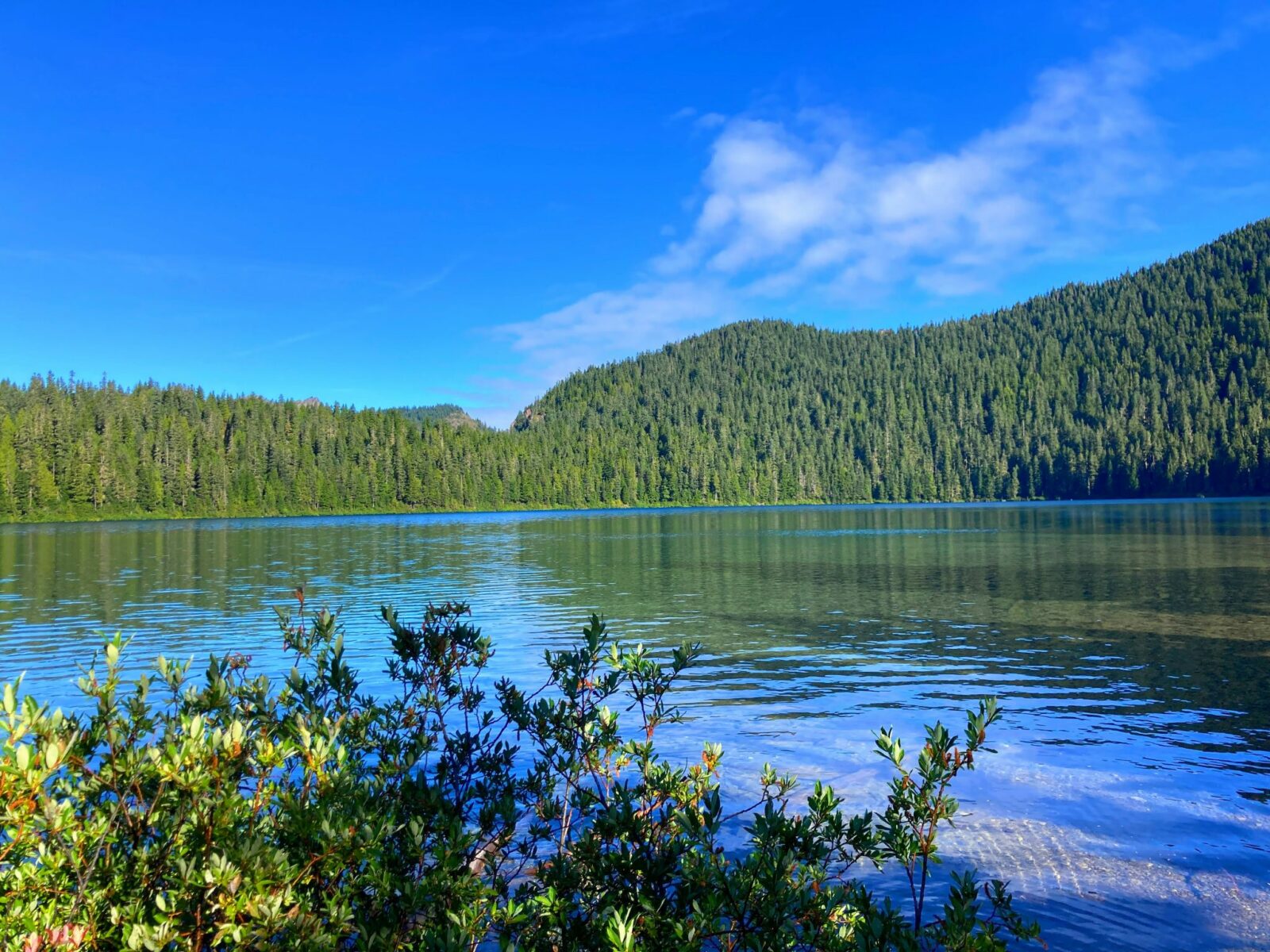 The Spray Park Trailhead is located at Mowich Lake, in the remote northwest corner of Mt Rainier National Park. The road is typically open early July through early October.
Mowich Lake is about a two hour drive from Seattle or Tacoma.
To get there, head east towards Mt Rainier on Highway 410. Between Bonney Lake and Enumclaw, just before the town of Buckley, head right (south) on Highway 165 towards Wilkeson and Carbonado.
South of the small town of Carbonado, the road comes to a fork. The left goes towards the Carbon River Ranger Station, do NOT take that road. You want to go RIGHT, towards Mowich Lake.
After entering the park you'll be on gravel for several miles until you arrive at the end of the road at Mowich Lake and the trailhead. Make sure to stop at the Paul Peak Trailhead along the way to purchase a parking pass if you don't have one already.
On summer weekends the tiny parking lot is likely to be full and you may need to park along the side of the road. This is dusty, but allowed.
You will see lots of hikers heading left along the lake to Tolmie Peak (another amazing trail in the area), but you will head right toward the pit toilets and walk in campground.
Trail Description
After parking, head towards the pit toilet at the end of the parking lot. Just behind this is the Mowich Lake walk in campground. Just before entering the campground you'll see a sign for Spray Park pointing right. The trail starts on the Wonderland Trail (the trail that circles Mt Rainier for 93 miles) and you will descend gently into the forest.
After less than half a mile, you will come to a trail junction where the Wonderland Trail continues to the right. You will head LEFT here to head towards Spray Park. Continuing through the forest, you will come to a very short spur trail signed for Eagle Cliff Viewpoint. This is a mandatory stop to a spectacular view of Mt Rainier.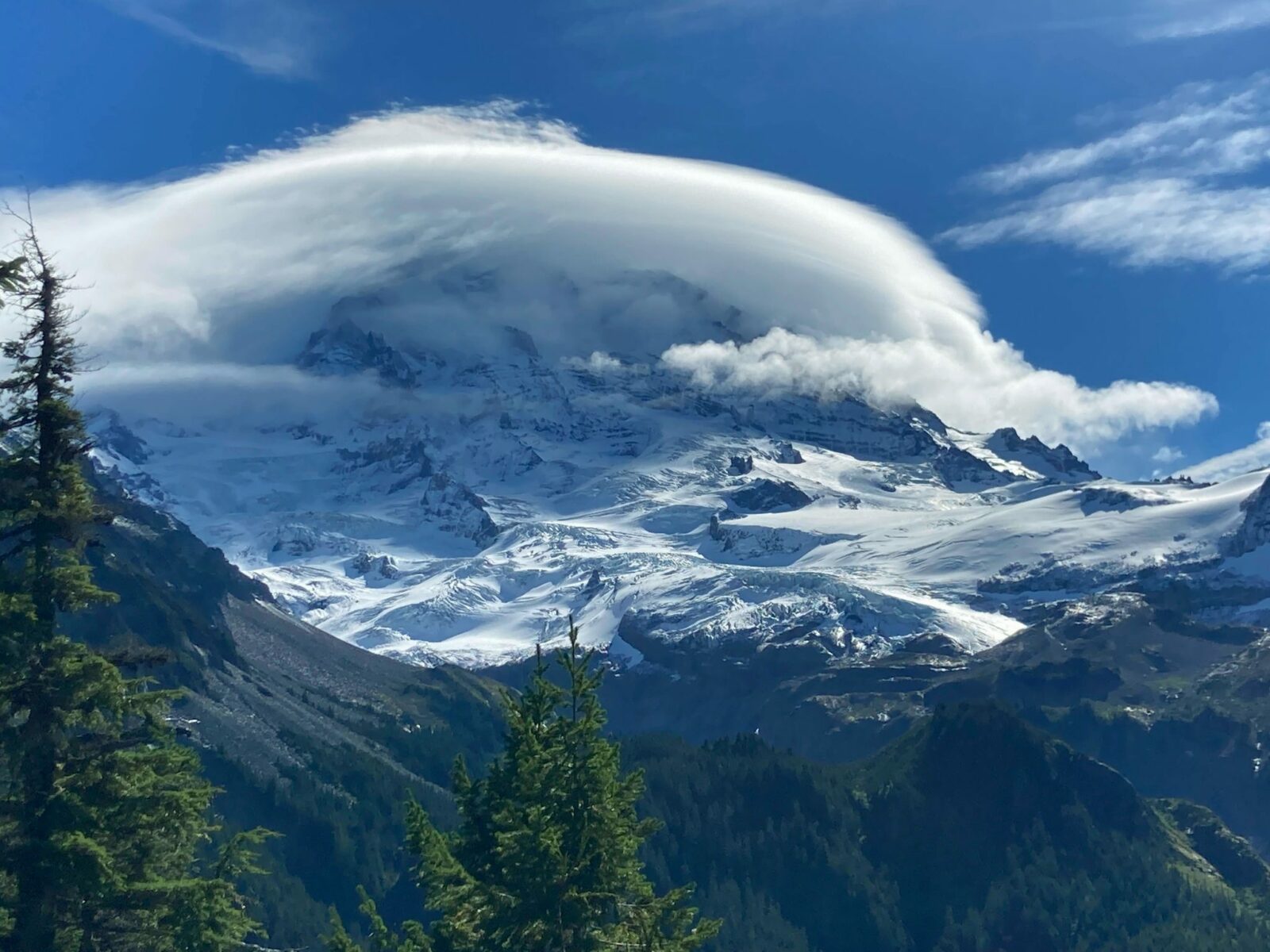 In just under two miles from the trailhead, you'll pass a side trail for Eagle's Roost camp, a backcountry camping area for backpackers and continue on through the forest. Just beyond the camp, approximately two miles from the trailhead, you'll be at another trail junction.
Take the short trail (less than a quarter mile round trip) to the right for gorgeous Spray Falls. This massive waterfall is one of the most beautiful in Mt Rainier National Park! If the water level in the creek is low, you might be able to cross it, but otherwise stick with the view from where you are and impressive Spray Creek tumbling down before you.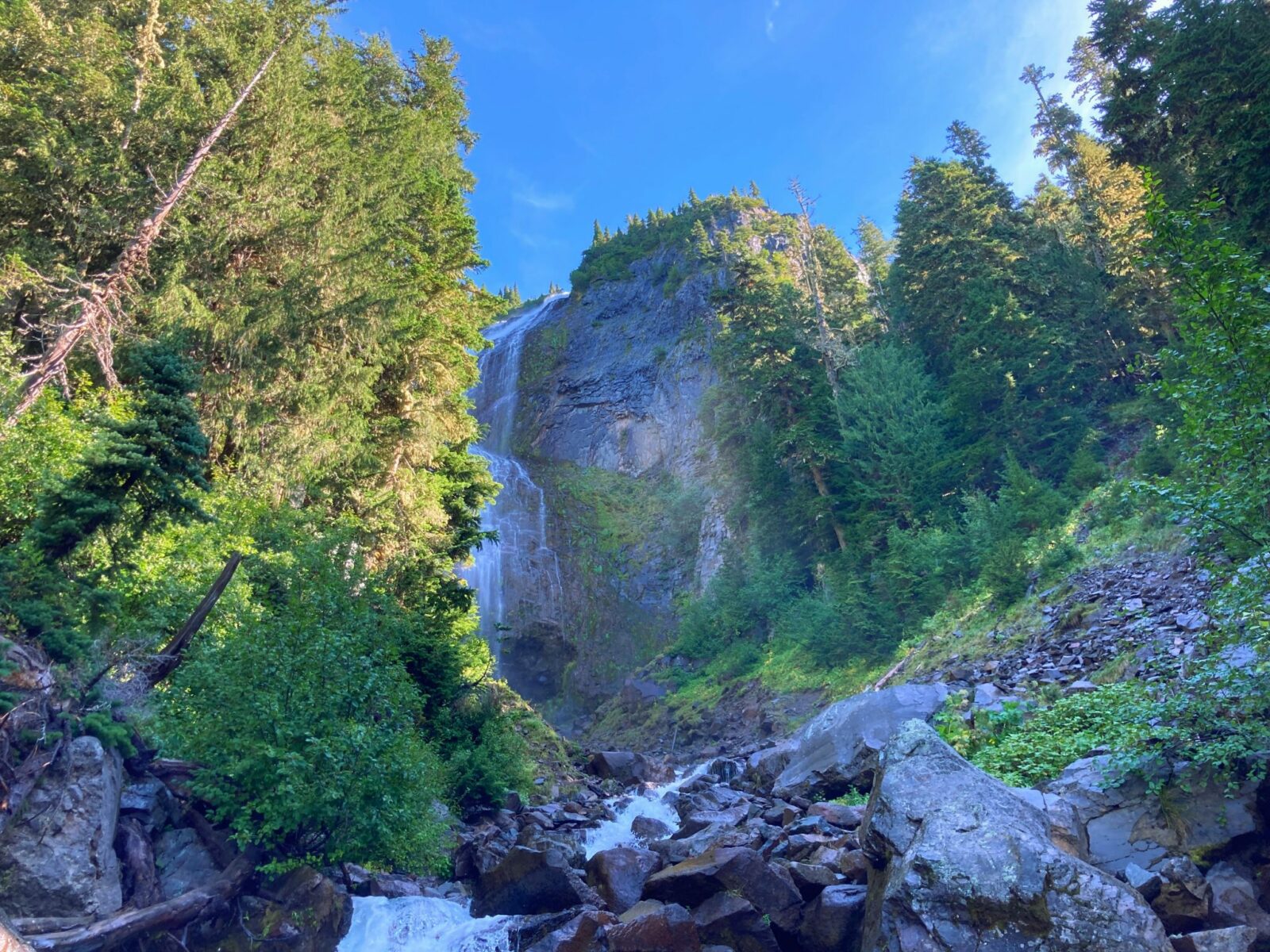 Returning to the main trail, head right and now climb steeply for two miles up a series of switchbacks (10) through the forested hillside towards Spray Park.
About three miles from the trailhead (a mile beyond Spray Falls) you will come out of the trees and see wildflowers and berry bushes and an impressive view of Mt Rainier – you're in Spray Park!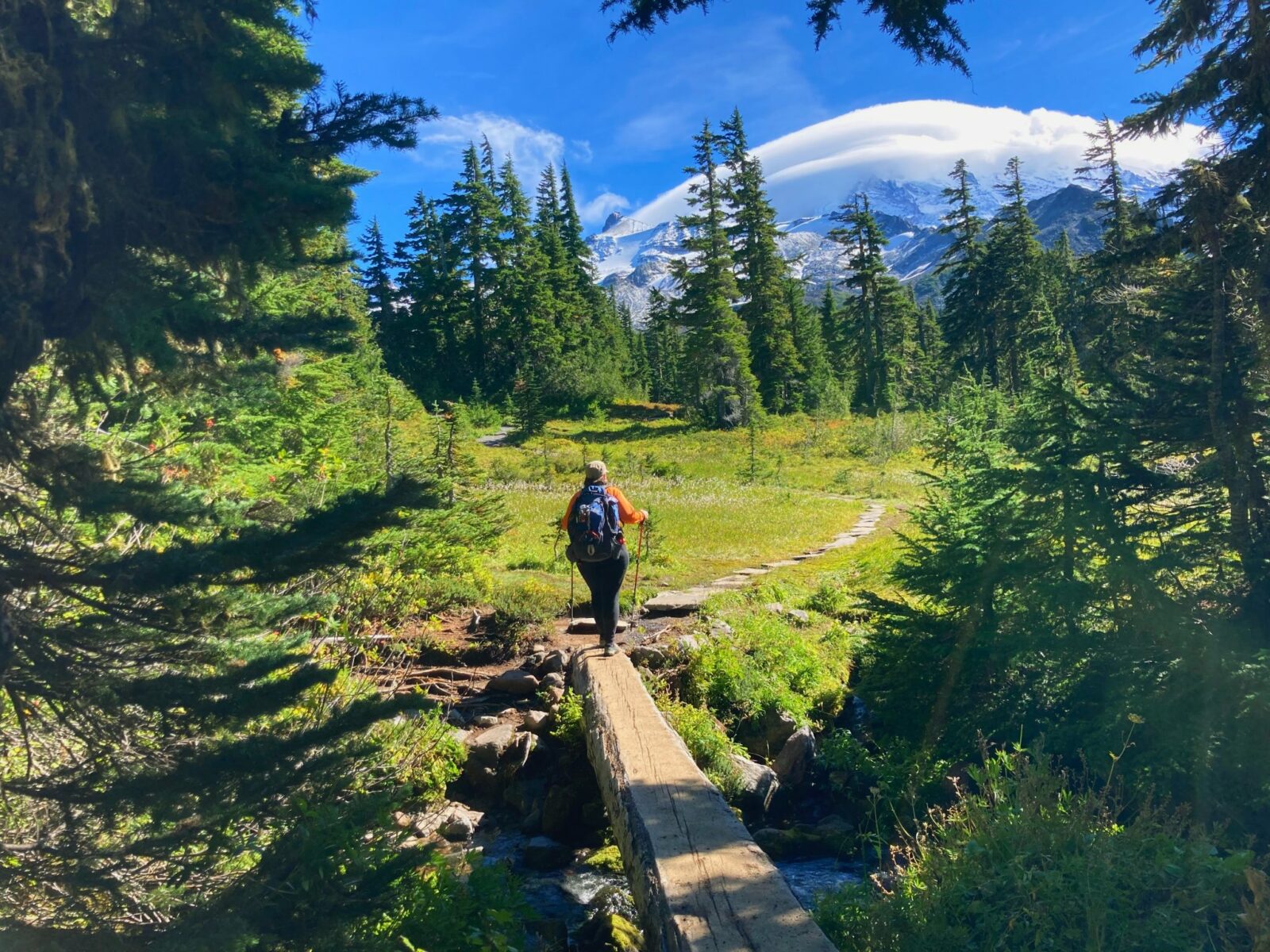 Once you're in Spray Park, the trail continues to climb gently through wildflower meadows and berry bushes and through more stands of trees in between. I've seen a bear from a safe distance in Spray Park a couple of times so stay alert. You will also have amazing views of Mt Rainier throughout Spray Park. There is not an obvious turnaround point on this trail, so pay attention to the time and how far you've gone, since this trail is part of the Mother Mountain Loop which is a two to three day backpacking trip! I'd recommend wandering half a mile to a mile through Spray Park, finding a place to sit and enjoy a break and some lunch, before returning.
Please STAY ON THE TRAIL as this is critical to protecting these fragile wildflower meadows. Linger as long as you like, then head back the way you came to the trailhead.
The wildflowers you see will depend on when you visit since different wildflowers come out at different times. My personal favorite is the avalanche lily, which pops out immediately when the snow recedes and only last for a week or so. They create a beautiful carpet of flowers across a large area, sometimes an entire meadow.
Fuel up after the Spray Park Hike
There are no services at Mowich Lake, but it is a great place to have a picnic if you brought your own food (an excellent idea).
Otherwise head 20 miles down the mountain back to the town of Carbonado and pick up some delicious pizza or ice cream to finish off your hike. The pizza place is quite spectacular and you can never go wrong with ice cream!
Electric Vehicle Charging
The Spray Park trailhead is 130 miles round trip from where I live in Seattle. My EV's range is about 90 miles. The closest fast chargers to the trailhead are in Puyallup or Auburn, which are still a bit too far for my EV, especially with the steep climb up to the trailhead. If you have a longer range you could make it no problem. I've seen several Teslas up there! Keep in mind that the last 15 miles are very steep climbing, as this effects an EVs range.