The Best Afternoon Tea in Victoria
Posted On July 27, 2020
Last Updated on April 27, 2023
Afternoon tea in Victoria is one of the most popular activities for visitors and with good reason. This British tradition is available all over Victoria and is a fun and unique classic Victoria experience.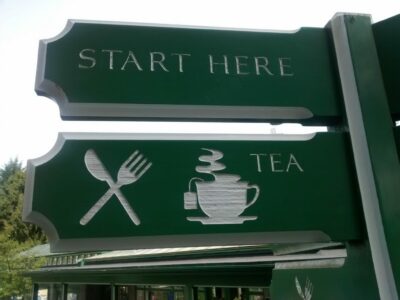 I grew up with this tradition both at home and when visiting Victoria. My great grandmother immigrated to Seattle from Victoria in 1916 and our family has stayed connected to Victoria and Canada ever since. I've been to Victoria's tea rooms with my grandmother as well as my parents and brother, some of them many times. My husband and my dad both enjoy afternoon tea as well, so don't think this is just for women!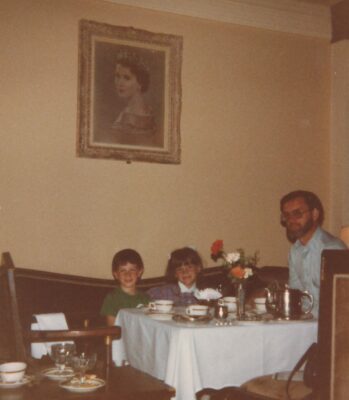 This article will talk about the best options for where to enjoy afternoon tea in Victoria for yourself.
What is Traditional Afternoon Tea?
A traditional afternoon tea in Victoria is a meal featuring finger sandwiches, scones (with cream and jam), desserts and of course, TEA!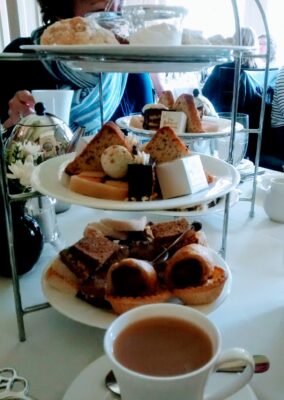 Traditionally served in the late afternoon, afternoon tea in Victoria is generally available from late morning through late afternoon. Reservations are necessary to get the time you want and highly recommended even if you're flexible (except at Murchie's).
Although afternoon tea is a somewhat fancy affair, you don't need to bring a special outfit just to have afternoon tea in Victoria. If it's fun for you to dress up then by all means do it! Some people dress up but many people are also dressed casually. It generally takes about an hour to enjoy your afternoon tea, similar to other meals in restaurants.
This is my short list of the best places to enjoy afternoon tea in Victoria. Each entry includes what makes it special and what to expect as far as food and prices (in Canadian dollars). Enjoy!
Related: Best way to day trip to Victoria
Butchart Gardens Dining Room – BEST afternoon tea in Victoria
I'm starting with what my family considers to be the absolute best option for afternoon tea in Victoria in terms of value, food and ambiance. Note that you need to pay to enter Butchart Gardens to have tea in the dining room. Even with paying for afternoon tea AND the gardens, it's still less expensive than the Empress!
Why it's one of the best: The afternoon tea at Butchart Gardens is served in the historic former home of the Butchart Family. Many windows look out to the garden. In summer they have tables outside on the large porch as well as inside seating. They have generous portions, delicious tea and sweets and savory offerings. You can see all the current offerings on their online menu. The location in the fabulous Butchart Gardens is another benefit.
Dietary Restrictions Accommodated: Vegetarian, Vegan, Gluten free, dairy free (with 24 hours notice)
Location: Inside the Butchart Gardens the admission fee is required. The setting is exquisite, 13 miles from downtown Victoria. If you're going car free in Victoria (an excellent idea!) you can take the bus to Butchart Gardens. The bus ride takes 45 minutes to an hour depending on how much traffic there is. Tours are also available which are a bit faster and more expensive.
Price: $49.50 for adults and $29.95 for children 12 and under. This does NOT include the cost of admission to the gardens which is also required and varies seasonally.
Teahouse at Abkhazi Garden – Best Low Key Afternoon Tea in Victoria
The Abkhazi Garden offers a variety of options for Afternoon Tea for different budgets and appetites in a historic home and garden in a quiet and peaceful Victoria neighborhood. A short drive or bus ride will get you there from downtown.
The Abkhazi teahouse and garden was built by an extraordinary couple who moved to Victoria at the end of World War II. You can also explore the garden which is filled with native species. It is less ornate and flower oriented than Butchart and much smaller, but also more intimate and far less crowded.
Why it's one of the best: This is the most low key version of afternoon tea in Victoria. It's smaller, less crowded and outside the hustle and bustle of the inner harbor. This makes it an authentic and laid back experience in a neighborhood and an excellent option for anyone who wants a relaxed and slow paced experience. They also offer a variety of options at different price points.
Dietary Restrictions Accommodated: Vegetarian, Gluten free (with advance notice and additional charge)
Location: Abkhazi Garden and Teahouse is located 2.5 miles east of downtown Victoria in a neighborhood. It's possible to walk if you're up for a 5 mile round trip walk. You can also take the bus there from the inner harbor in about 15 minutes, just ask the driver where to get off.
Prices:
Royal Abkhazi High Tea $65/person – this is the works! Lots of savory and sweet items
Afternoon Tea $54/person – just a little bit less than the royal (this is the option I would choose)
Elevensies $28/person – smaller and lighter version with scones and a couple of tea sandwiches. There are also several lunch entrees you can order instead.
Murchies Fine Tea – Best for Flexibility, Tea Lovers and Kids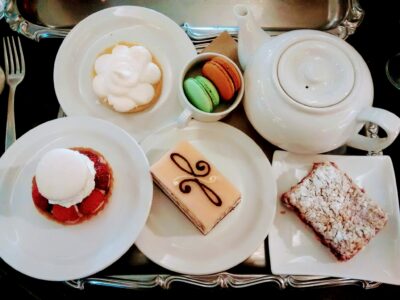 Murchie's fine tea is not a tea room and doesn't serve a traditional afternoon tea in Victoria. It is a Victoria institution with delicious tea and food!
This is an excellent option if you're willing to give up the tradition in favor of getting to pick exactly what you want, which is especially great if you have kids with you. It's also affordable and a la carte. The food is delicious and the tea divine. Right in the middle of everything on Government Street, this is a great option if you didn't make reservations and just want to focus on your food and your tea!
What it's one of the best: Quick, affordable and you can see exactly what you're getting, this is perfect if you didn't make tea reservations. It's also perfect if you just want to have tea (the beverage not the meal) with a pastry! The building is steeped in Victoria history, and you can spend some time in the retail shop next to the cafe picking out tea, teapots, tea sets, tea towels and more.
Dietary Restrictions Accommodated: Murchie's has plenty of vegetarian items, and since you order what you want a la carte, you can just ask them for the ingredients in any of the food and order what works for you!
Location: Murchie's is located in the heart of Victoria's shopping district, just a few blocks from the Empress Hotel on the Inner Harbor.
Price: At Murchie's, you order whatever tea or coffee or pastries you want a la carte. They have sandwiches, soup and sweet and savory pastries as well as tea, coffee and espresso drinks. You can easily get a pastry and treat for under $15, or a full lunch for under $30 (with treats and tea!).
The Empress Hotel – Best for Tradition
Most lists of the best afternoon tea in Victoria have the Empress right at the very top and it's certainly the most famous! It is expensive and their portions are smaller than the other options listed here. Some of the teas are an additional cost, which seems ridiculous. The Empress is certainly the most famous and the most fancy and for those who love tradition the additional cost might be worth it.
The tea and food are NOT better than the recommendations above, but they're good. What you're paying for here is the experience, so if that's what you want then go for it!
Why it's one of the best: The Empress is famous and the most traditional with the longest history of serving afternoon tea in Victoria. It also has a bar so if you want to have champagne with your tea, this is the place.
Dietary Restrictions Accommodated: Vegetarian, Vegan, Gluten free, dairy free, nut free
Location: You can't miss the Empress! It's the grand historic hotel on the inner harbor, the very center of Victoria.
Price: Afternoon Tea at the Empress is expensive at $95/person. Champagne tea (that's the afternoon tea plus a glass of champagne) is $130/person. Children's tea (Prince or Princess Tea) is $52.
Pendray Tea House – best alternative to the Empress for Tradition
The Pendray tea house is an excellent alternative to the Empress for those looking for the traditional Victorian afternoon tea at a slightly lower price point. If going out to Butchart Gardens isn't in your plans this is an excellent alternative.
Why it's one of the best: Pendray is located right across the street from the Victoria Clipper and the Coho ferry and you can book a reservation on board the boat. Add to that the delightful setting, wonderful food and tea, and this is the best in town alternative to the Empress for those looking for that traditional vibe.
Dietary Restrictions Accommodated: Vegetarian, Vegan (+$6), Gluten free (+$5)
Price: Afternoon Tea at the Pendray is $62 per person. Children's tea is $24.