Spectacular Skyline Trail Loop at Mt Rainier
Posted On August 7, 2020
Last Updated on April 19, 2021
The Skyline Trail loop absolutely has it all and is a truly gorgeous hike from Paradise in Mt Rainier National Park. Wildflowers? Yes. Marmots? Yes. Epic Mountain views? Yes. Glacier views? Yes. Fall Color? Yes.
This trail is extremely popular and parking can be impossible on summer weekends (see the "when to go" section for details on this challenge). I like to write about less crowded trails most of the time, but this one is a classic that deserves to be shared and visited! If you're looking for ways to visit less crowded parts of Mt Rainier, head over here.
The Skyline Trail loop is a either 5 or 6 mile loop hike with 1500 feet of elevation gain, depending on which route you choose on the descent (discussed below).
Mt Rainier National Park is on the homeland of the Yakama, Puyallup and other Coast Salish people.
Parking Pass: $30 per car entrance fee to Mt Rainier National Park (good for 7 days). Pay at the fee both at the Nisqually Entrance.
Dog Friendly: No, dogs are not allowed on any trails in Mt Rainier National Park.
Cell Phone Coverage: There is cell phone service at Paradise, but not on the entire trail.
Restrooms: There are flushing toilets at the Paradise Visitor Center and Ranger station. There is also a picturesque composting toilet at Panorama Point, near the highest point on the loop.
Accessibility and Mobility: There are stairs to get onto the trail. The first part of the trail is paved. After that, the trail is steep at times and has some rocks here and there. There is a rocky section near Panorama point with some big drop offs. You may also encounter snow all the way through July and potentially into August around and just after Panorama Point. The trail is well maintained overall.
Related: What to wear for a day hike in the Pacific Northwest, What to pack for a day hike in the Pacific Northwest
Is the Skyline Trail Loop right for me?
If you love loop hikes, epic views, wildflowers or marmots you'll love the Skyline Trail. It's an iconic hike in Mt Rainier National Park and definitely one of the most gorgeous hikes in the park and in all of Washington.
It is also extremely crowded and very difficult to do on a weekend in the summer. If you're game to get up early, or start your hike in the evening, or visit on a Monday, Tuesday, Wednesday or Thursday this will be the best way to enjoy it. See more on this in the next section.
When is the best time for the Skyline Trail Loop?
Unless you want to try a snowshoe adventure, save this trail for late summer and catch the incredible wildflower show here or the fall colors on the many shrubs and bushes. This trail will not be snow free until late July (when the wildflower show starts). You may encounter lingering but manageable patches of snow well into August!
The wildflower meadows around Paradise are among the most gorgeous in the world, so it's worth the effort to make a visit during late July or early August when they peak (ideally on a Tuesday, Wednesday or Thursday unless you're a VERY early riser. The parking area at Paradise fills between 8:30 and 10am on Fridays, Saturdays and Sundays in July and August. If you can get there by then, great! Another option is to try to arrive around 5 and do an evening hike.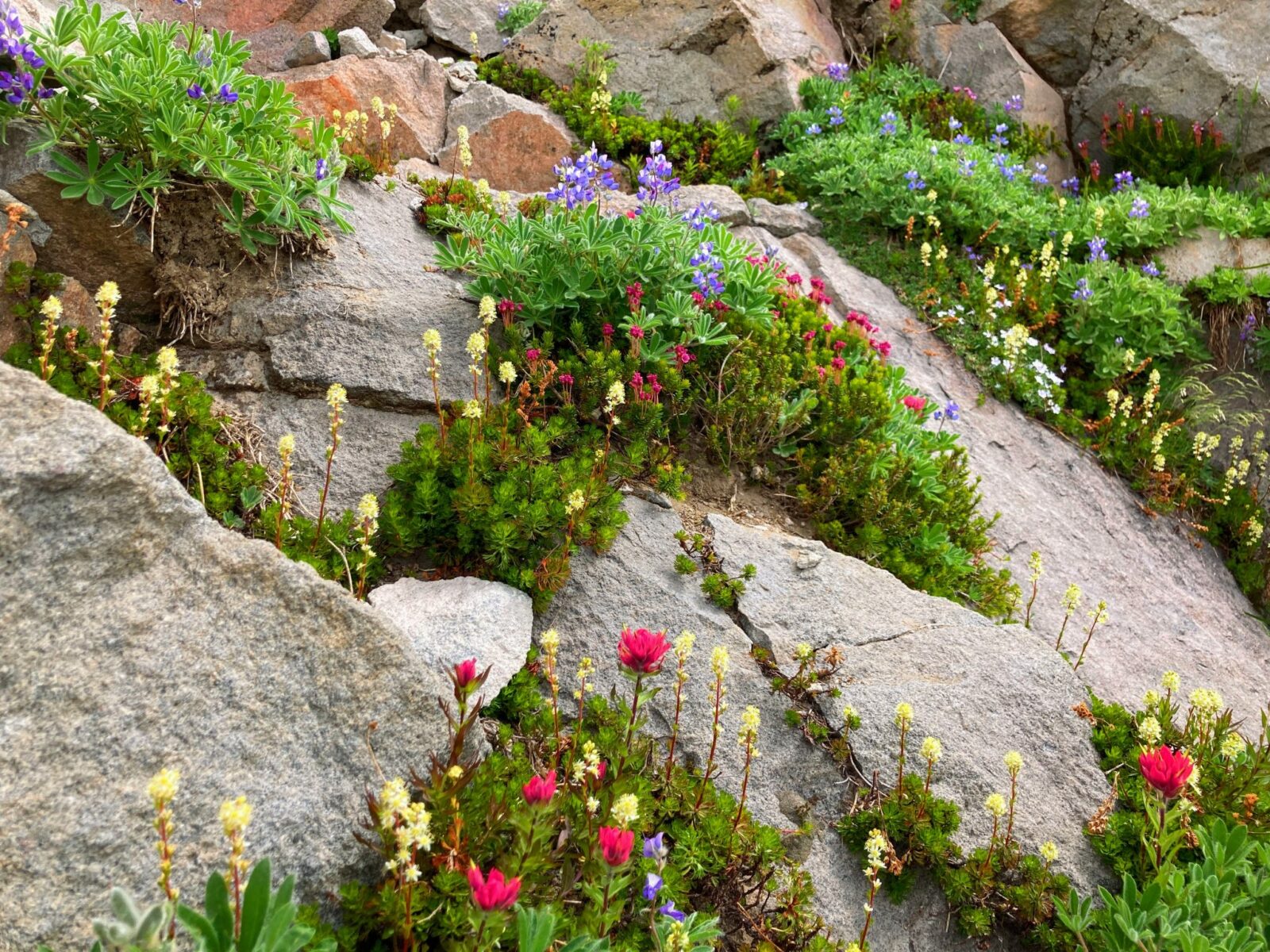 If you have the option of going on a Tuesday, Wednesday or Thursday you will have a much easier time.
In September, the colors change on the many shrubs and bushes making for a beautiful hike even without wildflowers. Big views of both Tahoma/Mt Rainier and many other mountains are available on any clear day.
Sometime in October (or maybe sooner), snow starts falling again!
In my opinion either early August or early September midweek is the ideal time for this hike.
Where is it?
The Skyline Trail Loop starts at Paradise, the most popular area for visitors in Mt Rainier National Park. Point your GPS towards Paradise as there are a number of different ways to get there, at least until you pass the town of Eatonville.
Past Eatonville, you'll then pass the tiny historic community of Elbe, with a historic church and railroad cars. This is the location of your last chance rest area before the park.
Next you'll pass through the town of Ashford, home to several mountaineering companies who take guests to summit the mountain as well as other mountains around the world. You are now 24 miles from Paradise, but plan on it taking at LEAST an hour (if road conditions are good and there's no line at the entrance gate).
6 miles beyond Ashford you'll enter the park and pay the entrance fee. In another 6 miles you'll pass Longmire. Longmire houses the National Park Inn, a ranger station, a small museum and some other services. After Longmire you will climb a steep road with lots of switchbacks another 12 miles to Paradise! Here is the Visitor Center as well as the climbing ranger station and the Paradise Inn. There are restrooms at the visitor center as well as near the climbing ranger station.
Trail Description
To get started on the Skyline Trail Loop, start between the Visitor Center and the ranger station on the stone steps. You'll have an amazing view of Tahoma/Mt Rainier right from the parking lot if she's "out"! I'm describing the trail going clockwise but you can also do it the other direction if you prefer.
The first half mile is the steepest part and follows a paved trail through the wildflower meadows and among subalpine firs. There are numerous trail junctions so it helps to have your map handy. The trails are also very well signed.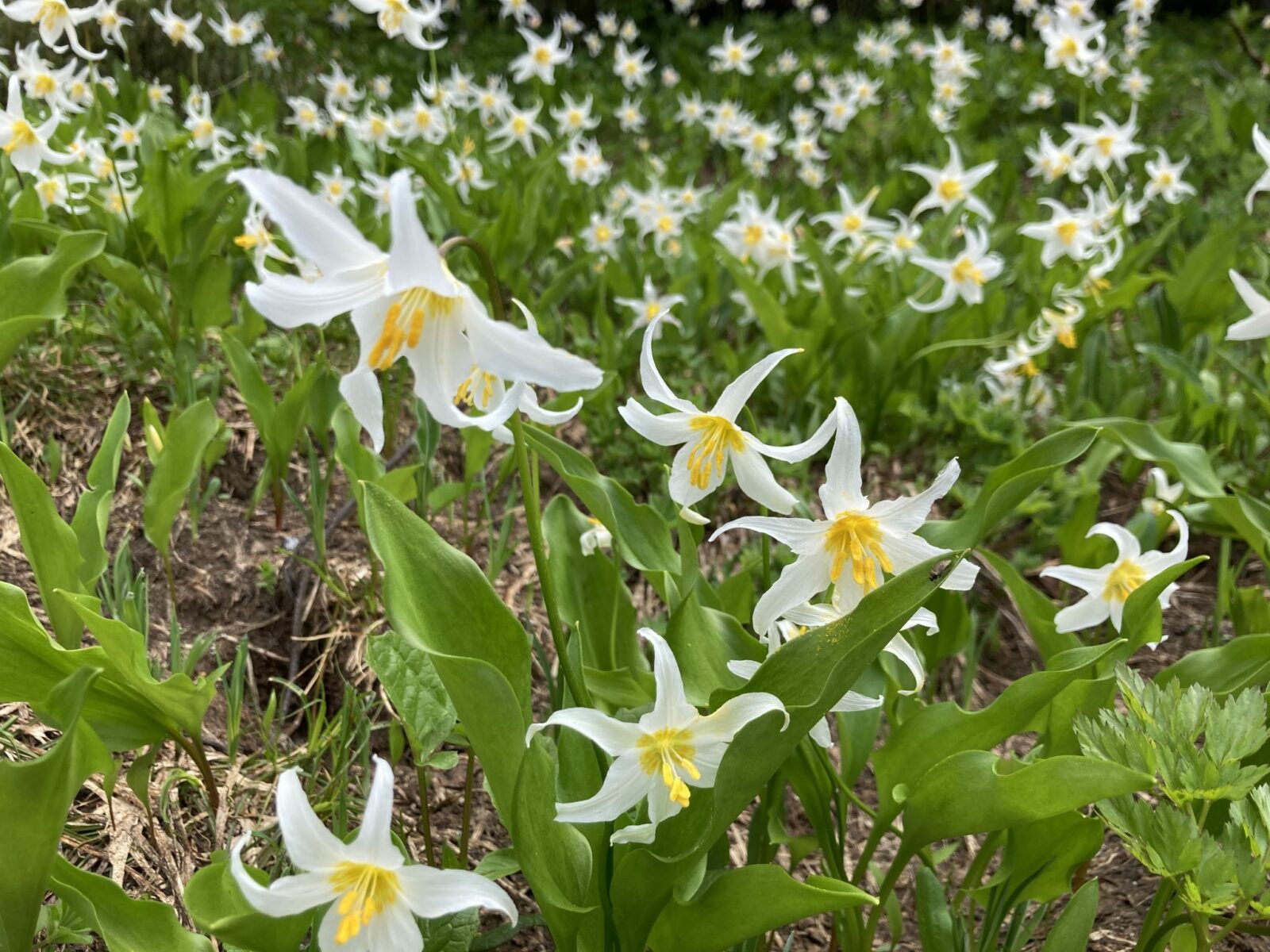 In another half mile you'll arrive at Glacier Vista and this is one area where it can get a little crowded with people taking (amazing) pictures. You'll get even more amazing views so you can move on if it feels crowded. If it's not too crowded this is a good place to take a break for a few minutes and check out the view!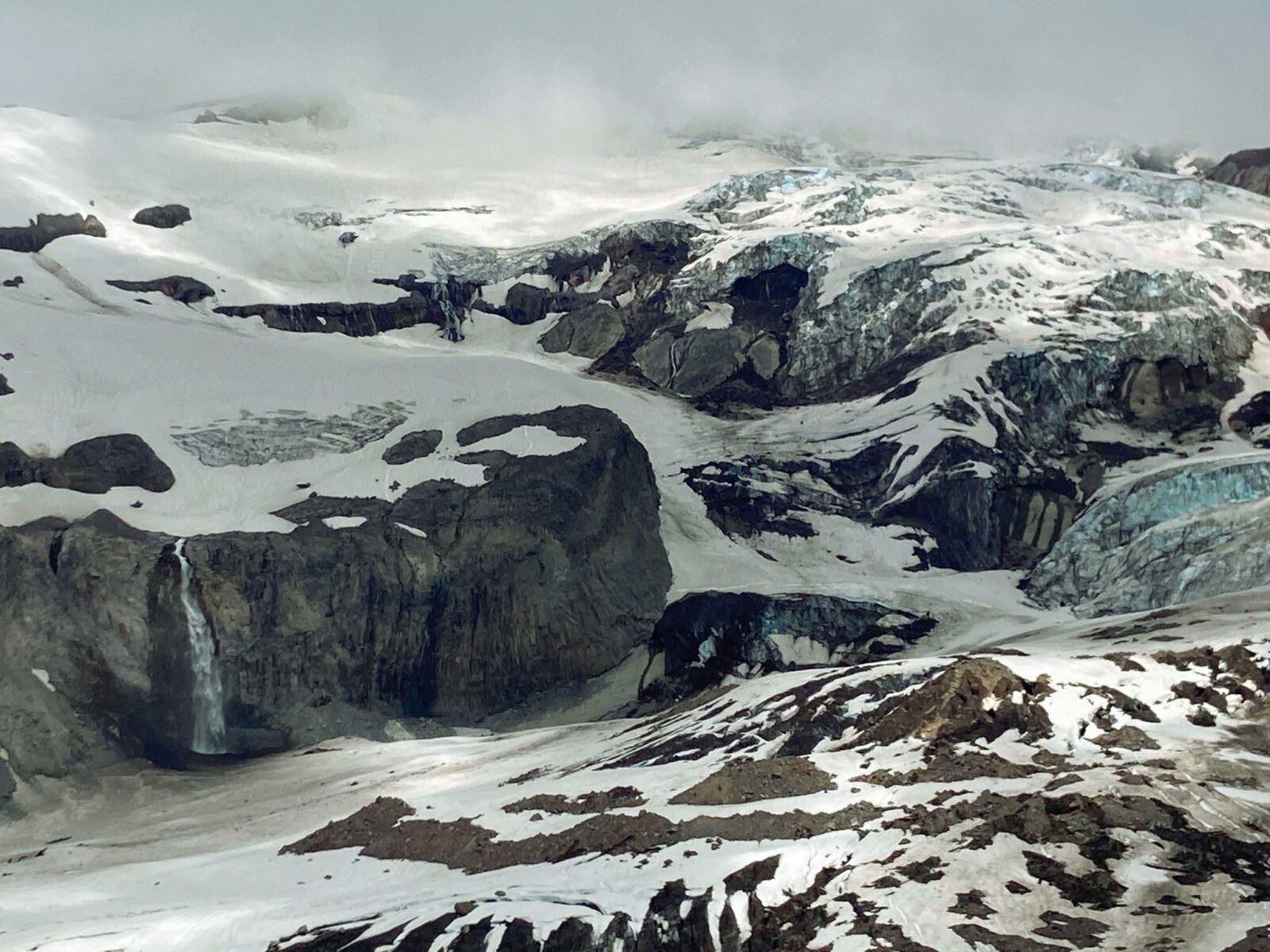 In this area you're likely to start seeing and hearing marmots so keep an eye out for them.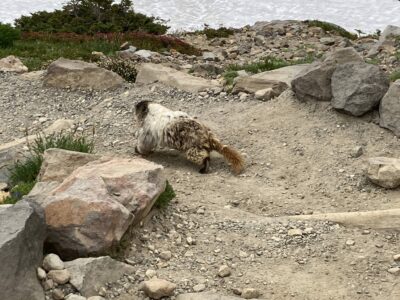 Beyond Glacier Vista you'll climb another three quarters of a mile to Panorama Point with better and better views in all directions. Panorama Point has a quaint composting toilet that is a mandatory stop!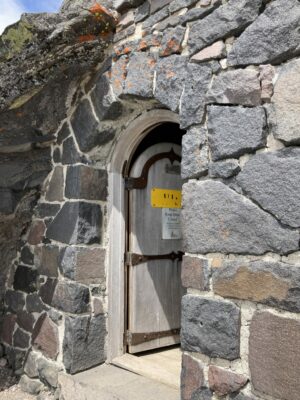 After Panorama Point you'll do a little more climbing but you're getting close to the high point! Leaving the flowers behind, you'll now be traversing a rocky volcanic landscape with views in all directions. You might encounter snow in this area into August. Trekking poles are really helpful!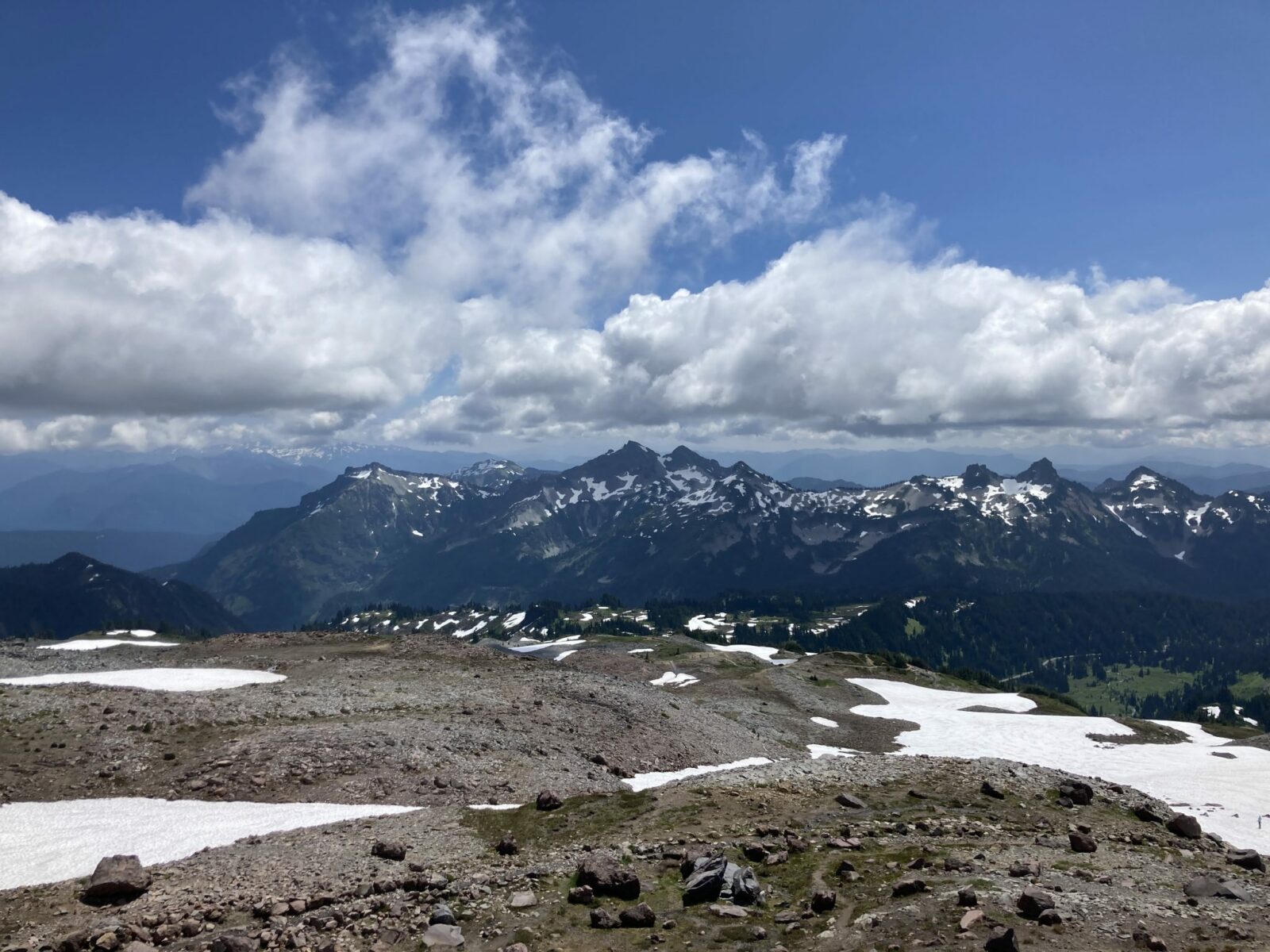 After traversing across the open slope, you'll begin to descend. About three quarters of a mile beyond Panorama Point and after you've descended a bit, you'll reach a junction with the Golden Gate Trail and a decision point. You can go right on the Golden Gate Trail for a total 5 mile loop, or continue on the Skyline Trail which makes it a bit over a mile further. You'll continue to see similar scenery, so you can go either way!
Now you'll be into the wildflowers again and in a mile (or 2.5 miles if you stayed on the Skyline trail for the longer loop) you'll arrive at Myrtle Falls. Myrtle Falls is another place you might experience more crowding as it's very popular.
After Myrtle Falls, you're just half a paved mile from the parking lot.
Breweries and Bakeries near the Skyline Trail Loop
At Paradise there is a coffee shop in the Paradise Inn which also gives you the chance to check out it's beautiful lobby.
You can also grab a meal on the deck (or inside) at the National Park Inn at Longmire.
If you're a fan of pie, don't miss out on the Wildberry Restaurant (they also have beer and wine and a full menu) between the park entrance and Ashford.
Looking for that classic post hike burger or pizza with beer? Find it at the Rainier Basecamp Bar and Grill in Ashford.
Another popular post hike stop is Scaleburgers in Elbe, which is a walk up window with really good burgers! There is a semi-permanent fruit stand in the summer in Elbe too. Grab all your fresh local (from Yakima, just over the mountain) peaches, apples, nectarines, cherries and more.
Electric Vehicle Charging
I am SO ready for Mt Rainier National Park to install EV chargers! Until that happens, the closest fast charging is in Puyallup, almost 70 miles away. That's outside the range of my Nissan Leaf, but if your EV has a longer range you can figure out on Plugshare if you can make it.