Angel Rocks Trail: Big views and Hot Springs near Fairbanks
Posted On October 16, 2020
Last Updated on April 11, 2022
The Angel Rocks Trail is one of the most popular trails in the Fairbanks area and with good reason! A moderate hike with fantastic views on a loop hike, or a one way adventure with epic views continuing up to and along a ridge and ending at Chena Hot Springs! When I lived in Fairbanks this area was one of my favorite places to go. The Angel Rocks Loop is an almost 4 mile hike with about 900 feet of elevation gain, and the one way hike from the Angel Rocks Trailhead to Chena Hot Springs is 8.5 miles one way with an additional 1000 feet of elevation gain. Both are described below.
The Angel Rocks Trail is on the traditional lands of the Dene Nation Athabaskan people.
The Angel Rocks Trail is dog friendly, however the hot springs are not (some rooms at the Chena Hot Springs resort allow dogs for an additional fee). The Chena River State Recreation Area requires that dogs be kept on leash on the trail.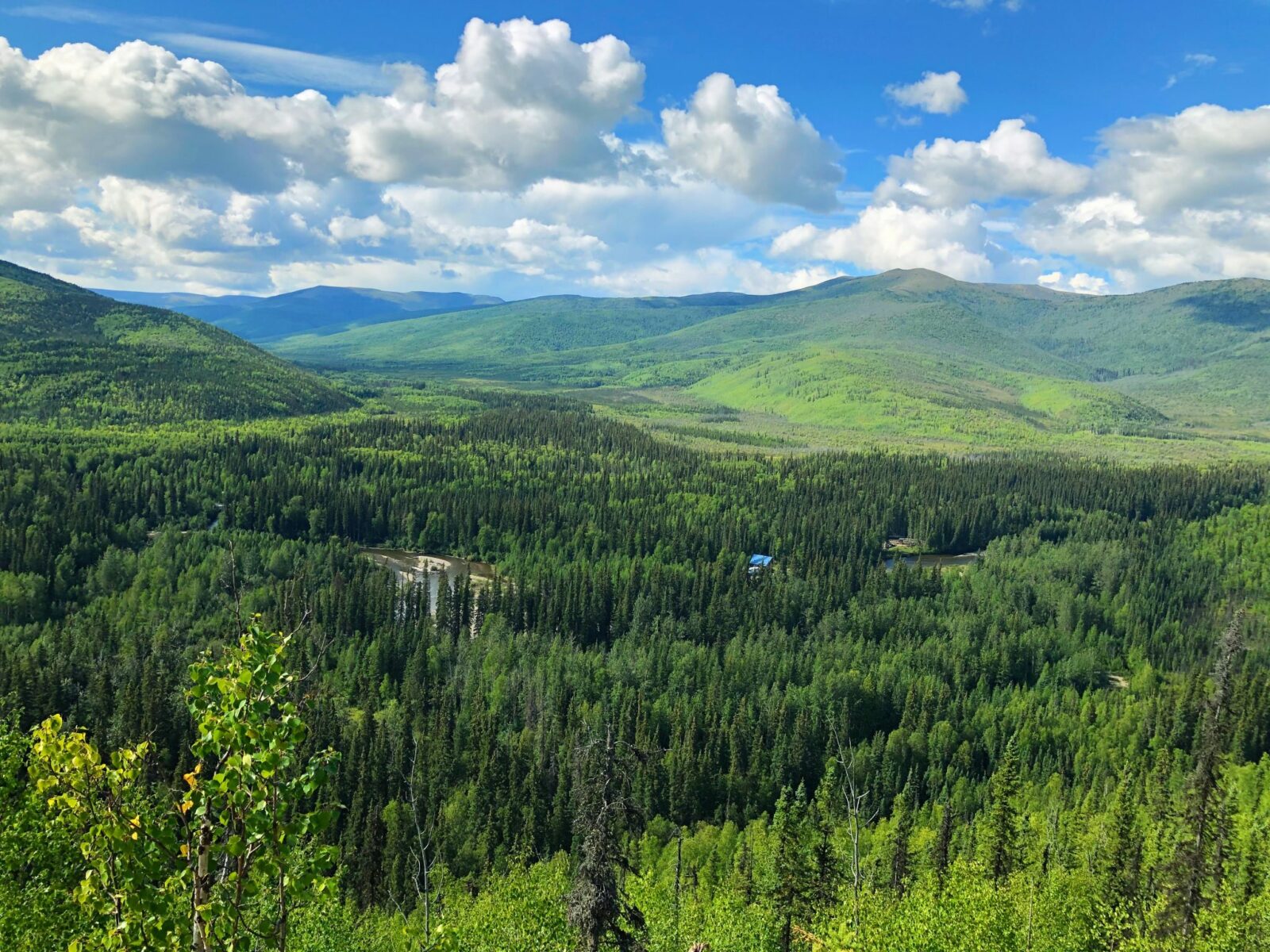 Related: Visiting Chena Hot Springs near Fairbanks
Is the Angel Rocks Trail right for me?
The Angel Rocks Trail loop is an excellent shorter hike but it is not necessarily easy. There are steep and rocky sections and the rocks can get slippery and challenging. If you're uncomfortable with steeper rocky sections this might not be a great choice. However, if you're game for that it has fantastic views.
If you're interesting in hiking through to Chena Hot Springs, this is a longer and more challenging hike through a remote and lightly traveled area (Angel Rocks is busy but this part of the trail is not). Make sure you're prepared with everything you need for an 8+ mile day hike! That said, once you pass Angel Rocks, there are views in all directions until you're descending down to the hot springs.
Angel Rocks is an excellent trail for geology enthusiasts, with the giant rock formations called tors that were long ago pushed up from the earth as liquid and then cooled into rocks. Over time erosion left the solid core of rocks that you see today along the trail and from Chena Hot Springs Road.
When is the best time to hike the Angel Rocks Trail?
Angel Rocks is a good trail for spring, summer and fall. This is a popular trail that gets really busy on weekends, but with the endless daylight of summer you can make it an evening hike and have a lot less crowds. Weekdays are also much less busy.
Once you pass Angel Rocks if you do the longer one way trail, it won't be very busy beyond that.
May through September is generally a good time for this hike. If there's been snow or ice, use extra caution especially around the rocks! My favorite time for this hike is September when you can see lots of changing fall colors which are absolutely gorgeous.
Where is Angel Rocks?
The Angel Rocks Trailhead is located at 49 mile Chena Hot Springs Road, in the Chena River State Recreation area, 8 miles before the road ends at Chena Hot Springs. There is a $5 fee per car to park, you can use cash or credit card.
The drive to get to the trailhead is beautiful, with an excellent chance of seeing wildlife, especially moose (watch your speed and keep an eye out for them).
About 10 miles before the trailhead you'll pass the Granite Tors day use area and campground, a worthwhile stop on the way out or back and a possible camping option.
Trail Description
There are a couple of options from the trailhead, the shorter Angel Rocks Loop Trail and the one way hike to Chena Hot Springs. Both are described below.
Angel Rocks Loop Trail
The loop trail is just under 4 miles with 900 feet of elevation gain. You'll start on a flat trail along the river, passing through the forest.
In a bit less than a mile, you'll come to a trail junction. Turn right here (ahead of you is where you will come back on the return of the loop) and cross a boardwalk over a wetland a short distance and then you'll begin climbing.
From here, the trail gets quite steep. Shortly after the climbing starts you'll start having views at times and seeing more of the Tors the angel rocks trail is famous for. Use caution around the rocks and drop offs and be especially careful with children and pets.
Just over a mile and a half from the trailhead, you'll reach a high point and even more impressive views down to the Chena River valley below as well as to the surrounding wilderness.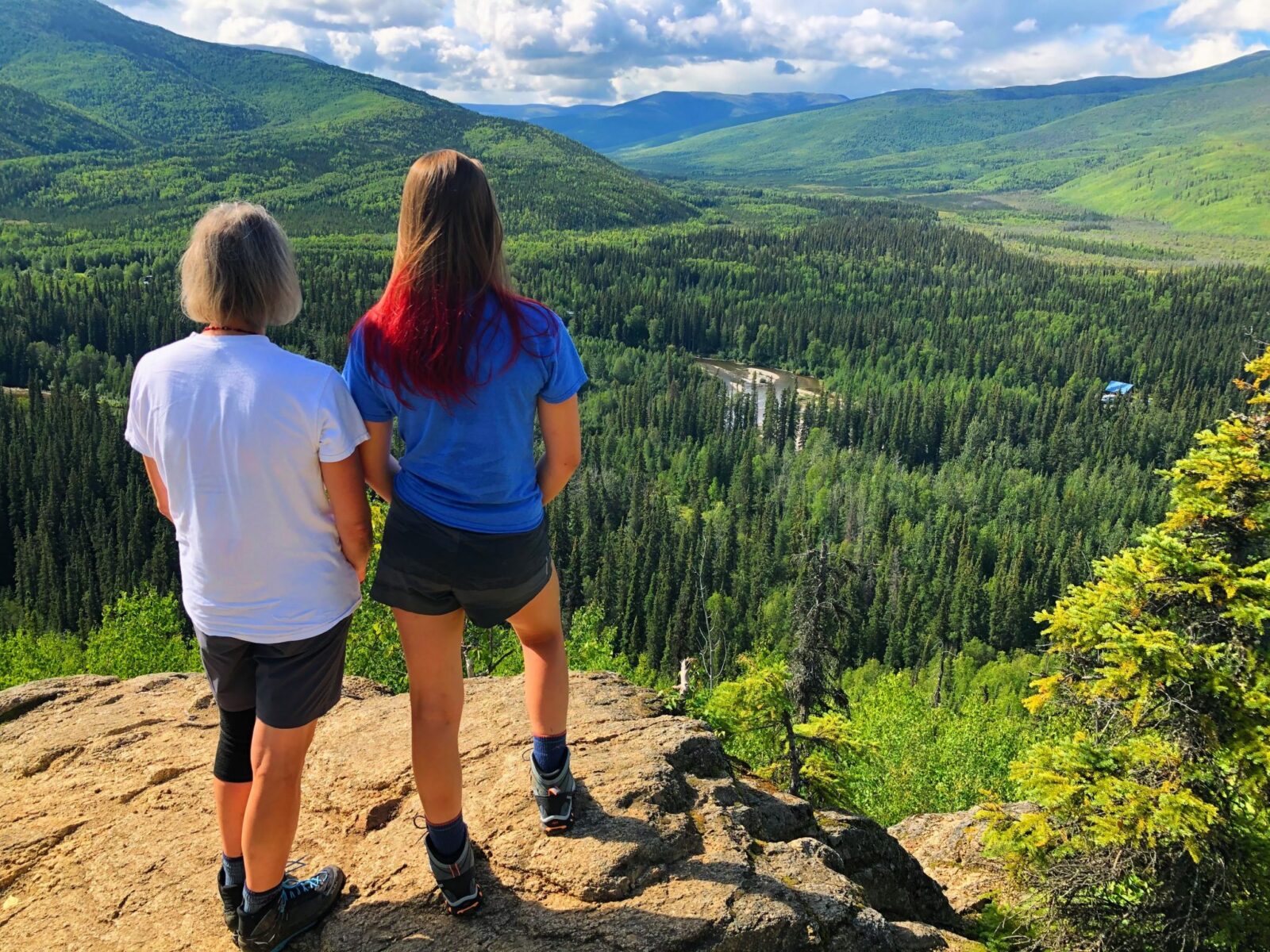 At this point there's another trail junction with the trail to Chena Hot Springs. If you're doing the loop turn LEFT here. You will now descend a slightly longer and more gentle route, continuing to pass more tors and returning through the forest.
After descending for about a mile, the trail flattens again and you'll return through the forest to the junction where you'll go straight and sort of right to complete the last bit along the river again where you started. You'll be back at the trailhead in under 4 miles.
Angel Rocks Trail to Chena Hot Springs
If you're doing the one way hike to Chena Hot Springs, don't forget to drop off a car at the hot springs before going back to the trailhead (or have a driver drop you off and pick you up on the other side).
You'll start the same as the loop, along the North Fork of the Chena River and then climbing up to the Tors. At this point, instead of going left to complete the loop, you'll go RIGHT to head towards Chena Hot Springs.
From here, the trail continues to climb up a forested hillside. At the top of the ridge, you'll be above the timberline and in an open tundra landscape.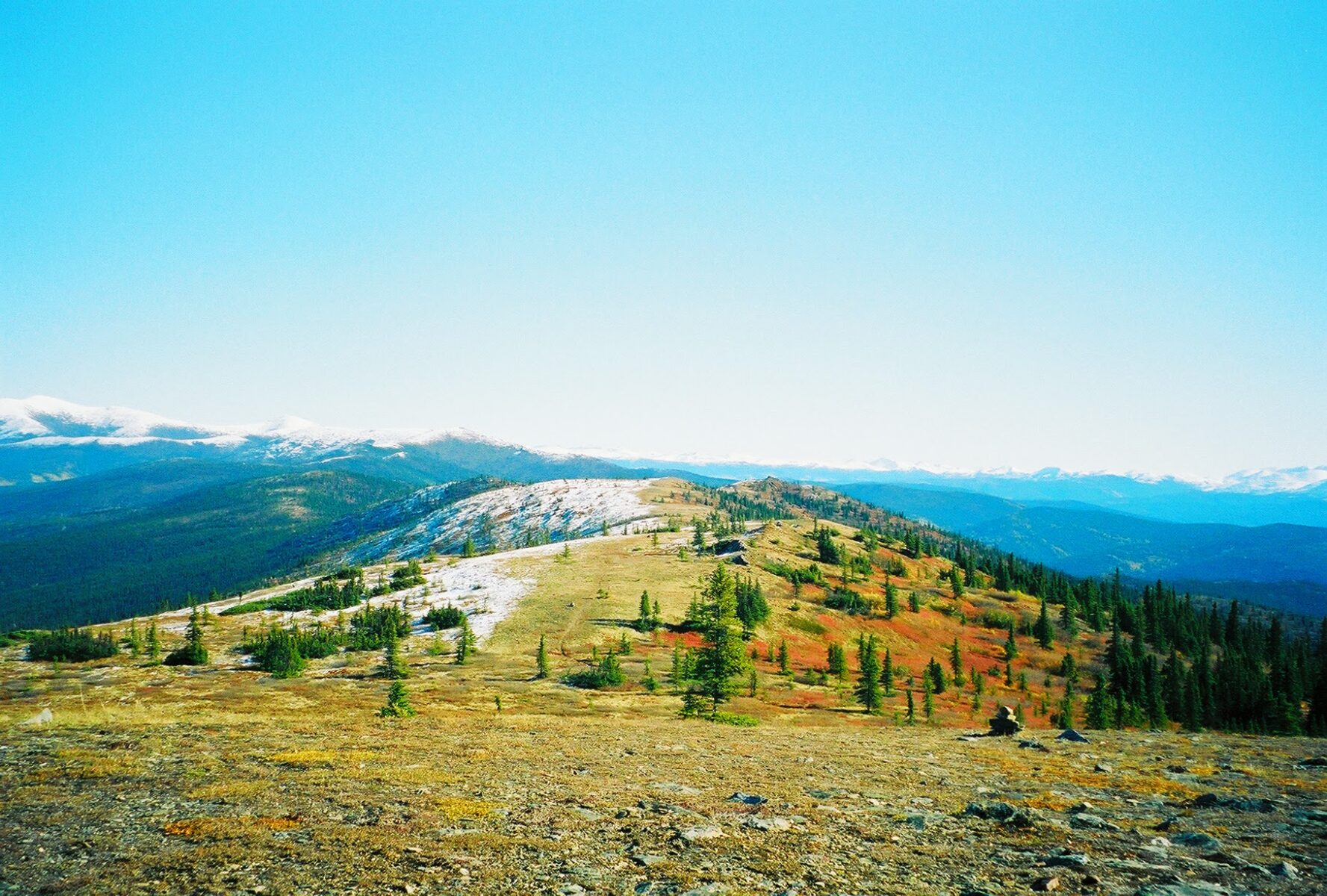 The trail across the tundra section is marked with rock piles called cairns to help you find the trail which can otherwise be a little difficult to see.
A bit over 3 miles from the junction at angel rocks, you'll pass the Angel Rocks shelter which is available on a first come first served basis.
After the shelter, you'll begin descending into the forest again towards Chena Hot Springs. After another mile, you'll come to another junction and here you'll need to make a decision. At this junction both trails eventually meet up again shortly before Chena Hot Springs so you can go either way.
The trail to your right is shorter but also wetter (which means more bugs and wet feet), the trail to your left is about a third of a mile longer and also involves a bit more climbing, but it isn't as wet. Decide which one is right for you and continue on. About a quarter mile before Chena Hot Springs the two trails converge again before you pop out at the Chena Hot Springs Resort!
Where to Stop After
Whether or not you do the longer hike, at the Angel Rocks trailhead you're only about 8 miles from the Chena Hot Springs Resort so it's definitely worth it to go for a swim in the pool! While you're there, if it's your first visit I also recommend checking out the super unique ice museum (open year round). Splurge and get the Appletini!
If you're a visitor to the area, Chena Hot Springs Resort also offers many tour opportunities in both summer and winter and they offer cross country ski rentals in winter. Chena Hot Springs and the drive between there and Fairbanks are excellent places to see the Northern Lights during the dark season (mid August through early April).
Check out one of the excellent and loved by locals road houses on the drive back to Fairbanks such as the Angel Creek Lodge (less than a mile beyond the trailhead towards Chena Hot Springs).